Athletes are held in high esteem in our society. Performing amazing feats of skill, labor, and sheer determination, they often leave us in awe. Much like in the days of ancient Rome and Greece, for an athlete to prove their worth, they face off in a variety of competitive challenges against others also competing for the same title of Champion. Their perseverance and hard work inspire many to push their way to victory. These 20 athletes made it to the top of the championship ladder, setting new world records, bringing back Olympic gold medals for the United States, reaching the heights of success and being inducted into the U.S Olympic Hall of Fame.
1. John Davis (Weightlifting)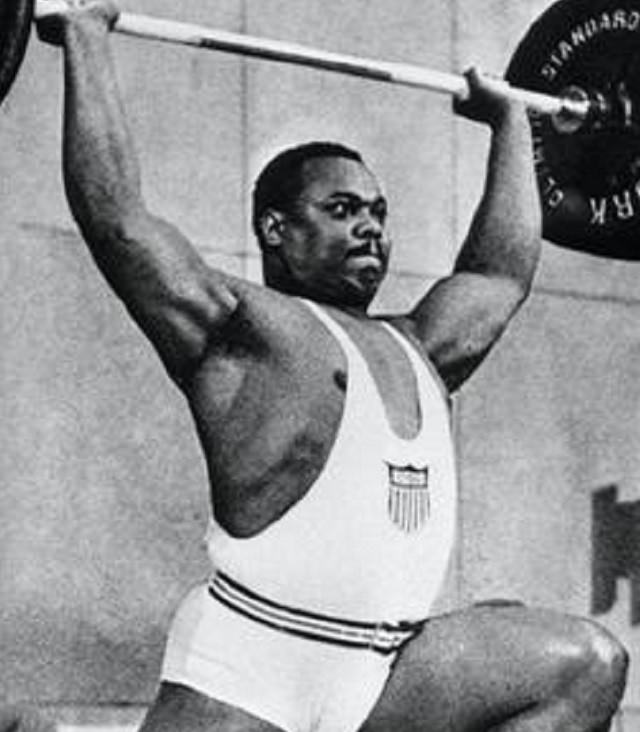 John Henry Davis, born in Brooklyn, was the winner of 2 Olympic titles and 16 world records for weightlifting between 1938 and 1953, before being included in the U.S Olympic Hall of Fame. He won the World light heavyweight crown at the young age of 17 and remained unbeaten for the next 15 years.
2. Duke Kahanamoku (Swimming and Surfing)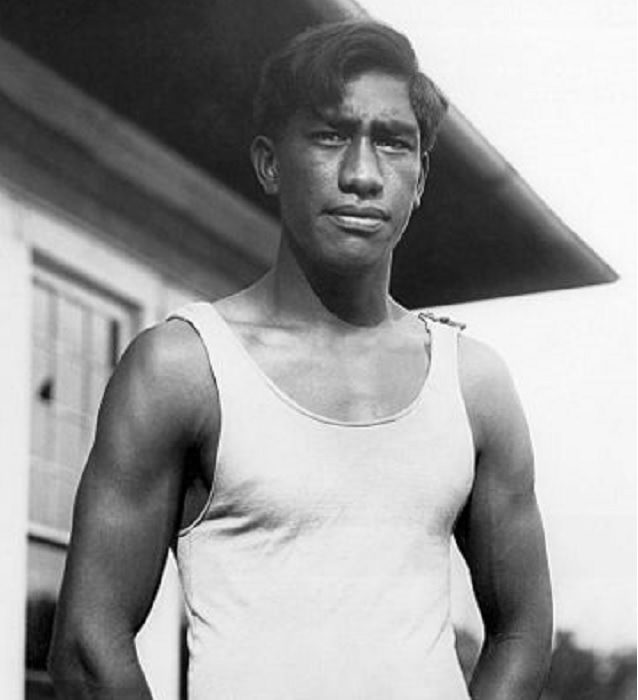 A Hawaiian national, born in 1890, known for popularizing the sport of surfing, Duke won 5 Olympic medals in addition to being a law enforcement officer, a volleyball player, a businessman, and an actor. He was the first person to be inducted to both the Surfing Hall of Fame and Swimming Hall of Fame, in addition to the U.S Olympic Hall of Fame.
3. Micki King (Diving)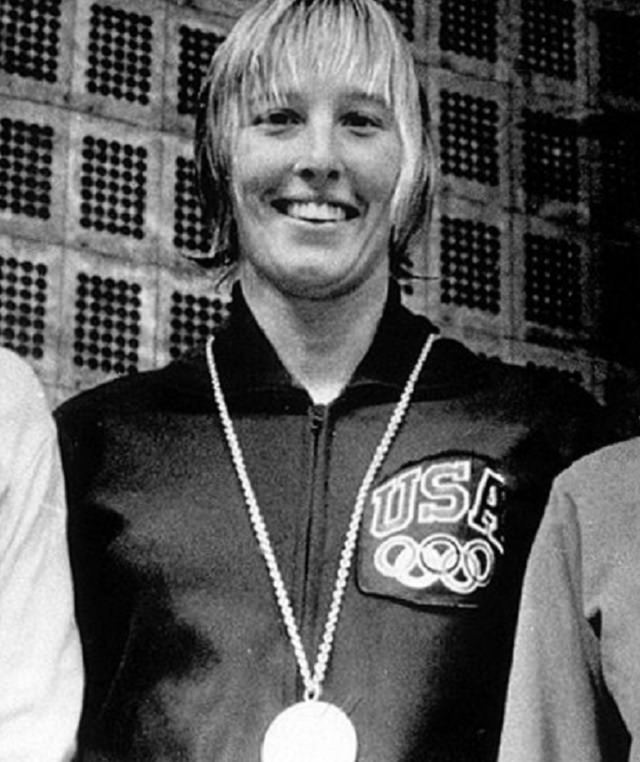 (By UPI, Wikimedia Commons)
Maxine Joyce "Micki" King was a Gold Medalist in the 1972 Summer Olympics and a well-recognized figure in women's diving. This win was her comeback after almost placing first in the 1968 Summer Olympics, but placing fourth finally after breaking her arm in the penultimate dive.
4. Dan Jansen (Speed Skating)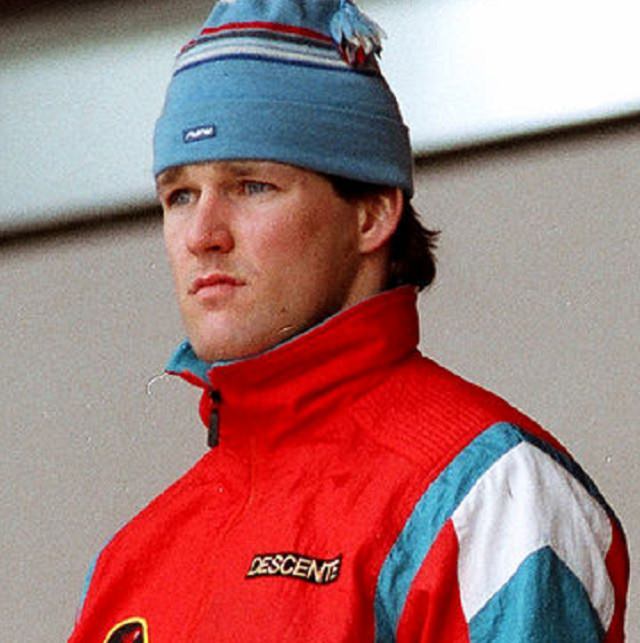 (By Ineke Vogel, Wikimedia Commons)
Born Daniel Erwin Jansen in 1965, this athlete started his career early, setting a junior world record for speed-skating at the age of 16. At age 23, he became the World Sprint Speed-Skating Champion and went on to set another world record in 1993. In the 1994 Winter Olympics, he finally won his first and only gold medal and set a new world record in the process. He was also inducted into the Wisconsin Athletic Hall of Fame.
5. Harrison Dillard (Track and Field)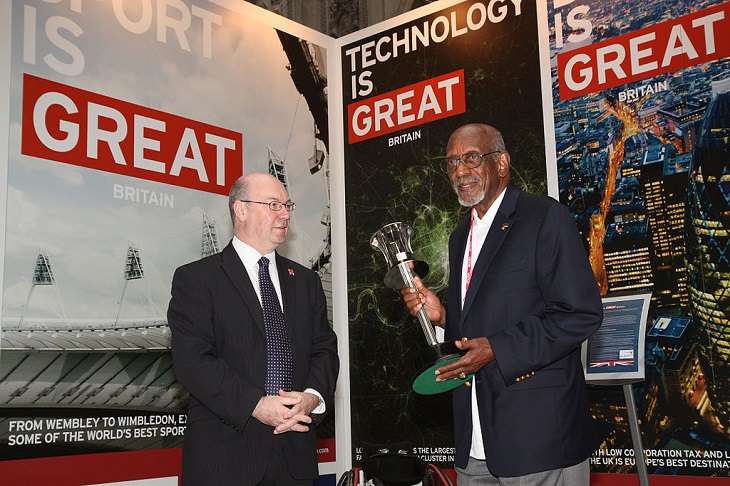 Foreign Office Minister Alistair Burt with Harrison Dillard holding the 1948 London Olympics torch, August 1, 2012
(By Foreign and Commonwealth Office, Wikimedia Commons)
William Harrison "Bones" Dillard, born in Cleveland, Ohio, is iconic, as the only man in Olympic history to win a gold medal in both the 100-meter sprints and 110-meter hurdles in two separate Olympic events. In 1948 he was christened the World's Fastest Man, and in 1952, the World's Fastest Hurdler.
6. Peter Vidmar (Gymnastics)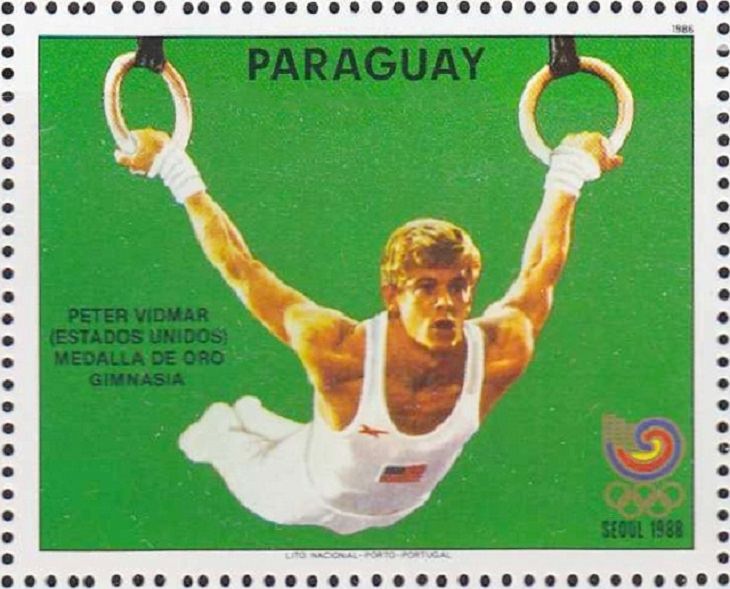 Vidmar, at age 18, was one of the youngest members of the 1979 world championship team that was awarded a bronze medal. 5 years later, in the 1984 Summer Olympics in Los Angeles, his home city, Vidmar won a total of 3 medals, 2 gold and 1 silver, and Olympic history still holds him as the highest-scoring American Gymnast. He is also one of only 3 athletes inducted into the U.S. Olympic Hall of Fame twice, as an individual and as a member of the 1984 U.S. Men's Gymnastics Team.
7. Willye White (Track and Field)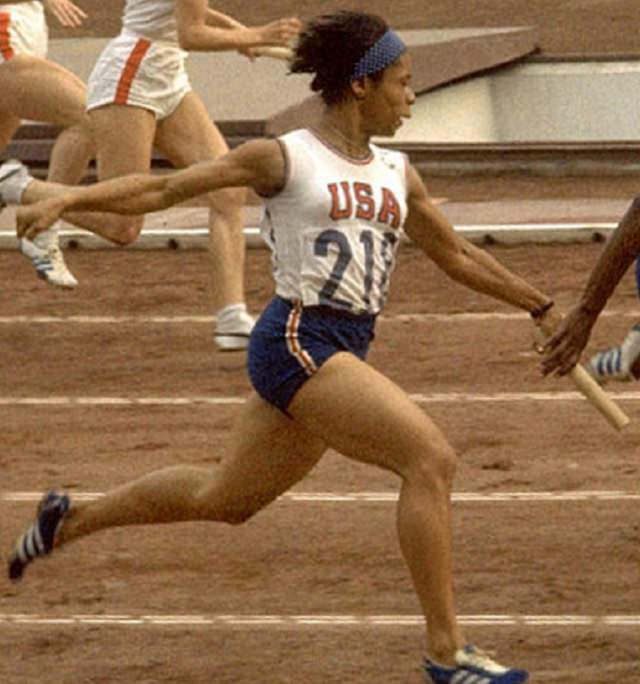 Willye Brown White took part in 5 separate Olympic games, from 1956, when she was the tender age of 16, to 1972. Her Silver Medal for long jump in the 1956 Games in Melbourne, Australia marked the first time a medal was won in that event by an American woman. 8 years later, she won her second silver medal along with her team in the 400-meter relay. She has set 7 U.S records in the long jump and has been inducted in 11 Sports Hall of Fame, including the US Olympic Hall of Fame.
8. Tenley Albright (Figure Skating)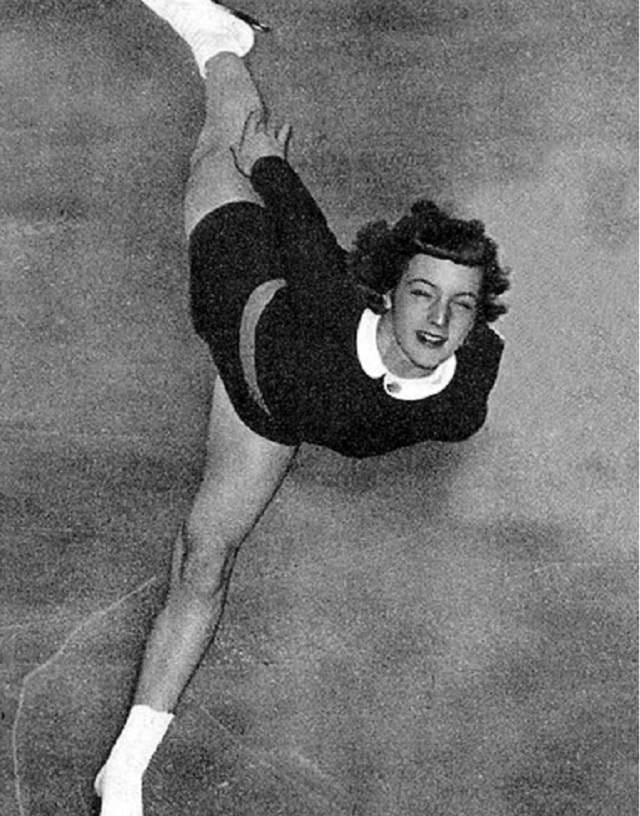 (By 菅野喜勝(投稿者がスキャン, Wikimedia Commons)
Tenley Emma Albright was a former surgeon, a graduate of Harvard Medical School and an Olympic figure skater. In the 1952 Winter Olympics, she was awarded a silver medal and went on to be the World Figure Skating Champion in 1953 and 1955. It was finally in the 1956 Winter Olympics that she was crowned the Olympic Champion and in 2015 was inducted into the National Women's Hall of Fame, in addition to her existing membership to the U.S. Olympic Hall of Fame.
9. Oscar De La Hoya (Boxing)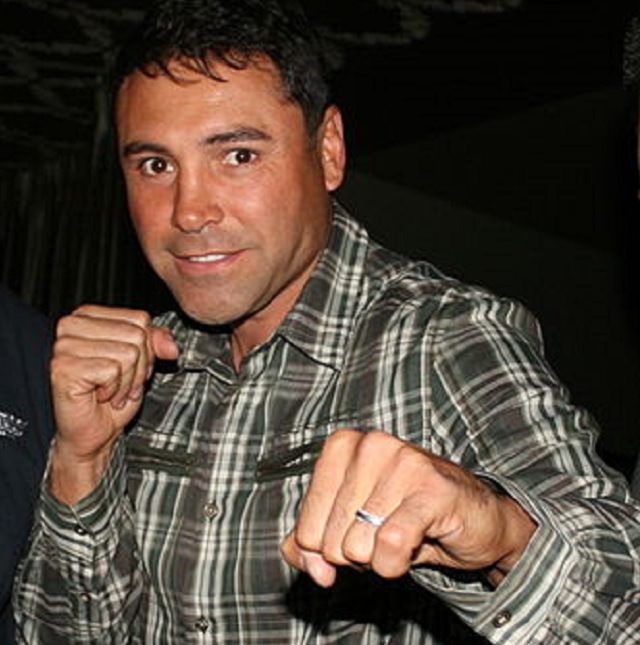 (By DEWALT POWER TOOLS FIGHT NIGHT CLUB 2010, Wikimedia Commons)
Oscar De La Hoya was a former professional boxer and Mexican American who won titles in 6 different weight classes and won the title of 11th best boxer of all time. He was also awarded a gold medal in the 1992 Summer Olympics lightweight division, leading to the media nicknaming him "the Golden Boy of Boxing".
10. Eddie Eagan (Boxing/Bobsled)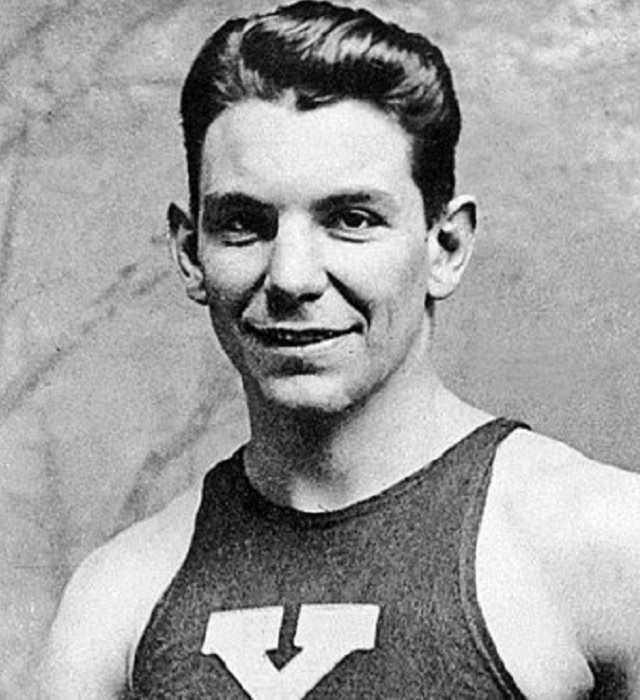 Edward Patrick Francis Eagan is most well known for winning gold medals in both the Summer and Winter Olympics. In the 1920 Summer Olympics, he was awarded the gold medal for boxing in the lightweight division. Later, in the 1932 Winter Olympics, he was again awarded the gold medal along with the rest of his bobsledding team, led by Billy Friske. Eagan is one of only two people in Olympic history to win the gold in both seasons.
11. John B. Kelly Sr. (Rowing)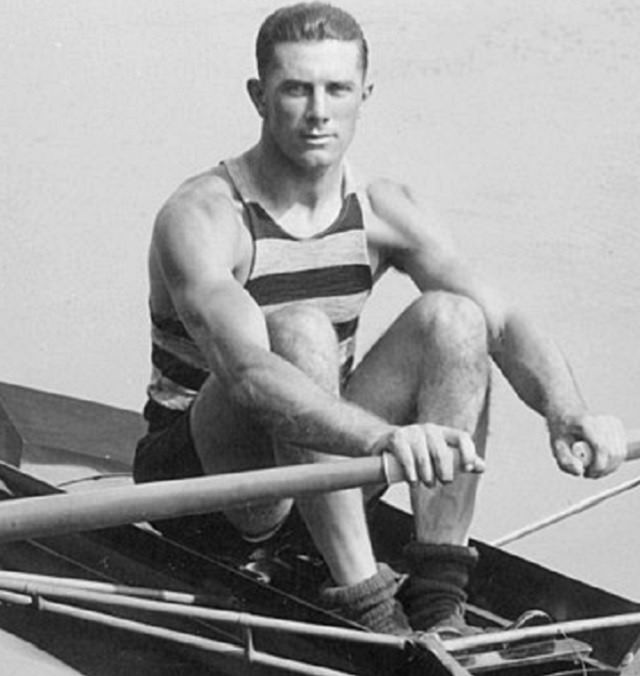 Better known as Jack Kelly, Kelly was the first to be a triple Olympic Champion in the sport of rowing, making him one of the most accomplished American Men in competitive rowing. The most successful years of his sports career were between 1919 and 1924. He went on to be a successful businessman and is probably most well known as the father of Grace Kelly.
12. Gail Devers (Track and Field)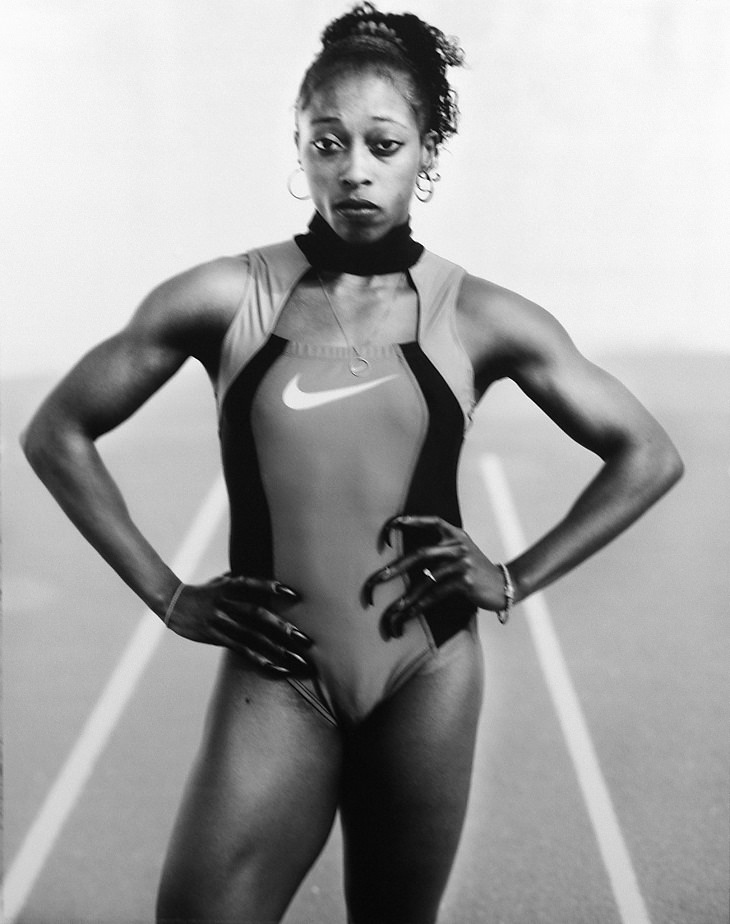 (By Cliff, Flickr)
Born Yolanda Gail Devers in 1966, this female powerhouse was a two time Olympic Champion in the 100 meters event, only the second woman to successfully defend her title in a single event. She was also a three-time World Champion in the 100-meter hurdles and in 2011 was inducted into the National Track and Field Hall of Fame in addition to the U.S. Olympic Hall of Fame.
13. Lisa Fernandez (Softball)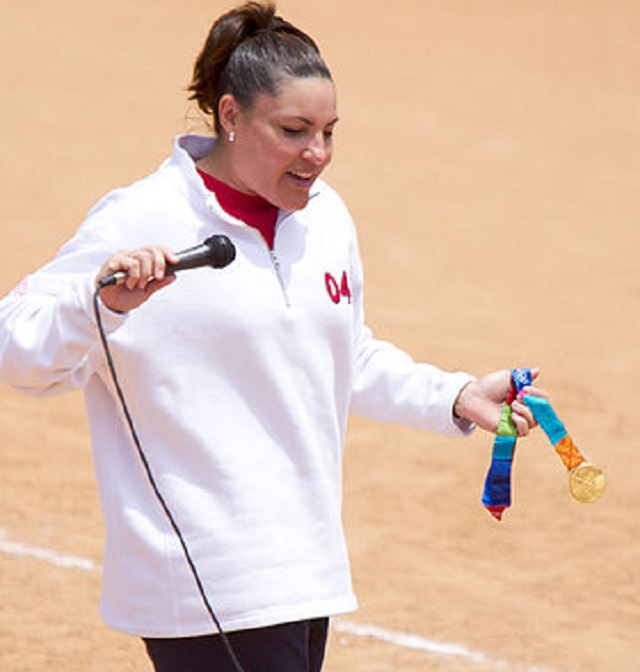 (By David Eppstein, Wikimedia Commons)
Lisa Maria Fernandez, a Puerto Rican-American, was a three-time medal-winning Champion at the Olympics, and continues her legacy, as an assistant softball coach at UCLA, the very same university she attended and played for between 1990 and 1993. She continues to hold numerous UCLA records and pitched with a gold medal-winning arm in 3 consecutive games. She continued to take home numerous gold medals between 1996 and 2004 and has also been inducted into the USA Softball Hall of Fame.
14. George Foreman (Boxing)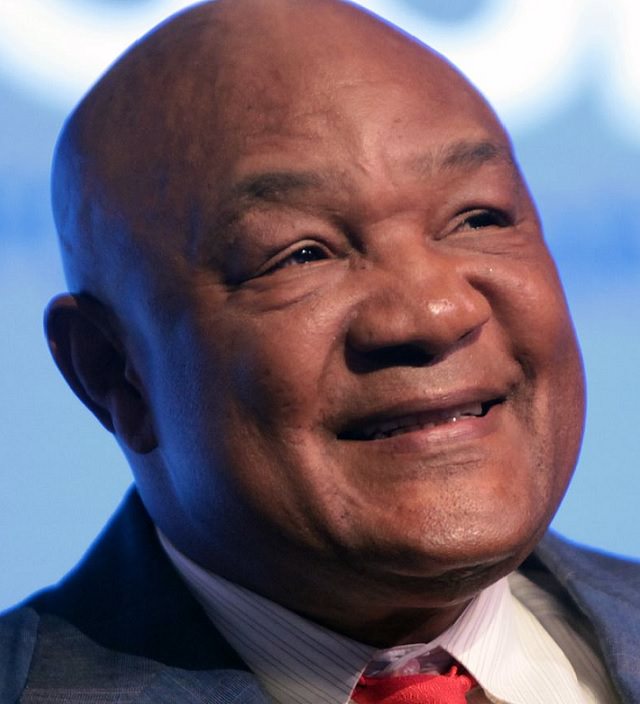 (By Gage Skidmore, Wikimedia Commons)
Former professional boxer, George Edward Foreman, earned himself the nickname Big George after winning the gold in the heavyweight boxing division of the 1968 Summer Olympics and then winning the world heavyweight Champion title in 1973. He successfully defended that title twice, before he finally lost to Muhammad Ali in 1974's The Rumble in the Jungle. You probably know him best as an entrepreneur, who successfully promoted the famous George Foreman Grill.
15. Mohammad Ali (Boxing)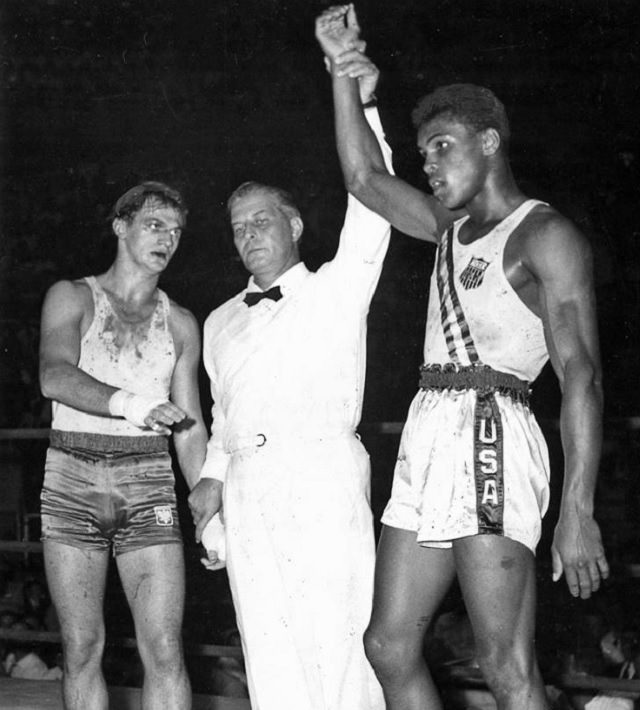 Muhammad Ali after his victory in the 1960 Olympics
Well known as "The Greatest", Mohammad Ali's given name was Cassius Marcellus Clay Jr. Today, he is still widely recognized as one of the most celebrated figures of boxing and sports history. His first victory was at age 18, in the 1960 Summer Olympics, after which he went on to become a world Heavyweight boxing Champion by age 22. He was ranked the greatest athlete of the 20th century by Sports Illustrated, and even had a successful career as an activist, a musician, and an actor.
16. Carol Heiss (Figure Skating)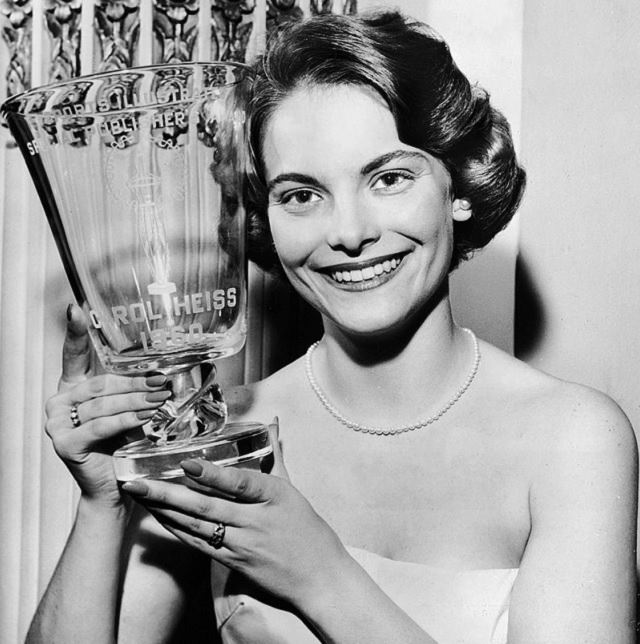 (By Sports Illustrated, Wikimedia Commons)
Full name Carol Elizabeth Heiss Jenkins, Jenkins repeatedly won the silver medal in Olympic figure skating, with Tenley Albright taking the gold. It was finally after the 1956 Olympics that the tide changed, and in the World Figure Skating Championships, Heiss finally beat Albright. Heiss went on to be the first woman to win five consecutive world titles and the gold medal at the 1960 Winter Olympics.
17. Bruce Jenner (Track & Field)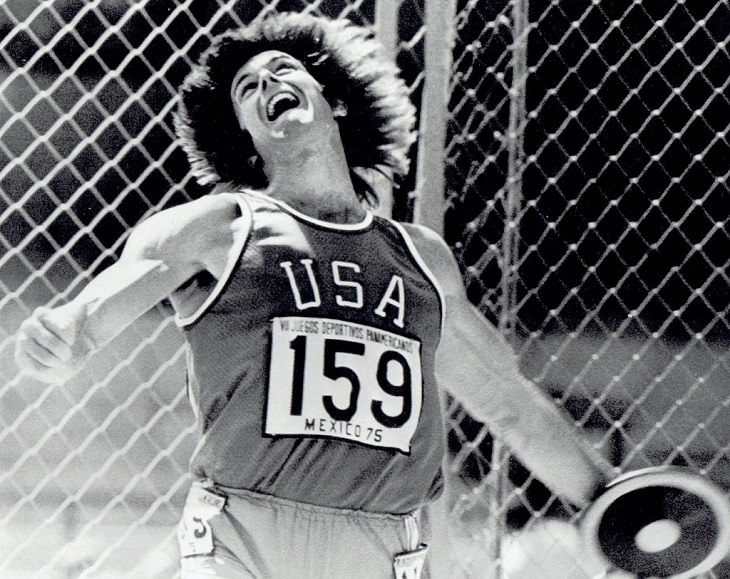 Bruce Jenner at the 1975 Pan American Games
(Wikimedia Commons)
Now known as Caitlyn Marie Jenner, in her initial years, Caitlyn bore the name William Bruce Jenner, a decathlon champion in the 1974 event. He subsequently went on to win the French National Championship and was a gold medallist at the 1975 Pan American Games. He also set two new world records, at the U.S.A./U.S.S.R./Poland triangular meet and the 1976 Olympic Trials respectively. He then secured his place in the Olympic Hall of Fame by continuing to set new world records during the 1976 Olympics and won a gold medal. In 2015, Caitlyn publicly came out as a trans-woman and continues to be a famous American TV personality.
18. Ralph Boston (Track & Field)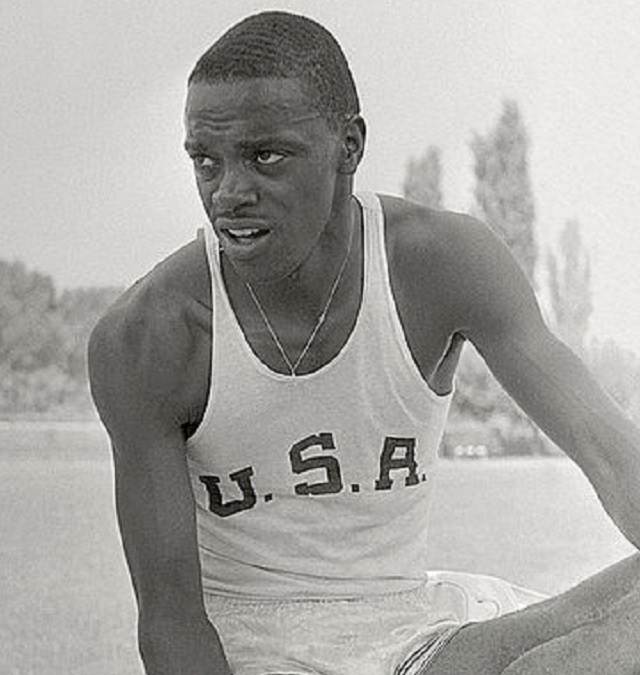 (By Mario De Biassi/Angelo Cozzi (Mondadori Publishers), Wikimedia Commons)
Ralph Harold Boston's rise to victory began at the 1960 Summer Olympics, where he set a new Olympic record and secured a gold medal for himself in the long jump event. He then went on to win the Amateur Athletic Union Championship 6 times in a row, between 1961 and 1966. In 1963, he was noted for performing the longest triple jump ever done by an American. In the 1964 Olympics, Boston earned himself a silver medal and in the subsequent year set a new world record, yet again. In 1974, he was inducted into the USA Track and Field Hall of fame, and then the U.S. Olympic Hall of Fame 11 years later.
19. Shirley Babashoff (Swimming)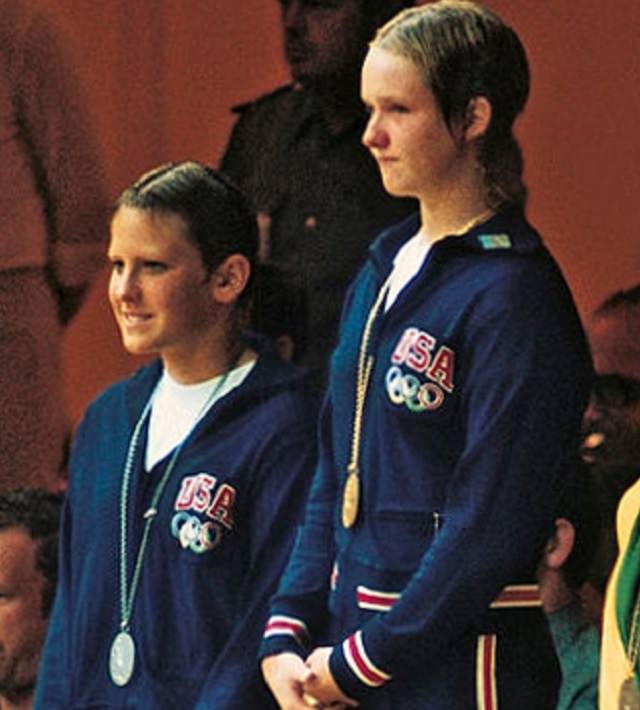 Shirley Babashoff on the Podium at the 1972 Olympics
(By Guido Cegani (Mondadori Publishers), Wikimedia Commons)
Shirley Frances Babashoff began her career in the Olympics at the young age of 15, and over the next approximately 15 years of her career, would go on to set 37 national records, 6 world records, and win a total of 9 Olympic Medals. Her first gold medal, world record, and first six national records were earned in the 1972 U.S. Olympic Trials. In the 1976 Summer Olympics, she went on to earn another gold medal and 4 silver medals. She has also been inducted into the International Swimming Hall of Fame.
20. Lee Evans (Track & Field)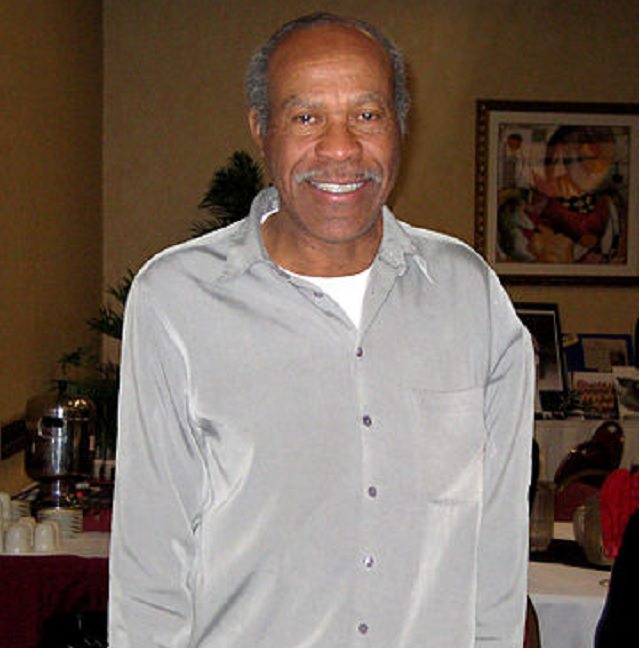 (By Astrid Barros, Wikimedia Commons)
Born Lee Edward Evans, his victories began in 1968 at the Olympic Trials in California, by setting a world record in sprinting that he would then go on to outdo in the following Olympic Final. This achievement had him dubbed the 13th Best Performer in history. In that same stretch, he also won a second gold medal for the 4x400 relay team event. He was also a major activist in pushing for social change at the time and was a front-runner in the Olympic Project for Human Rights.