On an almost daily basis, we find ourselves encountering numerous situations that test our pride, ego, and patience, but above all else, our ability to stay humble. Humility is a quality that not all possess, but all should most definitely work toward possessing. A humble person can face both defeat and success with grace. Humility can change our lives and influence those around us in a wonderful way. If you don't believe me, perhaps these quotes will inspire you to cherish every opportunity for humility that life grants you.
1. Ah, yes. The topic at hand.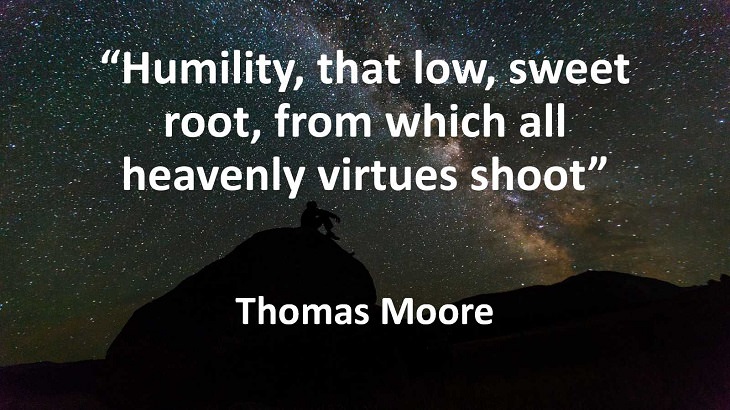 "Humility, that low, sweet root, from which all heavenly virtues shoot."
— Thomas Moore
2. And yes, humility can often be mistaken for other attributes.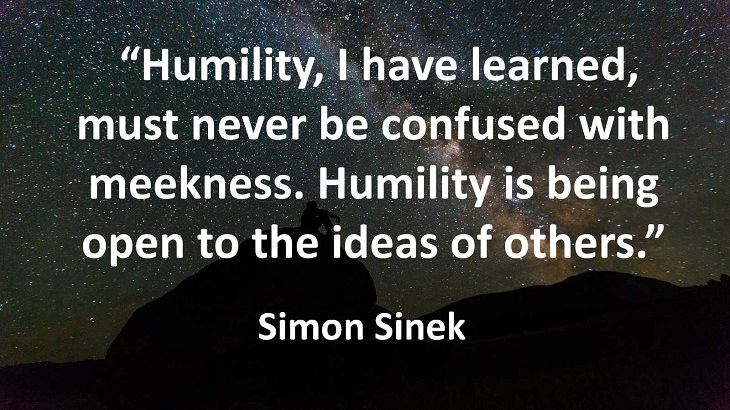 "Humility, I have learned, must never be confused with meekness. Humility is being open to the ideas of others."
— Simon Sinek
3. And once we are open to the ideas of others, our world becomes limitless.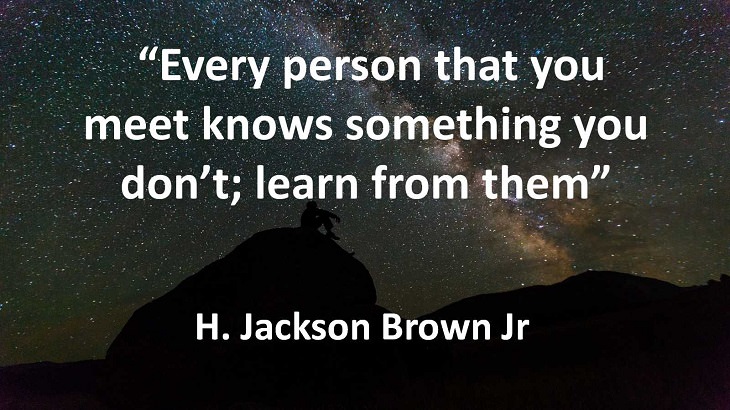 "Every person that you meet knows something you don't; learn from them."
— H. Jackson Brown Jr
4. After all, It is a known fact that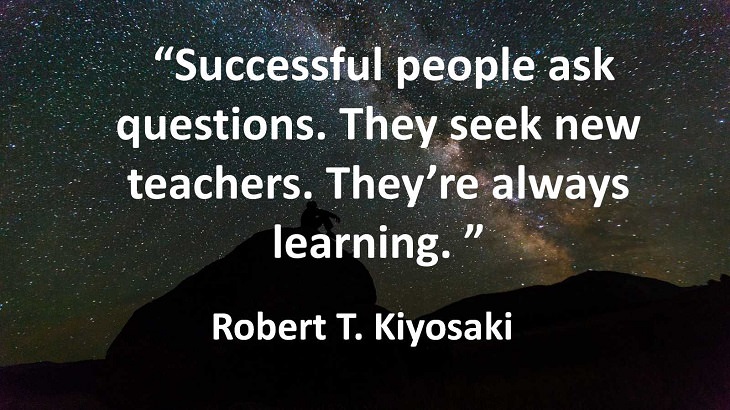 "Successful people ask questions. They seek new teachers. They're always learning."
— Robert T. Kiyosaki
5. They are always willing to enhance their thinking skills.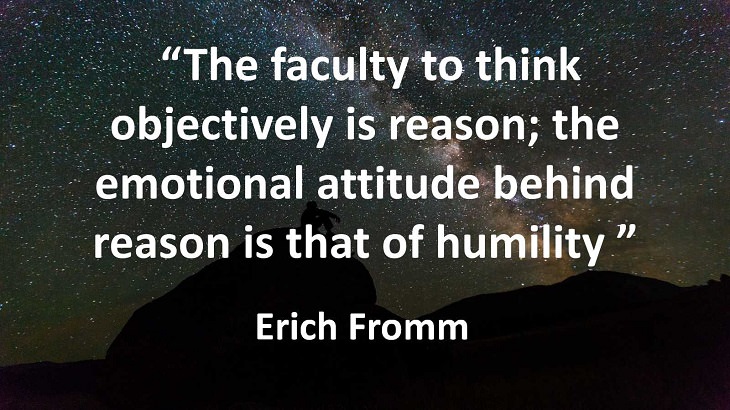 "The faculty to think objectively is reason; the emotional attitude behind reason is that of humility."
— Erich Fromm
6. Humility is also often lost in pride, but the two are very distinct.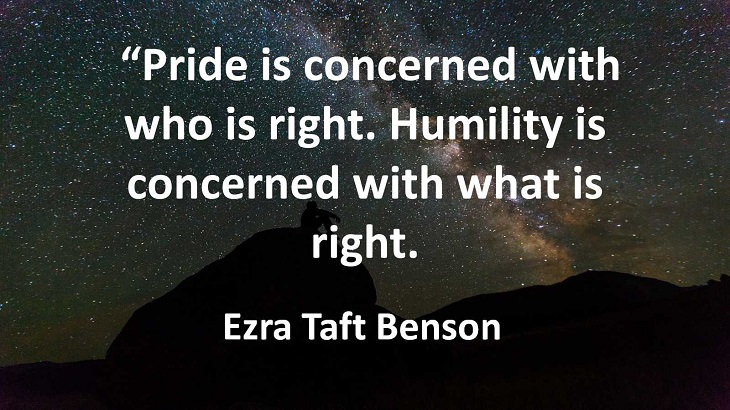 "Pride is concerned with who is right. Humility is concerned with what is right."
— Ezra Taft Benson
7. That is why,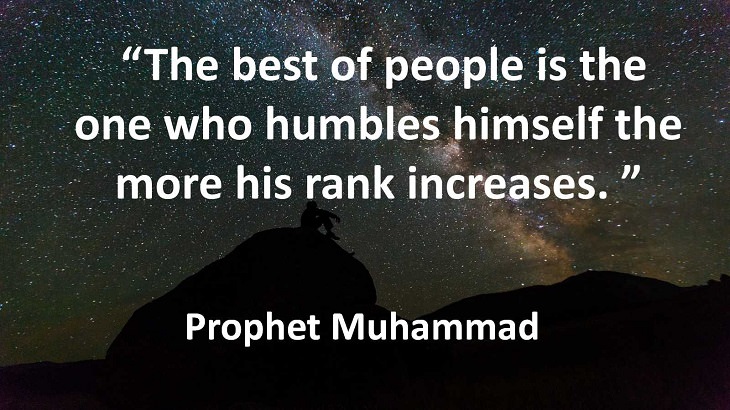 "The best of people is the one who humbles himself the more his rank increases."
— Prophet Muhammad
8. The truth is,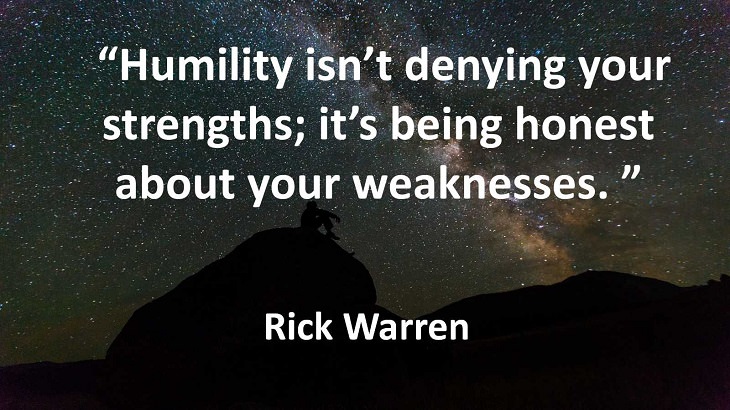 "Humility isn't denying your strengths; it's being honest about your weaknesses."
— Rick Warren
9. But once you are honest with yourself, you'll know that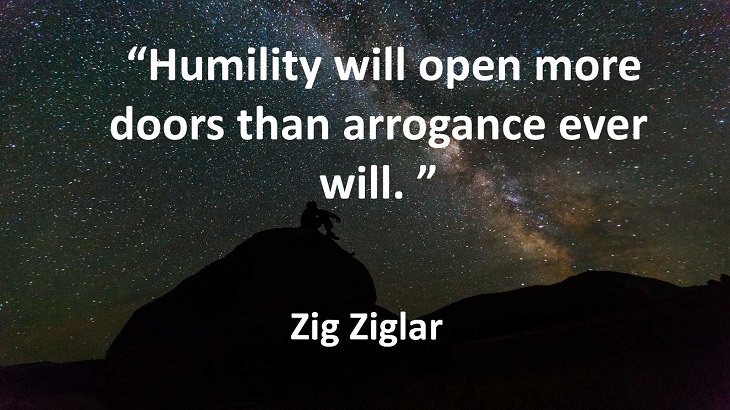 "Humility will open more doors than arrogance ever will."
— Zig Ziglar
10. Eventually, it becomes a part of your future.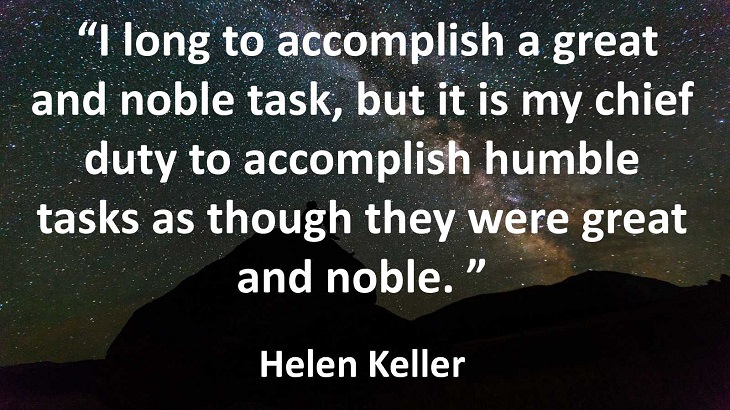 "I long to accomplish a great and noble task, but it is my chief duty to accomplish humble tasks as though they were great and noble."
11. When you think about it,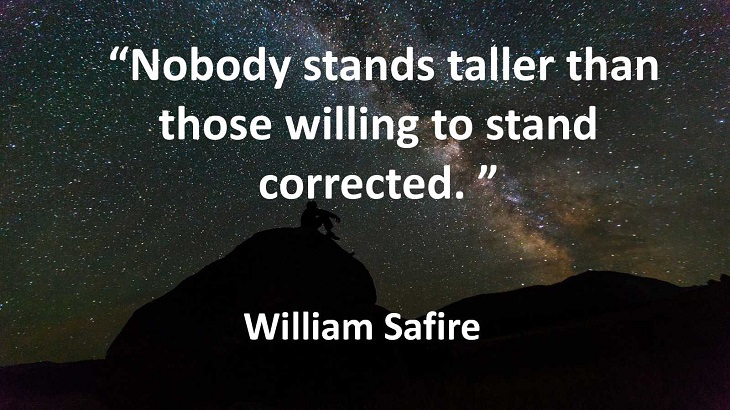 "Nobody stands taller than those willing to stand corrected."
— William Safire
12. And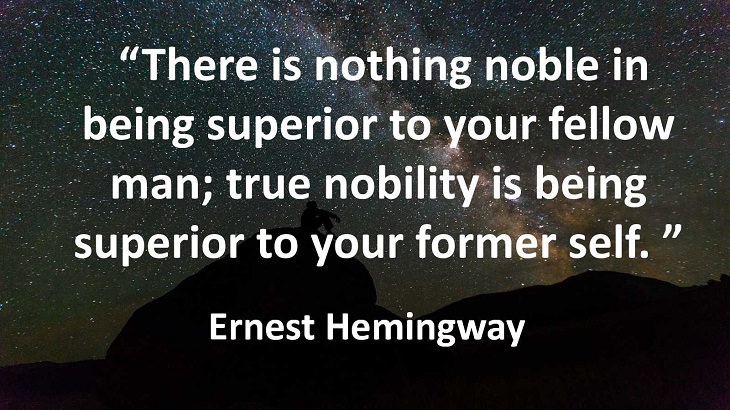 "There is nothing noble in being superior to your fellow man; true nobility is being superior to your former self."
13. When constantly faced with battles, humility is what will allow you to keep growing.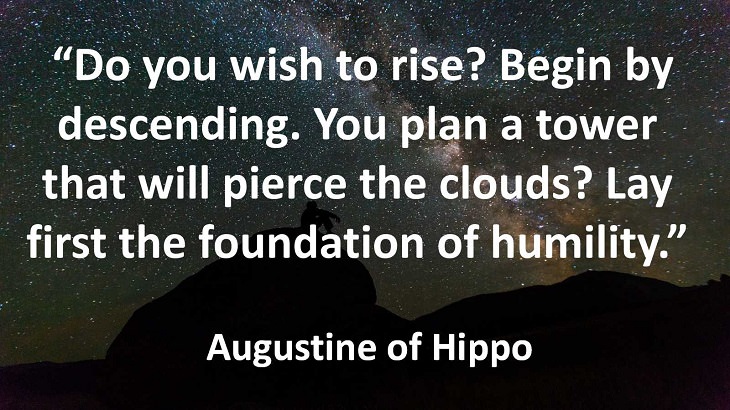 "Do you wish to rise? Begin by descending. You plan a tower that will pierce the clouds? Lay first the foundation of humility."
— Augustine of Hippo
14. It's important to remind ourselves of the braggart our ego creates.
"Who knows himself a braggart, let him fear this, for it will come to pass that every braggart shall be found an ass."
— William Shakespeare
15. On that note, we always need to move forward and remember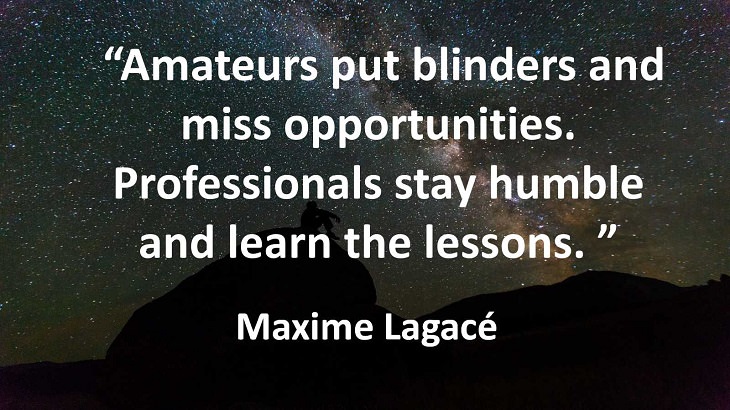 "Amateurs put blinders and miss opportunities. Professionals stay humble and learn the lessons."
— Maxime Lagacé
16. That's why, as we move up in life, it's so important to remember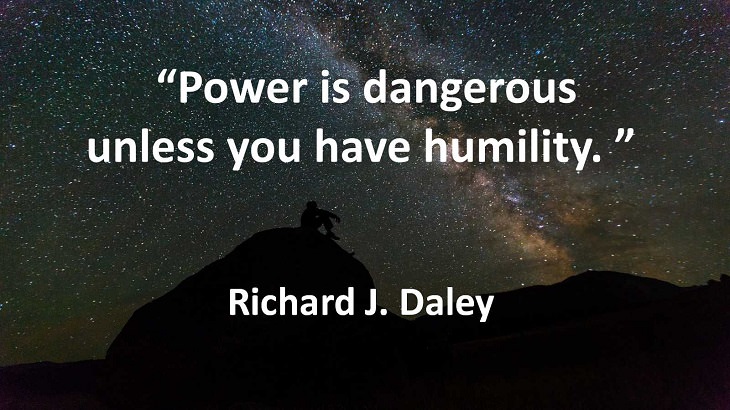 "Power is dangerous unless you have humility."
— Richard J. Daley
17. We all must recognize,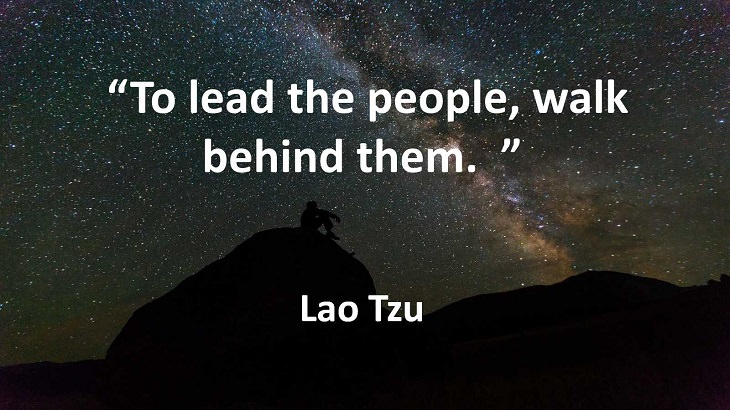 "To lead the people, walk behind them."
— Lao Tzu
18. After all,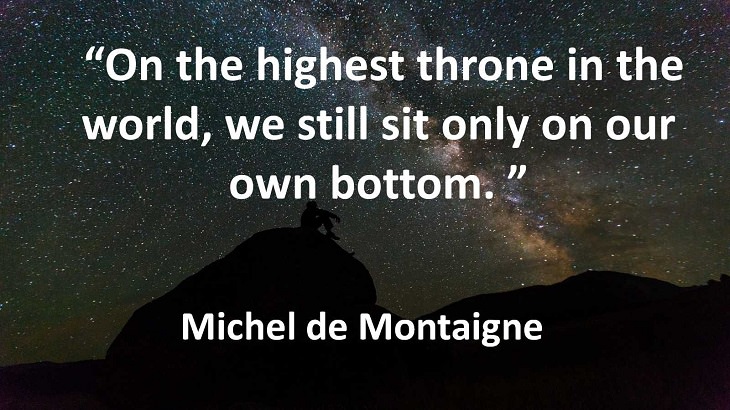 "On the highest throne in the world, we still sit only on our own bottom."
— Michel de Montaigne
19. What we gain comes from what little we have, and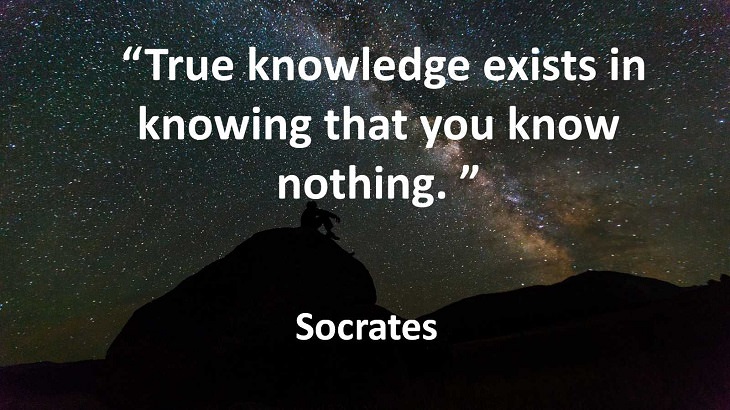 "True knowledge exists in knowing that you know nothing."
— Socrates
20. There is a real strength in this lack of knowledge.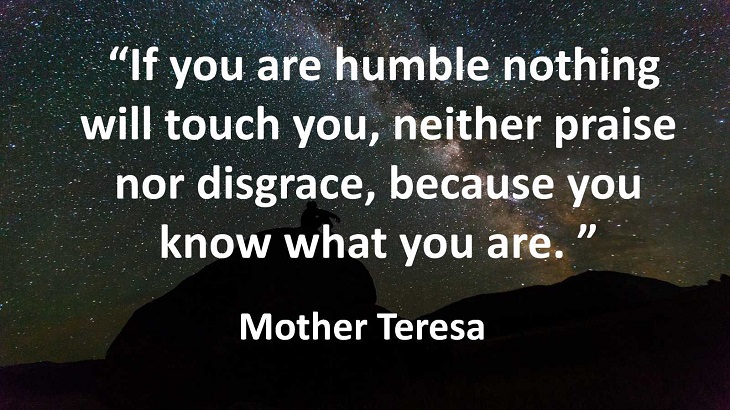 "If you are humble nothing will touch you, neither praise nor disgrace, because you know what you are."
21. Even in our worst moments, it offers us light.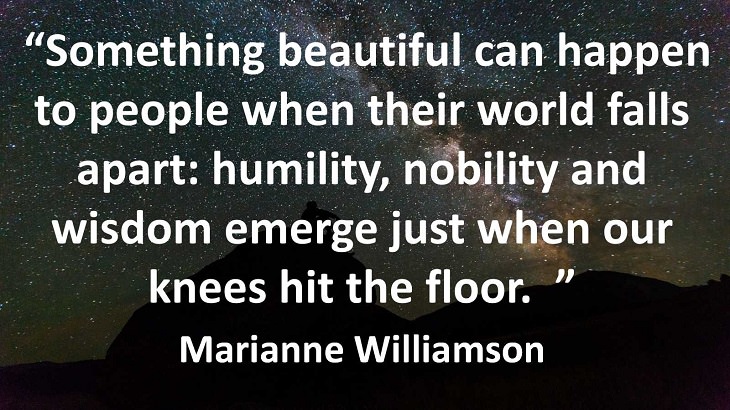 "Something beautiful can happen to people when their world falls apart: humility, nobility and wisdom emerge just when our knees hit the floor."
— Marianne Williamson
22. As a famous comedian said,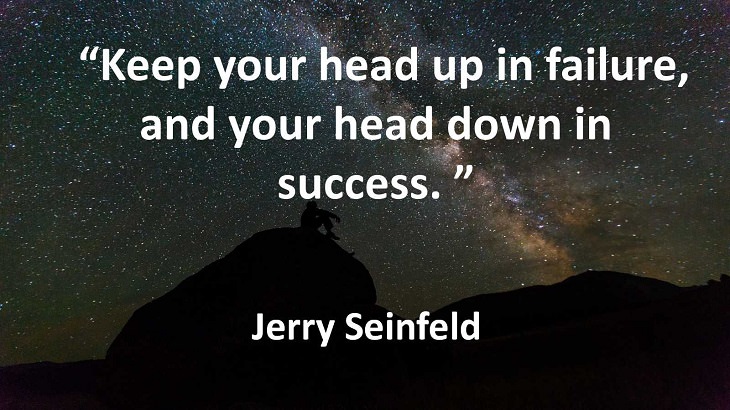 "Keep your head up in failure, and your head down in success."
— Jerry Seinfeld
23. There is always wisdom to be gained.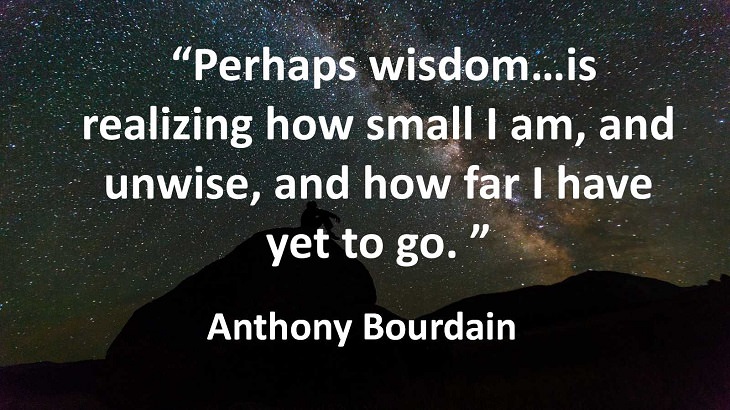 "Perhaps wisdom…is realizing how small I am, and unwise, and how far I have yet to go."
— Anthony Bourdain
24. But you're never truly small, just because you are humble.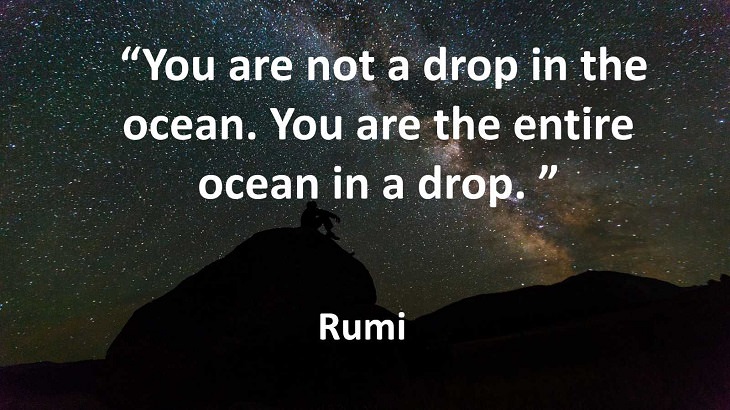 "You are not a drop in the ocean. You are the entire ocean in a drop."
— Rumi