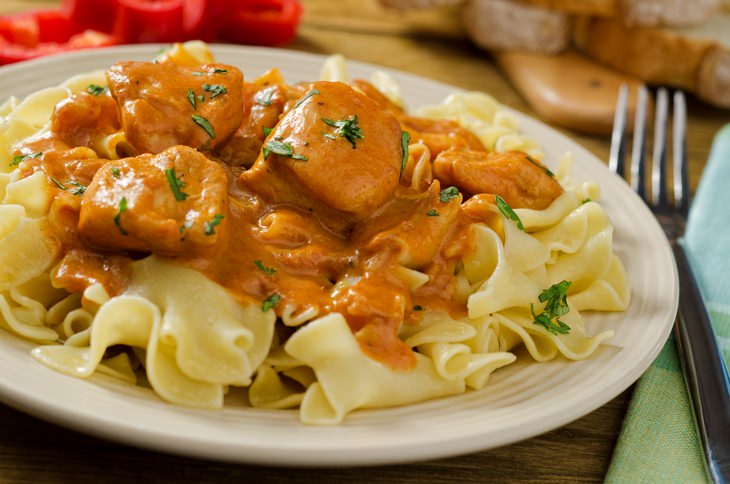 This creamy Hungarian stew is extremely easy to make and is absolutely delicious. Traditionally, paprikash is eaten with a side of spaetzle (nokedli, as they're known in Hungary), but if you don't want to bother making the dumplings, any store-bought pasta or gnocchi will do. Traditionally, the chicken cooks by simmering, but we suggest browning it beforehand.
Ingredients:
• 2-3 lbs. chicken thighs and legs, bone-in, skin-on
• 3 large onions, diced
• 2 tbsp. butter or lard
• 4 tbsp. sweet paprika, preferably Hungarian
• ½ cup sour cream
• ½ cup whipping cream
• 3 tbsp. all-purpose flour
Instructions:
1. In a pot, heat lard or butter and brown the chicken on all sides. Remove from pot and let rest.
2. Sauté the onion in the same pot until fragrant.
3. Add paprika and salt and pepper to taste and stir.
4. Return the chicken to the pot and cover with water. Cook over low heat for 30 minutes. Carefully remove the chicken once cooked.
5. In a bowl, mix equal parts sour and whipping cream and add flour. Stir until smooth and pour into the paprikash sauce, stirring to avoid lumps. Re-add the chicken to the pot.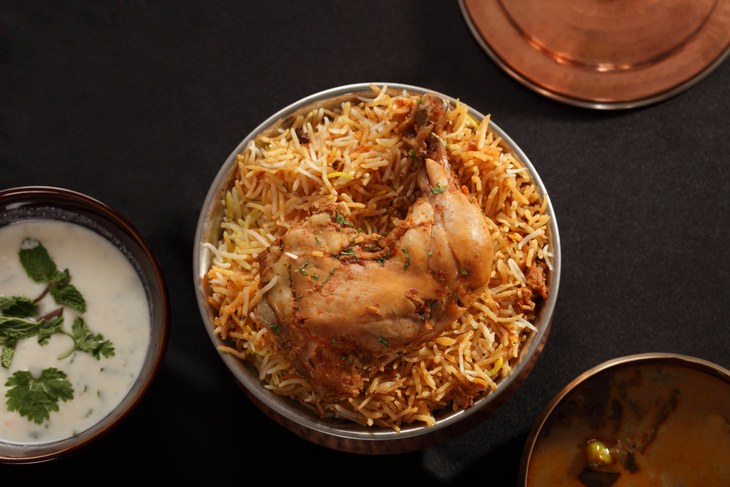 This rice pot from the Indian subcontinent is rather similar to pilaf, with several key differences: biryani typically has a larger meat-to-rice ratio, is more aromatic, has more gravy and is traditionally layered. Consequently, it requires a bit more preparation.
Ingredients:
• 2 lbs. chicken thigh, bone-in, skin-on
• 2 medium-sized onions, thinly sliced
• 2 tbsp. ghee (preferably) or butter
• 3 cloves of garlic, chopped
• 1 tbsp. garam masala
• ½ tbsp. ginger, grated
• ½ tsp. ground cinnamon
• ½ tbsp. ground turmeric
• 8 green cardamom pods
• ½ cup yogurt
• 2 tsp. cilantro, finely chopped
• 1 tsp. mint leaves, finely chopped
• ½ tsp saffron (optional)
• 1½ cups basmati rice
Instructions:
1. In a pan, heat ghee (or butter) and fry the onion until well caramelized.
2. Combine the chicken, half of the fried onions and all of the seasoning (except for the saffron) in a bowl and let the chicken marinate in it for anywhere between an hour and overnight.
3. Rinse the rice until starch-free.
4. If using saffron, steep the saffron in about ½ cup boiling water for 5 minutes.
5. Add the saffron (with the water it's been steeped in) to the rice along with enough boiling water to cover the rice and add salt to taste. Boil for 5 minutes and drain.
6. In a pan, take the marinated chicken and brown on both sides. Return the chicken to the bowl.
7. In a pot, spread half of the rice in an even layer, then the chicken, then the onions, and finally, the rest of the rice.
8. Add 1 cup of water and cook over low heat for 20 minutes with a closed lid. Let the biryani steam for at least 10 minutes before removing the lid.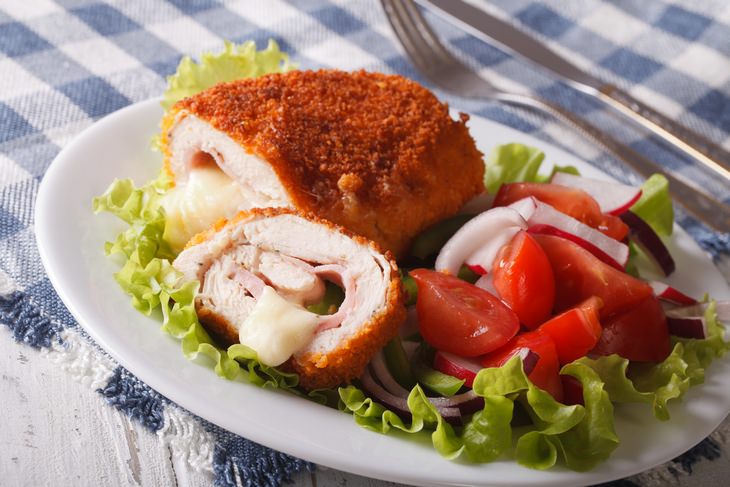 Time to bring some gourmet cuisine into the mix. This Swiss dish is a cutlet (or schnitzel) wrapped around ham and cheese. While this may sound simple enough, this crumbed delicacy can require a bit of work.
Ingredients:
• 3 chicken breasts, boneless and skinless
• 1½ seasoned bread crumbs
• 1 tbsp. garlic powder
• 1 tbsp. onion powder
• 10 slices Swiss cheese
• 8-10 slices of ham
• 2 egg
• 2 tbsp. all-purpose flour
For the sauce:
• 2 tbsp. butter
• 1 clove of garlic, minced
• 2 tbsp. all-purpose flour
• 1½ cups milk
• ¼ cups Dijon mustard
• ½ cup parmesan cheese, shredded
Instructions:
1. Coat the breasts in salt, pepper, garlic and onion powders.
2. Place the breasts on a cutting board between two plastic wraps and flatten with a meat mallet until about ½-¼ inch thick.
3. Remove the wrap. Lay out the cheese and the ham on the breasts in layers, so: a slice of cheese, ham, cheese, ham.
4. Roll the breast and wrap tightly in plastic wrap, tie the edges of the wrap. Chill the rolls in the fridge for 30 minutes.
5. Set three bowls or baking dishes: one with flour, one with whisked egg, and the final one with bread crumbs.
6. Preheat a sauté pan with about 2 inches of vegetable oil.
7. Remove the wraps and dredge the rolls in flour, then egg, then crumbs.
8. Place the rolls in the oil and cook for 5 minutes then turn the rolls and cook for another 5 minutes. The rolls should be ready.
For the sauce:
1. In a saucepan, melt the butter and add the garlic. Sauté until soft.
2. Add the flour and whisk for a minute.
3. Add the milk and continue whisking until a roux forms.
4. Add mustard, parmesan, salt and pepper, and stir.