When some carnivores think about vegan food, they often think of needlessly expensive ingredients that are hard to prepare, and maybe bland salads. Well, they couldn't be further from the truth. Vegan food is incredibly easy to prepare, flavorful, healthy and typically far lighter on the wallet than the carnivorous alternative. Here are three great vegan recipes from three different cuisines (Indian, Chinese and Italian) that even meat-eaters would be forced to admit are delicious.
South Indian vegetable curry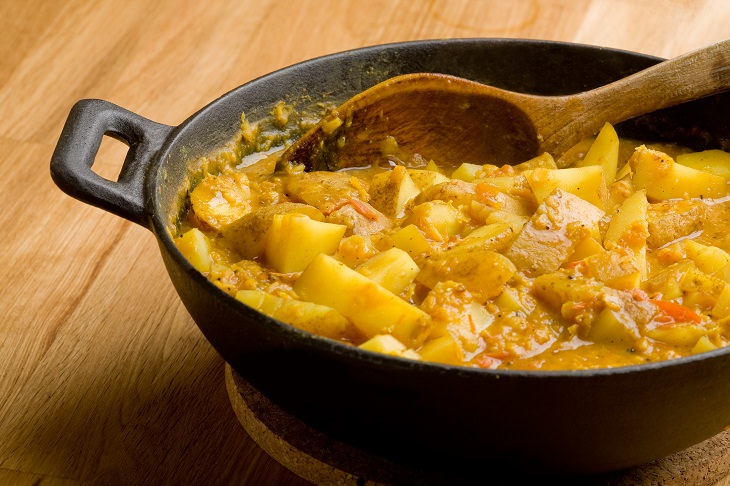 You might not know this by looking at all of the meat and yogurt-rich Indian restaurants in the west, but India is one of the most vegan-friendly places on earth, as many of the Indian religions and philosophies either demand or recommend a vegetarian diet. One of the most popular dishes is aloo gobi, which consists of well-seasoned cauliflowers and potatoes. Served with a Goan curry (which substitutes yogurt with coconut milk), this dish is a 100% vegan and delicious. It can be eaten as is or served on top of plain rice or (vegan) paratha bread.
For the curry paste
• 6-8 dried Kashmiri chilies
• 1½ cups fresh grated coconut
• ½ yellow onion, chopped
• 1 tsp tamarind paste
• 1½ tbsp chopped or grated ginger
• 5 garlic cloves
• ½ tsp powdered turmeric
• ½ tsp ground black pepper
• 1 tsp powdered cumin
• 1½ tsp coriander seeds
• 1 cup of coconut milk
For the vegetables
• 2 cups cauliflower florets
• 2 medium-sized potatoes, peeled and chopped
• 1 medium onion, chopped
• 1 medium carrot, diced
• 1 medium tomato, diced
• 1 tbsp tomato paste
Instructions
1. Blend all of the curry ingredients in a food processor until you get a smooth paste.
2. In a frying pan, sauté onion until golden.
3. Add tomato and tomato paste and stir.
4. Add the curry and stir well. Let cook on low heat for several minutes.
5. Add carrots, potatoes, and cauliflower. Cook for about 7 minutes.
6. Add water or coconut milk and cook until the vegetables are tender.
Stir-fried vegetables and tofu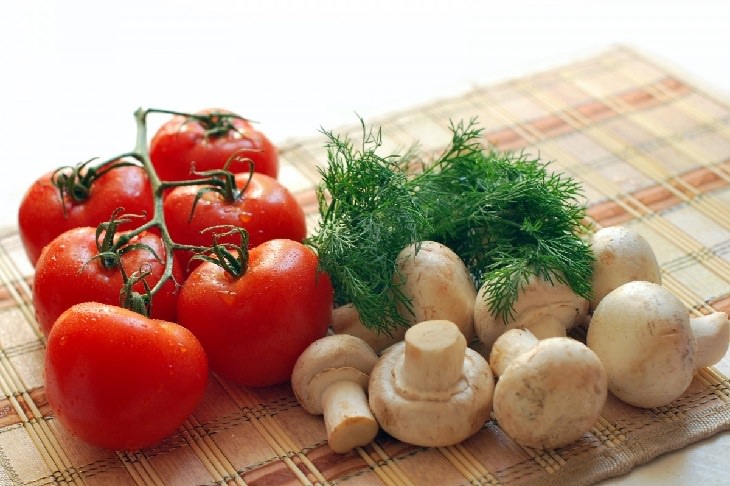 Making a vegan stir-fried dish is extremely simple and takes very little time. To give the tofu a more al-dente, savory quality, we will give it a light corn flour coating and fry it before adding to the mixture. This dish can be eaten as is, or on top of rice or noodles.
Ingredients
• 14oz/400g extra firm tofu
• 2 tbsp corn flour
• Salt and pepper to taste
• 2 cups broccoli florets
• 1 cup snow peas
• 2-3 garlic cloves, finely chopped or minced
• 1 tbsp ginger, finely chopped
For the sauce
• ¼ low-sodium cup soy sauce
• 1 tbsp rice vinegar
• 1 tsp chili flakes
• 1 tbsp sesame oil
• 2 tsp hoisin sauce
Instructions
1. Use a paper towel to absorb any moisture from the tofu.
2. Cut the tofu into cubes and put in a mixture of corn flour, salt, and pepper.
3. Mix the ingredients for the sauce and set aside.
4. In a non-stick pan, fry the tofu until crispy and brown on both sides and remove from pan.
5. In a pan or wok, sauté ginger and garlic.
6. Add the broccoli and the peas and cook for one minute.
7. Add the sauce and stir-fry over high heat for a few minutes.
8. Add the tofu, stir everything together and turn off the flame.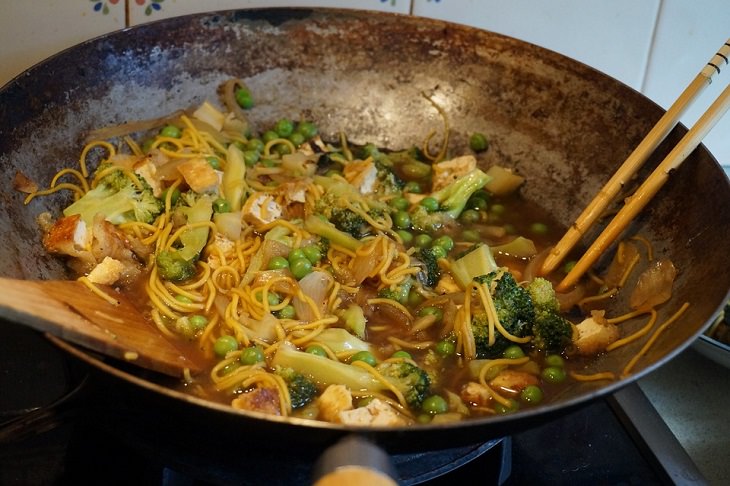 This vegan Bolognese sauce substitutes meat for juicy mushrooms which are full of flavor. Champignon mushrooms make for a great meat substitute as they surprisingly share a lot of qualities with meat, including a savory flavor, the tendency to absorb liquids and take in the flavors of the sauce while simultaneously coloring the rest of the sauce with their own distinct aroma, and the much-needed chewy bite. This dish is best served with spaghetti or tagliatelle pasta.
Ingredients
• 28oz/800g crushed tomatoes
• 1 cup tomato paste
• 1 box fresh champignon/Portobello mushrooms, chopped or diced depending on whether you want large chewy chunks or to emulate the ground beef element of the non-vegan ragu
• 1 bay leaf
• 1-2 sprigs of basil
• 1 tsp thyme
• 1 tsp oregano
• 1 tsp marjoram
• 5 garlic cloves, minced
• 1 medium carrot, shredded
• 1 medium onion, diced
• Red wine
• Salt and pepper to taste

Instructions
1. In a large pot, sauté the onion until lightly golden.
2. Add carrots, garlic, and the seasoning herbs and cook over low heat.
3. Add wine to the tomato paste to give it a more liquid consistency.
4. Add tomatoes and tomato paste to the pot.
5. In a frying pan, sauté the mushrooms until slightly tender.
6. Add the mushrooms to the tomato sauce, stir well and let cook for 15-20 minutes, adding liquids as needed.