or Facebook because they're constantly gathering data about us. But it turns out that there is a solution that can help prevent us from feeling helpless and it lies in two efficient apps called "WhatsAppWhile it is not always pleasant to admit or think about it - we live in a world where the concept of privacy is quickly disappearing. We can no longer use our phone without our location being tagged or make a phone call without it being recorded, and we can't be private while using apps like Secnumber" and "Parallel Spaces" that allow you to use the cellular technology at your disposal and keep your privacy. In addition, there are many advantages to using two different accounts for other applications, to receive and make calls using a different phone number, to let other people use your smartphone without fear, and to avoid unpleasant conversations. With our brief and concise guides, you'll learn how to use them and upgrade your smartphone.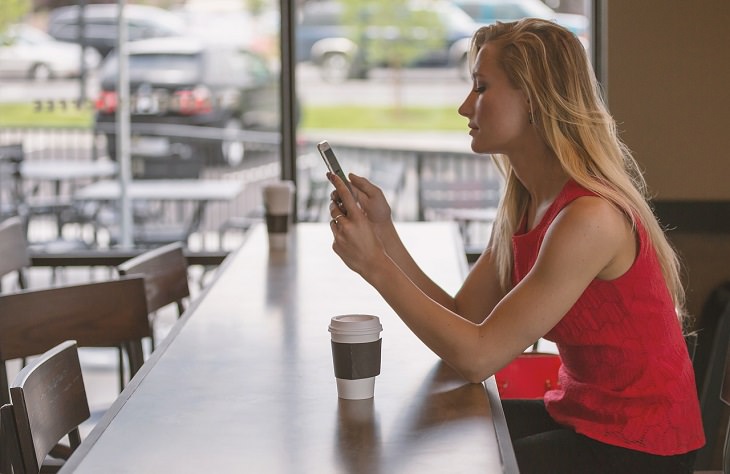 "SecNumber" guide
Sometimes we'd rather send a text or make and receive calls to and from phone numbers which aren't known by others. These situations happen to many of us in our professional and personal lives - and this second number app is the perfect solution.
It's a simple and convenient app, where you actually get another phone number that's connected to your device; You don't need to buy a new phone, purchase another line from the cell phone company or swap SIM cards - the additional number is completely virtual and operates from any device the app is downloaded on. This number lets you call others, whether they are stored in your phone contacts or not, receive calls, and send and receive text messages. Just note, using the app is free for 60 minutes of calling per month.
Download SecNumber for Android
The app is easy and convenient to use, but just so there is no confusion, we've prepared a short guide on how to use its main options:
1. Open the app and give it the required access rights (access to contacts, text messages, and more).
2. You will now be taken to the main screen - at the top of which is the virtual number assigned to you. If you dial any number using the dialer and then call it by pressing the call button, the party receiving your call will see the virtual number on its display.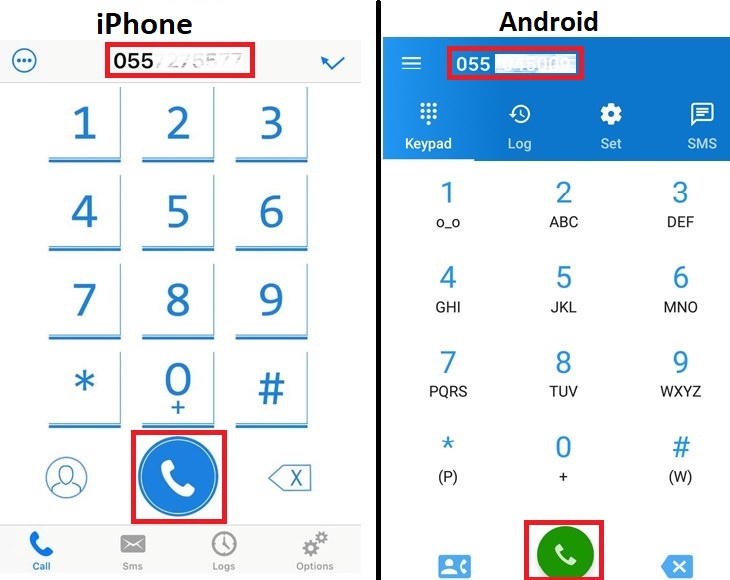 3. If you want to dial one of the contacts stored on your phone, click on the
icon (Android) or
icon (iPhone), and your contact list will be displayed on the screen.
4. If you want to send text messages using the application, go to the SMS tab in the top (Android) or the bottom (iPhone) menu of the application. Open a new message by pressing the + button at the bottom (Android) or the top (iPhone) of the screen. You can now enter the number you want to send the message to, or press the Contacts button to send a message to one of the contacts in your phone.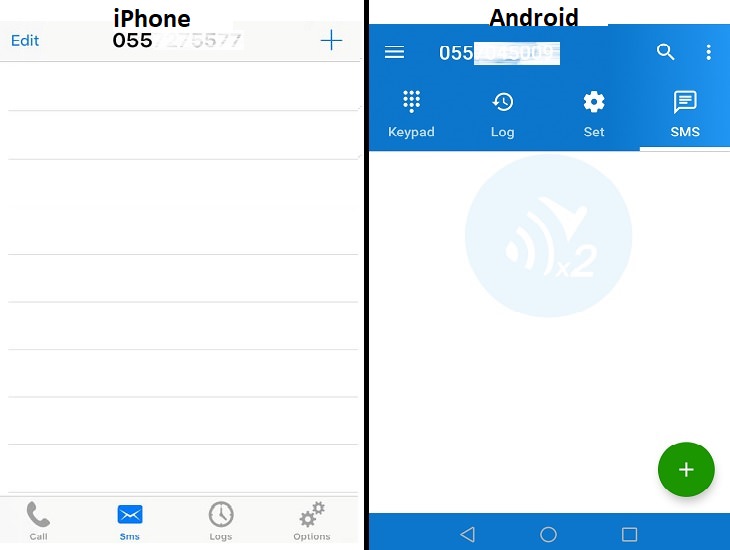 5. On the Log tab, you can see the log of numbers you've dialed through the app as well as those who called you through it.
6. You can clear your conversation history by clicking on the
icon in the upper-left corner of the screen and then on Clear Calls History (Android) or by clicking the Edit button, then the Clear button and selecting Clear all Items (iPhone).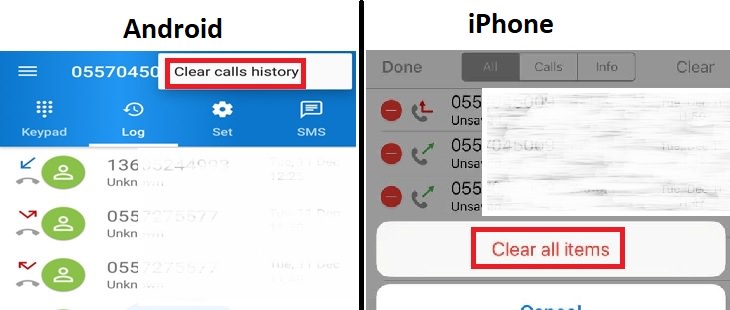 7. On the "Set" (Android) or "Options" (iPhone) tab, under Incoming Calls, you can determine whether the calls to the virtual number in the app are accepted as usual (Accept) - ie your phone will ring and display the caller number - or be blocked, meaning you won't be notified of any incoming calls. Another option is to forward them to a different number - that is, any call received to your virtual number will be transferred directly to another line of your choice.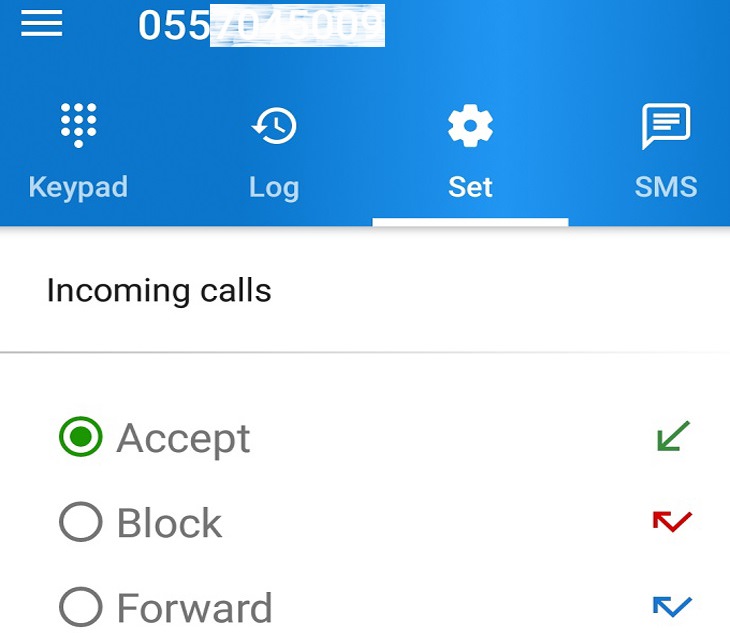 Parallel Space app
With the Parallel Space app you are actually getting a clone of your smartphone; All installed apps, or at least the main ones, are copied to the clone, but they are disconnected from your original accounts, so you can actually create duplicate accounts in the various apps or connect them to other people's accounts. For example, if your partner or your child uses your phone, you can connect these apps to their accounts instead of using your account, and you can create as many profiles as you'd like.
Parallel Space is currently only running on Android-based devices - if you have one and want to download it, click here.
The following short guide will help you understand how to use the app:
1. At the initial launch of the application, it will show you the main apps (Facebook, Wattsap, Gmail and more) that it has identified and is able to clone on your phone. If you do not want it to clone one or more of the apps it offers, remove the blue check next to it by clicking it. Once you've chosen exactly which apps you want to clone, click on the blue "Add to Parallel Space" button at the bottom of the screen.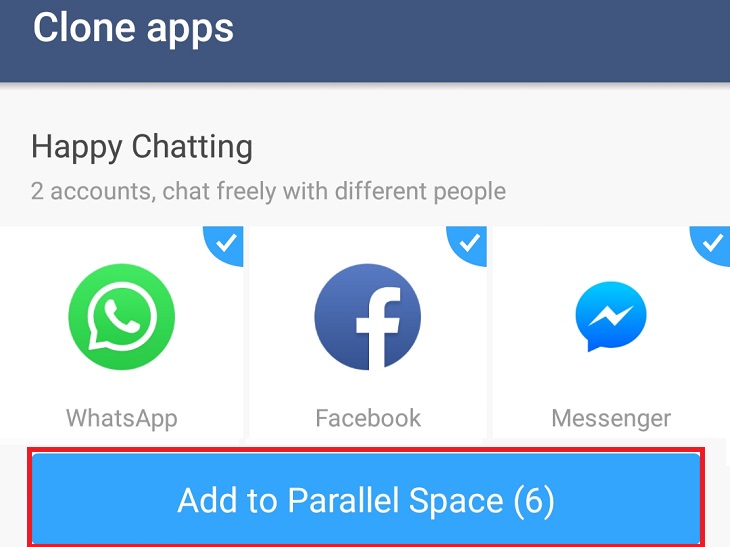 2. Now all application clones that Parallel Space created will appear on a new screen. If you want to clone additional applications that didn't appear on the Home screen, click on the Add App button at the end of the list of cloned applications - and you can select additional applications for cloning from the list of all installed apps on your mobile phone.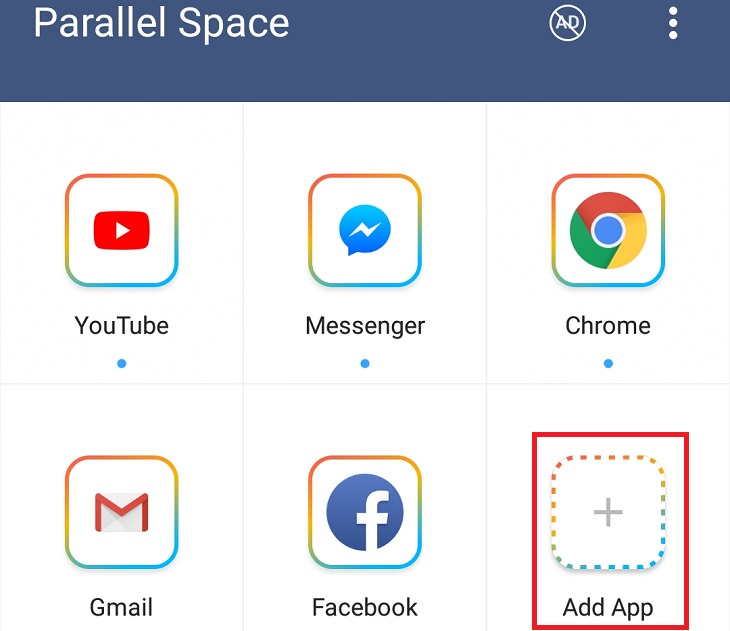 3. On the main screen, you can select any cloned app and open it using Parallel Spaces. As mentioned, the application you selected will open to you when it is disabled, meaning that it is not connected to any account - and you will have to log into the account you want.