What do you do when you feel like an Italian-styled dish, but don't want to deal with a messy clean-up afterwards? You simply just turn to this delicious Chicken Cacciatore recipe. Traditionally, this dish is cooked entirely on a stove, simmering over a medium-low heat for nearly an hour. However, we know you don't have time for that, so after a quick cook and simmer, we're going to pop the whole thing in the oven to cook completely.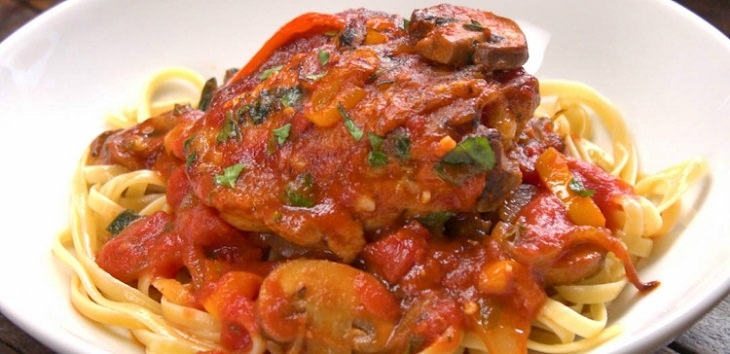 Chicken Cacciatore (Serves 4)
Ingredients
• 1 ½ pounds bone-in chicken thighs and legs, seasoned
• Salt to taste
• Ground black pepper to taste
• 2 tablespoons olive oil
• 1 tablespoon butter
• 1 cup sliced onion
• 1 ½ cups Cremini mushrooms, sliced (about 6 ounces)
• 1 cup sliced bell pepper, any color
• 1 clove garlic, minced
• ½ teaspoon crushed red pepper flakes (optional)
• ½ cup white wine
• 1 15 oz. can crushed tomatoes
• ½ cup fresh basil, chopped and divided
• ¼ cup fresh parsley, chopped and divided
• 1 tablespoon chopped fresh thyme, divided
• ¼ cup grated Parmesan cheese (optional), for garnish
Directions
1. Preheat the oven to 375F/190C.
2. Season the chicken with salt and ground black pepper.
3. Over a medium-high heat, heat the olive oil and butter in a large, oven-safe skillet. Add the chicken and cook for roughly 3-5 minutes per side, or until golden brown. Remove the chicken, and set aside. (The chicken will not be cooked through at this point).
4. Add the onion, mushrooms, and bell pepper to the pan. Season with salt and pepper, and sauté for about 3-4 minutes, or until they start to soften. Add the minced garlic and crushed red pepper flakes (if using). Cook, stirring constantly, for 1 minute, until fragrant. Add the white wine and bring to the boil.
5. Add the crushed tomatoes, ¼ cup of the basil, 2 tablespoons of the parsley, and ½ the chopped thyme. Stir until everything is well combined, and place the chicken back in the pan. Coat the chicken in the sauce, and bring the mixture to a simmer.
6. Transfer the skillet to the oven and bake for 10-15 minutes, until the chicken is cooked through.
7. Top with the remaining herbs and Parmesan cheese (if using). Serve warm.

Source: tiphero