If there's one dish that is guaranteed to be on the menu at an Indian restaurant, it's chicken tikka masala, which is made up of grilled chunks of chicken enveloped in a creamy spiced tomato sauce. With this great recipe, you're only 45 minutes away from a delicious chicken tikka masala that is fresher, cheaper, healthier, and tastier than anything you can order.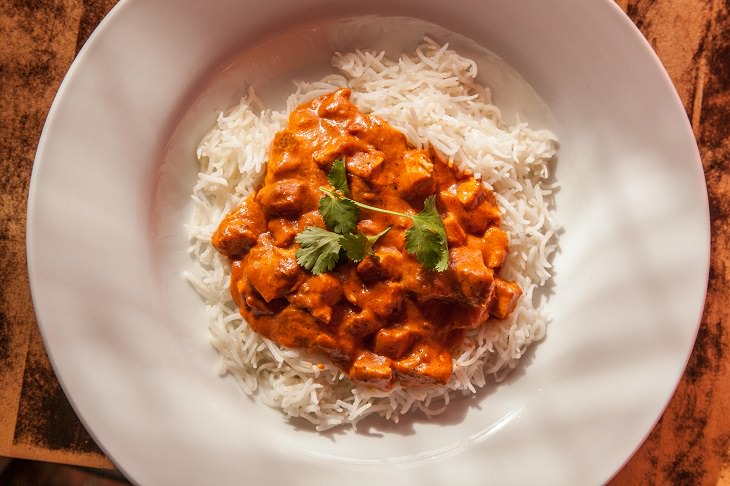 Chicken Tikka Masala (Serves 4)
Ingredients
For the chicken:
• 1 ½ pounds boneless, skinless chicken breasts
• ¼ cup plain whole-milk Greek-style yogurt
• 2 tablespoons peanut oil
• 2 teaspoons fresh lemon or lime juice
• 1 large clove garlic, minced
For the sauce:
• 1 tablespoon ground coriander
• 1 ½ teaspoons ground cumin
• ½ teaspoon ground cardamom
• ½ teaspoon ground nutmeg
• 1 ½ teaspoons paprika
• ½ teaspoon cayenne
• 1 tablespoon grated peeled fresh ginger
• 4 tablespoons (1/2 stick) unsalted butter
• 1 large white onion, finely chopped
• 1 ½ cups canned tomato purée
• ¾ cup water
• ½ cup heavy cream
• 1 ¼ teaspoons kosher salt
• ½ teaspoon freshly ground black pepper
• ½ cup chopped fresh cilantro plus additional sprigs for garnish
Instructions
Marinate the chicken:
1. Using a fork, prick the chicken breasts all over on both sides. Arrange the chicken breasts on a large sheet of plastic wrap, spacing them apart from one another, then cover with a second large sheet of plastic wrap. Using the smooth side of a rolling pin, beat the chicken until the breasts are an even ½ to ¾-inch thick.
2. In a small bowl, whisk the yogurt, 1 tablespoon peanut oil, lime or lemon juice, and garlic. Add the chicken, and rub marinade all over the meat. Set the chicken aside while you make the sauce.
Make the sauce:
3. In a bowl, whisk together the cumin, coriander, cardamom, paprika, nutmeg, cayenne, and grated ginger.
4. In a heavy, wide 4-quart pot or sauté pan, melt the butter over a medium heat. Add the onion and sauté, stirring occasionally, until light brown and caramelized, about 5 minutes.
5. Reduce the heat to moderate, then stir in the spice mixture. Add the tomato purée, water, heavy cream, and salt, and bring to the boil. Reduce the heat to gently simmer the sauce, uncovered, until thickened slightly, about 10 minutes.
While sauce is simmering, cook the chicken:
6. Heat a heavy 11-12-inch girdle or skillet over a high heat until very hot, and add ½ tablespoon of peanut oil. Working in two batches, cook the chicken breasts, turning them over a few times, and lowering the heat if the chicken chars too quickly, until they are just cooked through and browned well on both sides, 6-8 minutes in total. Transfer the chicken to a cutting board. Wipe the griddle or skillet clean with a paper towel and cook the remaining chicken, adding the remaining ½ tablespoon of peanut oil between batches.
7. When all the chicken has been cooked, cut into 1 ½ inch pieces. Add the chicken to the simmering sauce and continue to gently simmer it, stirring occasionally, for 5 minutes. Remove the pan from the heat, stir in the black pepper and chopped cilantro, and season with salt.
Source: epicurious