Busy nights don't have to mean bland dinners: you can have quality seafood in just 10 minutes. These juicy stir-fried shrimps are seared in a spicy-sweet marinade, made of soy sauce, honey, garlic, and ginger. We usually serve ours over a bed of brown rice and sautéed broccoli – but when it's this easy to whip up an amazing dish, the world really is your oyster…or shrimp in the case.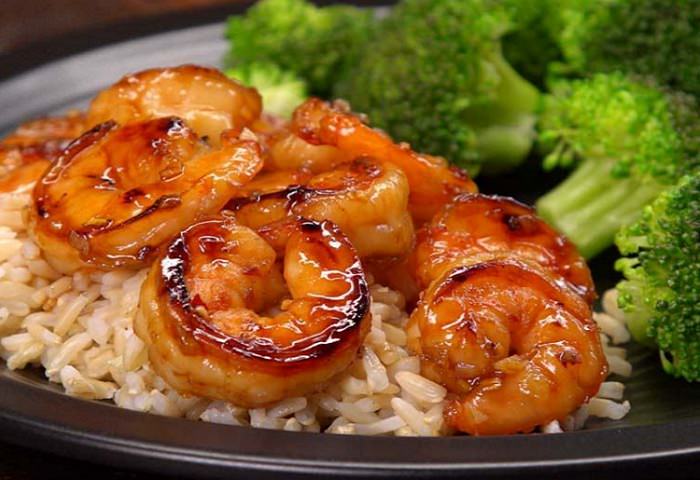 Honey Garlic Shrimp (Makes 2 Portions)
Ingredients
• 3 tablespoons honey
• 1 tablespoon reduced-sodium soy sauce
• 1 teaspoon fresh ginger, minced
• 2-3 cloves of garlic, minced (about 1 Tablespoon)
• 3/4 pound medium uncooked shrimp, peeled & deveined
• 1 tablespoon olive oil
• Salt, to taste
• Ground black pepper, to taste
• 2 tablespoons sliced green onion (optional garnish)
• Cooked brown rice (to serve)
• Broccoli or other veggies (to serve)
Method
1. Whisk the honey, soy sauce, ginger, and garlic, together in a medium bowl. Set aside for the time being.
2. In another medium bowl, add the shrimp and the olive oil. Season the shrimp with salt and pepper, and toss to coat.
3. Heat a pan over a medium-high heat. Place the shrimp into a pan in an even layer. Cook on one side until they're nicely seared, about 1-2 minutes. Flip the shrimp over, and cook for another minute, or until they're just about cooked, but still a little translucent at their center.
4. Pour the honey and garlic marinade into the pan, and cook until the shrimp are cooked through, about 1 more minute. If you want, remove the shrimp from the pan so that they don't overcook, and reduce the sauce a little to thicken it.
5. Serve the shrimp with the reduced sauce over some brown rice and vegetables. Garnish with some green onions if you wish.
Source: tiphero