Party food is a bit of an anomaly in the culinary world - no one is quite able to define what it is, but we all definitely know what it isn't. We've all experienced a depressing party spread at some point - think soggy sandwiches, or the dreaded cheese and pineapple on a toothpick. Therefore, it's time to buck the trend for sad party food and get creative. This Pepper Chicken recipe is a great way to start.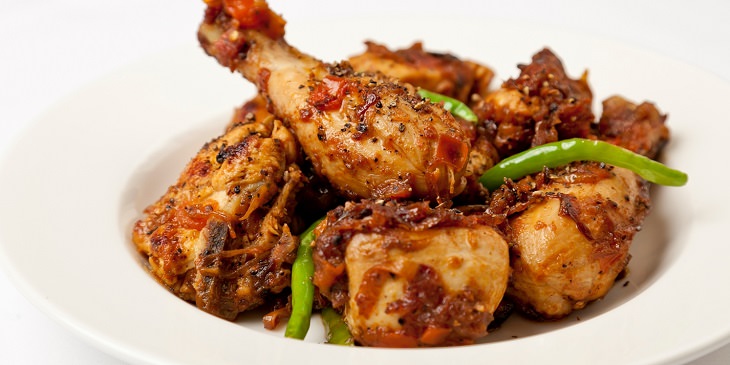 Pepper Chicken
Note: This recipe will provide you with 4 portions of pepper chicken, so if you're expecting a lot of guests, simply adjust the recipe accordingly.
Ingredients
• 1 chicken, skinned
• 2 tsp garlic purée
• 2 tsp ginger, finely grated
• 4 cinnamon sticks
• 4 cardamom pods
• 4 cloves
• 2 red onions, finely sliced
• 1 tsp ground turmeric
• 1 tsp red chili powder
• 1 tsp ground cumin
• 2 tsp ground coriander
• 3 curry leaves
• 3 green chilies, cut lengthways
• 2 tomatoes, finely chopped
• 1 tsp peppercorns, crushed
• Vegetable oil
• Salt
Method
1. Prepare the skinned chicken by cutting each breast into 3 pieces and each leg into 2 pieces (thigh and leg). Set to the side until required.
2. Make a paste by mixing the garlic and the finely grated ginger.
3. Heat the oil in a thick-bottomed saucepan over a medium heat. Add the cinnamon sticks, cardamom pods, cloves, and sauté for 30 seconds. Add the sliced onions, and stir occasionally until nicely colored.
4. Add the pieces of chicken, add the ginger-garlic paste, turmeric powder, chili powder, ground coriander, ground cumin, and salt. Cook for 10 minutes.
5. Add 1/2 cup of water, stir well, cover with a lid and simmer for 15 more minutes.
6. Add the green chilies, curry leaves, and chopped tomatoes. Turn the heat up and cook for 5 minutes (or until the chicken is cooked through).
7. Remove the pan from the heat, sprinkle with crushed peppercorns and serve.
Source: greatbritishchefs