There are arguably few things better than a chunky, steaming bowl of stew on a cold day. This rustic lamb stew dish is a fantastic recipe for exploring that less common cut of lamb: the neck - which is often completely underrated. Lamb neck has a much richer flavor than lamb shanks, allowing it to stand up better to the slow cooking used in this simple, but hearty dish.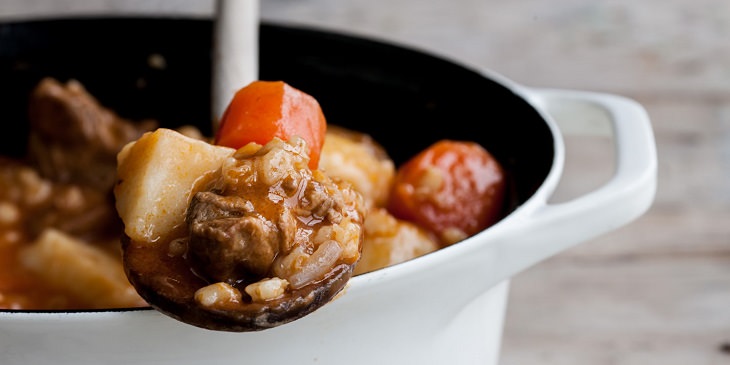 Lamb, Potato and Pearly Barley Stew
Ingredients
• 400g of middle neck of lamb, diced
• 2 carrots, medium, chopped into chunks
• 1 onion, roughly chopped
• 1 tbsp of tomato paste
• 1.1l lamb stock
• 100g of pearl barley
• 4 large floury potatoes, chopped into large chunks
• 3 tbsp of vegetable oil
Method
1. Add the oil to a large pan set over medium heat. Once hot, add the chopped lamb and cook for around 5 minutes - or until the lamb is well-colored.
2. Add the onions and carrots to the pan and leave to sweat for a couple of minutes.
3. Once the onions and carrots have softened, add the tomato purée and cook for a further few minutes.
4. Add the lamb stock and pearl barley to the pan and bring to the boil. Turn down the heat and cook gently for around 20 minutes, then chuck in the potato chunks.
5. Bring back to the boil and cook slowly until the lamb is tender and the potatoes have started to break down and thicken the sauce. Serve immediately.
Source: greatbritishchefs