There's more to avocados than guacamole! Their creamy texture can be used for recipes across the board, from nutritious and hearty breakfasts, to scrumptious desserts.

Avocados are also high in healthy monounsaturated fats,
are a good source of fiber, pack a vitamin and mineral-laden punch,
and research has also shown that consuming avocados might also help with cancer prevention. These health benefits alone should be enough to convince you to include avocados in your weekly diet (discover more here), but I'm pretty sure that these six delightful recipes will convince you even more:
Selecting the Perfect Avocado
Selecting the perfect avocado can be a little tricky. Its texture needs to be creamy and luscious and not hard, brown or slimy. To ensure you're selecting an avocado that is perfectly green and creamy on the inside, just take a look at its stem. This part of the avocado will give you a clear idea as to what's going on under the skin. Just peel back the small stem or cap at the top of the avocado and look out for the following signs:
If it comes away easily and appears green underneath, your avocado is ripe and ready to eat.

If it appears brown, the avocado is overripe.

If the stem is too hard to remove, the fruit is not ripe enough yet.
6 Delicious Ways to Eat Avocados
1. Spaghetti with Avocado Sauce
Instead of the classic pesto sauce, opt for this more nutritious version.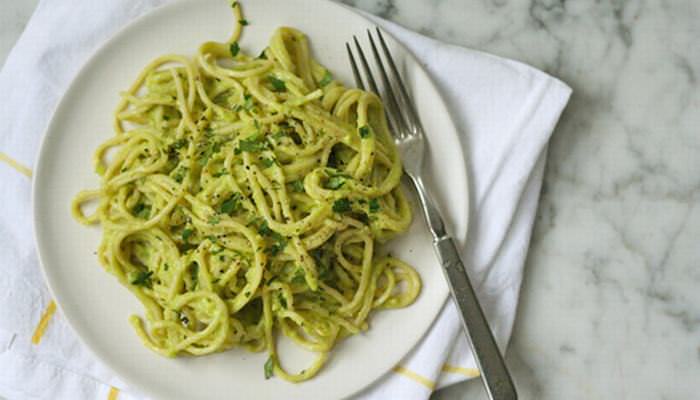 Ingredients (Serves 6-8)
12 ounces spaghetti

2 avocados-halved, pitted and peeled

1 garlic clove, smashed

1 bunch scallions, roughly chopped

Juice of 1 lemon

¼ cup extra-virgin olive oil

Salt and freshly-ground black pepper

½ cup chopped parsley for garnish
Directions:
1. Bring a large pot of salted, water to a boil. Add the spaghetti and cook until al dente - about 6 to 8 minutes.
2. Meanwhile, prepare the sauce by pulsing an avocado, garlic, scallions, lemon juice and olive oil until smooth.
3. Once the spaghetti has boiled, put 1/2 a cup of the water used for boiling aside and drain the rest. Add the water to the avocado mixture and process until smooth.
4. Add the sauce to the pasta and toss to coat. Season with salt and pepper, and garnish with some parsley. Serve immediately with some Parmesan shavings if desired.
2. Avocado Stuffed Burger
This recipe will add some good fats into the mix.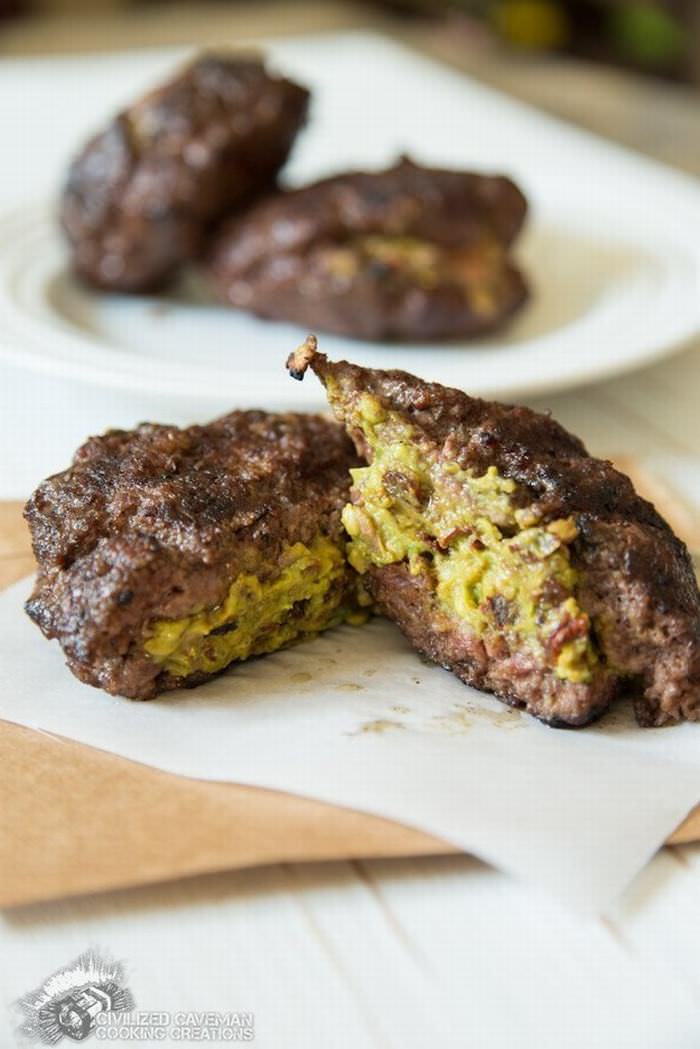 Ingredients (Serves 3-4)
2 pounds ground beef (preferably grass-fed)

2 avocados, ripe

1 cup sun-dried tomatoes, chopped (no oil)

Juice of 1/2 a lemon

Zest of 1 lemon

1 tablespoon black pepper

2 teaspoons sea salt (makes it salty depending on your sun-dried tomatoes)

Bacon fat (optional)
Directions:
1. Preheat your grill or broiler to medium/medium-high heat.
2. Meanwhile, in a large mixing bowl, combine the ground beef and black pepper with 1 teaspoon sea salt and the zest of 1 lemon. Mix the ingredients well, using your hands, forming them into thin patties. The patties need to be thin, as two will be used to make one burger, as you'll see in the next step.
3. Then, in another bowl, combine the avocados, sun-dried tomatoes, lemon juice and remaining salt. Mash until all the ingredients are fairly smooth.
3. Add the avocado mixture to one patty, leaving enough room to seal without it leaking out. Place the other patty on top and seal the burgers together.
4. Grill the burgers to your liking, ensuring that they are cooked evenly on both sides. While grilling, drizzle some bacon fat if desired.
5. Prior to serving, allow the burgers to rest for 10 minutes, then use the rest of your avocado mixture on top.
3. Charred Corn and Avocado Pizza
Get some green into your pizza with this nutritious, healthy and delicious recipe.
Ingredients (for 1 large pizza)
16 ounces pizza dough (homemade or store-bought)

1 tablespoon olive oil

2 cups shredded Pepper Jack cheese

1 small ear grilled sweet corn, kernels removed from cob

1 roasted pepper, diced

1/3 cup chopped cilantro

2 avocados, sliced, pitted and skin removed

1/3 cup Cojita cheese

Squeeze of fresh lime juice

Tabasco sauce, for serving
Directions:
1. Preheat the oven to 450°F. Meanwhile, place the pizza dough on a lightly-floured surface. Roll the dough out into a circle and place into a pizza pan or on a pizza stone. Spread olive oil evenly over the pizza and top it with cheese, corn kernels, peppers and cilantro.
2. Place the pizza in a hot oven and bake for 18 to 20 minutes until the cheese has melted and the crust appears golden.
3. Remove and top with avocado slices and Cojita cheese. Squeeze some lime juice over the pizza, cut into slices and serve with some Tabasco sauce if desired.
4. Avocado Grilled Cheese Sandwich
Add a little healthy kick to a classic favorite.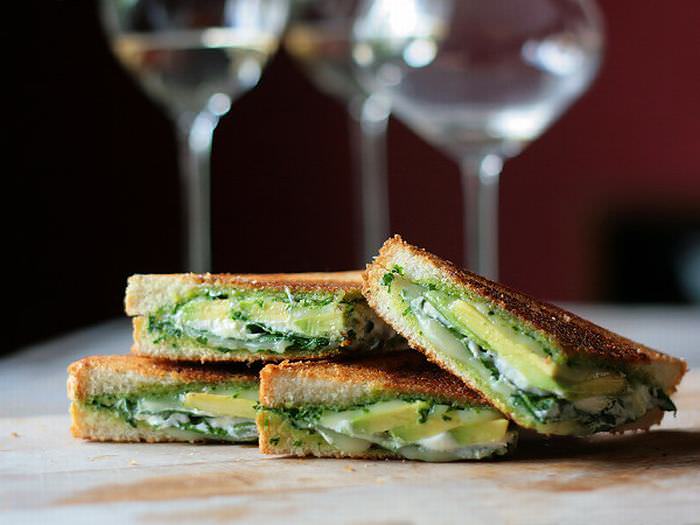 Ingredients (makes 1 sandwich)
2 slices bread

2-3 tablespoons Herb Pesto (recipe below)

2 slices mozzarella

Handful fresh baby spinach

¼ avocado, sliced

2 tablespoons goat cheese, crumbled

Olive oil (and butter if desired)
For the pesto:
1 clove garlic

1 anchovy filet (in oil)

½ small shallot, chopped (about 1 tablespoon)

1 teaspoon lemon juice

Handful chopped fresh parsley

Handful chopped kale

2-3 tablespoons chopped fresh tarragon

1 tablespoon chopped chives

¼ cup olive oil

Salt and pepper to taste
Directions:
To prepare the pesto: 1. Pulse the garlic, anchovy and shallot in a food processor until finely chopped. Add the lemon juice, parsley, kale, tarragon and chives into the food processor and continue pulsing.
2. Drizzle olive oil onto the kale and herbs until all ingredients take on the consistency of pesto. Season to taste.
To prepare the sandwich: 1. Spread about 1 tablespoon of herb Pesto onto each slice of bread. On one slice of bread, add one slice of cheese, sliced avocado, crumbled goat's cheese, spinach and yet another slice of cheese. Top with the second slice of bread. Gently press together.
2. Heat 1 tablespoon of olive oil in a frying pan over medium-low heat and fry until the bread is golden brown. Press on the sandwich lightly then flip and cook until golden brown.
5. Portobello Mushrooms with Avocado Pesto
An innovative and nutritious way to dress your mushrooms.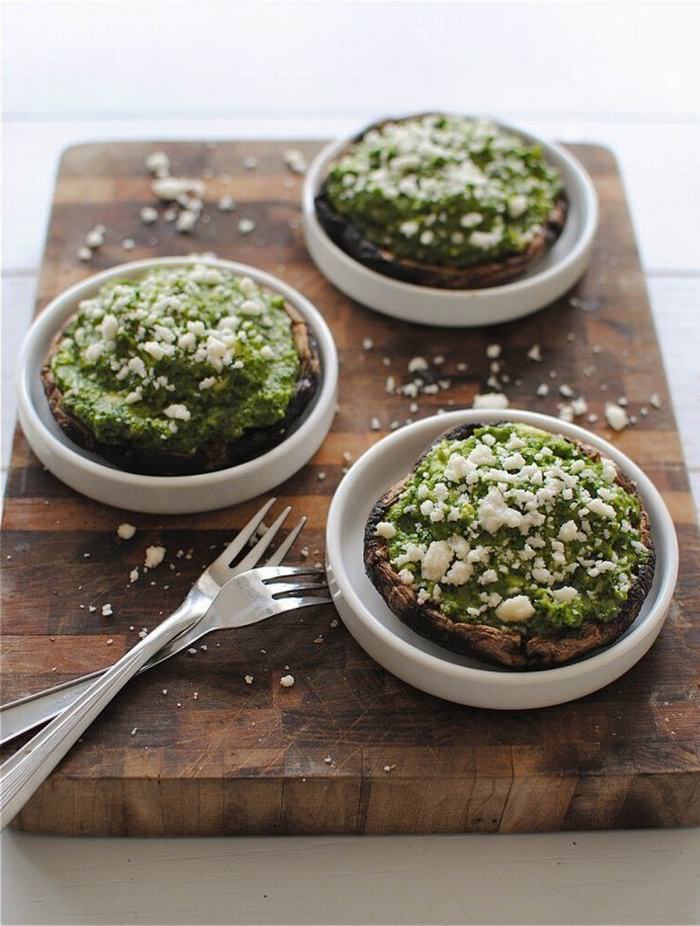 Ingredients (3 servings)
2 cups baby kale leaves

1-2 tablespoon pine nuts, lightly toasted

1/3 cup freshly grated Parmesan cheese

3 cloves garlic

4 tablespoon extra-virgin olive oil, divided

1 pinch coarse salt

1 avocado

1/4 cup queso fresco, crumbled

Salt and pepper
Directions:
1. Preheat the oven to 450°F. Meanwhile, rub a tablespoon of olive oil onto the mushroom caps and place them cap side down on a foil-lined rimmed baking sheet. Sprinkle with salt and pepper and roast for a good 15 minutes until soft.
2. While the mushrooms are in the oven, put the kale, pine nuts, cheese, garlic and a pinch of salt in a food processor, adding three tablespoons of olive oil until the texture takes on a Pesto-like consistency.
3. Mash up the avocado until smooth, adding it to the pesto mix. Stir well and spoon the pesto and guacamole sauce into each roasted cap, topping it with some queso fresco cheese.
6. Avocado, Chocolate Chip Cookies
Avocado is a great way to substitute butter in a dessert recipe.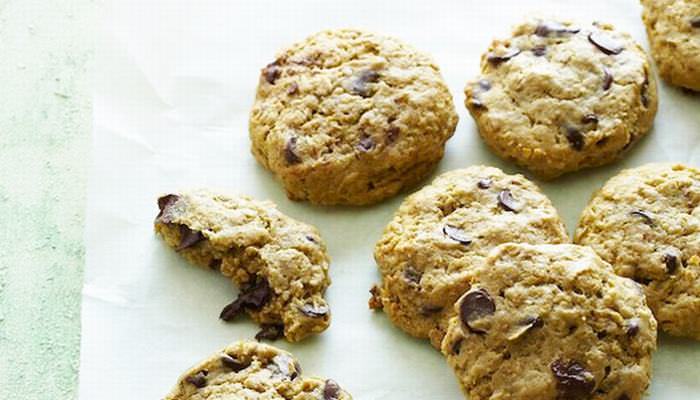 Ingredients
1 avocado (4 1⁄2 ounces)

1⁄2 cup (1 stick) unsalted butter, at room temperature

1 1⁄2 cups dark brown sugar

2 large eggs, at room temperature

2 teaspoons pure vanilla extract

2 cups all-purpose flour

1 teaspoon baking soda

1 teaspoon coarse salt

1⁄2 teaspoon baking powder

1 1⁄2 cups old-fashioned rolled oats

1 3/4 cups semi-sweet chocolate chips
Directions:
1. Cut the avocado lengthwise, removing the pit and the skin. Place the flesh in a large bowl, add the butter and the brown sugar. Combine until texture appears fluffy and creamy - this should take about three minutes.
2. Add the eggs one at a time, then add the vanilla extract. Add the flour, baking soda, salt and baking powder, combining slowly and ensuring that you do not over-mix the batter. Add the oats and the chocolate chips, mixing well. Refrigerate for 1 hour.
3. Next, preheat the oven to 325°F and line a baking sheet with parchment paper. Using wet hands, roll the dough into 12 balls, flattening the cookies with the palm of your hands, creating 2 1/2-inch disks. Place on a baking sheet and bake for 20 minutes. The cookies should be slightly golden brown on the edges, but soft in the middle.
4. Remove from the oven and leave to rest for at least three minutes. Transfer to a cooling rack, then serve immediately or store in an airtight container in the refrigerator for five days. The cookies may also be stored in the freezer for up to three weeks.