Victorian style houses are houses that were built in the era when Queen Victoria reigned over Great Britain (between 1837 and 1901) - the Victorian era. Although these were fashionable in England during the time, they inspired the work of architects who emigrated from England and developed their careers elsewhere. You'll find examples in the United States, Canada, Australia and New Zealand. Steeply pitched roofs, textured shingles and asymmetric porches and facades are some of the most distinctive features, not to mention distinctive colors. Here are some particularly charming features of the original Victorian style homes.
• Double-Decker Porches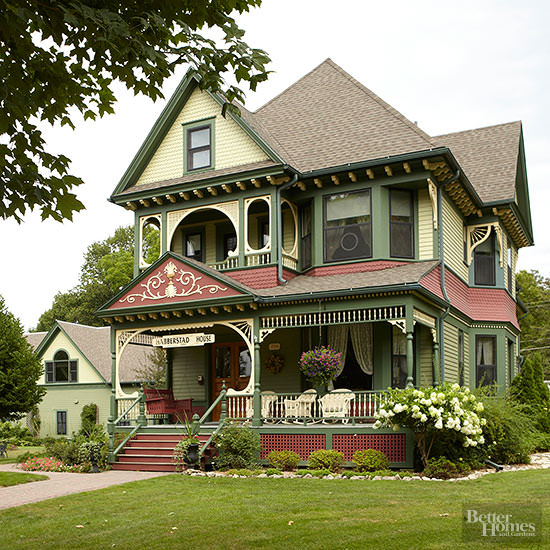 If you're familiar with Victorian houses, you might have observed that some large ones feature outdoor living spaces that extend from the main level to the upper level, making them seem like double-decker porches, like in the above photo. This particular house has porches beautifully designed with curved woodwork of all shapes and sizes, and an overall striking color combination.
• Narrow Footprint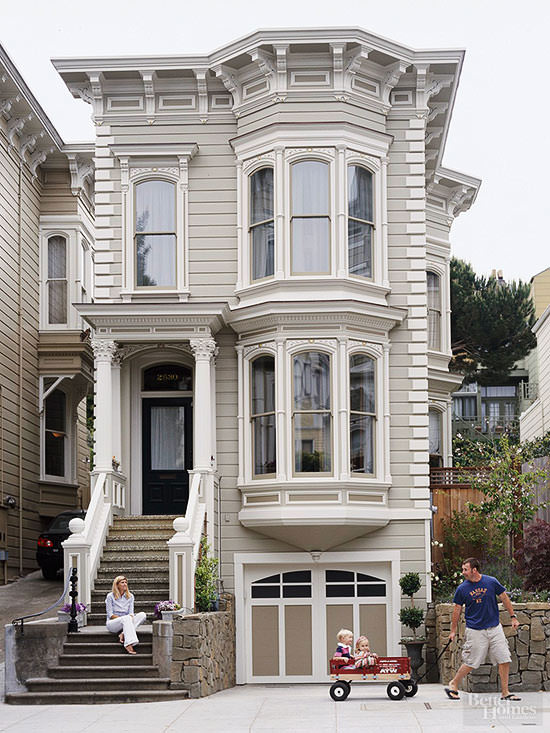 One of the prominent features of city build Victorian homes is their size, which for homes like the above, would constitute only 1 or 2 rooms in width. Apart from this, the setup would typically be arranged so that the main level was halfway below the ground and with at least 2 more levels above it. Like this, home owners can make the best out of their narrow living space.
• Unique Windows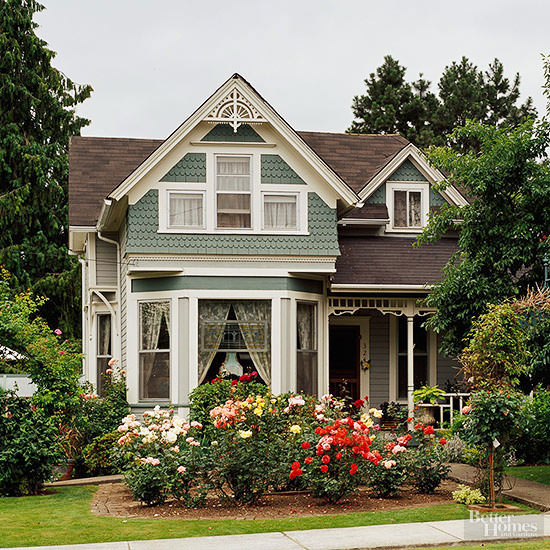 You cannot forget to mention the stylish windows when describing Victorian-style homes. Bay windows, stained glass, and leaded glass are amongst the most common window features. The house above features a charming bay window, which is typically built outwards from the wall, allowing plenty of natural light inside the house, and would also offer a great view of the surroundings. There are even window features inside the home, such as ornate trim or built-in window benches.
• Wraparound Porches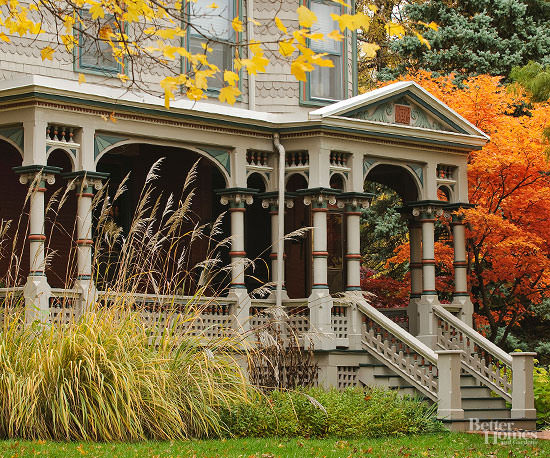 Whether Victorian style or not, any house that extends its living space outside is likely to have been inspired by the Victorian era. In fact, Victorian homes often include exterior "rooms", usually in the form of wraparound porches. This gave an opportunity for the architect to proudly exhibit some striking details through railings and columns, rendering the house even richer in style.
• Turrets and Towers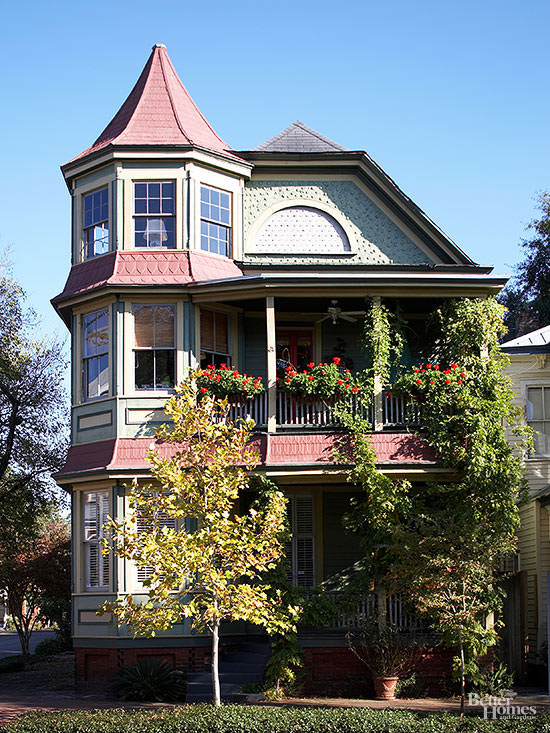 Some even grander Victorian style houses make use of sublime interior spaces that form part of an attractive exterior design, such as towers or turrets. Although these may create an asymetrical shape to the building, they make the exterior of the house exquisitely appealing. The rooms making up the interior of these towers would often be used as parlors, studies, and bedrooms, with a guaranteed flood of natural night. You may also find crow's nests and diminutive balconies in some ornate Victorian houses.
• Italianate or Mansard Elements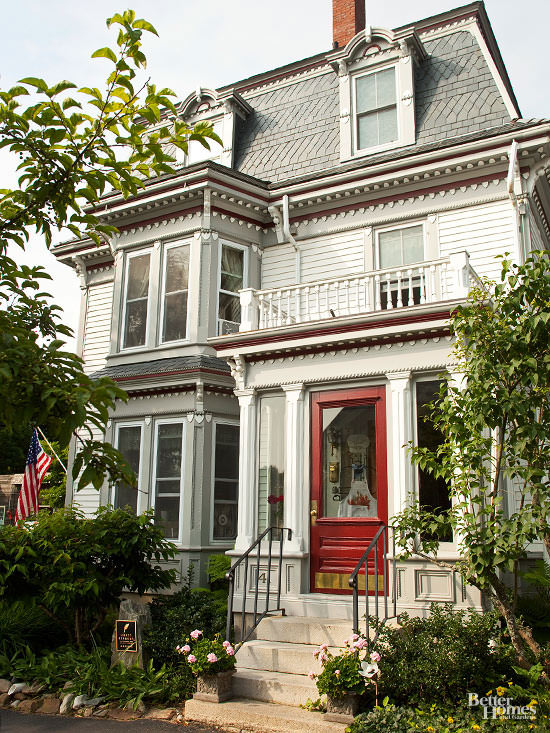 Although many of these houses were built with pitched roofs, some homes have their roofs flattened at the top, giving the building a boxier shape, and very often, simplified details. This is also characteristic of the Victorian influenced houses, but with a slight hint of Italianate or Mansard architectural styles.
• Intricate Paint and Stick Elements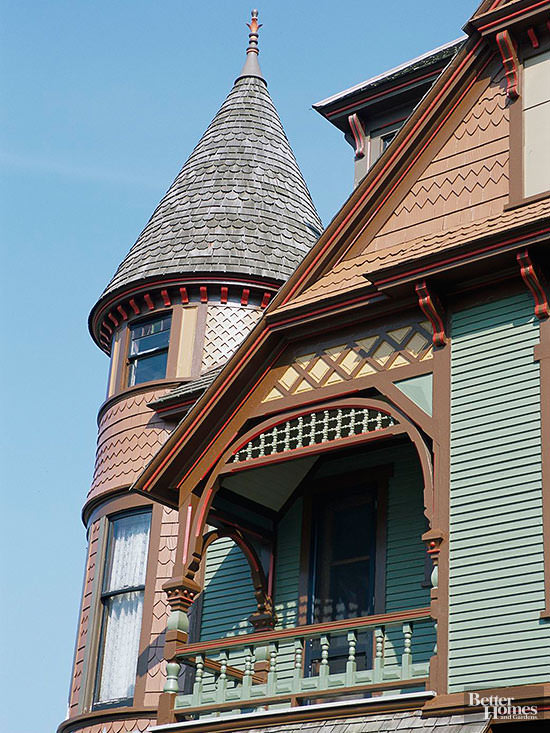 The complex paintwork involved in the design of Victorian homes' exteriors is definitely worth noting, and so is the stickwork. One can observe detailed collections of vertical, horizontal and diagonal wood elements on the facades of these houses, creating unique patterns and a more sophisticated look.
To continue reading - Click Here