Google Chrome is one of the most popular browsers today among users around the world. However, a common issue with this browser is that it often tends to freeze when overloaded with too many tabs. Several users have also reported that Chrome tends to become unresponsive even when just 4-5 tabs open.
Fortunately, Google Chrome also comes with some cool extensions to make your browsing experience better. Today, we will show you some super useful (and free!) Chrome extensions that will help you manage your tabs smoothly.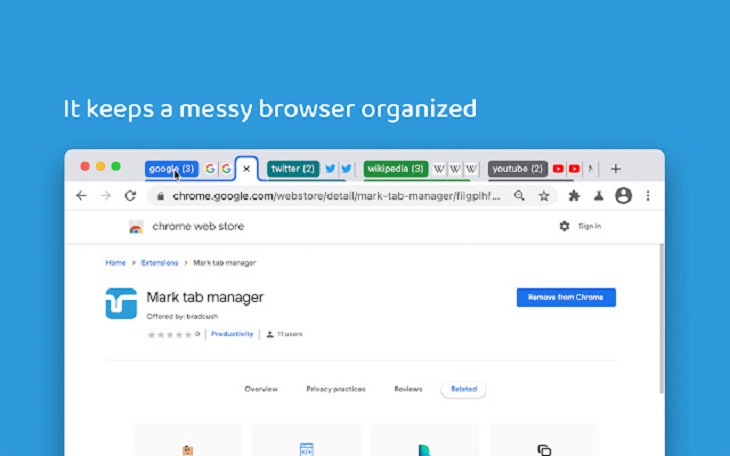 Google now finally has the option to let you create tab groups in Chrome. The Mark tab manager automatically groups your tabs by domain and sorts them alphabetically so you can easily find them later. Sounds neat, right? There's more. Once Mark groups all tabs, it also puts the site's name as the label and provides a unique color so they are easier to recognize.
This extension is simple to use. Just install it, and Mark will group and sort any open and newly created tabs. Furthermore, it can even consolidate tabs across windows. This means that you won't lose a tab just because it's hiding in its own window. Also, any new tab you open with a site that already has a group will be moved automatically to that group.
Download: Mark Tab Manager for Chrome (Free)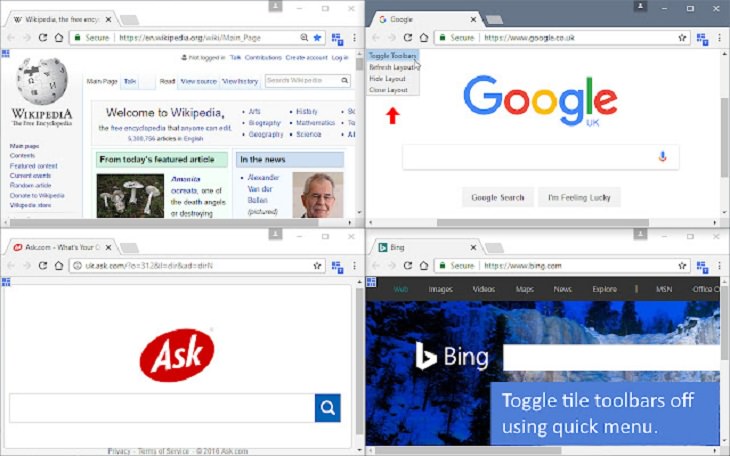 The Tile Tabs WE extension lets you take tabs from a parent window and arrange them in a layout of tiled sub-window. This will help you to browse multiple web pages using synchronized scrolling. The extension basically imitates the 'split browser' functionality which isn't present in the Chrome browser yet. It has a few default layouts of two, three, four, or six tabs tiled horizontally or vertically that you can try. You can create a tiled layout using the toolbar button, button menu, context menu, quick menu, or keyboard shortcuts.
In case you want tiles of different sizes, Tile Tabs lets you customize such a layout and then save it for later use in the extension's profile. So the next time you open Chrome, the layout can be accessed easily.
Download: Tile Tabs WE for Chrome (Free)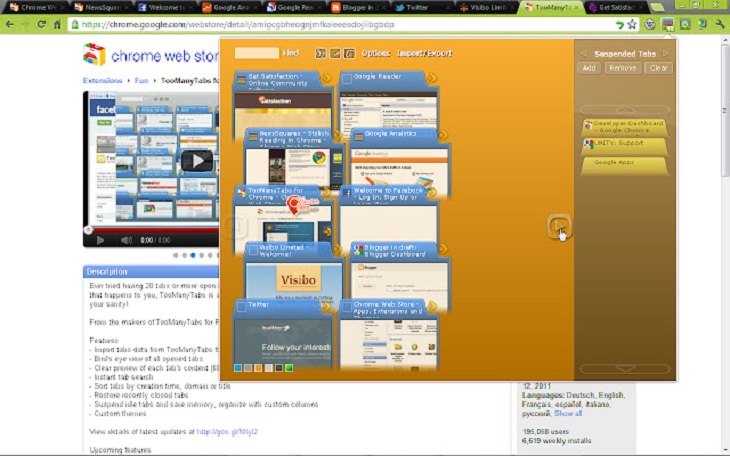 As you may have guessed from the name, TooManyTabs is designed for those who can't do without having several tabs open at the same time. This extension manages your tabs and reduces your tab overflow by using a pop-out to provide a thumbnail preview of the tabs that you have open. The extension also features a search field so you can quickly find what you're looking for and even sorts tabs by creation time, domain or title. There's an option for organizing your tabs with custom columns and themes as well.
Download: TooManyTabs for Chrome (Free)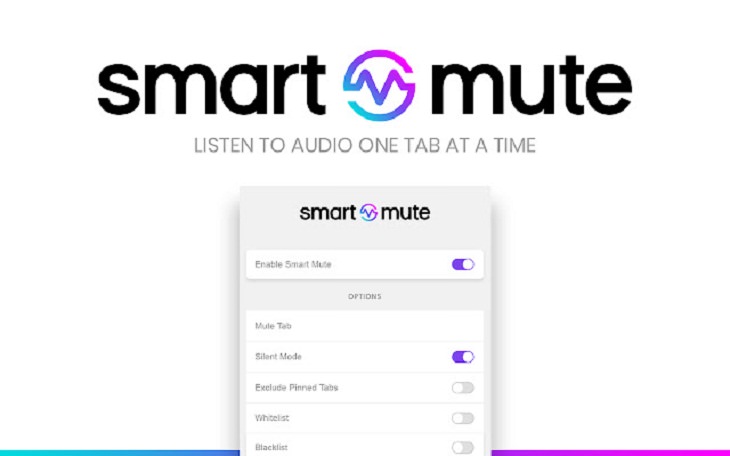 So many sites these days have auto-playing videos. Sometimes, you open a tab and then switch to YouTube to listen to something. But the other tab has an auto-playing video or advertisement which begins to play loudly and overlaps with the main video you were watching. It can be really annoying when that happens.
Smart Mute automatically mutes all tabs except the active tab if the active tab has some audio playing. In case it's not, the extension allows the last active tab to continue to play audio. You can simply toggle it on and off with a click. If you want complete silence from all your open tabs, then choose 'Silent Mode', which prevents any audio from playing in your browser.
You can also blacklist websites that have auto-playing videos and advertisements.
Download: Smart Mute for Chrome (Free)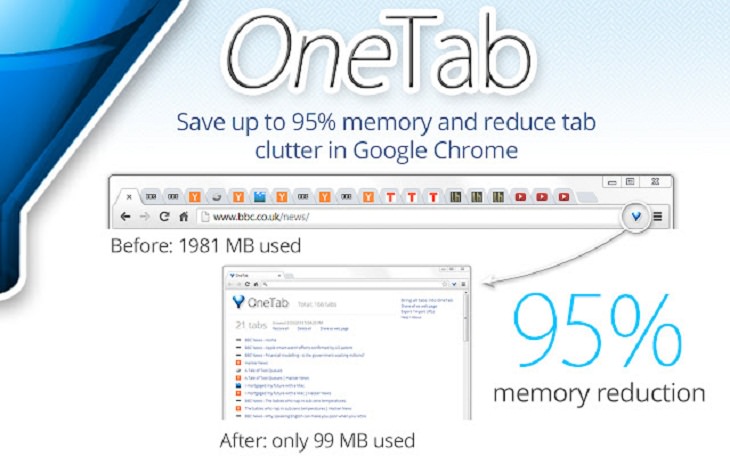 OneTab is perfect for those who want to reduce tab clutter. Just install and click on the OneTab icon to convert all of your tabs into a list. They can be reopened from the list at any time. With all the tabs in one list, you won't just reduce clutter in your Chrome home page but will also save up on memory because you will have reduced the number of tabs open. Moving all your tabs in one list can also ease the pressure on your CPU and hence speed up your computer.
Download: OneTab for Chrome (Free)
Share this post with those who might find it useful...