You can't deny it any longer- artificial intelligence is here. Even fields of creation, like digital art and poetry writing, are being taken by storm. But that doesn't mean it renders us humans useless. Who else would operate an AI generator if not a human user?
AI can now create artworks based on written prompts you feed into it. Several online generators are free for use. You can spend hours on them! The possibilities and options to toggle on and off vary from website to website. In some of them, you can even co-create with users around the world. Here we gathered 5 websites that are easy and free to use. Scroll down to see what art we made on each one!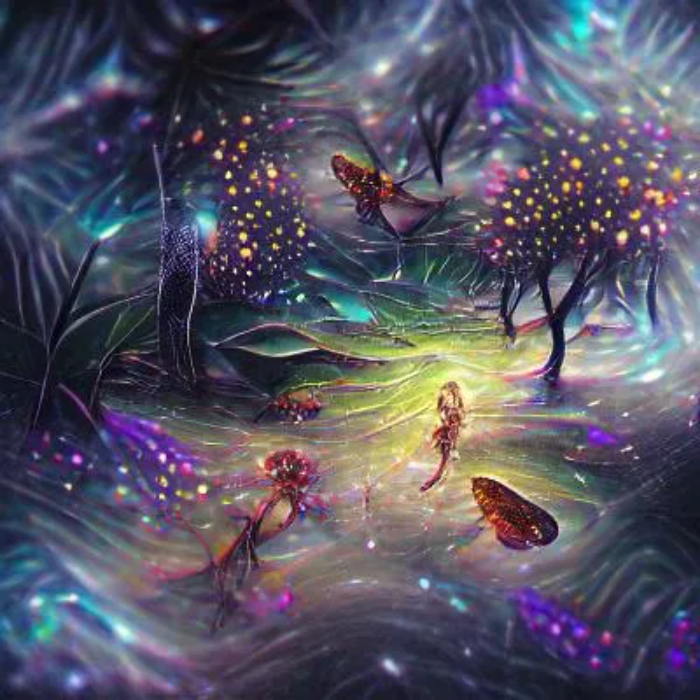 The prompt I fed into the generator was "fae forest with fireflies." At first glance, this is exactly what you see, but the more you look at it, the more surreal it becomes. In Nightcafe, you can edit images of other users around the world, scroll around for inspiration, and you can also create videos, but that's for the pros.
The user interface is very easy to understand and navigate, and you can download your creation with the press of a button. If you're extremely happy with your results, you can also purchase a high-resolution print of it! You don't need to create an account, but for some actions, you will have to earn credit - either by buying it or participating in the community.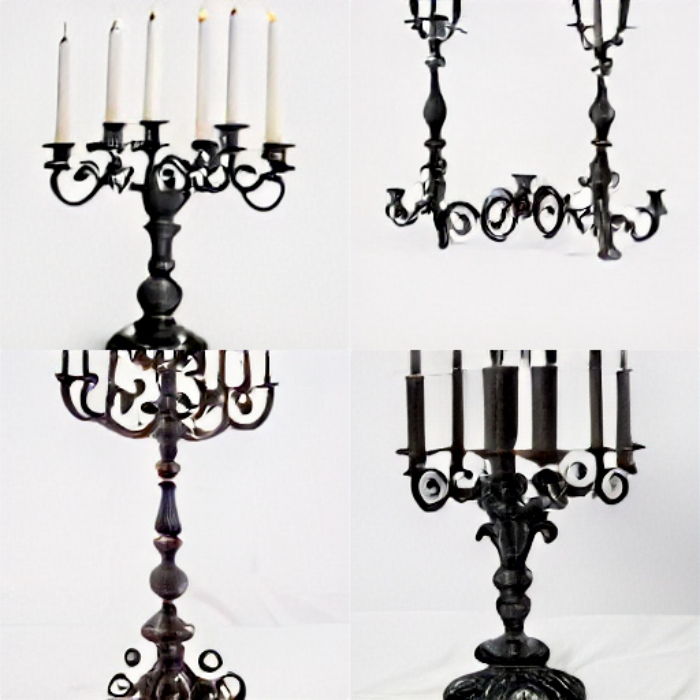 DeepAI is a great place to start if you've never tried digital art before. It doesn't put so much emphasis on the artistic side of the creation - it focuses more on generating realistic-style images from scratch. There aren't any special filters or algorithms to choose from, making DeepAI extremely easy to use.
You simply type in what you want to see and click "submit." In a matter of minutes, you'll have 4 variations of what the AI made for you. To create the image you see above, I typed, "baroque candelabra with 2 black candles." Pretty fancy, huh? I think the computer did well. There's no need to create an account.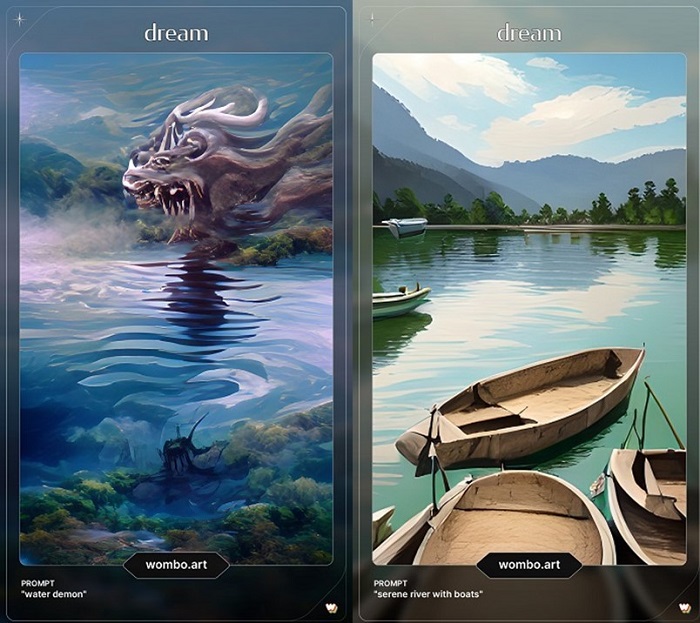 This one doesn't have the word "dream" in its name for nothing. In my humble experience, it's the best artificial intelligence art generator out there since it is easy to operate and quickly yields high-end-looking art. You can choose from several beautifully made stylistic algorithms or upload a photo for reference. Pay attention- you will not be editing the picture you upload. Instead, the AI will study the style of the picture and implement it in your new creation.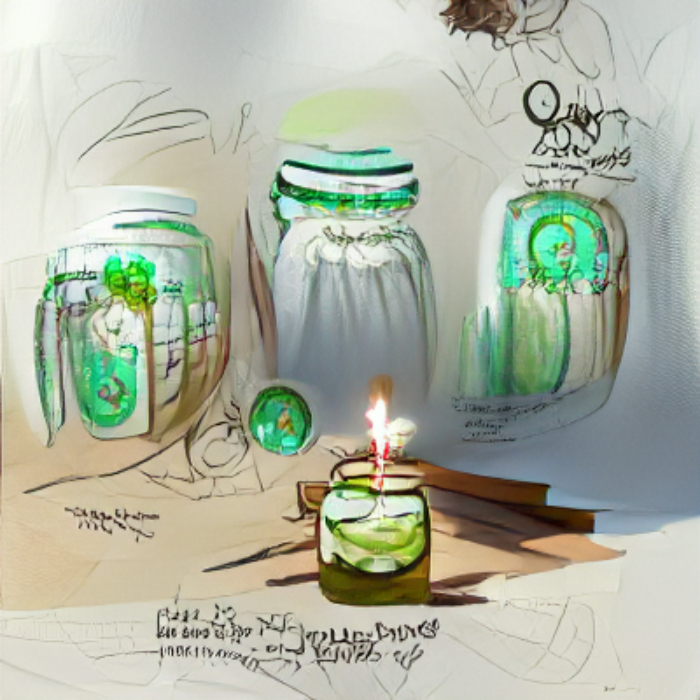 To create the doodle you see here, I typed the following text into the generator: "green fairy in a glass jar over a round, white birthday cake with O-shaped candles.
" I tried to challenge the AI with something complicated and chose a "concept art" style. While there aren't any clear figures here, I like the gibberish words, made to make the painting look like actual concept art, with written explanations. I think the computer nailed the unfinished style of concept artworks.
Starting work with StarryAI is easy and quick, and you don't need to create an account. Here you can also use your own photos and let the computer draw on them. When you get the finished product, you can also see the layers of work and the process of creation.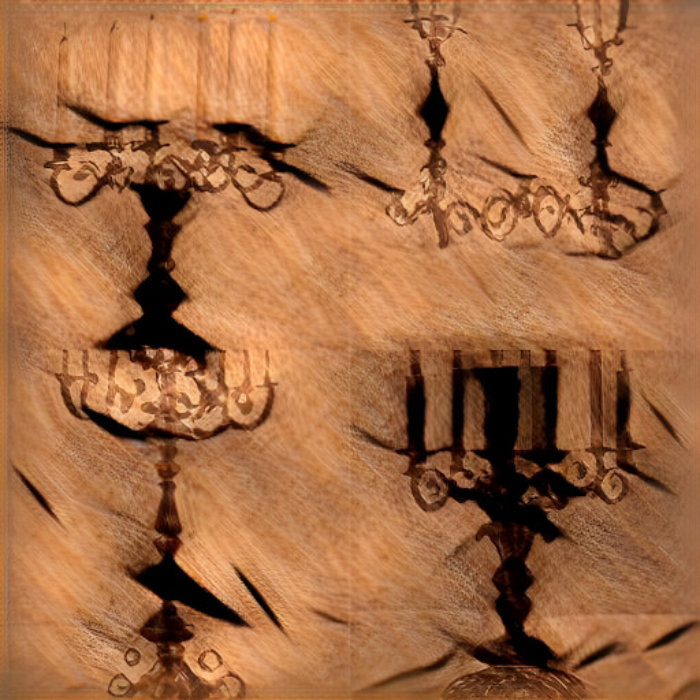 You can spend an entire day exploring the many options Deep Dream Generator offers you. I went with the simplest route I could think of and simply uploaded a picture of my own. Instead of letting the AI generate art, I wanted to see how well it could edit another ready-made photo. I used the one I made previously in DeepAI and let it edit into a sepia sketch.
You could also create realistic-looking artworks and merge existing photos into one cohesive painting. If you don't want to upload a photo of your own, you can choose one from their supply.