Cambodia is often thought of in terms of brutal dictators and civil wars, but those terrifying times (thankfully) are now in its past. This beautiful country has lots to offer as a tourist destination, from pristine beaches to stunning temples and some of the most breath-taking vistas in all of Southeast Asia. Here are the top 10 destinations for you to visit when in Cambodia:
10. Kep
This small seaside resort is perfect if you enjoy beach activities. You can go snorkeling to enjoy a view of coral on the bottom of the shallow sea, lap up the sun or take a day trip to Rabbit Island to enjoy a rustic, pristine beach. Kep was founded as a colonial retreat by the French elite in 1908, and remnants of the villas they constructed can still be seen today. When you're there, also be sure to visit Kep National Park to take in panoramic ocean views.
9. Banlung
If you're a more adventurous type, you'll thoroughly enjoy a trip into the jungle from Banlung. This will allow you to get up close and personal with the spectacular flora and fauna in the region – just watch the leeches! Pictured above is the Yeak Laom volcanic lake, which is truly a sight to behold. In addition, you can pick up a hand-woven basket when you're back in town.
8. Battambang
The second most populous city in Cambodia is especially popular with visitors that are intrigued by Cambodian history. Battambang was established as a trading center in the 18th Century, and later became part of French Indochina. Some remnants of the colonial past are still visible in the city. Buddhist shrines and Angkor-style temples abound, as do statues of animals and gods. The Central Market is also worth a visit.
7. Kampot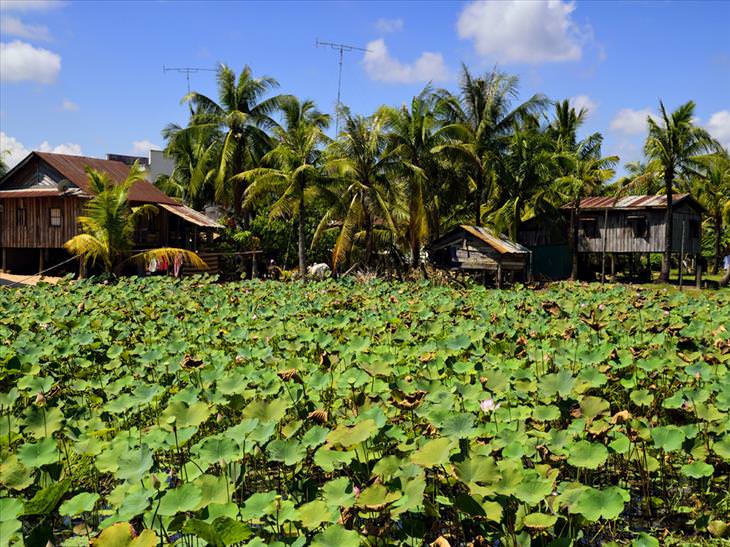 Kampot is more well-known for the unique variety of pepper that grows there than anything else, in spite of its location close to the Gulf of Thailand. Nevertheless, its popularity as a tourist destination is growing with each passing year.
The city is the gateway to Bokor National Park, which is famous for its abandoned French hill station, pleasant climate and lush rainforest. You'll also have a chance to go boating or rafting on the river that winds through the city, taking in scenic waterfalls on the way. The Kampot Kompong Trach caves are perfect if you'd like to do a little exploring.
6. Kratie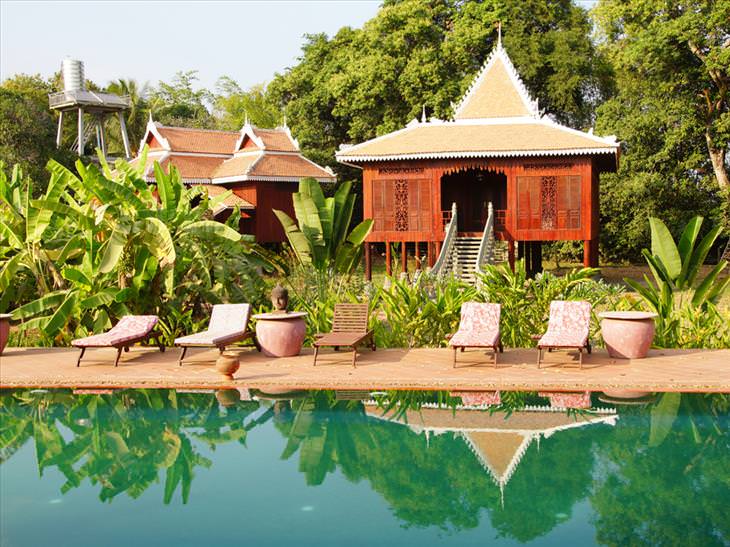 Located on the banks of the mighty Mekong River, this small town is dominated by a central marketplace and old, French colonial buildings. Although there's no mass tourism to speak of here, it's a highly popular destination with backpackers, especially during peak season. This is a prime location to see rare Irawaddy dolphins, which are threatened by extinction. There are only around 80 specimens thought to be left in the upper Cambodian Mekong area.
5. Sihanoukville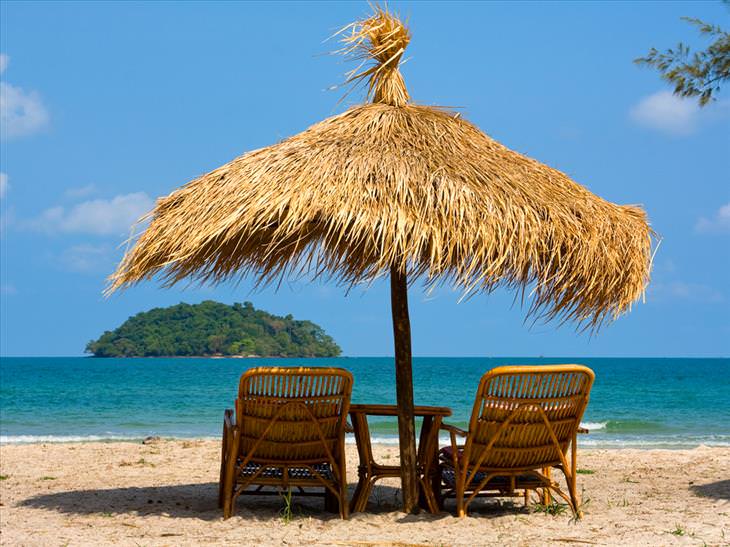 This beach resort gets its name from a former Cambodian King, Norodom Sihanouk. It's the most popular beach resort in the Gulf of Thailand. It's also where the very last battle of the Vietnam War was fought by US forces. You can choose from both sandy and rocky beaches that are plentiful in the area. Visit Sihanoukville after you've done other big attractions, such as Khmer temples and the like, for some rest and relaxation.
Whether you prefer your accommodation in the form of a hut on the beach or a five-star hotel, there's something here for you.
4. Siem Reap
Siem Reap translates literally as "Siam Defeated" into English, and is the fastest-growing city in Cambodia. It serves as a charming gateway town to the world-famous Angkor temples. Due to this, Siem Reap has become a major tourist hub in the past 20 years. Its laid-back and pleasant atmosphere make it the perfect place to come back to after spending your days touring Cambodias' beautiful sites. Regardless of your budget, you'll find somewhere great to stay.
3. Koh Ker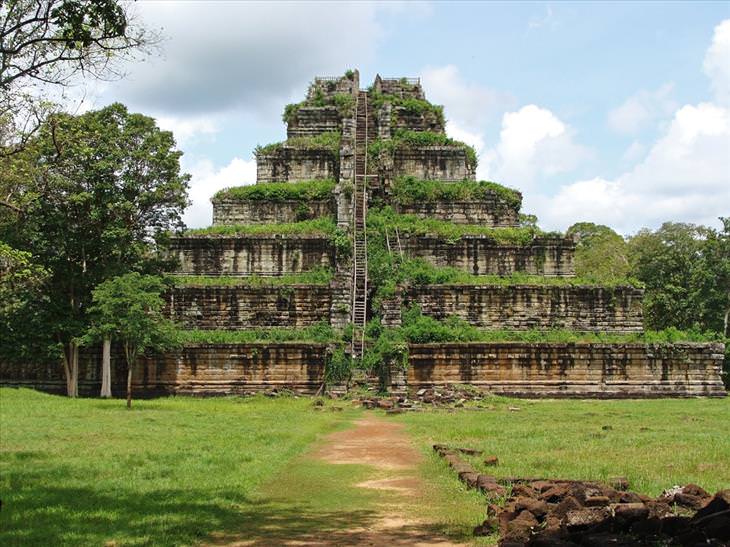 Some 75 miles northeast of Siem Reap, you'll find a remote area filled with temples known as Koh Ker. This was briefly the capital of the Khmer Empire – from 928 to 944 AD. In that short time-span, many beautiful buildings and immense sculptures were constructed. Dominating the entire site is Prasat Thom, a 98-foot-high temple pyramid that rises above the surrounding jungle. Koh Ker was left to the jungle for nearly a millennium, but it has now become much more accessible thanks to the construction of a new toll road.
2. Phnom Penh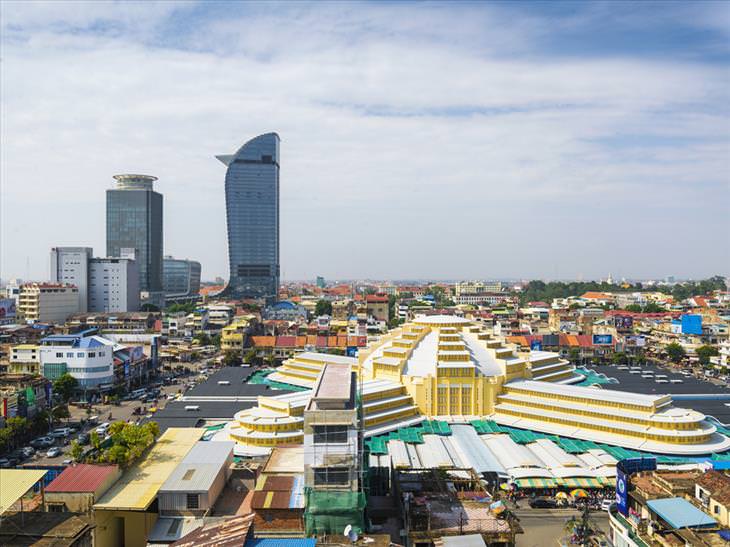 The capital city of Cambodia is also its largest, and has been since the days of French colonialism. Once known as the Pearl of Asia, it's definitely one of the prettiest colonial cities that the French built. Sadly, it has been ravaged by years of war and revolution, and is still recovering as a result.
Top attractions in Phnom Penh include the Royal Palace and the National Museum, which is full of beautiful Khmer artifacts for you to see. If you need to pick up a handcrafted souvenir or two, the night market or Phsar Reatrey are your best bets.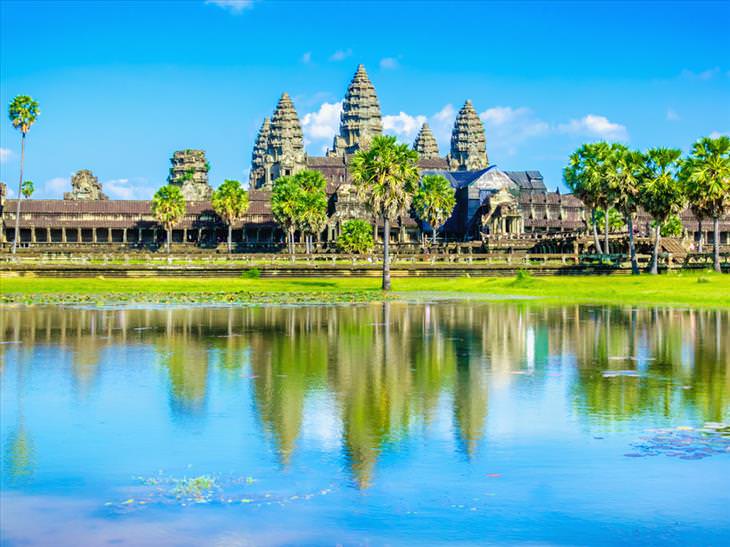 This was the largest pre-industrial city in the world, and served as the capital of the Khmer Empire between the 9th and 14th Centuries. Bursting at the seams with historic and archaeological treasures, there are ruins of more than 1,000 temples for you to explore, with the most famous of them all being Angkor Wat, which is the largest religious monument in the world. Visit this link for a full post on Angkor, the jewel in Cambodia's crown.
Content Source: Touropia
Images (unless otherwise stated) by Deposit Photos
Related articles: