My brand-new stand mixer is an important part of my kitchen, and now that I've read these handy tips, I love it even more! Take heed of this advice and you'll be cooking up a storm in no time!
1. Use your mixer - a lot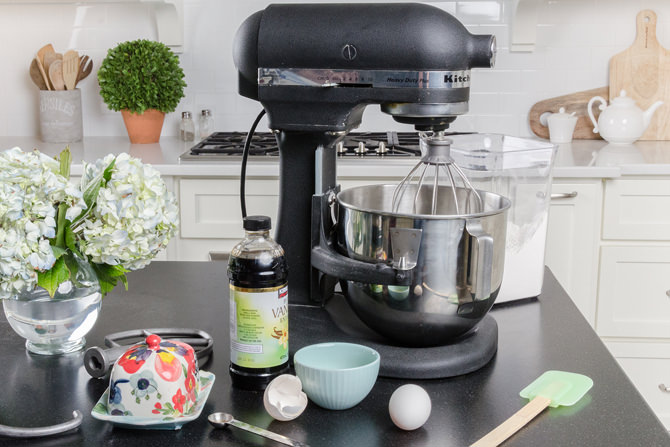 Defects often show up quickly with new electronics. So, if you've just bought a new mixer, use it at least a few times per week while it's still under warranty to ensure it's functioning absolutely perfectly. If it isn't, take it back to the store and get it replaced for free.
2. Drape a towel over your mixer when it's on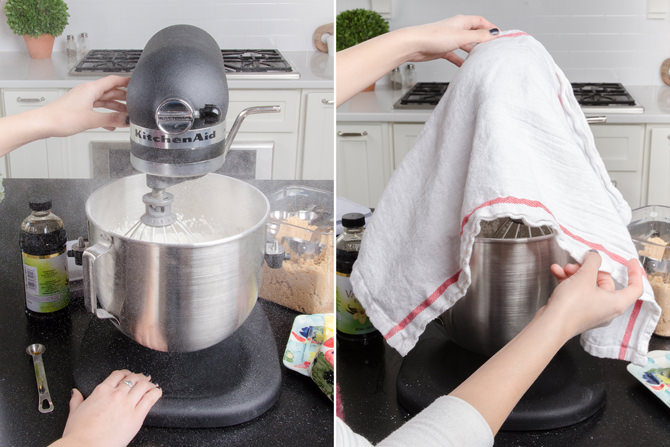 If you're using your mixer to mix your next cake, try draping a towel over it before you turn it on. This will allow you to catch any flying ingredients and prevent them from making a mess all over your nice, clean kitchen.
3. Shred chicken with your mixer's beater attachment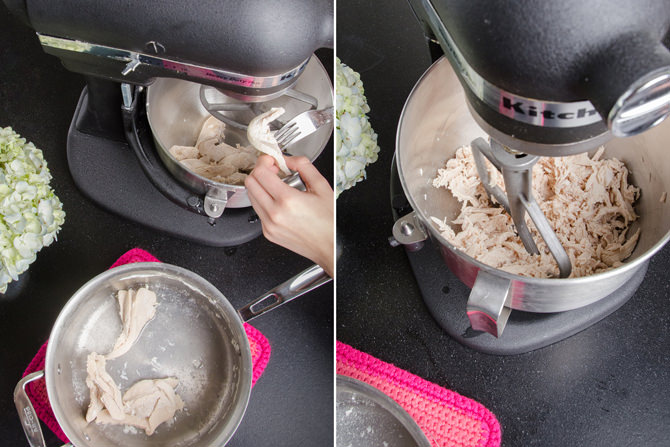 Use your mixer to shred chicken using the mixer's beater attachment. Set it to a low speed and use boiled chicken for the best results. Once the meat starts breaking up, you can increase the speed. Try doing the same if you're making a dish containing pulled pork.
4. Chill your bowl and beater for fluffier whipped cream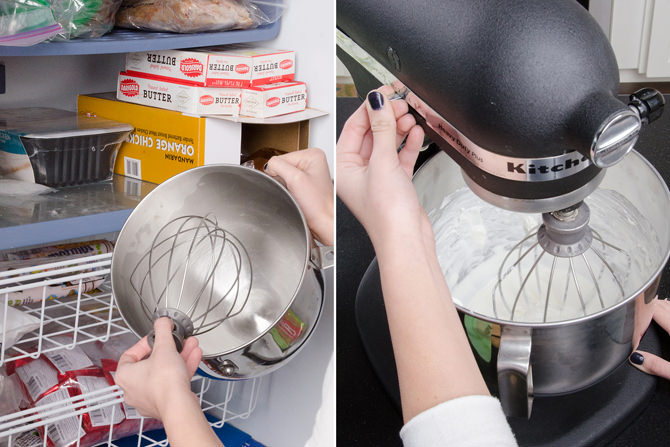 If you're about to make some whipped cream, trying chilling your mixer's beater and bowl before you start. The colder metal temperatures will give you a fluffy end result.
5. Place a towel underneath for easy movement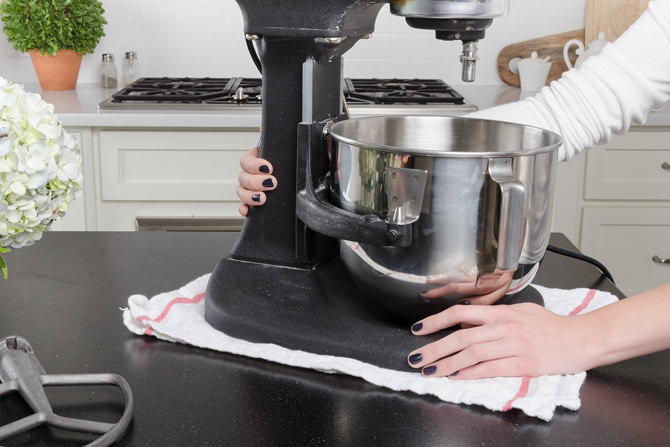 Need to move your mixer mid-way through using it? Try putting a towel underneath it before you start so you can slide it across a counter-top with ease.
6. Use a shower cap to keep out dust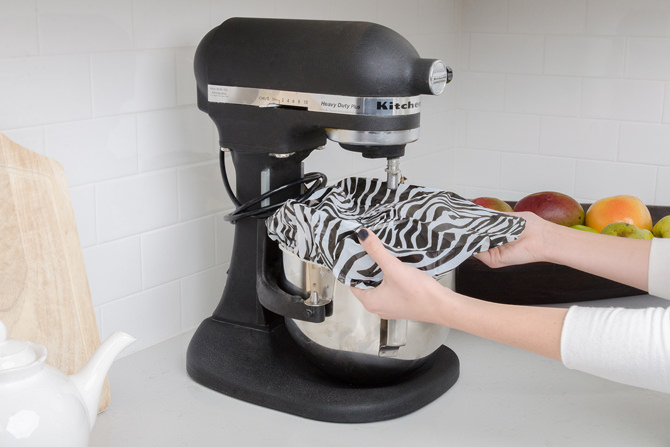 Try covering your mixing bowl and associated attachments with a shower cap when you're not using them to prevent them from getting covered in dust.
7. Make a splash guard using an ice cream lid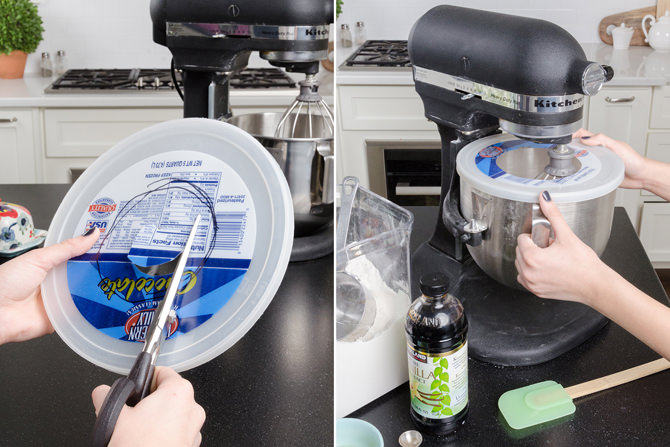 You can even try making your own splash-guard with a lid from a gallon ice cream bucket. Cut a hole in the center and adjust the opening based on the size and movement of your mixer's paddle. You might need to hold the lid down when the mixer is on. Place the lid in the dishwasher when you're done mixing.
8. Store attachments within the bowl itself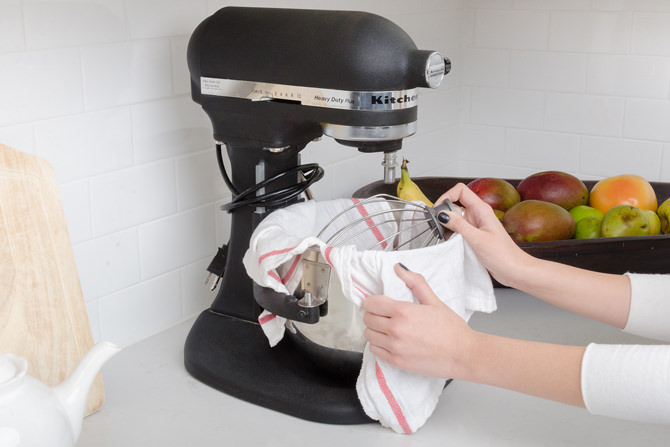 A neat little space-saving trick – place a towel at the bottom of your mixing bowl when not in use, and then store all your mixer's attachments in the towel-lined bowl. This will prevent your bowl from getting scratched, save on cupboard space and also stop dust from settling in the bowl.
9. Run your mixer for a couple of minutes prior to using it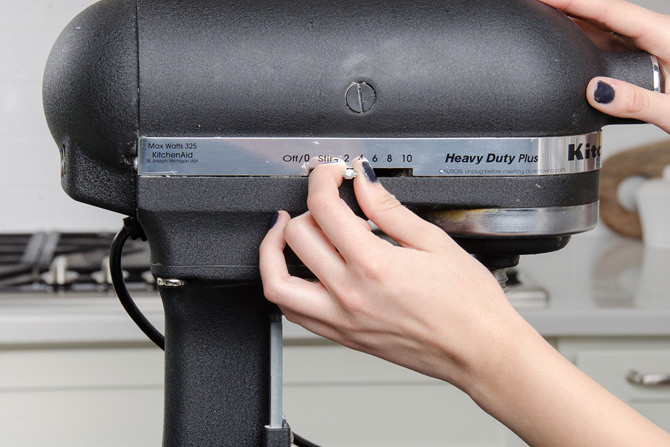 If you haven't used your mixer in a little while, let it run for a couple of minutes prior to using it. This will allow the machine to re-mix the lubricant solids and liquids that make it run properly.
Content and Image Source: The Krazy Coupon Lady