Few decorations can spruce up a home or garden as effectively as live plants. They can liven up even the most boring interior, adding some color and freshness to your home. But the looks are not the be-all and end-all of choosing the perfect plant for your home, we would argue that scents matter just as much, having the capacity to calm your mood or energize you for the day, depending on the plant you choose. The same goes for your garden, with a pleasant scent being sure to transform your flower garden from average to extraordinary. This article contains a list of 16 divinely-smelling plants that can be grown indoors or outdoors. Some of these plants are real multi-taskers, too, and you can add them to your tea and enjoy the health benefits they offer.
Part 1:
Outdoor Plants That Have a Pleasant Scent
If your garden is in dire need of fragrant, but also beautiful and colorful flowers, the following 8 flowers are exactly what you need. The plants in this section generally require more space and sunlight that the ones we'll list in the section dedicated to indoor plants. Some of these, however, can be grown indoors as well, in which case we'll mention that in the description.
1. Oriental Lily (Lilium orientalis)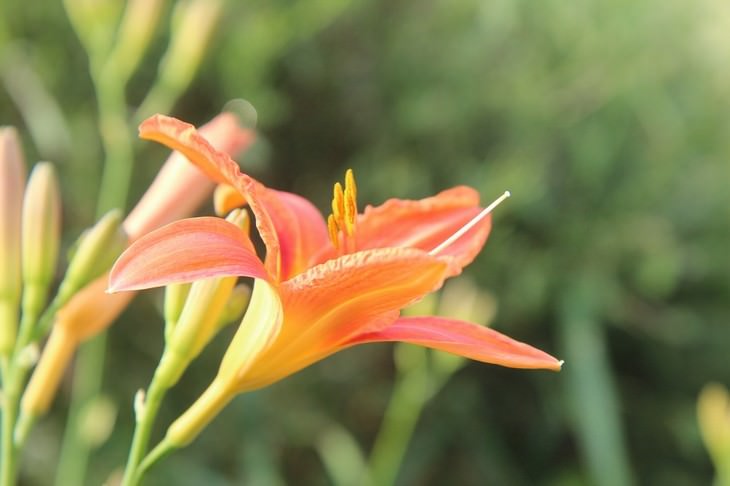 Best suited for:
large open gardens to help their strong smell carry
Oriental lilies are beautiful, showy and resilient plants that have a strong aroma and come in a variety of shades ranging from yellow and orange to fuchsia pink, purple and even white. These plants can be grown in a wide range of climates and can withstand temperate winter temperatures. Oriental lilies typically bloom from mid-summer to fall.
2. Lily of the Valley (Convallaria)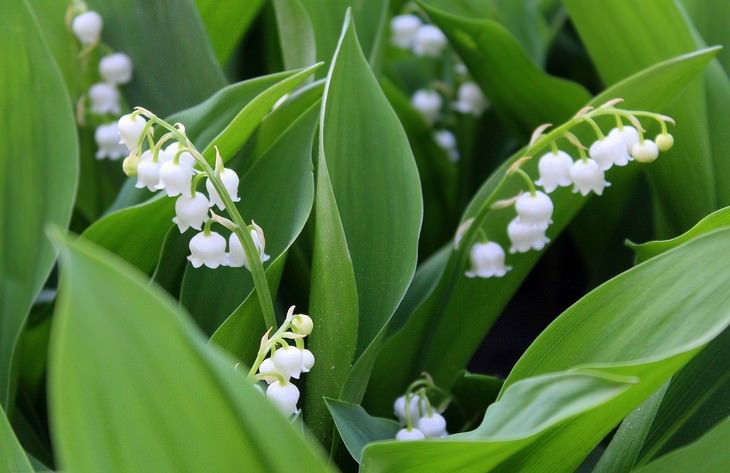 Best suited for:
the shaded areas of your garden
These delicate flowers will be a delight for your senses from mid-spring to early summer, but the smooth, densely-growing dark green leaves look very delightful all year with the exception of winter. Convallarias have a sweet, gentle smell that's absolutely unforgettable and, best of all, they don't require a lot of sunlight as, unlike many flowers, these feel best in the shade. Handle these plants with caution, however, as ingesting even trace amounts could be poisonous, so you'll need a pair of gloves to clean or plant them.
3. Lilac (Syringa)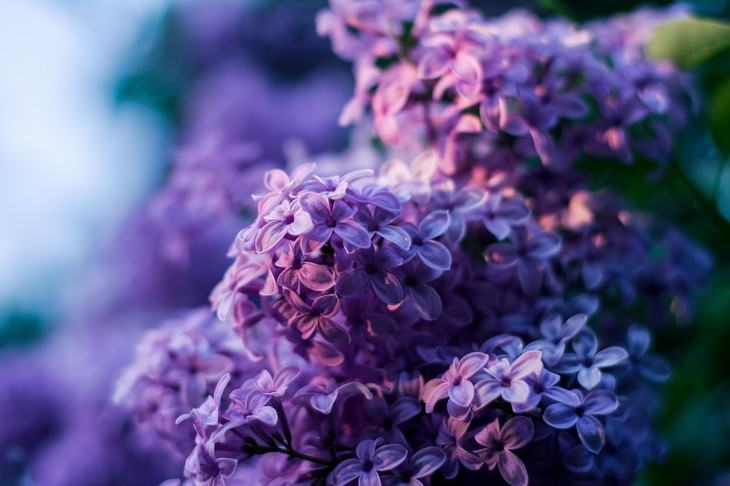 Best suited for:
gardens in temperate climates
If you love sweet scents and are in search of a low maintenance plant for your garden, you just found what you need. Lilacs don't require a lot of attention on your behalf and come in a variety of colors (white, pink and purple are the most common colors). These trees will bloom for a long time starting in late spring and until the summer. A pleasant bonus is that lilacs are great at attracting butterflies and other pollinators to your garden.
4. Frangipani (Plumeria rubra)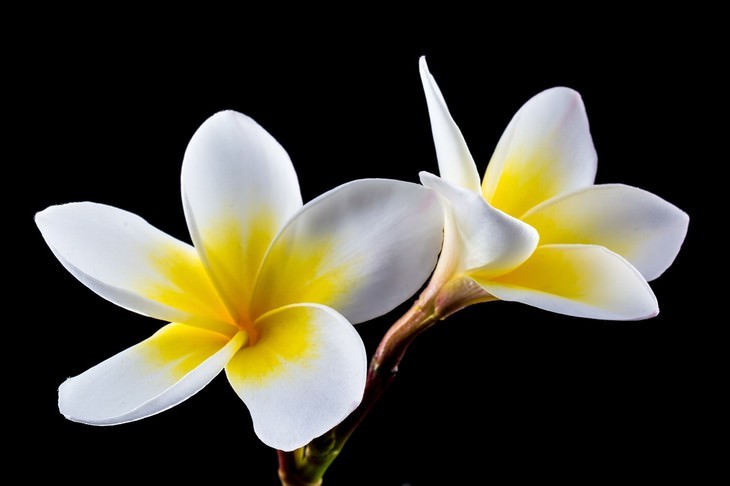 Best suited for:
warmer climates (requires at least 6 hours of sun daily)
Plumerias are exotic flower trees that bloom year-round in warm climates. They come in a variety of bright colors (coral, yellow pink and white are all popular) and mesmerizing aromas that range from spicy to fruity, making them a very popular choice in the past few years. If you live in a cooler climate and can spare a lot of room and sunlight for an indoor tree, you can also grow plumerias indoors.
5. Carolina-Allspice (Calycanthus floridus)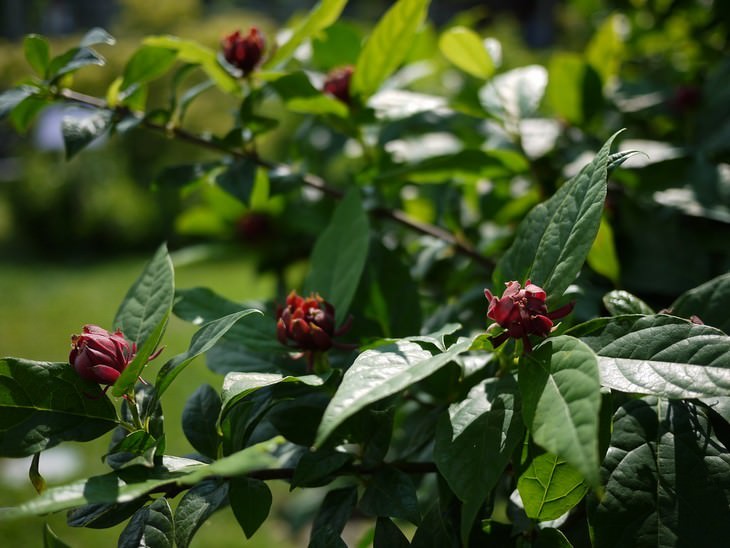 Best suited for:
most gardens
A shrub native to the Americas, the Carolina allspice has very pretty burgundy flowers with long petals that produce a fruity scent often compared to banana or strawberry. It's a low-maintenance plant that only needs a few hours of sun and will start blooming from April to July. Interestingly, the flowers appear earlier than the leaves on this plant, making it look all the more exotic and eye-catching. Though it would be challenging to grow this shrub indoors, you can pick and dry the flowers to make an incredibly-scented indoor arrangement that can actually last quite a long time.
6. Star Jasmine (Trachelospermum jasminoides)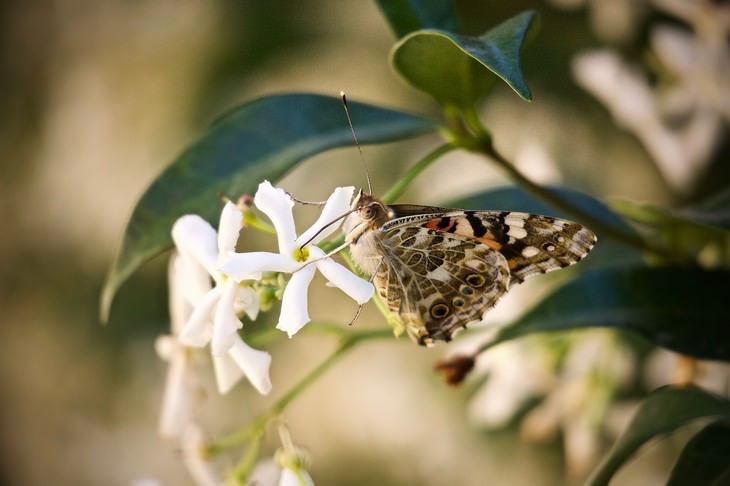 Best suited for:
warmer climates
Jasmine produces quite a strong, but oh-so aromatic and charming smell during the spring when it blooms.
This particular variety doesn't belong to the jasmine family and is more closely-related to periwinkle than jasmine, but it smells identical to the real thing
. Star jasmines grow in vines, so they're the perfect solution for a boring, bare garden wall.
7. Angel's Trumpet (Brugmansia)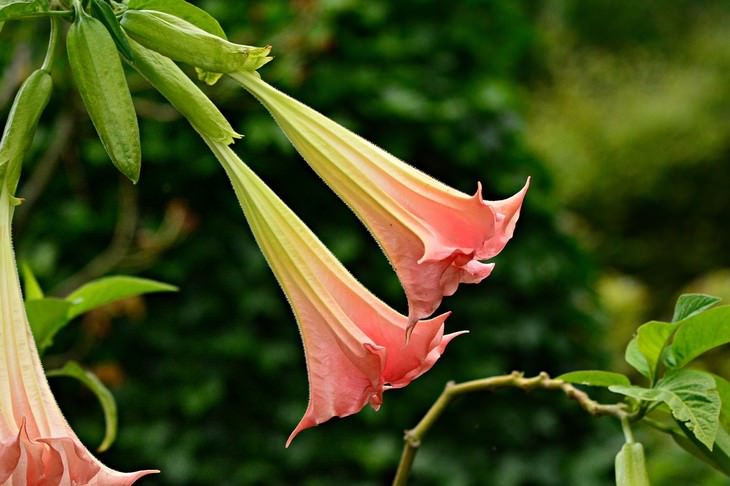 Best suited for:
night owls
These large, unique-looking flowers come in many colors and have a pleasant, sweet aroma that's particularly noticeable at night when the flowers open up, which is why we recommend it to people who like to spend time in their garden in the evenings. These flowers thrive in warm climates and bloom year-round in warm places, but they also feel well in more temperate regions, where they will bloom from spring to autumn. A word of caution about handling these plants: they belong to the poisonous Nightshade family and should be touched wearing gloves only.
8. Sweet Alyssum (Lobularia maritima)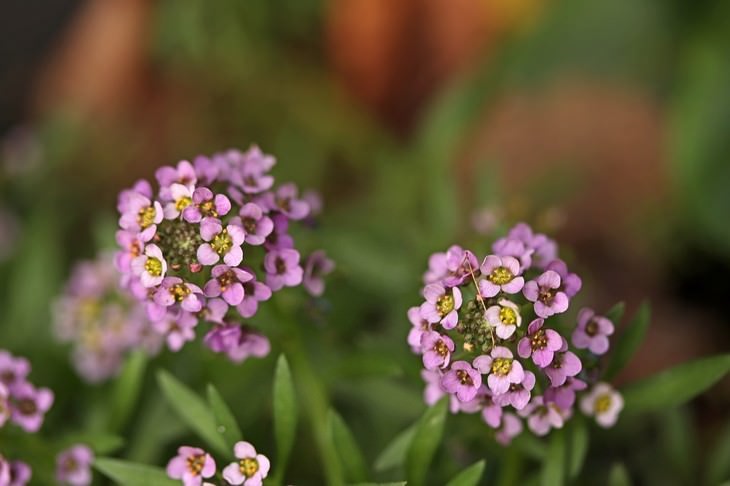 Best suited for:
filling the gaps between taller plants
If you want to add a bit of brightness and a honey-smelling scent to an otherwise unsightly and gappy flowerbed, sweet alyssum is a great choice. The flowers come in pink, purple, and white, and they grow densely, producing flowers from mid-spring until it becomes really cold. Sweet alyssum is also an excellent flower to plant if you want to attract butterflies to your garden.
Part 2:
Aromatic Plants to Grow Indoors
While you can certainly grow all of these plants in a garden, they also thrive indoors, as, for the most part, they don't require a lot of space and sunlight. A little piece of advice from us is to avoid placing the stronger-smelling options in your bedroom and opt for calming, delicate-smelling plants in your sleeping area, as a strong smell can interfere with your sleep quality.
9. Heliotrope (Heliotropium arborescens)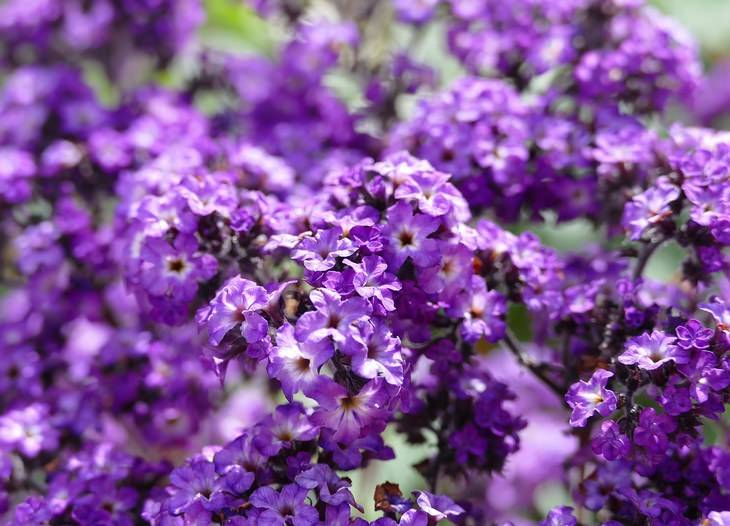 Best suited for:
hanging baskets
These rich flowery shrubs typically grow in tropical climates, but if you want this showy plant that smells like vanilla for yourself although you don't live in a warm region, you can successfully grow it indoors. The best way to keep them indoors is in hanging baskets near a well-lit window, partly because they need a lot of sunlight, and partly because they're poisonous and should be kept away from kids and pets.
10. Night-Blooming Jasmine (Cestrum nocturnum)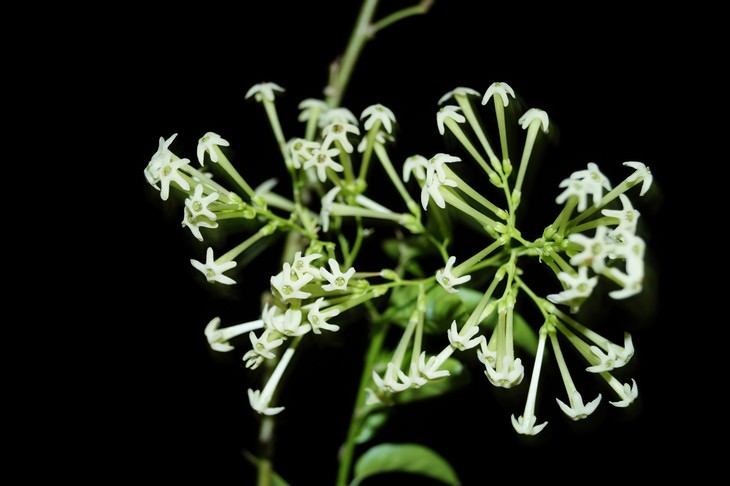 Best suited for:
balconies
This is the second "false jasmine" on our list. As you could likely infer from the title, this flower blooms at night and belongs to the Nightshade family (but not dangerously toxic to humans). Though not real jasmine, this plant's strong smell is not for the faint of heart, which is why we recommend keeping it on the balcony, at least while it blooms (typically mid-summer to late fall).
11. Scented Geraniums (Pelargonium)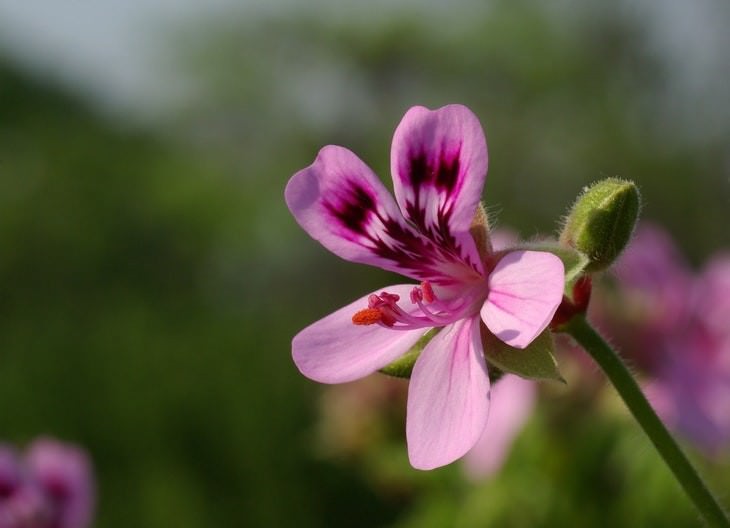 Best suited for:
everyone
The fun thing about these pretty flowers that come in many a color variation is that they mimic the scent of practically any air freshener: lemon, mint, pine, rose, or cinnamon, choose whichever you like more. When fertilized often and kept in a sunny place, these fun little flowers will bloom all year round, too.
12. Spearmint (Mentha spicata)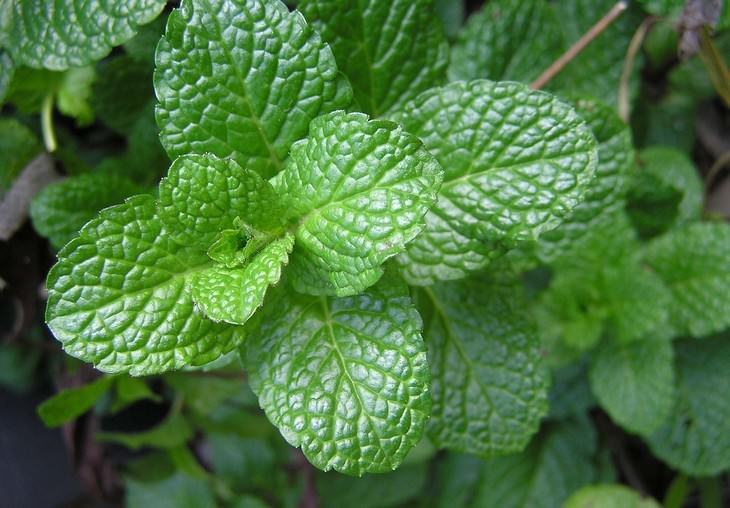 Best suited for:
the kitchen
Spearmint can become an invasive plant in your garden because it's quite hardy, but this very feature makes it an excellent kitchen herb, one that will mask the unpleasant smells of cooking and serve as a healthy addition to various foods and drinks, just make sure to grow it in a container separate from other herbs. The more sunlight you can provide your spearmint with, the better. Simply touch the plant and it will produce a fresh, minty scent almost immediately.
13. Eucalyptus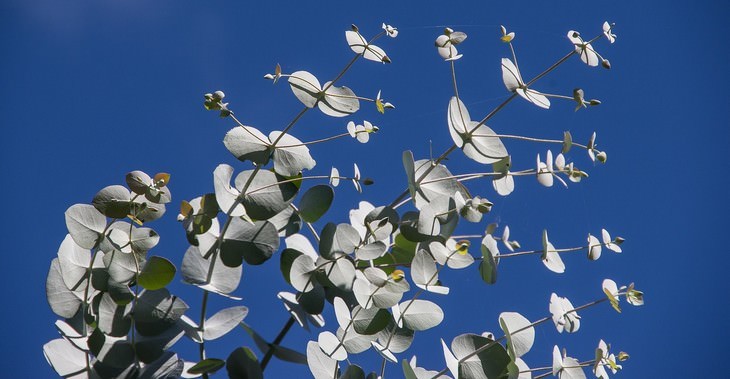 Best suited for:
those who don't love gardening
Eucalyptus oils have a proven relaxing effect, can open up clogged airways and have some antimicrobial effects, too, so if you're hunting down a plant that comes with many health benefits, it's a winner. These plants can be grown in pots given that they are provided with sufficient sunlight and drainage, but an extra trick you can also do is simply get a dried eucalyptus bouquet or wreath that will produce a pleasant aroma for months.
14. Wax Plant (Hoya carnosa)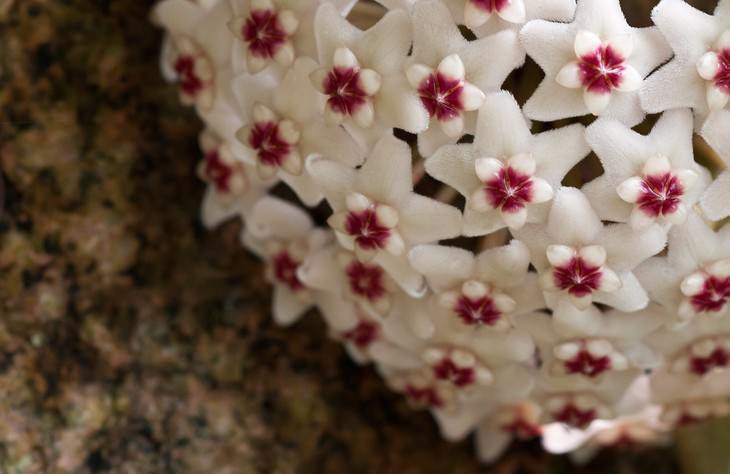 Best suited for:
as a
hanging plant
Are you looking for a sturdy, low-maintenance plant that blooms year-round and smells like chocolate (who isn't)? Then the wax plant is exactly what you need, as these peculiar-looking plants produce a sweet, chocolatey smell and don't require much light and watering. The plant has thick, waxy-looking leaves and after 5 years of growth, it starts blooming in bunches of flowers that look like plastic stars covered in velvet, very special indeed.
15. Lemon Balm (Melissa officinalis)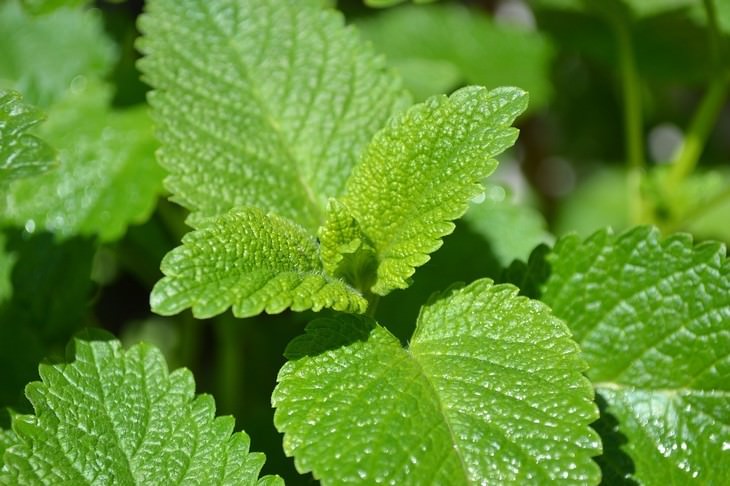 Best suited for:
if you're searching for a mosquito repellent
Lemon balm is a close relative of mint and its leaves have both a minty and citrus smell at the same time. This delicate-looking plant is best off on your kitchen counter if you're planning to use it as a herb (which you definitely should, as it has a lot of health benefits). Still, any well-lit area will be suitable for lemon balm, and since it's a natural mosquito repellent, maybe you should have a container in every room.
16. English Lavender (Lavandula angustifolia)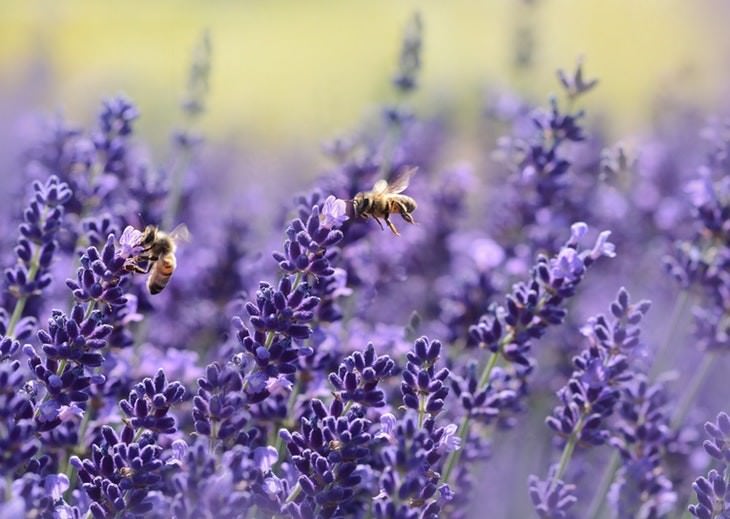 Best suited for:
relaxation
Lavender's relaxing properties are not a new fact for most of us, but let's just admit that a lavender-scented candle is not even close in terms of potency as the real thing, a live lavender plant in your home. Do keep in mind, however, that lavender plants do need relatively larger planters than many other indoor plants (though the French lavender variety can be planted in smaller pots). But guess what? You can always grow a lavender plant outdoors and use the dried plant to make exquisite bouquets that will smell and look heavenly in your home. So, with lavender, you have many options.