1. 'A Psalm of Life' by Henry Wadsworth Longfellow (1838)
One of the most popular and often-quoted poems in English literature, 'A Psalm of Life' has risen above being just a poem and became a real cultural artifact, as pointed out by Longfellow's biographer Charles Calhoun. A quote from the poem, "Footprints on the sands of time," turned into a metaphor widely used to this day.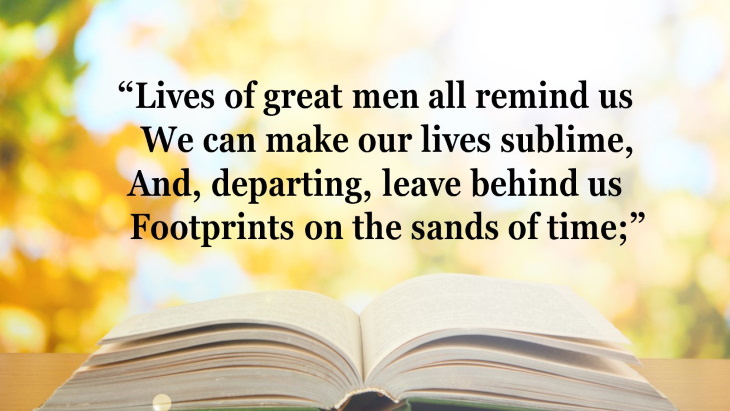 The poem is didactic, it's main message being to inspire the readers to take an active position in life. In the author's own words, the poem is "a transcript of my thoughts and feelings at the time I wrote, and of the conviction therein expressed, that Life is something more than an idle dream." We invite you to take a listen to the poem by clicking 'play' on the video below.
2. 'Desiderata' by Max Ehrmann (1927)
'Desiderata' is the American poet's masterpiece and the reason for his posthumous rise to fame. The title of the prose poem can be translated as "things desired" from Latin, which is exactly the main topic of the verse, as it goes about listing the key desired qualities in life.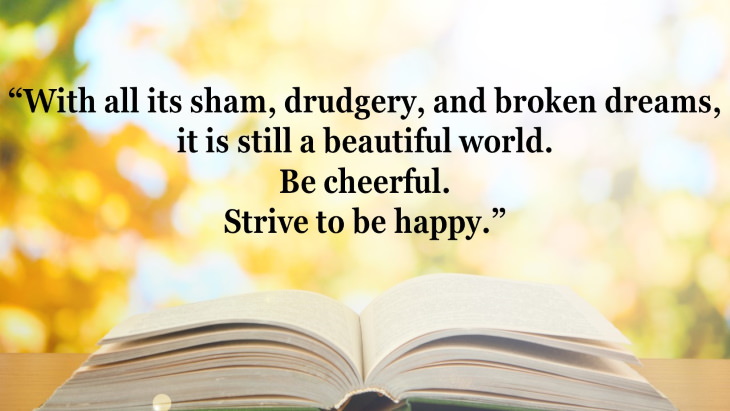 Among such virtues, the author mentions a strong character, a positive attitude, devotion to one's work, the ability not to judge oneself too harshly, and several others. Sadly, the poem didn't gain popularity until fifteen years after Ehrmann's death in 1945. You can listen to the famous spiritual poem in the video below.
3. 'IF-' by Rudyard Kipling (1910)
Rudyard Kipling is certainly known for his fictional stories for kids, particularly the iconic 'The Jungle Book' telling the adventures of Mowgli, a boy raised by wolves. However, the Indian-born author also possessed outstanding poetic talent, with this specific poem being the most famous of his works and revered as Britain's favorite poem according to a 1995 BBC poll.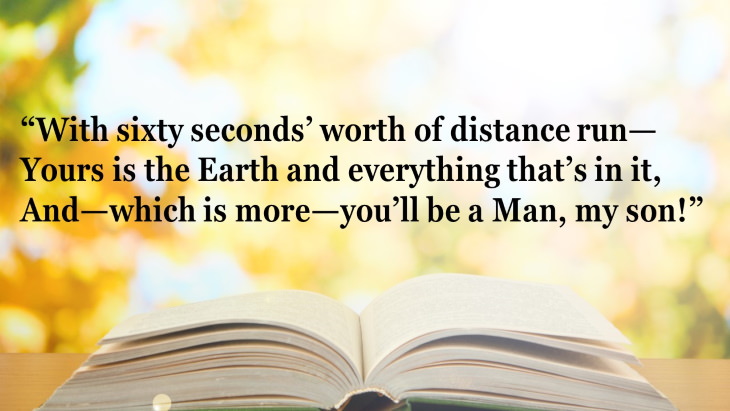 'If-' guides the reader through common challenges one might encounter throughout our lives and, much like a wise parent, teaches how one should act in each circumstance. The overall message is all about moderation, but also stoicism and independence. Listen to famous British actor Michael Caine recite this poem in the video below.
4. 'Mother to Son' by Langston Hughes (1922)
Parents always impart a great deal of knowledge upon their children, they are the ultimate support and the most sincere of spiritual advisors. The mother figure is this poem is no different, she is relentless in her attempt to urge her son to strive for success and progress, even when the present state of things is unbearably hard.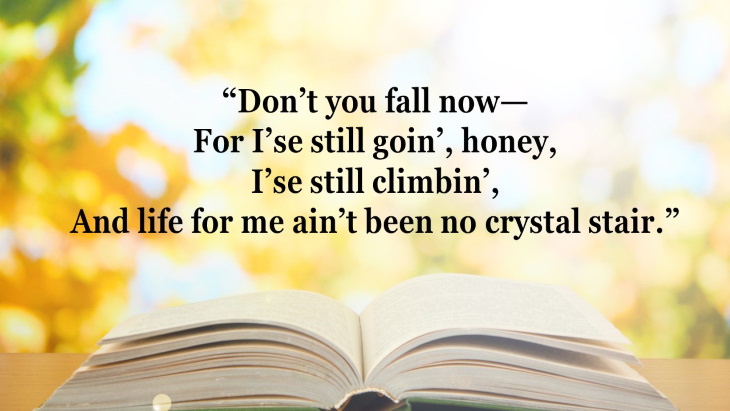 In this poem, Langston Hughes uses the analogy of a staircase to express the need to carry on, climb higher, in the hopes that a better and happier life is ahead. Though very short, the poem manages to impart so much wisdom and emotion to the reader, no wonder it's considered to be one of the poet's most famous pieces. Listen to a reading of the poem in the following video, which also includes the writer's own recitation.
5. 'So, you want to be a writer?' by Charles Bukowski (1992)
Without a doubt, professional growth is among the most important aspects of a person's life, especially when a profession is associated with a great deal of passion and devotion. This specific poem by famous underground writer Charles Bukowski is the author's guidance as to how to become a writer, but in our opinion, you can apply the author's logic to anything you're passionate about, be it any other type of work, a hobby or even a relationship with a specific person.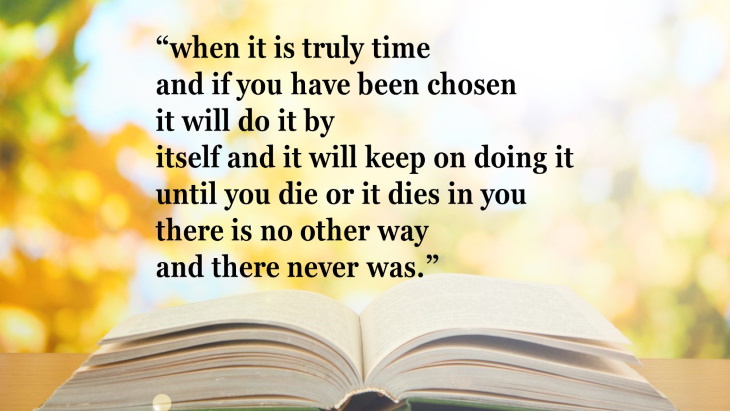 Bukowski urges his reader to be mindful of one's emotional investment and have an 'all or nothing' approach in life, at least when it comes to artistic expression. The author also praises creativity, individuality, originality and modesty, all virtues that most of us would benefit more from. Listen to the author read out his poem by starting the video below.
6. 'Still I Rise' by Maya Angelou (1978)
When it comes to poetry that is meant to inspire, Maya Angelou's works are all definite winners. As a matter of fact, most of her famous poems, such as 'Cage Bird' or 'Phenomenal Woman' are all highly inspirational, but her greatest masterpiece, her most famous and certainly the most motivational poem is certainly 'Still I Rise'.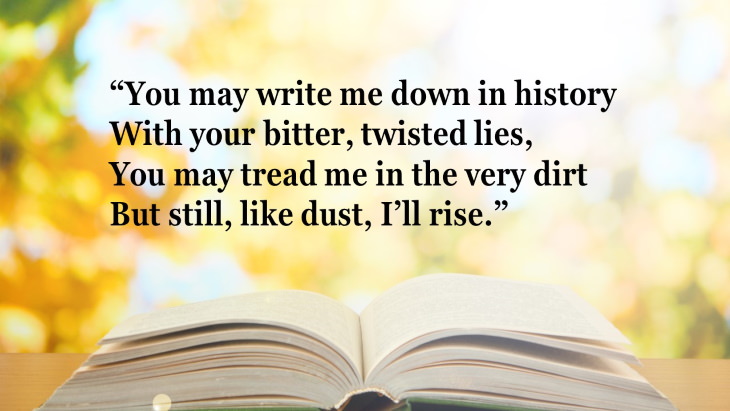 The famous poem, a charismatic recitation of which by the author herself you can watch in the following video, has become a hymn of ethnic identity and perseverance for the African American community. It's known the world over and continues to encourage and inspire to this day.
7. 'The Road Not Taken' by Robert Frost (1916)
Another English literature classic is 'The Road Not Taken', likely Robert Frost's most well-known poem. The narrative poem is about the divergence of literal and metaphorical paths, about painful choices and life-changing decisions.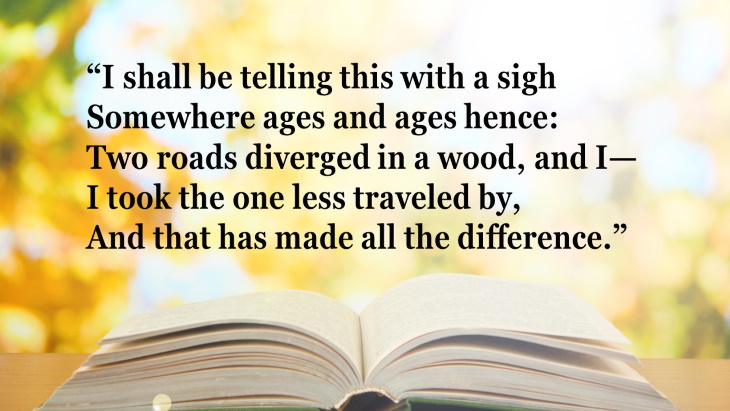 Most importantly, the poem encourages readers not to be afraid to take their own, often unconventional, path in life. Some accounts treat the poem as ironic, but we favor the inspirational and motivational reading more. Enjoy a beautiful animation of the poem along with its recitation below.
8. 'In Spite of War' by Angela Morgan (1920)
Angela Morgan was an American journalist and poet born in 1875. She lived through both world wars and the Great Depression, so hardship and perseverance were two topics that dominated her writing. In the poem 'In Spite of War', Morgan maintains the importance of optimism and suggests that we can draw positivity from the beauty of nature.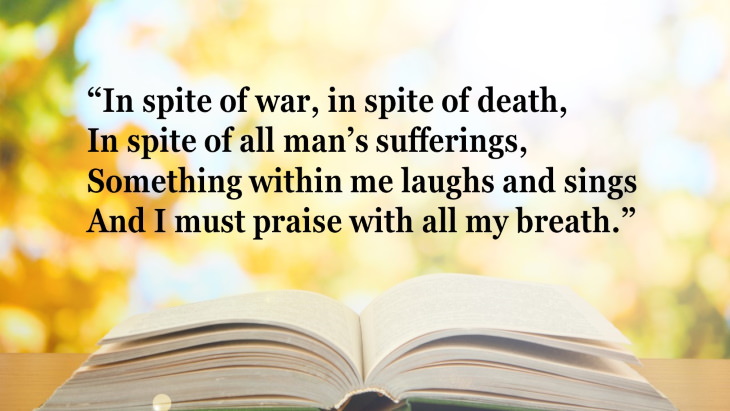 The poem is full of encouraging and motivating imagery, particularly that of blooming flowers, which are juxtaposed to the horrors of war and stormy weather. We don't have a video with this particular poem, but you can still enjoy it by reading it:
In spite of war, in spite of death,
In spite of all man's sufferings,
Something within me laughs and sings
And I must praise with all my breath.
In spite of war, in spite of hate
Lilacs are blooming at my gate,
Tulips are tripping down the path
In spite of war, in spite of wrath.
"Courage!" the morning-glory saith;
"Rejoice!" the daisy murmureth,
And just to live is so divine
When pansies lift their eyes to mine.
The clouds are romping with the sea,
And flashing waves call back to me
That naught is real but what is fair,
That everywhere and everywhere
A glory liveth through despair.
Though guns may roar and cannon boom,
Roses are born and gardens bloom;
My spirit still may light its flame
At that same torch whence poppies came.
Where morning's altar whitely burns
Lilies may lift their silver urns
In spite of war, in spite of shame.
And in my ear a whispering breath,
"Wake from the nightmare! Look and see
That life is naught but ecstasy
In spite of war, in spite of death!"
9. 'Do Not Go Gentle Into That Goodnight' by Dylan Thomas (1951)
Dylan Thomas was a Welsh poet, who's most known for this specific poem. The poem has been featured several times in popular culture, with its latest big feature being Christopher Nolan's 2014 movie 'Interstellar', which subsequently brought about a whole new wave of popularity of the poem.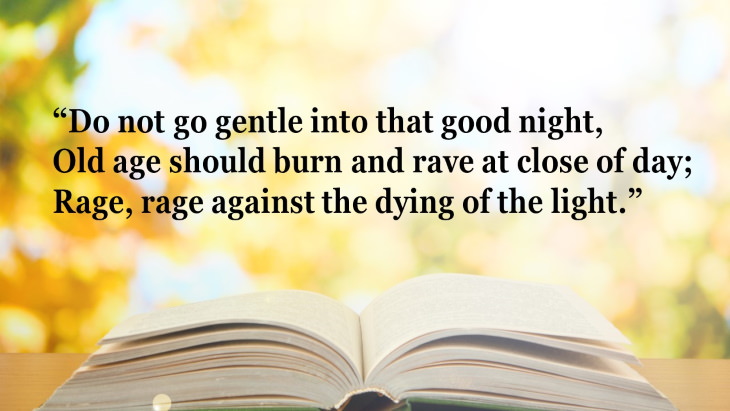 As for the inspiration for the work, it has been rumored that the poet created it as an ode to his dying father. The general tone of the poem is optimistic, with the narrator urging the readers to stay active and live a full life, even if they're not as young as they used to be. Enjoy a recitation of the poem in this video.
10. 'It Couldn't Be Done' by Edgar Albert Guest (1914)
Sometimes, we unknowingly create our own limitations. We are convinced that we can't do or accomplish something or think that it's impossible to reach a certain goal, and those thoughts alone act as the restraint for our motivation and capabilities.

That is exactly what Edgar Albert Guest writes about in this poem, as he believes that you can reach any goal with enough conviction and courage. This is a truly inspiring and powerful message, one that all of us will be able to appreciate. Listen to the full poem in the video below.