Caprese salad is a wonderful dish, making use of those quintessentially Italian ingredients: tomato, basil and mozzarella. This recipe takes that famous salad to a new level with the addition of succulent boneless chicken breasts. I guarantee that you've never made chicken as tasty as this before. And what's more, it could hardly be easier to prepare! Have a look at this brief video and check our recipe below.
Ingredients
• 2 Chicken breasts
• 2 Sliced tomatoes
• A bunch of fresh basil leaves
• Some sliced mozzarella
• Salt
• Black Pepper
• 5 tbsps. Bechamel/white sauce
• 3 tbsps. Pesto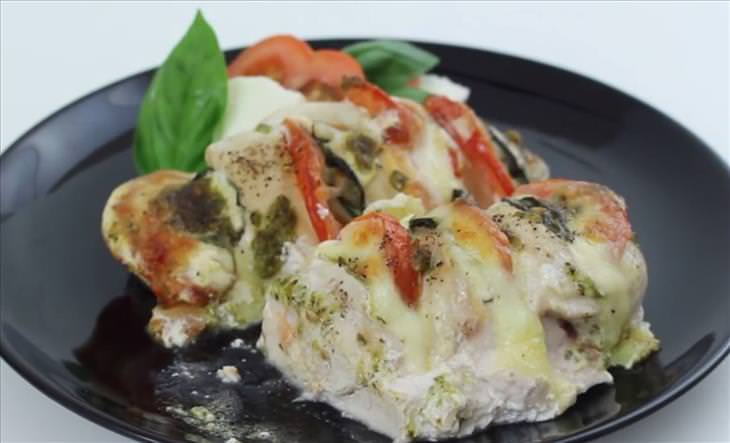 Directions:
1. Preheat oven at 356 F (180 C). Slice the tomatoes and mozzarella into discs.
2. Make 4 or 5 deep incisions into the chicken breasts, and stuff them with one slice of tomato, cheese and one basil leaf each.
3. Place the breasts in an oven tray and season with salt and pepper.
4. Drizzle the white sauce over the chicken. Then do the same with the pesto.
5. Slide them into the oven for 30 minutes.
6. Take out from the oven and serve with the remaining uncooked slices of cheese, basil and tomato.