The humble and tasty quesadilla wears many hats. It can be a quick weeknight meal that can turn the previous night's leftovers into something new and tasty. It can be an easy-to-make snack that will satisfy your hungry grandchildren - or the crowd at your next party. You can fill them with whatever you like: the quesadilla really is whatever you want it to be.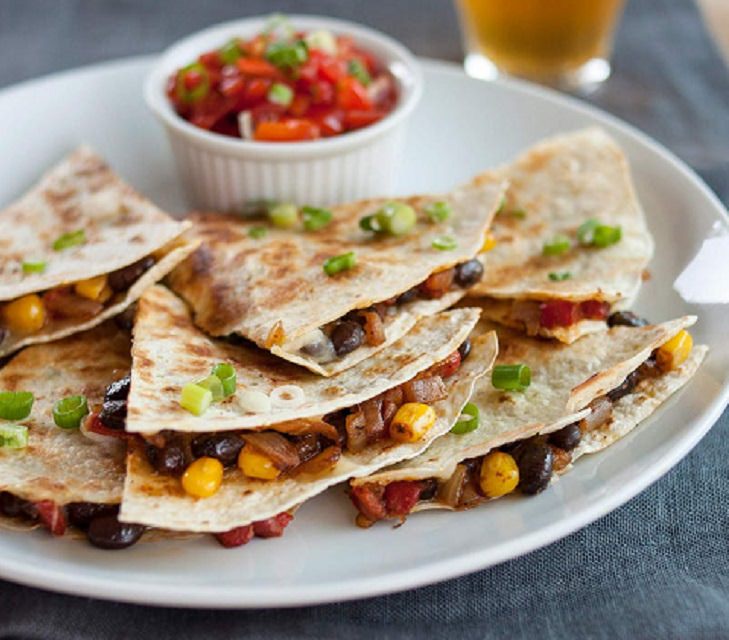 Cheesy Quesadillas (Serves 4)
Ingredients
• 2-3 cups of filling: leftover cooked veggies, shredded meat, crumbled tofu, cooked beans, fresh or frozen corn, cooked rice or grains, or any other leftovers.
• 2 teaspoons butter or vegetable oil
• 4 large 9-10-inch flour tortillas
• 2 cups shredded cheese (any cheese of your choice)
Method
1. Prepare the filling: Pick a few of the above suggested fillings, enough to make 2-3 cups of total filling. If using leftovers, warm them in the microwave or skillet over a medium heat. If using raw ingredients, cook before making the quesadillas. Transfer the filling to a bowl and cover to keep warm.
2. Melt 1/2 teaspoon of butter in a skillet (or use oil): Ironically, the key to crispy quesadillas is less fat in the pan, not more. Too much fat will turn your quesadillas soggy. Therefore, you should use just enough to coat the bottom of the skillet - about 1/2 teaspoon of butter or oil. Warm it in the skillet over a medium-high heat.
3. Add the tortilla, and top with cheese: Lay one tortilla in the skillet and sprinkle with 1/2 cup of cheese.
4. Add the filling: Spread 1/2 cup of filling in a single layer over half of the tortilla. Spreading over half makes the quesadilla easier to fold, and adding it as the cheese melts gives the filling time to warm, if it has cooled a bit.
5. Watch for the cheese to melt: Once the cheese has started, begin lifting a corner of the tortilla to check the underside. When the cheese has melted and you see golden-brown spots on the underside of the tortilla, your quesadilla is ready.
6. Fold the quesadilla in half: Use the spatula to fold in half, sandwiching the filling.
7. Transfer to a cutting board and slice into wedges: Slide the quesadilla onto a cutting board, and, if serving immediately, slice into wedges. If you're preparing several quesadillas for a crowd, slide them un-cut onto a baking sheet and keep warm in a 200°F oven - slice before serving.
8. Wipe the pan clean and repeat: Clean the pan, melt another bit of butter, and repeat the above steps.

Source: thekitchn
Photo: Emma Christensen