The Golden Age of Hollywood was the era that gave birth to modern cinema and the movie-making world as we know it today. This period in Hollywood's history began in 1915 with the first major motion picture, a full-length silent movie named "Birth of a Nation". What followed over the next 50 years was an age of experimentation, growth, and development of every aspect of movie-making through the process of trial and error.
This era gave us iconic movies like "The Wizard of Oz", "Gone With the Wind", and "Citizen Kane", which even today remain cult classics. Directors like Stanley Kubrick and Steven Spielberg took their cues from these tales from the early days. This age also gave us the debut performances of many actors like Sean Connery and Dick Van Dyke who still astound us with their talent and charisma today. Alongside these well-known names are a few others, the true children of this Golden Age. Listed below are the 5 oldest living actors in the world (in decreasing order), witnesses to all the ages of cinema!
1. Norman Lloyd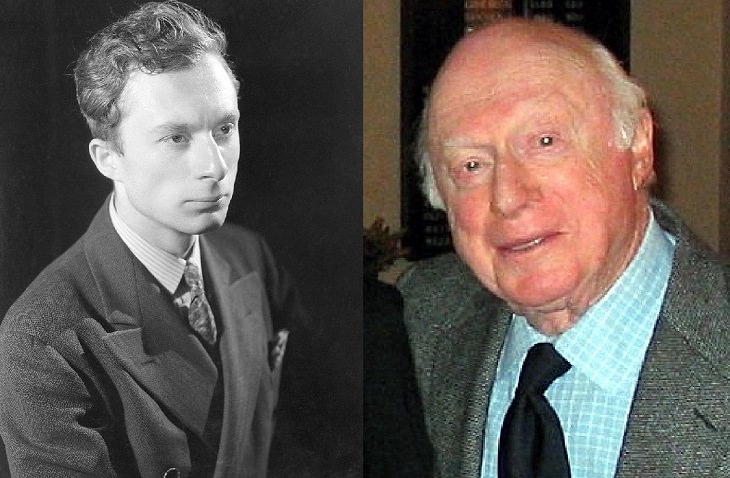 (Left: By Federal Theatre Project, Wikimedia Commons, Right: By Harry Cason, Wikimedia Commons)
Born on 8th November 1914, Norman Lloyd entered this world just as the Golden Age of Hollywood began to make its appearance. Born to a singer and a store manager in Jersey City, New Jersey, Lloyd realized his passion at a young age. By the time he was in his late teens, he had already become an active stage actor, working with numerous different theater companies. Despite many attempts to make it into film, he found himself unable to catch a break.
After landing a supporting role in the Alfred Hitchcock film "Saboteur" (1942), Lloyd made his place in Hollywood, acting in numerous other Hitchcock films and becoming the associate producer and director for "Alfred Hitchcock Presents", a long-running 1955 TV series. Lloyd's talents were buried in all aspects of the movie industry, as a producer, a director, and an actor. He spent as much time behind the camera as he did in front of it!
Lloyd is now 105 years old, and up until 2015, he was still avidly playing tennis twice a week. After attending Game 1 of the World Series in 1926, Lloyd attended Game 2 of the World Series in 2017, 91 years later. This esteemed actor is still recognized for his contribution to the world of entertainment.
2. Olivia De Havilland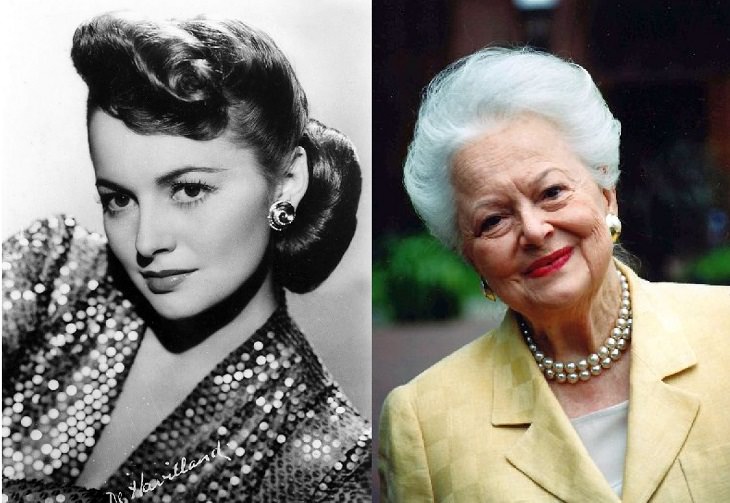 (Left: By studio, Wikimedia Commons, Right: By John Mathew Smith, Wikimedia Commons)
Born on 1st July 1916, Olivia Mary de Havilland was the child of a patent attorney and a former actress. A talent for theatrics is evidently genetic as both she and her sister, who went by the stage name Joan Fontaine, gained fame as entertainers. She made her debut in Hollywood at 19, in the stage and film adaptation of "A Midsummer Night's Dream", after being spotted by reputed director Max Reinhardt, while performing in her school play of the same Shakespearean classic.
She was known for her numerous roles on the screen beside the heartthrob Errol Flynn, and also received much acclaim for her performance in "Gone With the Wind", "To Each His Own" and "The Heiress". She also worked on numerous miniseries as well as continued her work on Broadway. She was recognized for her work in all fields, and secured herself 2 Oscars, 2 Golden Globes, and an Emmy Award, along with many other significant accolades.
Olivia continued to remain active in the film industry well after her retirement and has gained especial fame for her 2009 documentary "I Remember When I Paint", which discusses the role that art can play in treating Alzheimer's Disease. In 2017, at the age of 100, Olivia was appointed the high honor of Dame Commander of the Order of the British Empire by the Queen for her service to drama.
3. Vera Lynn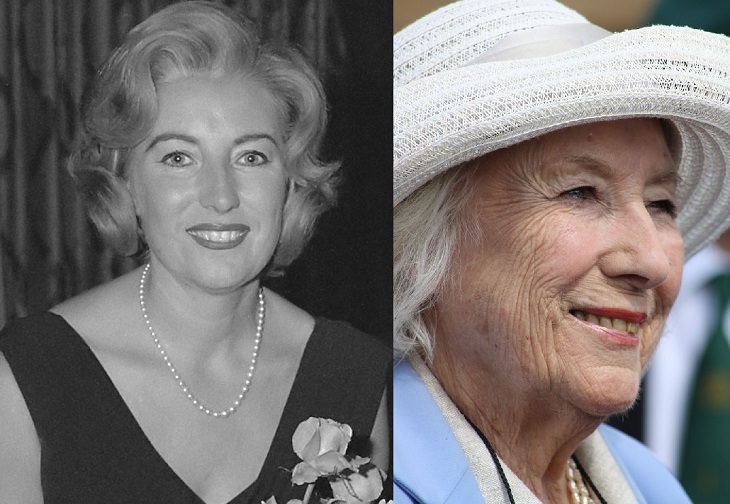 (Left: By Eric Koch / Anefo, Wikimedia Commons, Right: By Nicki, Wikimedia Commons)
Born on 20th March 1917, Vera Margaret Welch was a multitalented British performer who coupled singing and dancing with acting. Having been stricken by a near-fatal illness at age 2, her mother was extremely protective of her during her formative years. However, when she was 7, her talent for singing was discovered and she began performing publicly. She changed her stage name to her maternal grandmother's maiden name, Lynn, when she was 11 and by 18 had performed in her first radio broadcast alongside the Joe Loss Orchestra
Lynn's rise to fame was her incredible voice, though her lovely face and charming demeanor landed her more than one role on the big screen. Most of her time, however, was spent in the studios and on the stage. Her 1939 release "We'll Meet Again" was one of the most popular songs during World War II and has been included in numerous Golden Age Hollywood films, like "Dr. Strangelove" and contemporary shows like "Castle". In fact, Lynn was well-known among soldiers for her numerous wartime performances. She even spent her time visiting hospitals and passing along messages from wives to their husbands overseas.
Lynn's real charity work began in 1953, forming and chairing a charity organization for people suffering from cerebral palsy. Her work continued over the years, expanding into other major causes like breast cancer, veteran rights, refugee rights, and animal cruelty. In 2009, the then 92-year-old woman became the oldest person to make it to the very top of the British charts. On her 100th birthday, her latest album was released.
4. Earl Cameron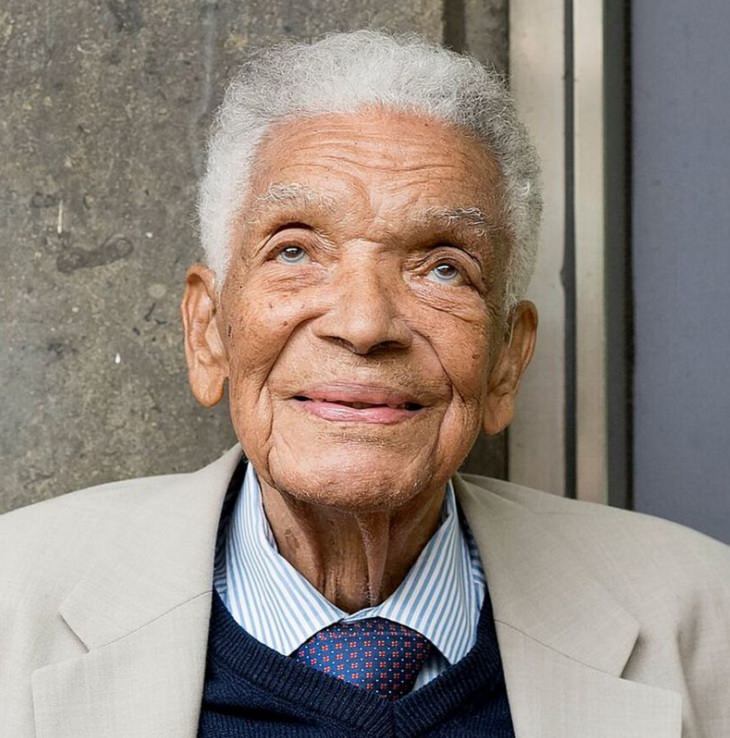 (By Peter J Dunn, Wikimedia Commons)
Born on 8th August 1917, Earlston J. Cameron, known more commonly as Earl Cameron, was born in Bermuda and became a member of the British Merchant Navy when he was of age. A mistaken love affair and a spur-of-the-moment decision left Cameron stranded in London in 1939. Tired of menial jobs, he enlisted the help of one of his friends to get a role in a revival of "Chu Chin Chow", a musical comedy based on the story of Ali Baba and the 40 thieves.
Cameron found that being a British actor wasn't too difficult with his Bermudian Accent, which sounded closer to the American that the English Accent. He took up numerous notable roles in different theater productions, joined a singing trio and toured and performed for the British Armed Forces, and even visited his birth land for a short period. It was finally in the 1951 film "Pool of London" that Cameron finally received his movie breakthrough. His role, which was the first major role in mainstream British Cinema for a black actor, received critical acclaim.
Earl went on to have a varied and wide career in movies and television, that continued well past the pre-designated retirement years. He even had a role in the 2010 Christopher Nolan movie "Inception". To honor him, a major theater in Hamilton, Bermuda was named after him, and he was granted an honorary doctorate from the University of Warwick in 2013. Now 102 years old, Earl lives in Warwickshire, England.
5. Marsha Hunt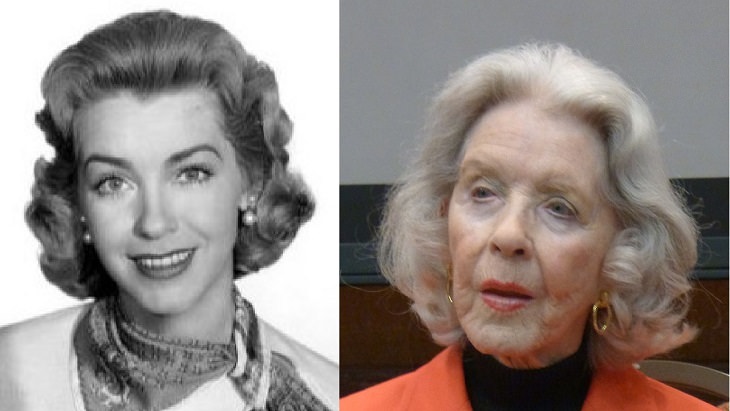 (Left: By CBS Television, Wikimedia Commons, Right: By Gazebo, Wikimedia Commons)

Born on 17th October 1919, Marcia Virginia Hunt was raised by her parents, a lawyer and a vocal teacher in Chicago. In her early years, she and her parents moved to New York City where she got her first taste of performance in church functions and school plays. Unable to find a university that offered drama as a major from the very first year, Hunt (who later changed her first name to Marsha), took up modeling work and started attending acting classes alongside.
By the time she was 17, Marsha had signed a 7-year contract with the renowned Paramount Pictures, and over the next 3 years proceeded to star in 12 of Paramount's films. 4 years prior to the agreed-upon date, Paramount terminated their contract with her. She then starred in a few B-list films before landing roles in bigger films like MGM's "Pride and Prejudice" (1940), after which she stayed with MGM for 6 years. From 1950 onward, Hunt was largely blacklisted by the major production companies and studios due to the tumultuous political landscape that had arisen and her outspoken philosophical nature.
Despite announcing her semi-retirement in 1960, Marsha kept up her work with different television shows and even several notable movies. However, she shifted the majority of her focus to humanitarian work, donating and requesting funds to fight starvation in third world countries, as well as aiding in the creation of homeless shelters. She continues to make public appearances and speak out openly against human rights violations and other areas of concern.