Everyone loves chicken wings. Okay, that may be an exaggeration, but it really is hard to find someone who doesn't enjoy them. They're on the verge between proper food and guilty pleasure, come in many different flavors and are easy to eat on the go – all of which makes them an ideal Superbowl snack. Even if Game Day isn't a big celebration in your household, don't miss these three awesome chicken wing variations.
1. Spicy Asian Chicken Wings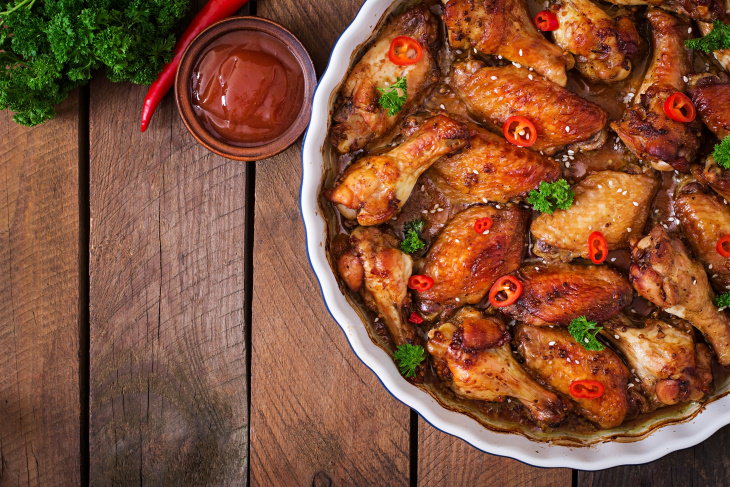 Ingredients:
1 lb. (450 g) chicken wings
1/3 c. olive oil
1/3 c. low-sodium soy sauce
¼ c. chili garlic sauce
¼ c. honey
Juice of 1 Lime
2 cloves of garlic, minced
Directions
1. Whisk together the oil, soy sauce, honey, chili garlic sauce, lime juice, garlic, and ginger. Set aside ½ cup of the mixture.
2. Add the chicken wings to the remaining part of the mixture, toss well and make sure all the wings are covered in marinade. Refrigerate for 2 hours.
3. Preheat oven to 400° F (200 C°). Remove the wings from the marinade and place them on a wire rack (place a baking sheet underneath to avoid staining the oven). Bake for 50-60 minutes, until wings are golden and crispy. Flip halfway through.
4. Add the reserved marinade in a small saucepan and bring to a boil over medium heat. When boiling, reduce the heat, and let it simmer for 10 minutes, until thickened.
5. Brush the sauce over the wings and broil for 2-3 minutes, until caramelized.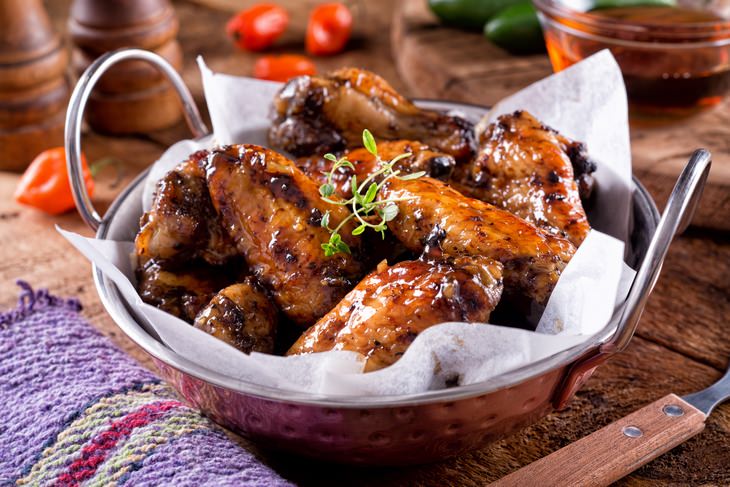 Ingredients:
2 lb. chicken wings
15 slices bacon, halved
1/4 c. barbecue sauce
2 tbsp. maple syrup
1 tbsp. apple cider vinegar
1 tbsp. brown sugar
1/2 tsp. crushed red pepper flakes
Instructions:
1. Preheat oven to 425° F (220° C), and line a baking sheet with aluminum foil.
2. Wrap wings with ½ slice bacon each. And place on a prepared baking sheet.
3. In a small bowl, whisk together the barbecue sauce, maple syrup, apple cider vinegar, brown sugar, and crushed red pepper flakes.
4. Brush the wings with the mixture and bake for 45 minutes, until both wings and bacon are crisp and golden.
Related Article: How to Make a Simple and Delicious Chicken Teriyaki
3. Garlic Parmesan Wings​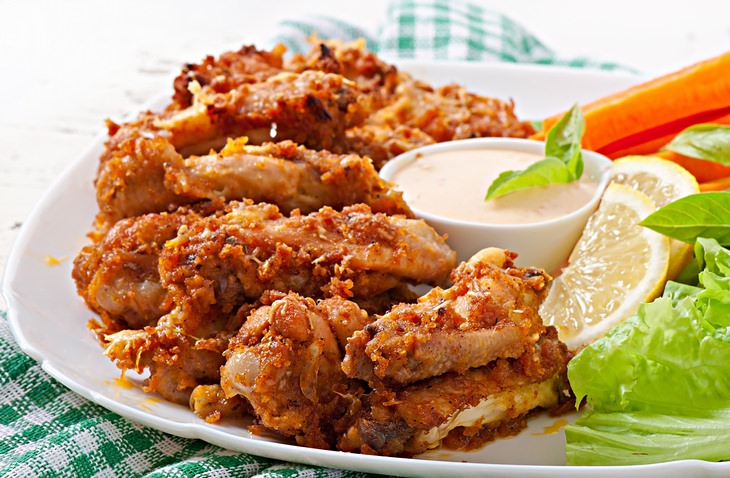 Ingredients:
2 lb. bone-in chicken wings
1/4 c. vegetable oil
Salt
Freshly ground black pepper
1 stick melted butter
4 cloves garlic, minced
2 tbsp. freshly chopped parsley
3/4 c. freshly grated Parmesan, plus more for serving
1 tsp. red pepper flakes
Caesar dressing, for dipping

Instructions:
1. Preheat oven to 400° F (200° C)
2. Line a large baking sheet with a metal rack.
3. Toss wings with oil and season with salt and pepper.
4. Transfer the wings onto the metal rack and bake for about 50 minutes, until golden.

For the sauce:
1. Stir together melted butter, garlic, parsley, parmesan, and red pepper flakes.
2. Toss the wings in the mixture until completely coated.
3. Sprinkle with parmesan and serve with Caesar dressing for dipping.