For generations, it has been said that garlic and onion are the antibiotics of nature, or at least this is what many grandma's claim. A wide range of "Grandma's medicines" have been made from these two medicinal plants, along with innumerable recipes designed to help us maintain our health and those of the people we care about. So, for cold winter days – and for those who just really like to eat garlic and onions throughout the year – we've gathered 4 special recipes to help you stay healthy and strong, with good taste!
Garlic and onion soup
The following recipe is one I've eaten since childhood. My grandmother would kick off the cold season by cooking this amazing garlic and onion soup to protect us from the winter chills. Therefore, if you feel like spoiling your loved ones and caring for their health, prepare this tasty garlic and onion soup that will become the most asked for dish on cold winter days.
Time: 15 minutes
Servings: 6
Difficulty: easy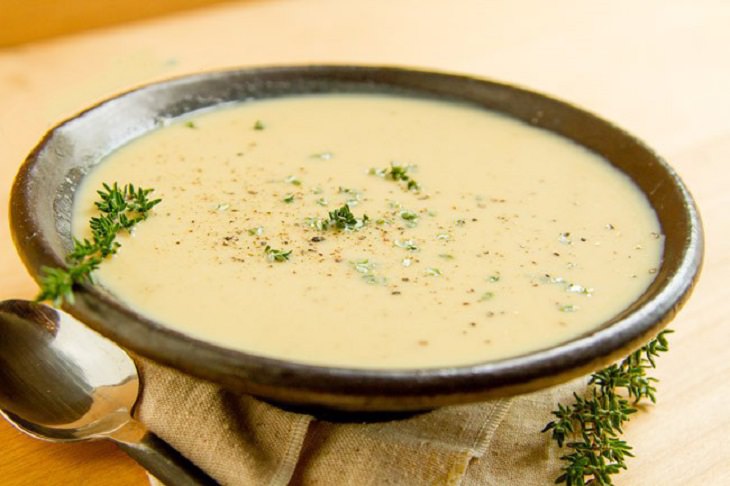 Ingredients:
1 large head of garlic

1 ½ tsp olive oil (divided)

9 cups onion, sliced thinly (about 4 onions)

2 ½ cups leek, sliced

1 tsp. salt (divided)

2 tsp. thyme

2 tbsp. flour

1/3 cup dry white wine

4 cups vegetable stock

2 cups milk

6 stalks of thyme, for garnish

Black pepper, to taste (garnish)
Directions:
1. First, heat the oven to 350° F (180°C) and line a baking pan.
2. Now peel the outer shell of the garlic head, but don't separate the garlic cloves from each other. Wrap the garlic in aluminum foil, place on the pan and bake for 1 hour.
3. After baking the garlic, let it cool for about 10 minutes, then peel and place in a small dish until use.
4. While the garlic is in the oven, heat 1 tablespoon oil in a large pot over medium heat, add onion and leek and cook for about 30 minutes while stirring occasionally. Add a little water if the onion starts to cook too quickly.
5. Add half a teaspoon of salt to the onion and the teaspoon of thyme and mix well. Cook for another 30 minutes or until the onion begins to turn golden brown. (Here too you can add a little water if the onion starts to brown too quickly).
6. Now add the flour to the pot with the onion and stir for about a minute, pour the wine and the vegetable stock and bring to a boil. Then lower the flame and cook for about 30 minutes.
7. After cooking for 30 minutes, place the peeled garlic into a food processor, pour in the contents of the pot and the rest of the salt in the recipe, and blend until smooth. (you may need to blend the contents in two times if your food processor is too small)
8. Once blended, pour the mixture into a large pot, add the milk and cook for about 8 minutes or until the soup is well heated through. Transfer to serving bowls, place thyme leaves for decoration with a bit of coarsely ground black pepper and serve.
Cheesy garlic bread
Garlic bread is something most people love to eat, and this recipe upgrades the dish tenfold! This delicious recipe will make garlic bread a must-have favorite in your house and will have your home smelling like a real Italian bakery.
Time: 20 minutes
Difficulty: easy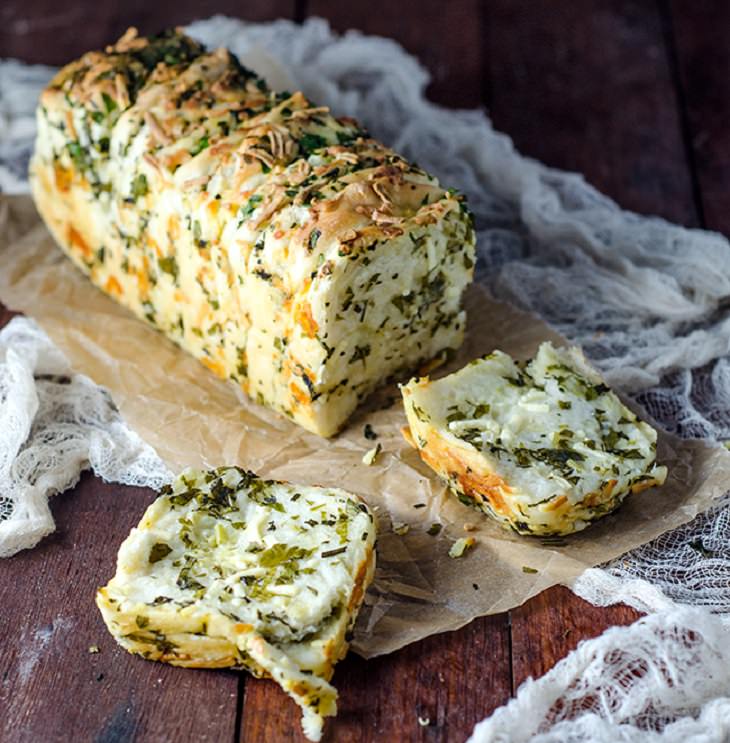 Ingredients:
500 g flour

½ tbsp. dry yeast

½ tbsp. salt

½ tbsp. sugar

1 ½ cups water, room temperature

½ tsp bread improver (optional)

1 clove of garlic, crushed

1/3 cup parsley, dry

1/3 cup basil, dry

¼ cup rosemary, dry and chopped

1 tbsp. butter

2 cups mozzarella, grated
Directions:
1. Mix half the water, the dry yeast, the bread improver, the flour, the sugar, and salt into the mixer bowl and turn it on. Add the remaining water gradually, kneading until you get a uniform dough.
2. Add the olive oil to the bowl and knead for about 2 minutes (add flour if the dough is too sticky), continue to work the dough for about 5 minutes until it separates from the sides of the bowl.
3. Allow the dough to rise for about 1- 1 ½ hours or until it doubles in size. Once it rises, beat the dough to knock it down and let it rise again.
4. After the second rise, remove the dough from the bowl onto a lightly floured work surface and roll out into a 50 x 25 cm sheet.
5. Butter the top of the dough sheet and sprinkle with crushed garlic, the herb mixture, and grated cheese and roll into a loaf. Place the loaf in a baking pan, let the bread rise for about 15 minutes.
6. Bake in a preheated 350°F (180°C) oven for about 40 minutes until the top turns golden brown, remove the bread from the oven and let it cool for about 10 minutes before serving.
Onion and goat cheese tart
Do you have guests at the door or are just in the mood for a fancy a delicious, fragrant and fast pastry? Try this 5-ingredient onion and goat cheese tart recipe below which will pick up a few compliments and leave all diners with a taste for more.
Time: 5 minutes
Difficulty: easy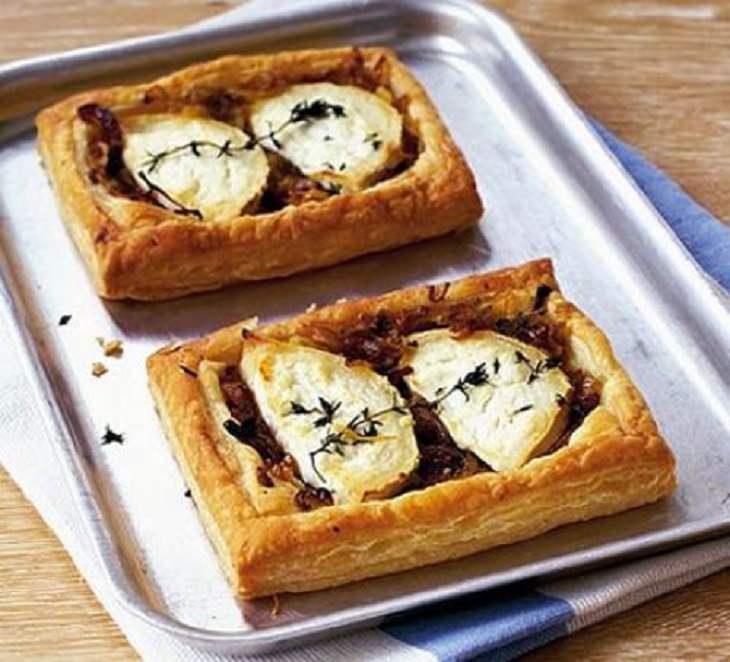 Ingredients for tart:
225 g store-bought puff pastry

Caramelized onions, recipe below

200 g goat cheese

4 sprigs of thyme, fresh

Some olive oil
Ingredients for caramelized onions:
50 g butter

12 small onions, halved and sliced (about 600 g)

1 tbsp. sugar
Directions for tart:
1. Heat oven to 400°F (200°C) and line a pan with baking paper.
2. Lay the puff pastry dough out on a lightly floured surface and cut into four squares. Mark a 1 cm border with a sharp knife, and place in the middle of each square some caramelized onions, a slice of goat cheese and thyme.
3. Pour a little olive oil over top and bake for 15-20 minutes or until golden brown, and serve.
Directions for caramelized onions:
1. Melt butter in a large pot, add the sliced onion and cook with a lid for about 10 minutes until the onions soften.
2. Remove the lid, add the sugar and cook for another 15-20 minutes, or until all the liquid evaporates and the onion turns golden.
3. Place onion in a bowl and set aside till use. You can freeze the caramelized onions for up to a month.
Garlic, onion, and mozzarella cheese pastry
The following recipe is very reminiscent of pizza however its baked in a pot or Bundt pan. The amazing advantage of this dish is the combination of Italian aroma and long cooking, which creates a dish so indulgent and delicious, you'll hardly have any crumbs left.
Time: 20 minutes
Difficulty: easy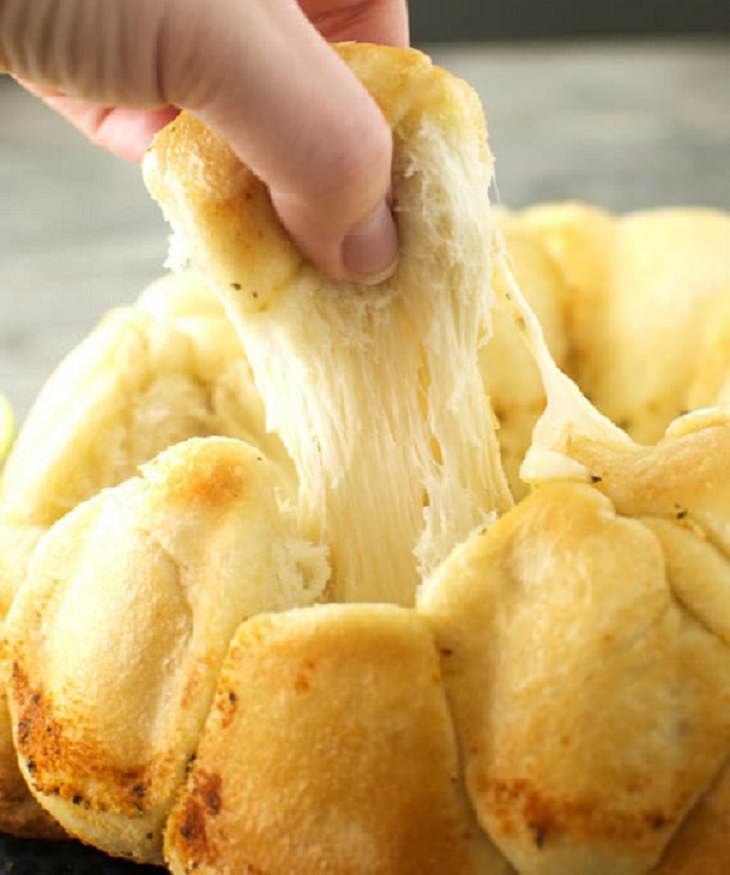 Ingredients for the pastry:
700 g pizza dough

2 ¾ cup mozzarella, cut into 24 medium sized cubes (about 450 g)

2 tbsp. dry onion

¾ cup garlic butter (recipe below)
Ingredients for garlic butter:
½ cup butter

2 cloves of garlic, crushed (or 1 tsp. garlic powder

1 tsp. parsley, dry

¼ cup parmesan cheese, grated
Directions for pastry:
1. Divide the pizza dough into 24 pieces, placing a cube of mozzarella in each piece and rolling to form a ball. Make sure the cheese is covered in dough. Do this with all 24 pieces of mozzarella and dough.
2. Dip each ball in garlic butter and place in a 24 cm pot or a Bundt pan spreading them out so that the pan/pot is filled.
3. Set aside for about 30 minutes and in the meantime warm the oven to 320°F (160°C).
4. Place the baking rack in the middle of the oven and bake for 35-40 minutes.
5. Release the pastry from the pan and serve hot. We recommend serving with some grated tomatoes.
Directions for garlic butter:
1. Melt the butter in the microwavable in a heat-resistant bowl and add garlic, parsley, and Parmesan cheese.
2. Remove and mix thoroughly.
image source: lifecurrentsblog, chewtown, BBCGoodFood,cupcakediariesblog
Related Articles:
The Health Benefits of a Surprising Food: Black Garlic
Surprising Reasons to Consume Calcium