If you happen to be a Porsche fan, you might think that heaven looks like something like this. You might actually think you've died and gone to heaven if you ever happen to stumble upon the White Collection, which features some of the tastiest Porsches ever made. Visitors aren't allowed to take their phones in with them when viewing the cars, nor are they allowed to wear shoes! Numbering some 55 different cars in total, I've taken the liberty of categorizing the best cars in the collection for your enjoyment. Discover them below:
Supercars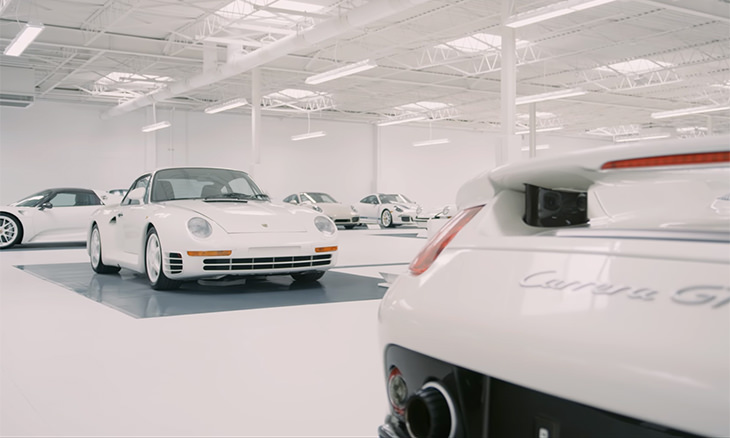 To date, Porsche has built three bona-fide supercars, namely the 959, Carrera GT and 918 Spyder. These cars form the centerpiece of the white Porsche collection. Although the other two cars are technological masterpieces, the 959 has to be the highlight of this particular section of the collection due to it breaking new ground in automotive technology when it was released in the late 1980s.
• 1987 959
• 2005 Carrera GT
• 2015 918 Spyder

911 GT2s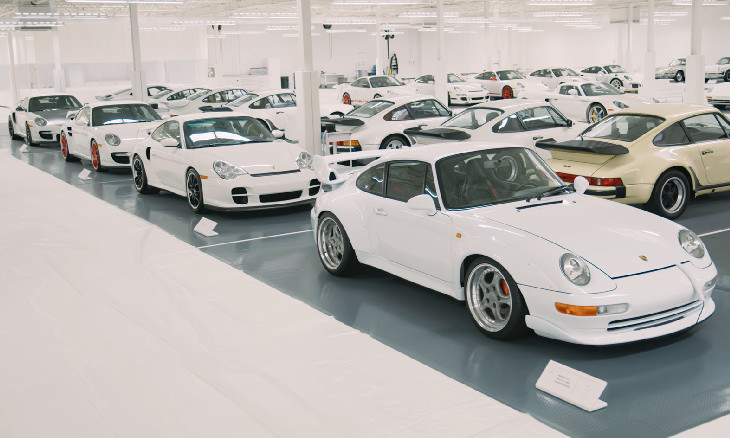 Nowadays, the 911 GT2 can be thought of as a 911 Turbo on steroids. They feature upgraded brakes and suspension over 911 Turbos of the same generation, as well as a lot more power. They're also lighter than the Turbos due to being rear-wheel drive rather than four-wheel drive. The highlight of this particular part of the collection is the 1997 911 GT2 "Strassenversion". It's a genuine road-going racing car that was built purely to satisfy existing racing homologation regulations that were in force in the 1990s. The white one in this collection (pictured in the foreground of the above picture) is one of around 57 ever built and is worth in excess of $2 million.
• 1997 911 GT2 "Strassenversion"
• 2004 911 GT2
• 2008 911 GT2
• 2011 911 GT2 RS
• 2018 911 GT2 RS
911 GT3s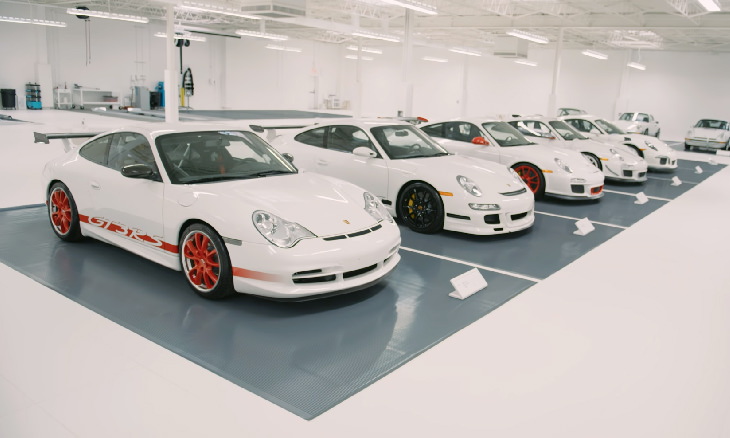 The 911 GT3 was introduced in 1999 and pays homage to earlier thoroughbred 911 models such as the Carrera RS of 1973. Unlike the GT2s and Turbos, all 911 GT3s are normally-aspirated, meaning that there are no turbochargers to speak of in their engine bays. Furthermore, 911 GT3s are designed as hardcore track machines, complete with roll cages, minimal sound deadening and no back seats. The highlight of this particular part of the collection is the 911 GT3 RS 4.0. Only 600 of them were ever made, and they feature an enlarged engine over the standard 911 GT3 RS, as well as weighing 22 lbs less. The model is also the swansong car from the 997 generation of 911. Despite being released just seven years ago, many have gone straight into private collections. They change hands for approximately $500,000.
• 2004 911 GT3 RS
• 2008 911 GT3 RS
• 2011 911 GT3 RS
• 2011 911 GT3 RS 4.0
• 2016 911 GT3 RS
• 2018 911 GT3 RS
911 RSs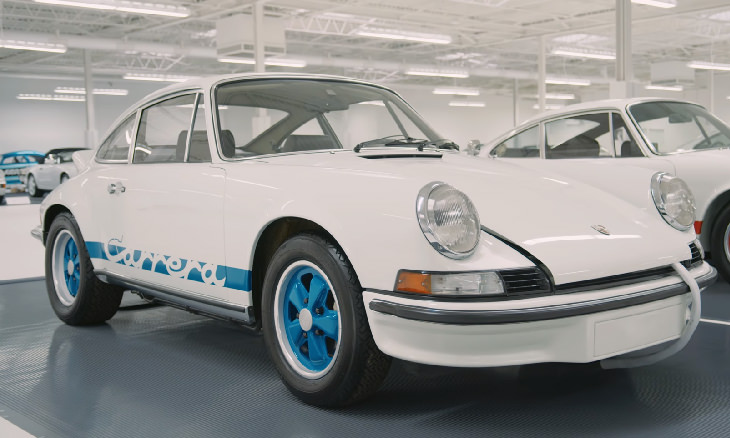 The RS in the Carrera RS badge stands for Rennsport, or "race sport" in English. The early cars, in other words, the original 1973 Carrera RS models, were built in order to comply with racing homologation regulations, and are lightweight versions of 911s from that period that also feature enlarged engines. This particular part of the collection has not one, but two highly notable cars, namely the 911 Carrera RS 2.7 Lightweight (pictured above), which is one of 200 ever built and was hugely successful in international rallying, and the Carrera RSR 3.8 "Strassenversion". The latter car is one of 51 ever made and is essentially a street version of the racing Carrera RSR from the same period. It has just 43 miles on its odometer from new. In addition, its specification is rather unusual, featuring a red leather interior, purple wheels (the color came from the 964 model range) and gold-colored brake calipers. An example was recently sold at auction for $2.3 million.
• 1973 911 Carrera RS 2.7 Touring
• 1973 911 Carrera RS 2.7 Lightweight
• 1992 911 Carrera RS
• 1994 911 RS America
• 1994 Carrera RSR 3.8 "Strassenversion"
• 1996 911 Carrera RS
911 Turbos and Turbo Looks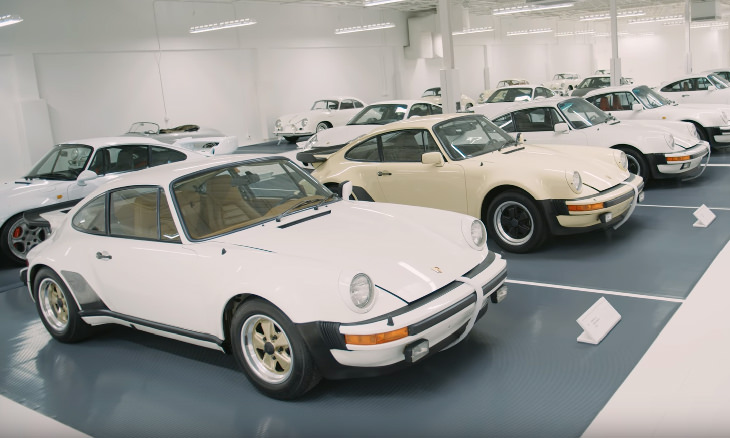 The 911 Turbo was introduced all the way back in 1976, and the model is still an integral part of the 911 lineup today. All Turbo models, as their names suggest, have turbocharged engines. Although they've come to be associated with being four-wheel drive in the present day, however, it wasn't until the 964-generation of 911 was introduced in the late 1980s that 911 Turbos became four-wheel drive. The Turbo Look cars are 911s made to look like Turbos (big wing, wider fenders, and wheels, etc.) that aren't actually Turbos at all! The highlight of this particular part of the collection has to be Genesis - the 1976 911 Turbo Carrera, although the 1994 991 Turbo S "Flachbau" (flat-nose in English) is extremely rare.
• 1976 911 Turbo Carrera
• 1979 911 Turbo
• 1984 911 Carrera Turbo Look
• 1986 911 Carrera Turbo Look
• 1989 911 Turbo
• 1994 911 Turbo S "Flachbau"
• 1997 911 Turbo S
• 2018 911 Turbo S Exclusive Series
911 Roadsters, Speedsters and Cabriolets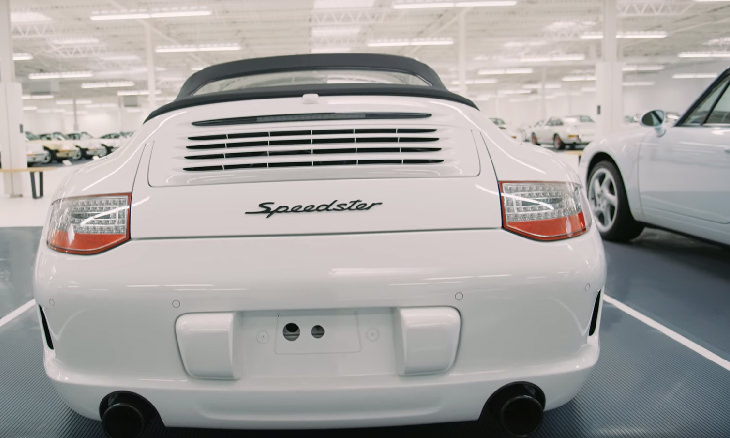 Convertible 911s are a dime a dozen these days, but the Speedsters and Roadsters are entities unto themselves. That's because they were all built in very small numbers, and boast distinct features over other 911s, such as a tiny little cloth hood to cover their occupants from the elements coupled with a humped tonneau cover that sits behind them. Speedsters, in particular, are usually built with a hodge-podge of the very best 911 parts available at the time. The new one, which is in the pipeline at Porsche, for instance, has the engine from a GT3 RS. The highlight of this particular part of the collection has to be the 2011 911 Speedster. It's based on a 997-generation 911 GTS, and just 356 of them were ever built. The last one ever built recently changed hands for just under $400,000.
• 1989 911 Speedster
• 1992 911 America Roadster
• 1994 911 Speedster
• 1998 911 Carrera Cabriolet
• 2011 911 Speedster
911 Targas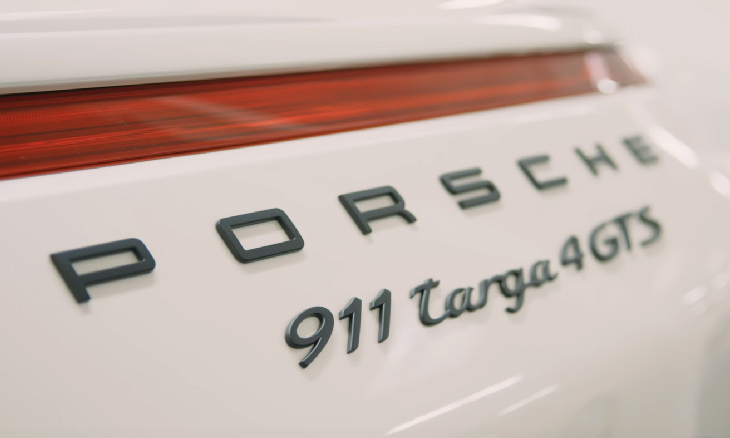 What do you do if you want an open-topped 911, but don't fancy having a fully-fledged convertible? You buy a 911 Targa, of course! Targa cars feature a lift-out roof panel for open-topped motoring rather than a cloth convertible roof, so they make great compromises between hardtop and convertible models. The 911 Targa 4 GTS featured in this collection has the be the highlight of this particular section, and that's because it's widely considered to be the best all-around model available in the current 911 lineup.
• 1967 911S Targa
• 1976 911S Targa
• 1990 911 Targa
• 2016 911 Targa 4 GTS
356s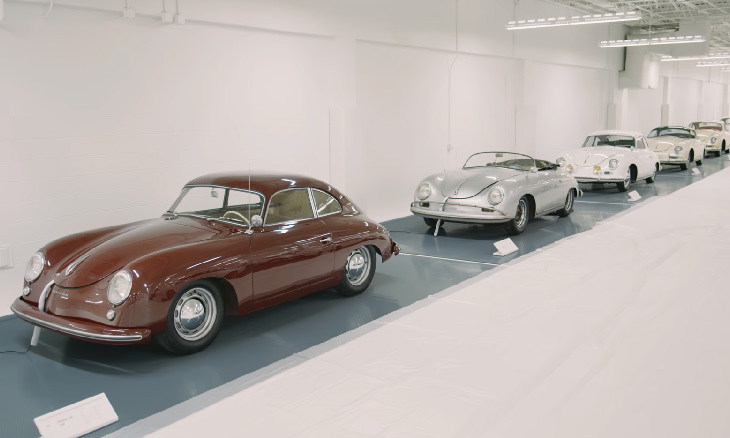 The Porsche 356 actually predated the 911, which was introduced in 1965. Granted, not all of the 356s in the White Collection are actually white, but they're no less attractive to look at! These older cars are highly-coveted by collectors and are actually rather hard to find in unrestored condition. The highlight of the 356 lineup in undoubtedly the 356A 1600 GS Carrera De Luxe, which featured Porsche's first-ever racing motor, and is actually a road-going racer in its own right.
• 1965 356 SC
• 1963 356B 2000 GS Carrera 2
• 1959 356A 1600 GS Carrera De Luxe
• 1958 356A Speedster 1600 Super
• 1955 356 Continental
944s and 968s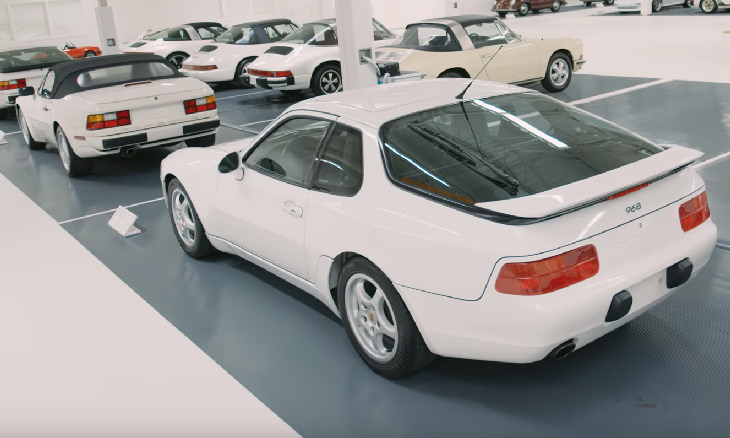 The Porsche 944 is based on the 924 that it replaced, and is front-engined, unlike a 911. It was introduced in 1982 and was in production until 1991. It was the most successful Porsche model ever until the introduction of the Boxster and 997-generation 911. Its successor, the 968, actually represents one of several botched attempts by Porsche to kill off the 911 and replace it with a new model. The 944 S2 Cabriolet that's in the collection is definitely notable - it was the first convertible variant of the 944, and it's still pretty rapid - even by today's standards.
• 1987 944 Turbo Cup USA
• 1990 944 S2 Cabriolet
• 1994 968
Assorted 911 Carreras and Limited Editions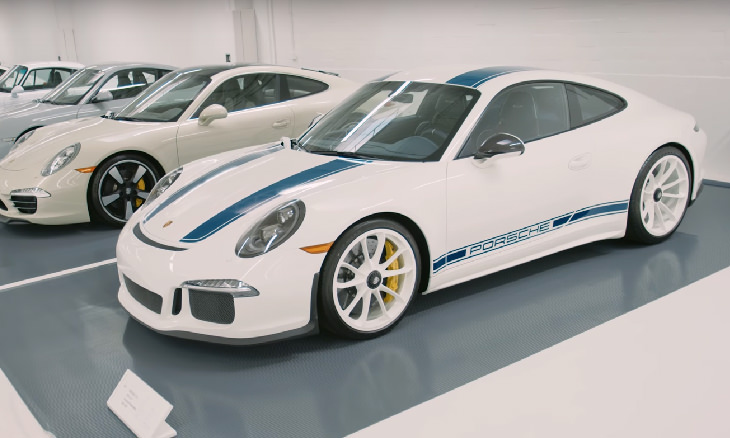 Over the years, Porsche has produced many different variants of the 911, but some are more special than others. From the cars listed below, The 911 Carrera Club Sport definitely stands out - just 190 of them were ever made. The 911 Sport Classic of 2010 is a retro throwback model that instantly became a hit with collectors. The 911 50th Anniversary is a limited edition model to mark 50 years of the 911, whereas the 911 R of 2016 is a like a "greatest hits" version of the current 911 lineup, featuring a 4.0-liter GT3 RS engine, rear-wheel drive, a manual gearbox, reduced weight, and many other goodies. It's pictured above.
• 1975 911 Carrera (RoW with MFI)
• 1988 911 Carrera Club Sport
• 1989 911 Carrera
• 1996 911 Carrera 4S
• 1997 911 Carrera 4S
• 2010 911 Sport Classic
• 2014 911 50th Anniversary
• 2016 911R
BONUS - See this stunning collection of Porsches on video below: