Desserts are not just a closing to an important or holiday meal, desserts are a passion, an urge for something sweet that can shake and drive the senses in a single moment. If you want to spoil your loved ones with a treat they'll remember for many years to come, you should surprise them with one or more of these 6 warm desserts that will always remind them of how much you love them.
Pecan cinnamon bread pudding
The basic recipe for famous English pudding has existed for hundreds of years and from it, countless interesting versions were created. However, this pudding recipe, which combines pecans, cinnamon, and brown sugar, is once you've probably not yet tasted. You are invited to try this excellent dessert, just keep in mind that you'll find it hard to stop yourself from finishing the whole pan!
Time: 15 minutes
Difficulty: easy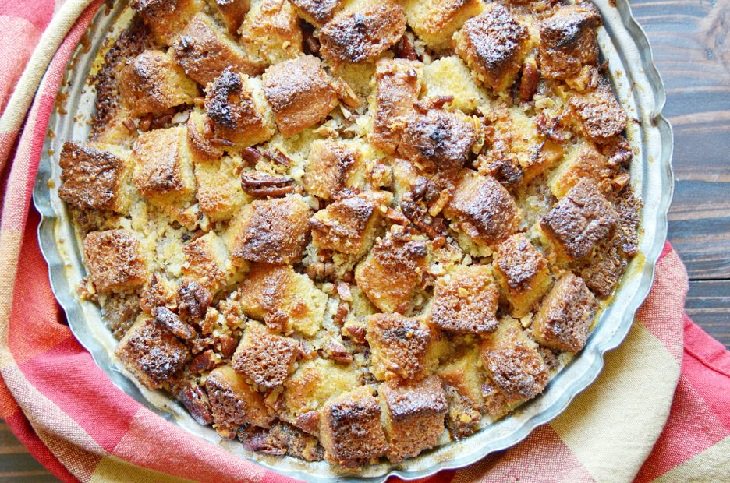 Ingredients:
8 cups bread, cut into 1-inch cubes

3 eggs

1 ¼ cup corn syrup

1/3 cup brown sugar

¼ cup white sugar

2 tbsp. butter, unsalted and melted

1 tsp. maple syrup, or vanilla extract

½ tsp. salt

1 tsp. cinnamon

1 cup pecans, chopped
Directions:
1. First, grease an 8x8 pan and preheat your oven to 375 F (170 C).
2. Now, place the bread cubes in the pan and pour the melted butter over them. Mix well and set aside to rest.
3. Meanwhile, in a medium-sized bowls whisk the eggs with the corn syrup, maple syrup, cinnamon, and salt together with the two types of sugar.
4. Sprinkle the pecans over the bread cubes and mix well so that its well incorporated.
5. Now pour the egg mixture into the baking pan, and with a spatula, move the bread lightly so that it soaks in the batter well.
6. Bake in the oven for about 45 minutes, or until the ingredients of the pudding and bread cubes have solidified.
7. When the pudding is ready, remove it from the oven and serve with a side of ice cream and whipped cream.
Giant chocolate chip cookie
Chocolate chip cookies are the favorite of children and adults alike, but the big disadvantage with them is that they finish quite quickly. So, the next time you fancy delicious cookies only to find the cookie jar empty, don't be disappointed. Just try the giant chocolate chip cookie below, which will take you a little longer than usual to devour because of its unique size.
Time: 10 minutes
Difficulty: easy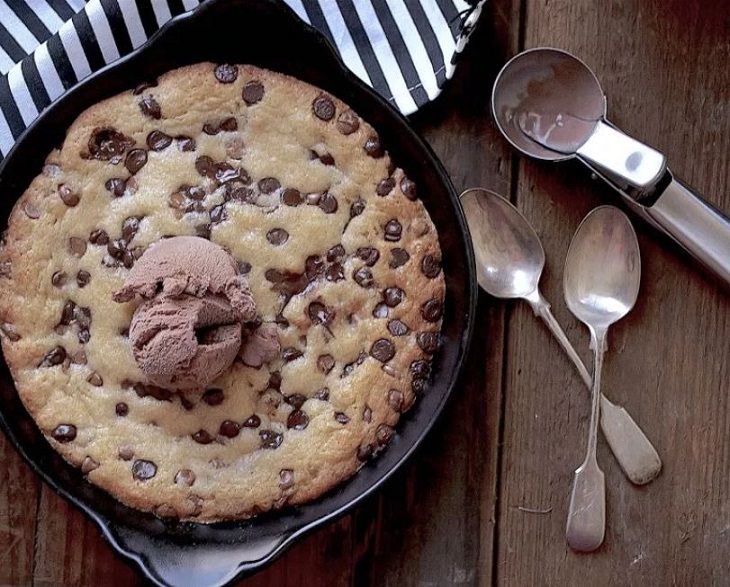 Ingredients:
125 g butter

1 cup powdered sugar

½ cup light brown sugar

1 egg

1 tsp vanilla extract

1 ¾ cups white flour

1/3 tsp. salt

2 tsp. baking powder

100 g chocolate chips

Some

powdered sugar for dusting
Directions:
1. Pre-heat your oven to 435 F (200 C).
2. Now, in a food processor add the butter, sugar, egg and vanilla extract. Mix until all the dough ingredients come together, just be careful not to over-mix.
3. After mixing, add the flour, baking powder, and salt, and turn the food processor back on until a dough is formed.
4. Add the chocolate chips to the dough mixture and stir until well incorporated.
5. Place the dough in a cast-iron pan 8-10 inches (22-24 cm) in diameter. Press the dough with your fingers into the pan making sure its uniformly thick, and place in the oven for 10-12 minutes or until golden.
6. When the cookie is ready, remove it from the oven, let it cool down and serve with a little bit of powdered sugar and ice cream.
Warm spiced fruit bake
When its cold outside we often look to eat something warm and comforting, and the first picture that comes to mind is a warm aromatic pastry that fills the house with amazing scents. But not everyone has the time or energy to start running the mixer and make a dough, which is why the next recipe is the perfect solution for you. With this warm spiced fruit bake, you can enjoy it sweet and rich flavors that will warm you up and make you find an excuse to make it again and again.
Time: 10 minutes
Servings: 5
Difficulty: easy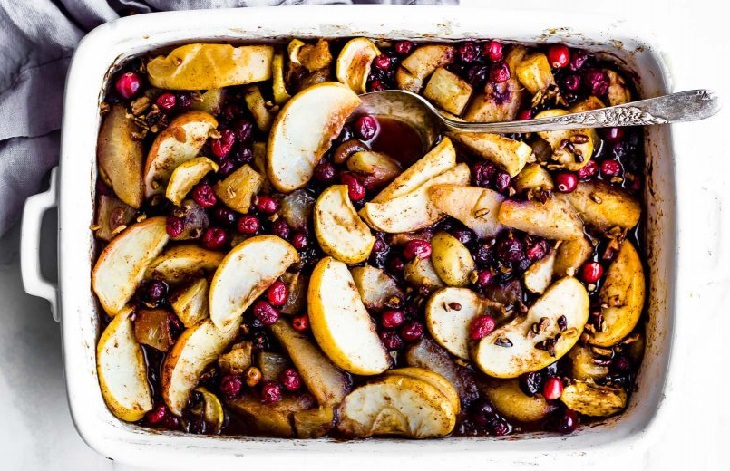 Ingredients:
2 cups apples, sliced

2 cups pears, sliced

1 ½ cups cranberries, fresh or frozen

1 cup canned pineapple, finely diced (save the juice)

1-2 tbsp lemon juice

1/3 cup coconut/brown sugar

1 tbsp maple syrup, can be replaced with honey or agave syrup

1 tsp cinnamon

¼ tsp nutmeg

60 g melted butter

1/3 cup walnuts, finely chopped
Directions:
1. Heat the oven to 325 F (150 C).
2. Now, place all the fruits into a large bowl and add 1-2 tablespoons of lemon juice to prevent browning.
3. In another bowl, mix melted butter with a few tablespoons of pineapple juice, and then add the sugar, spices and maple syrup to the bowl while stirring.
4. Pour the butter and sugar mixture over them and mix well so that all the fruits are coated with the spice and butter mixture.
5. Transfer the contents of the bowl to a heat-resistant clay baking dish, sprinkle walnuts and bake in the oven for about an hour.
6. Remove and serve hot or cold.
Grilled cinnamon sugar doughnuts
This cinnamon doughnut recipe is an upgrade on doughnuts that can even be made while camping over a nice little bonfire. All you need to do is pre-make the dough.
Time: 10 minutes
Difficulty: easy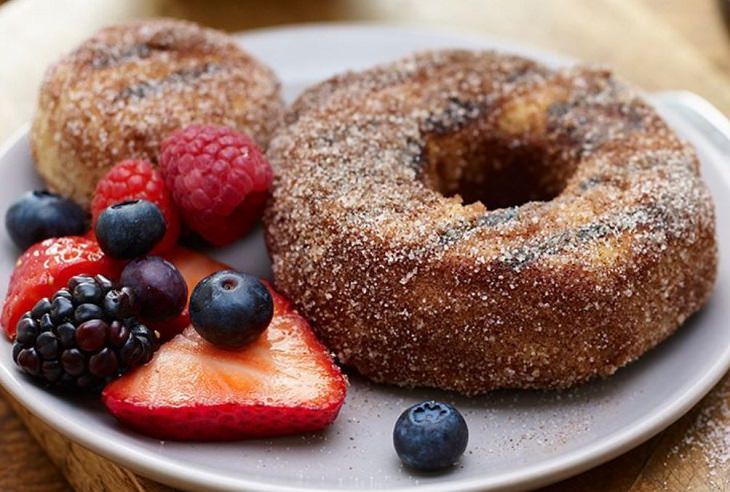 Ingredients:
2 cups flour

2/4 tbsp baking powder

½ tsp baking soda

½ tsp salt

½ tsp sugar

110 grams butter, cold and cut into cubes

¾ cup + 2 tbsp buttermilk

¼ cup sugar

1 tbsp cinnamon

60 g butter, melted

2 tbsp light brown sugar
Directions:
1. First, prepare the dough: In a medium bowl, mix flour with baking powder, baking soda, ½ teaspoon salt, and the ½ teaspoon sugar.
2. Add the cold butter to the bowl and knead until a dough is formed. It is important not to knead too much to avoid damaging the dough's texture.
3. Add the buttermilk to the dough bowl, and with a spoon, incorporate the liquid into the dough. The dough will be slightly sticky, but even here the dough should not be overworked.
4. Lightly flour your work surface and place the dough over it. Using your lightly floured fingers, gently pat the dough and create a 2 cm thick ball.
5. Roll the dough out with a rolling pin and with a 6 cm cookie cutter or cup, cut circles from the dough. Create another hole in the center of each circle with a smaller ring, do the same with the rest of the dough.
6. If you are going to cook the doughnuts now, do as follows: Heat your charcoal grill, making sure that there are no flames, or heat a grill pan over a medium-low flame on your stovetop.
7. Meanwhile, in a medium bowl mix ¼ cup sugar with cinnamon and set aside, and in a separate bowl, mix butter with brown sugar.
8. Place your doughnuts on the grill, cooking for 4-6 minutes on each side.
9. Just before removing from the grill, brush them with butter and brown sugar on both sides. Once you take them off the grill dip directly into the cinnamon and sugar bowl.
10. Serve hot.