Need a dessert to feed a small crowd? Well here's a classic treat that combines sweet with salty and smooth with crunchy in one delicious bite. The ingredients for this dessert are extremely basic, but when put together, they're absolutely delightful.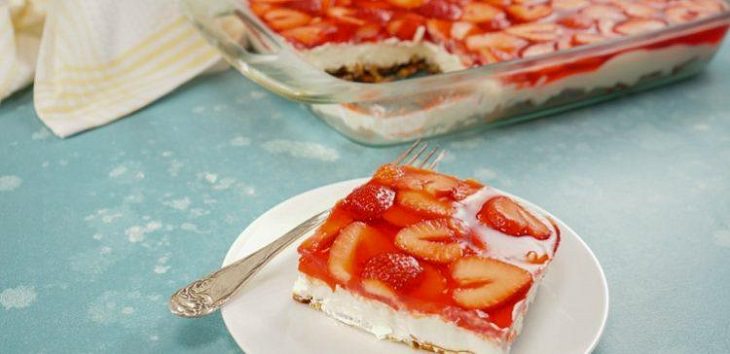 Strawberry Pretzel Dessert (24 Servings)
Ingredients
Crust
• 3 cups pretzel sticks, crushed
• ¾ cup butter
• 1 teaspoon granulated sugar
Filling
• 8 oz. cream cheese, room temperature
• 1 cup granulated sugar
• 8 oz. cool whip, thawed
Strawberry Jello Layer
• 6 oz. strawberry jello mix
• 16 oz. fresh strawberries, sliced
• 2 cups boiling water
Directions
1. Preheat the oven to 400F/205C.
2. In a large bowl, mix the crushed pretzels, sugar, and melted butter. Pour the resulting mixture in a 9"x13" baking dish, and press into the bottom of the pan. Bake for 8-10 minutes, until golden brown. Let it cool completely and prepare the filling in the meantime.
3. In a large bowl, beat the cream cheese and sugar together until light and fluffy. Fold in the cool whip and mix until well blended. Pour this filling over the cooled pretzel crust. Make sure the filling covers the whole base to prevent the jello from leaking onto the crust and making it soggy. Place in the fridge.
4. In a large bowl, mix the jello mix with boiling water. Allow to cool slightly, then add the strawberries. Stir to mix well. Gently spoon the jello mixture over the cream cheese layer, making sure not to disturb the cream layer. Cover with plastic wrap, and place in the fridge until set.
Source: tiphero