These tasty turkey burgers look like beef burgers right in the face and make them quiver a bit. These are a far cry from those wimpy, dry turkey burgers that you've probably had before. Instead, they are juicy, spicy from the chili powder and cayenne, and fragrant from the cumin and chopped shallots. Topped with delicious melted Montery Jack and lime-scented avocado mash, this is how to make a turkey burger that everyone will want to eat.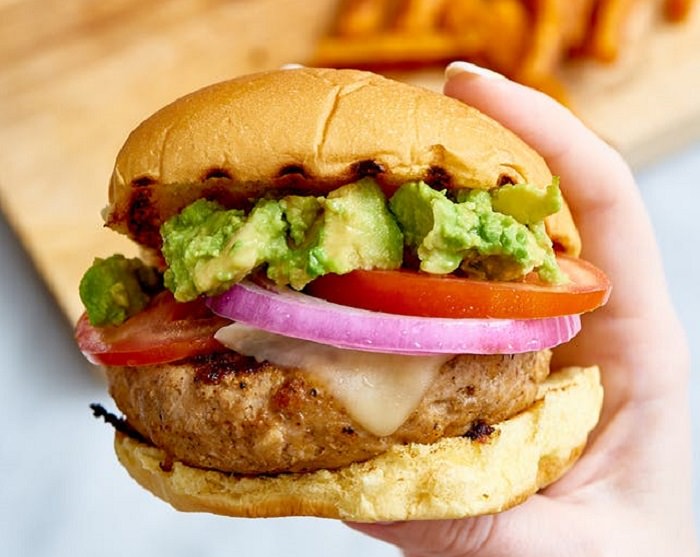 Turkey Avocado Burger (Serves 4)
Ingredients
• 2/3 cup fresh or panko breadcrumbs
• 1/2 cup full-fat plain Greek yogurt
• 1/4 cup minced shallot (from 1 large shallot)
• 2 cloves garlic, minced
• 1 1/2 teaspoons freshly ground black pepper
• 1 teaspoon chili powder
• 1/2 teaspoon ground cumin
• 3/4 teaspoon kosher salt, divided
• 1/8 teaspoon cayenne pepper
• 1-pound ground turkey (93% lean/7% fat)
• 1 medium avocado, pitted and chopped
• 1 teaspoon freshly squeezed lime juice
• 4 slices Monterey Jack cheese
• 4 slices tomato
• 4 thin slices red onion
• 4 hamburger buns
Method
1. Place the breadcrumbs, yogurt, garlic, shallot, chili powder, cumin, ½ teaspoon salt, and cayenne in a large bowl and mix well.
2. Add the turkey, and use your fingers to combine the meat and flavorings until just combined. Divide the mixture into 4 equal portions. Make each patty about 1 inch thick and 3 ½ inches wide. Place on a plate or baking sheet. Press your thumb into the center of each patty to create a dimple (this will help keep the burgers from bulging in the center as they cook). Cover with plastic wrap and refrigerate for at least one hour.
3. Heat an indoor or outdoor grill to a medium-high heat. Meanwhile, lightly mash together the avocado, lime juice, and the remaining ¼ teaspoon of salt in a small bowl.
4. Grill the burgers until cooked through, 3-4 minutes on either side. During the last minute of cooking, top each burger with a slice of cheese, cover the grill, and let the cheese melt. Transfer to a clean plate.
5. Grill buns until toasted, about 30 seconds on either side.
6. Place a patty on the bottom of each bun. Top the patties with the mashed avocado, along with a slice of tomato and red onion, and close the bun.
Source: thekitchn