Regardless of the occasion, there are three key words I keep in mind when preparing desserts: quick, easy and no-fuss. Although I'm not much of a baker, treating myself to a scrumptious dessert after each meal is a must. This Valentine's Day, I have no plans to prepare an over-the-top dessert for my husband and I, but I do expect it to be delicious nonetheless. Here are six recipes I've saved, one of which I plan to prepare this February 14th. Enjoy!
5-Minute Nutella Cake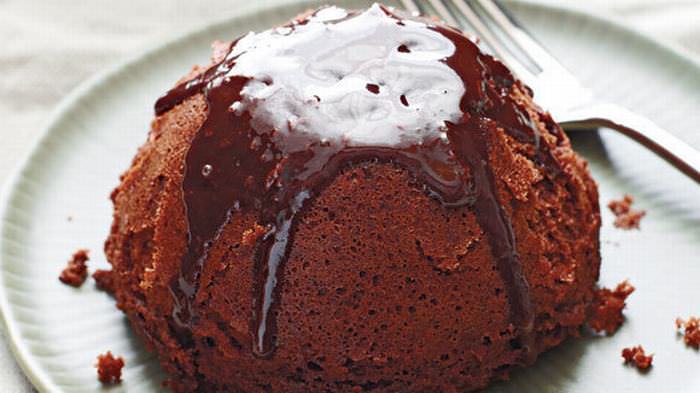 Recipe by: Dina Cheney
This heavenly brownie-like recipe is the perfect dessert for you and your honey. It only takes five minutes to prepare, making it a guaranteed Valentine's Day win. In case you don't want to share this one, just double up the recipe!
Ingredients (Serves 1 - to share)
Non-stick cooking spray
1/4 cup all-purpose flour
1/2 teaspoon baking powder
1/8 teaspoon salt
1/2 cup Nutella (or other chocolate-hazelnut spread)
1 large egg

Directions:
1. Spray the inside of a 16-oz mug with cooking spray. Then, in a small bowl, whisk the flour, baking powder and salt together. Combine well.
2. In a medium-sized bowl, whisk the Nutella and the egg. Stir well and add the dry mixture to the Nutella mix. Stir until fully combined and pour the mix into the mug.
3. Heat the mug in a microwave, covering tightly until the mixture is about 90% cooked through. Heat for about two minutes. Turn over onto a dessert plate if desired.
Banana Pudding
Recipe by: Christina Kane
This is the perfect treat for a couple, at the end of a romantic day. Serve in mason jars for added charm.
Ingredients (Serves 2)
20 vanilla wafers
2 cups prepared vanilla pudding (or store-bought)
1 small banana, sliced
1/3 cup heavy whipped cream
1 tablespoon powdered sugar

Directions:
1. In the mason jars, layer five vanilla wafers at the bottom and up the sides of each jar. Add a spoonful of the vanilla pudding, then top with the banana slices. Repeat until the jars are full and top with a bit of vanilla pudding.
2. Chill in the refrigerator for at least 4 hours. Then, prior to serving, use an electric mixer on high speed in a medium-sized bowl. Whip the cream until soft peaks form and add the powdered sugar. Beat until combined well and serve on top of the banana pudding.
Four-Ingredient Peanut Butter Cookies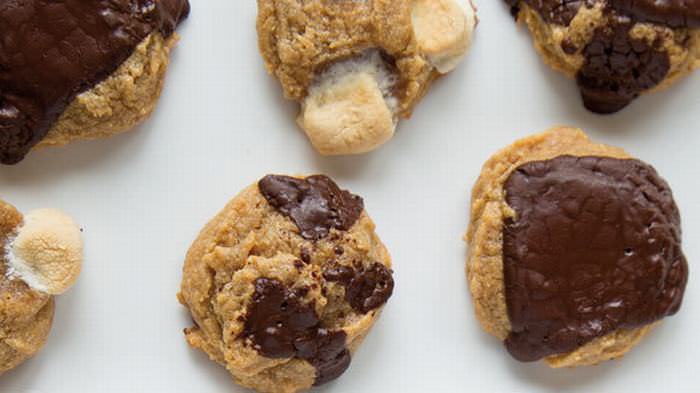 Recipe by: Christina Lane
Prepare this scrumptious recipe in seconds and serve in under 20 minutes. These cookies are perfectly portioned for two.
Ingredients (Makes 6)
1/2 cup creamy peanut butter
5 tablespoons granulated sugar
1 large egg
Handful of mini marshmallows (optional)
Handful of chopped semisweet chocolate (optional)

Directions:
1. Preheat the oven to 350°F. Meanwhile, place the peanut butter, sugar and egg in a medium size bowl. Combine the ingredients well. Then drop two large tablespoons onto an ungreased baking sheet, 2 inches apart.
2. Press mini marshmallows or chocolate chunks onto the surface of each cookie.
3. Bake for 10 to 11 minutes, until the edges brown slightly. Cool for three minutes before serving and move to a cooling rack to cool completely.
Warm Smores Dip with Berries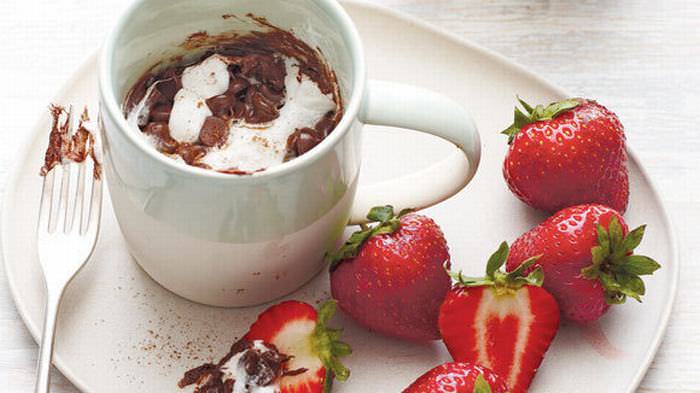 Recipe by: Andrew Purcell
The marshmallow, the chocolate, the biscuits and berries - what's not to love with this recipe? You can split a mug between two or double the ingredients.
Ingredients (Serves 1)
Non-stick cooking spray
1/4 cup biscuit crumbs (store bought or homemade)
2 teaspoon unsalted butter, melted
2 tablespoons semisweet chocolate chips
2 tablespoons mini marshmallows
1/8 teaspoon ground cinnamon
About 6 large strawberries (hulled, if desired), for dipping

Directions:
1. Spray a mug with cooking spray and add the crushed biscuits and butter to the base of the mug. Mix well and pat down with a spoon. Then add the chocolate chips and the marshmallows.
2. Microwave until the chips melt - for about one minute. Sprinkle with cinnamon and serve with whole strawberries (which you can use for dipping).
Microwave Peanut Butter Fudge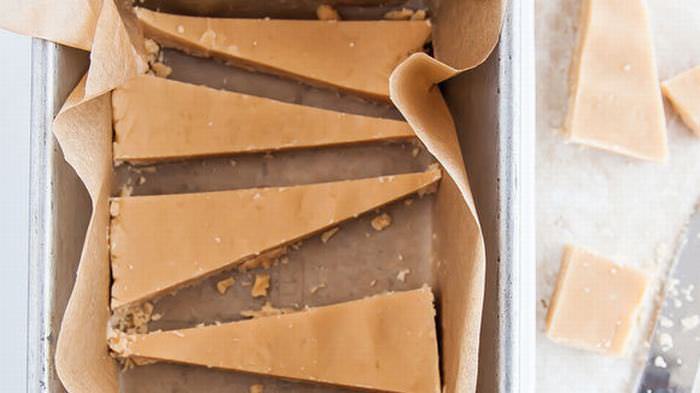 Recipe by: Christina Lane
This peanut butter fudge recipe has just four ingredients and can be pulled off quickly and effortlessly!
Ingredients (Makes 8 pieces)
1/4 cup unsalted butter, diced
1/4 cup creamy peanut butter
1/2 cup mini marshmallows
1 cup powdered sugar

Directions:
1. Line a 9x5x3-inch loaf pan with parchment paper, allowing enough parchment overhang to form handles.
2. Meanwhile, in a large glass bowl, combine the butter, the peanut butter and the marshmallows. Mix well, then cover with plastic wrap and microwave for two minutes.
3. Remove the plastic wrap and stir in the powdered sugar all at once. Add the mixture to the lined loaf pan and let it set in the fridge for one hour. Then slice and serve.
Banana Caramel Pie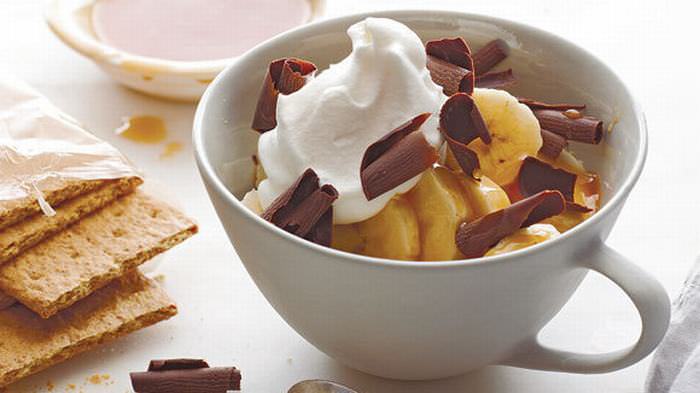 Recipe by: Andrew Purcell
You may have heard of the ever-so-delicious British Banoffee Pie, but this similar recipe can be prepared in mere minutes. Serve in your favorite coffee cup!
Ingredients (Serves 1)
1 tablespoon unsalted butter
1/3 cup crushed biscuits
1 ripe banana, cut into 1/2-inch-thick slices
3 tablespoons caramel or dulce de leche sauce
1/4 cup whipped topping or homemade whipped cream, for serving
1 teaspoon chocolate shavings, for serving
Directions:
1. Add the butter to a 12-oz mug, cover and microwave until melted, about 40 seconds.
2. Then stir in the crushed biscuits and mix well, pressing into the bottom of the mug with the back of a spoon. Top with bananas and caramel sauce and heat up for about 1 1/2 minutes.
3. Finally top with whipped cream and chocolate.
Source