According to tradition, Spanish paella is meant to be cooked over an open fire, and needs to be fueled by pine cones, olive branches, and pine branches. Of course, you don't have to use all of these fancy things to cook your own paella. In fact, the recipe below is superbly easy to follow, and is bursting with flavor! It's a perfect dish to enjoy by itself, or as a part of a Spanish banquet.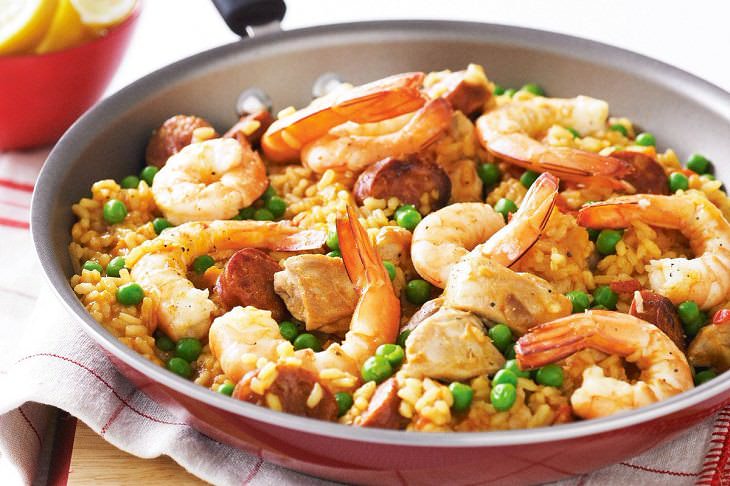 Ingredients for Spanish paella:
Method of preparing the Spanish paella:
Mix boiling water and saffron, and let it stand for 5 minutes.

In the meantime, oil a large frying pan over medium-high heat. Add the chicken. Cook for 5 minutes, stirring continually. Transfer to a bowl.

Add onion, garlic, and chorizo to the pan. Cook, stirring, for 5 minutes or until onion has softened.

Add paprika and the saffron mixture. Cook for 1 minute or until fragrant. Add tomato. Cook, stirring, for 5 minutes or until softened.

Add rice, and stir to coat. Then add the chicken broth, and bring to a boil.

Reduce heat to medium, and return the chicken to the pan. Simmer, uncovered, for 20 minutes or until the broth has been absorbed.

Top the rice with prawns and peas. Cook, covered, for 10 minutes or until rice is tender. Serve with lemon wedges, if desired.
Source: Taste