The exciting thing about yachts is that they offer a luxurious abode or temporary space where you can get away from everyone and everything in absolute classiness. It's hard to ever find a yacht that looks dull - their extravagant exterior makes them ever so tempting to discover their fine interior. Some couples use yachts to organize their wedding, or a massive function, whereas some fortunate people can afford to make them their own!
If you are truly mesmerized by yachts, you're in for a treat as we list 10 incredible yachts built with the most stylish of concepts. Too bad they never actually made it to the market!
1. Project Magnitude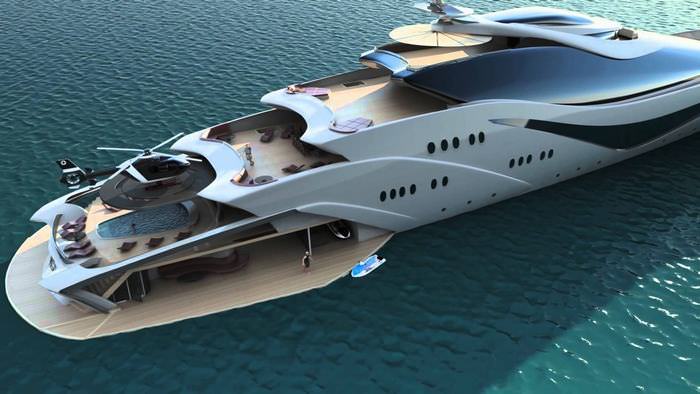 The Project Magnitude Yacht has got all the technology advancements you would imagine a luxury super-yacht to have. Based on the original Y700 Oceanco Series, Lukasz Opalinski designed this vessel excellently, with a sleek, attractive exterior, complete with a helipad and a water sports deck. This yacht's notable size (90 meters in length) certainly doesn't limit you from having your early morning or late night jog, despite the fact that you're floating on water. To top things off - it is also built with a feature that turns it into a submarine launcher.
2. The Transformer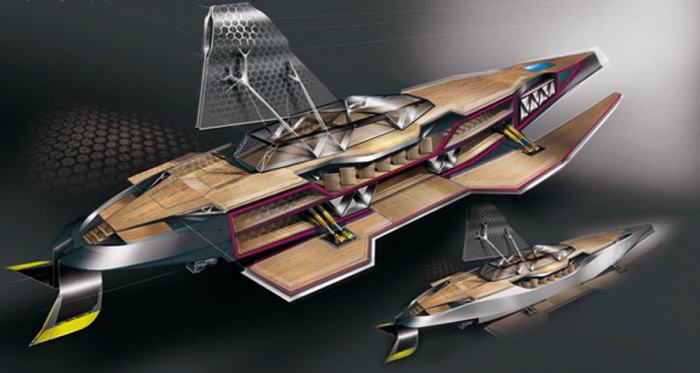 If you're a fan of the Transformers movies (and any old school cartoons), this must be the yacht of your dreams! The Transformer yacht, designed by Julien Anglade, is nothing close to an ordinary boat. Although it looks quite small from the outside, it can transform itself into a larger boat, with many impressive features you would definitely come across on a luxury yacht. It was also fitted with solar sails, making it a perfect hybrid between guaranteed eco-friendliness and pure magnificence.
3. Voronoi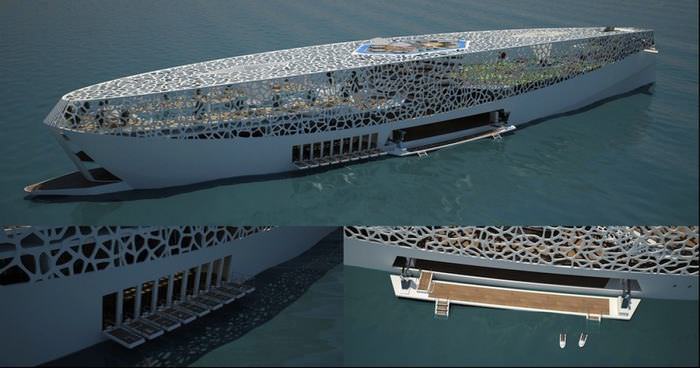 The Voronoi yacht is probably the best yacht to be on if you're looking for one wondrous leisure vacation. Its most striking design feature is undoubtedly the beautifully detailed lattice pattern covering the top part of the boat, making it seem like a 'floating snowflake'. Hyun-Seok Kim designed this yacht with the main scope of entertaining the passengers on board. This is why it includes glorious hot tubs, a luxurious pool, and a stupendous garden, perfect for ultimate relaxation. It's even got a golfing green and a full-service bar to make your experience on board all the more delightful!
4. The Seagull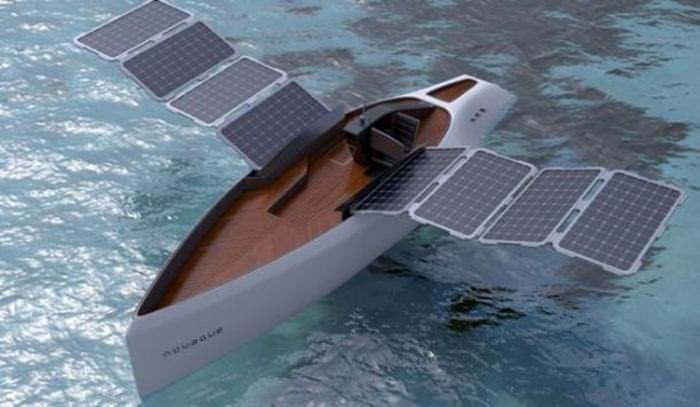 The Seagull is a super modern Novague-designed concept yacht with some spectacular features that lend it its distinctive name. This yacht actually resembles the shape of a bird, not only because of its wing-like solar panels extending outwards, but also because of its ability to move and "flap" them. This feature was designed with the intention of getting the best absorption of sunlight, without limiting the boat's surface area from being used efficiently. The center of the yacht is made out of quality wood, built with a "sunroof", which can be opened and closed depending on the elements.
5. Soliloquy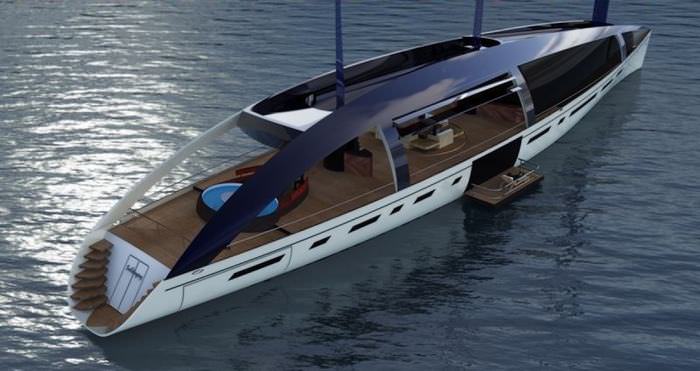 The Soliloquy yacht was designed with the environment priority in mind. Although it's not very big (measuring just over 190 feet) this yacht has some excellent features when it comes to being eco-friendly, including the materials it was built with, and the power it can generate by means of the wind, the sun, and the sea (hybrid marine power). It's probably the best option for an efficient environmentally-friendly vehicle, able to manage its power excellently. In fact, just 12 hours of sunlight gives this vessel enough power to run at an impressive speed of about 8 knots. This goes without mentioning its utter grandeur that it comes with as well.
6. Paper Boat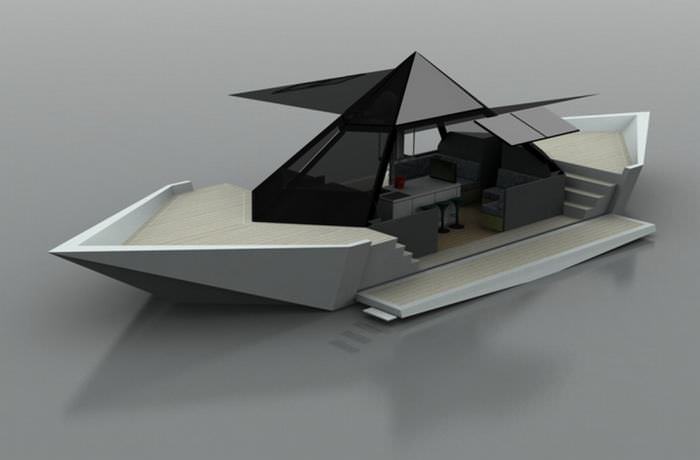 The Paper Boat has an appealing modern look with monochrome tones and straight, pointed edges, to give the impression it's made of paper. It was designed by three young Italian designers, and it offers lodging and superb entertainment facilities. Although it doesn't look very big from the outside, its interior is surprisingly rather spacious, including 2 cabins and a bar. What makes it look even more modern is the feature of seagull wings, which can also extend outwards.
7. Iguana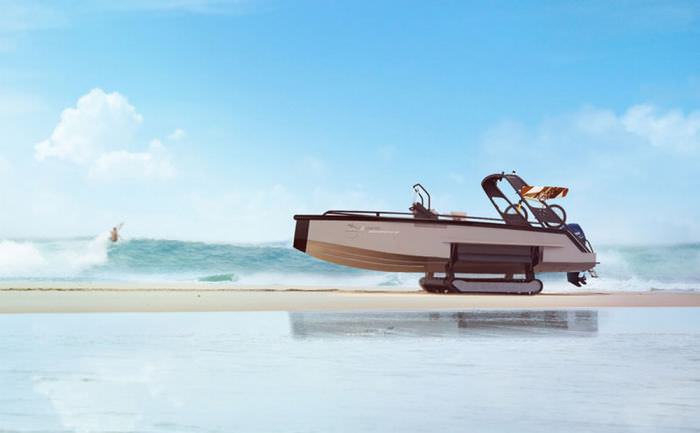 You may look at it as a car or as a boat, and by all means - because this charming yacht can actually both drive and cruise. The Iguana was not designed to move at very high speeds, however, it has an incredible mechanism that allows the captain to drive it right out of the water. Because it is small, it can easily be parked in a parking lot among other cars. If you're a yacht enthusiast, this terrific ride just might become your ultimate favorite!
8. PJ World Yacht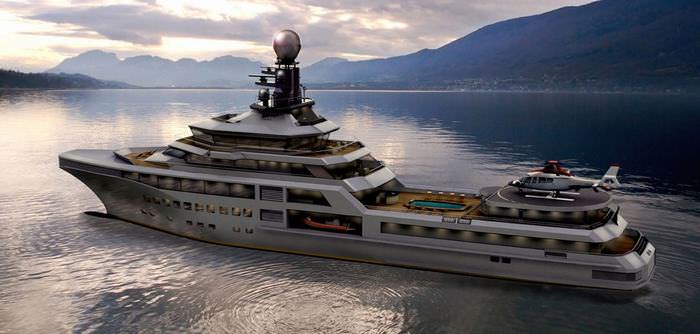 The PJ World yacht makes for a fantastic getaway in a safe, relaxing and opulent environment. Although it has a rather traditional look, this yacht has remarkable futuristic features, an advanced security system and an intelligent design that gives it stability and ice-operating capabilities, to ensure safe cruising in all conditions. Apart from this, passengers on board are provided with the most top-notch amenities to guarantee a memorable vacation, including a luxury spa, pool, gym, movie theater, and a relaxing deck with the best views - all of this, afloat!
9. The Flying Yacht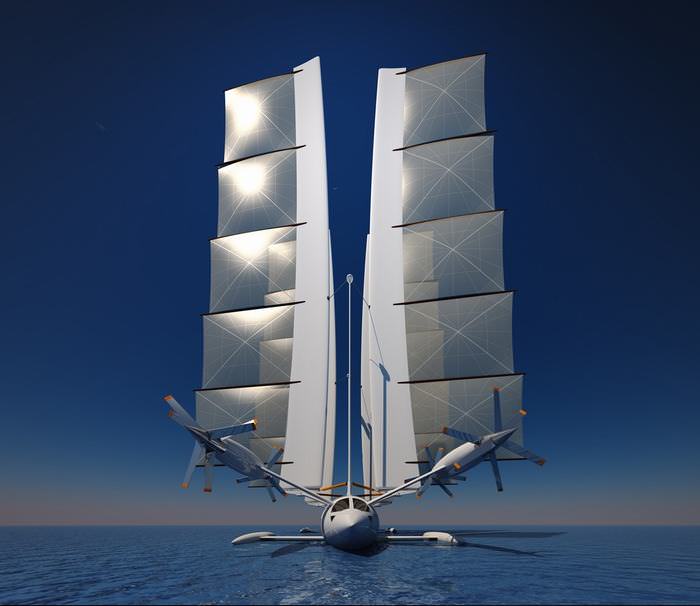 As the name suggests, the Flying Yacht is a cross between a yacht and an airplane, a concept you wouldn't generally come across when thinking of yachts. The mastermind behind the elaborate design of this flying boat is French designer Yelken Octuri, who seems to have been inspired by the old school design of the airplane the Wright Brothers had invented. The design was quite successful, as it appealed to several yacht companies who were interested in buying it, eventually making it available to passengers.
10. Yacht Island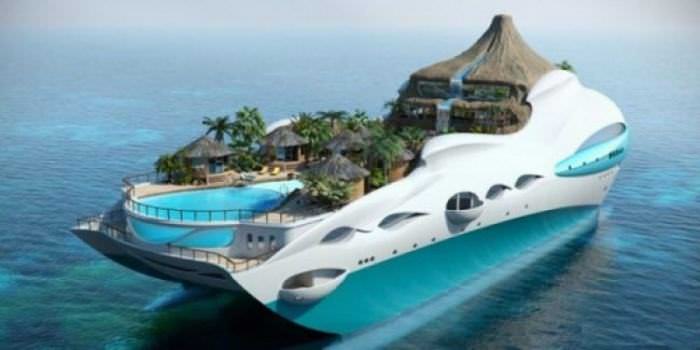 If you were particularly struck by the car-boat hybrid and the plane-boat hybrid, you might have not heard of the Yacht Island as yet. This yacht was purposely built to resemble an island, so that passengers aboard can enjoy the bliss of a tropical island without actually having to sail to one. Complete with a beach-like, tropical setting, with all the other luxury features you need to spoil yourself, booking a stay on this extravagant yacht will surely treat you well. And there's nothing more pleasing than doing all this while being surrounded by the ocean and some breathtaking panoramic views.