Up until now, if you haven't had the opportunity to stockpile alcogel for your use, you may have been living in a slightly different reality - since there is no item more common than hand sanitizer these days. These sanitizers can be found in plenty of vehicles, maybe even in yours, but is it wise to put them there? You may be concerned about disinfecting your hands each time you enter the car after being outdoors, and this is undoubtedly necessary for your health, but it is suggested that you take a look at the accompanying photo - as it will explain why you should not store alcohol gel in your car.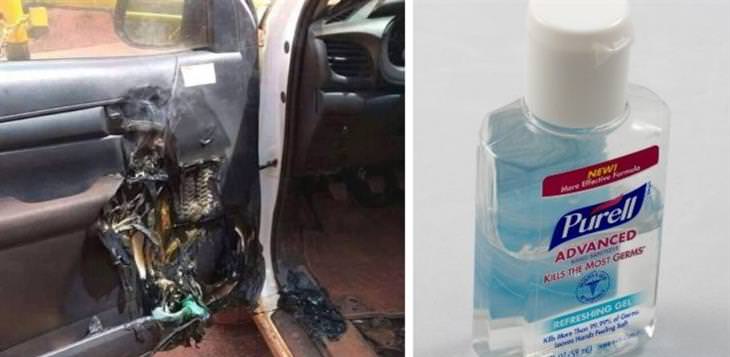 Why is it hazardous to leave alcogel in the car?
It is very common for individuals to store alcohol gel in their vehicles and put it on the dashboard for easy access. Though this does help prevent the spread of viruses, experts are now suggesting not doing so, especially as the weather warms up. The combination of alcohol and a transparent container in a car with long exposure to strong sunlight could cause a fire, as warned by Western Lakes firefighters in Milwaukee. They explain that since hand sanitizer consists of alcohol, it is flammable. Therefore, if it is kept in the car in hot weather, the sun's rays could ignite a fire and lead to devastating outcomes.
Firefighters explained in a Facebook post that it wasn't the alcohol that could spark a fire, but the fact that it was in a transparent bottle. Even an empty water bottle placed in a vehicle exposed to the sun can start a fire. This is similar to how one can start a fire with a magnifying glass. The issue with alcohol is more severe since it is a combustible substance, resulting in a more serious flame. The damage in the picture was caused by the blaze originating from the car, not the bottle exploding as one might think.
So where in the car should one store an alcogel bottle?
If you prioritize sanitizing your hands before you make contact with the interior of your car, it is better to keep a bottle of hand sanitizer in your bag or pocket. If you still choose to leave it inside your vehicle, make sure you store it in the glove compartment or trunk. This will ensure it is safe from the sun's rays. Tell everyone you know who uses hand sanitizer in their car to be aware of this danger and help them avoid a potential hazard!