1. In Canada, the airlines evacuated 80,000 people and their pets together.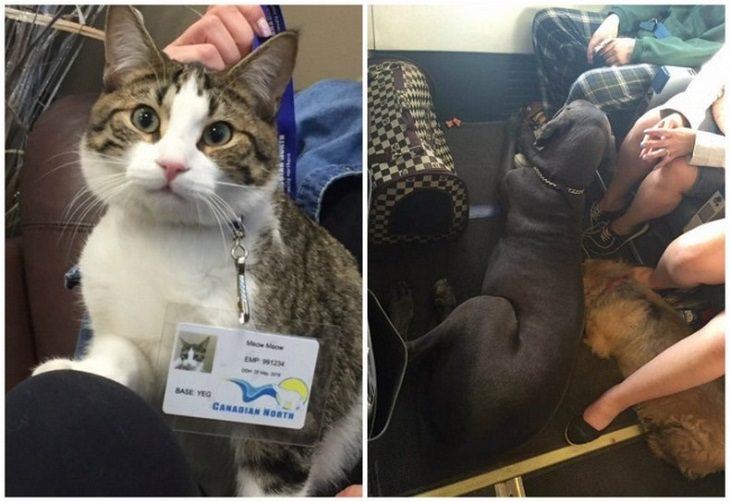 Image source
When wildfires cut off Fort McMurray from the rest of the world, a mass evacuation was needed – tens of thousands of people had to leave the city on airplanes as soon as possible. But what about their beloved pets? The rules of traveling with animals are so strict that the owners couldn't fill out all the paperwork before their flight. Luckily, the airlines allowed the pets to be taken into the cabin. They did everything right and not a single life was lost.
2. A boy who longed to be in a football team got all the sports equipment he could dream of.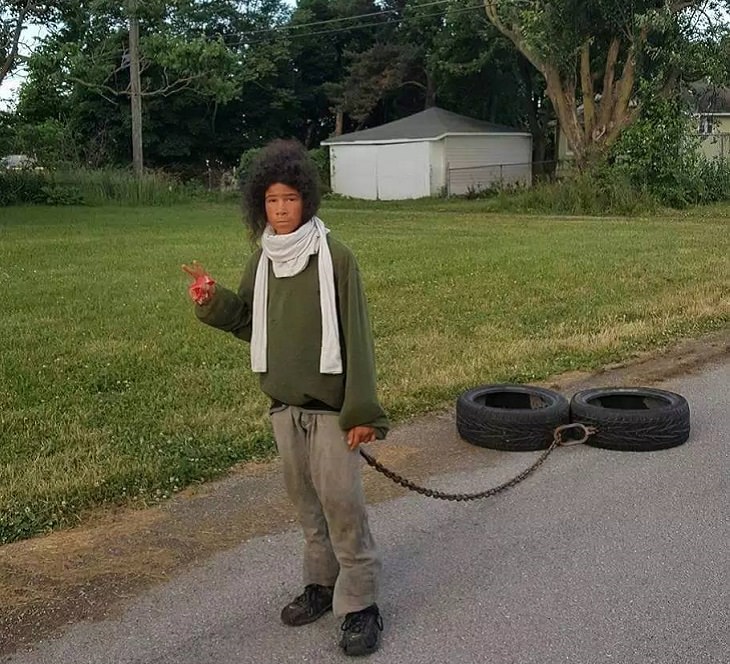 Image source
Marco had always dreamed of becoming a footballer, but his family couldn't afford a gym membership or any gym equipment. He didn't give up though, and created the thing in the picture above to get himself into shape. However, after a passerby took this photo and posted in on his Facebook page, Marco's life changed and his dream came true - People from all over the world started sending Marco gym equipment to express their support.
3. A Portuguese boy comforted a crying French football fan.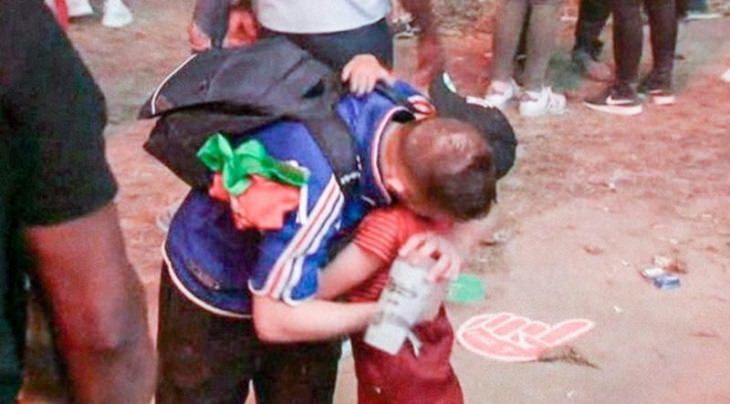 Image source
This photo shows a boy who is wearing a Portuguese shirt giving a sad French football fan a hug. This happened after Portugal beat France in the final of the 2016 European Championship. The video has been watched by several million people. This heartwarming moment demonstrates that even when we are on opposite sides we should remember that everyone needs a hug and support at some stage.
4. The driver of a garbage truck wished a happy birthday to the little girl who waved to him from the window for a whole year.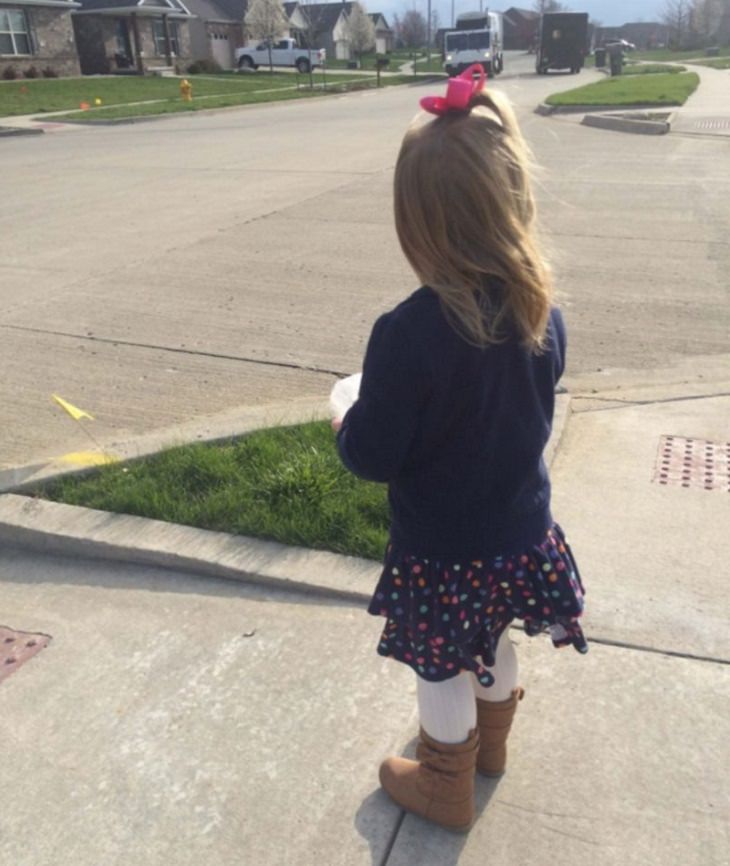 Image source
Every Thursday, without fail, a little girl named Brooklyn waves to the garbage collector who drives past her house. The garbage man always waves back and honks to say hello. It just so happened that Brooklyn's birthday was on a Thursday, and she told her mum that she wanted to meet the garbage man and offer him a birthday cupcake. That Thursday, he was driving past as usual when he saw Brooklyn and her mom waving to him together, and so he stopped to say hello to his little friend. He said, "Happy Birthday" to her and told her that every Thursday he always tries to finish work his work as soon as possible so he can drive down her street to say hello. When he left, Brooklyn was really happy.
5. These students recreated graduation for their classmate who was in a car accident.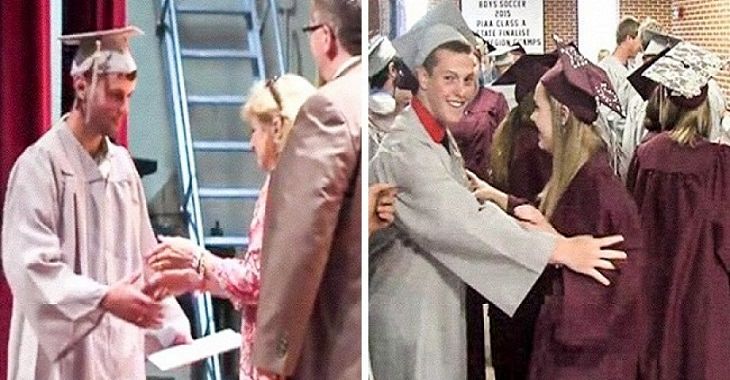 Image source
When Scott Dunn awoke from his coma, his first words to his mom were, "What day is it today? Have I missed graduation?" The young man was looking forward to this special day, but because of a car accident he was in hospital and missed it. As soon as he had recovered, the school's principal reached out to his parents and told them that "the school did something special for your son." Soon, Dunn's class came back in their caps and gowns and had a second graduation ceremony – but only one person got their diploma that day. Scott was left speechless by this kind act.
6. The whole world supported the girl who spent her birthday alone.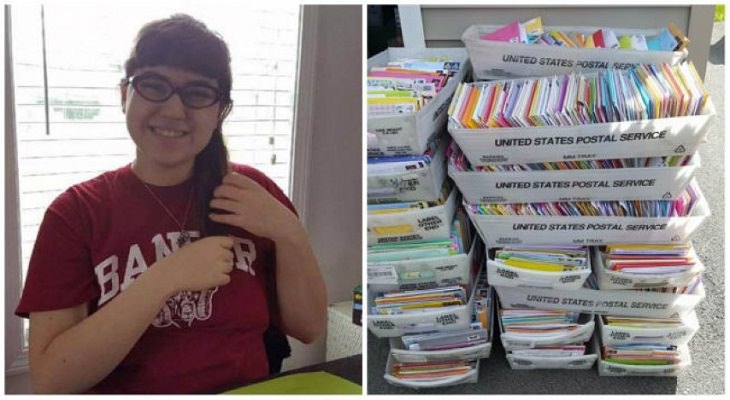 Image source
Hallee spent her 18th birthday alone, so her cousin reached out to those on Facebook and asked people to send her a card with some lovely words. What happened next is a brilliant example of the limitless kindness that some people have – hundreds of cards and gifts flooded Hallee's local post office.
7. Students surprised their teacher with two kittens after discovering she'd lost her pet.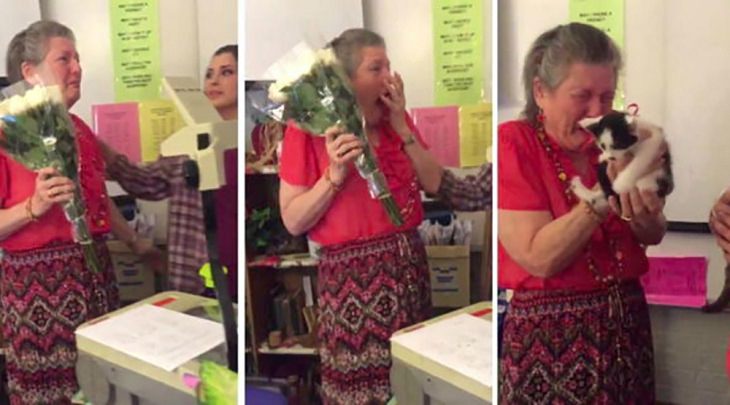 Image source
A math teacher from Texas was left inconsolable when the closest living being to her, a cat named Blondie, suddenly died. Her students noticed that she was crying during every break, but these tears of grief soon became tears of happiness when she was given a bouquet of white roses and two little kittens. The world learned about this heart-warming story when one of her students posted a video to Twitter. It turns out that just a little bit of attention can really help a person through hard times.
8. An elementary schoolteacher created a "Gentleman's Club" for boys from single-parent families.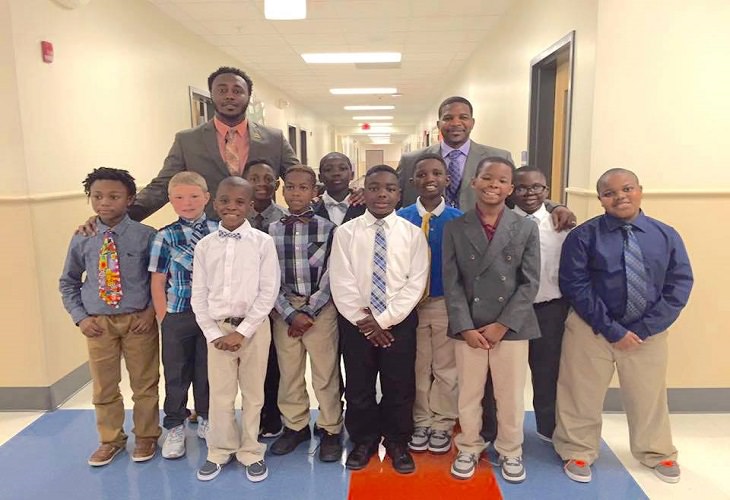 Image source
For this elementary schoolteacher from South Carolina it was difficult to come to an understanding with the boys in his class. Therefore, he bought some ties and blazers and started to teach boys without a father life lessons. "In our meetings I explain to them things that fathers usually tell about: how to tie a tie, address their elders, and treat their sisters, mothers, or grandmothers." The strict dress code is not on a whim as he is sure that no one will fight if they're wearing a tuxedo.
9. The Brazilian army 'adopted' a jaguar.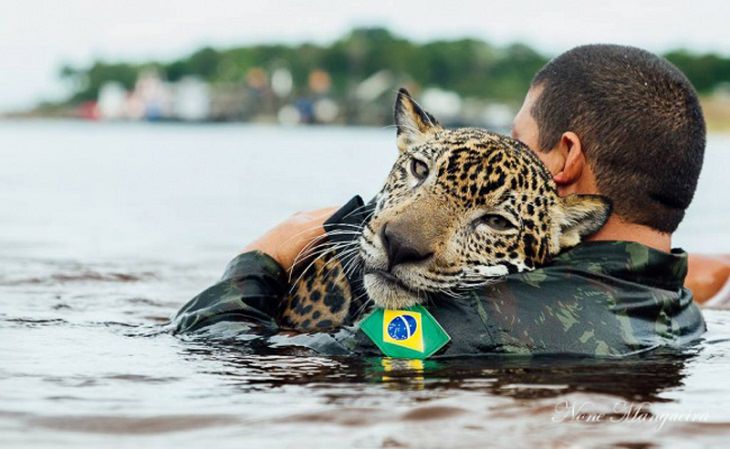 Image source
When soldiers from the Brazilian army found a tiny jaguar in the jungle, he was barely alive. They didn't want to leave him there as hunters would just kill him, so they decided to take the jaguar with them. However, even after a while, the animal was still too weak to be returned to the wild. Therefore, the local authorities decided that the army would look after him. Now the jaguar, who is called Jiquitaia, is healthy and surrounded by the caring people who rescued him.
10. A stewardess fed an elderly man who had recently suffered a stroke.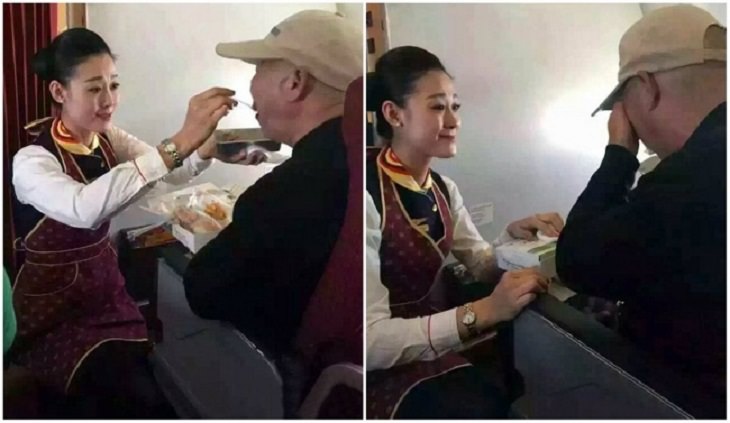 Image source
A 71-year-old man, who suffered a stroke shortly before his flight, was given a priority seat where there was more space, but this didn't make the trip any easier. When the passenger was given his food, the stewardess noticed that he was struggling and couldn't hold his spoon. Therefore, she kneeled down to feed him and wiped away his tears after he suddenly started to cry. He was so touched by her kindness.