Gardening can be a multipurpose hobby, adding lovely colors and fragrances to any home aesthetic, as well as giving space for life to blossom and flourish naturally. Another bonus is growing your own fruits, vegetables, and herbs, and eating them fresh! Gardens are the places where nature and people meet and co-exist in harmony. The Garden For Wildlife Photo Contest gives us the ultimate collection of photos that show the impact that gardens have on the ecosystem, people, and wildlife included, in rural, urban, and suburban settings. These are the 2019 winners of this prestigious and poignant contest, emphasizing the unity in our shared habitats.
1. Grand-Prize Winner
Male Prothonotary Warbler in Shower
By Randy Streufert from Lorton, Virginia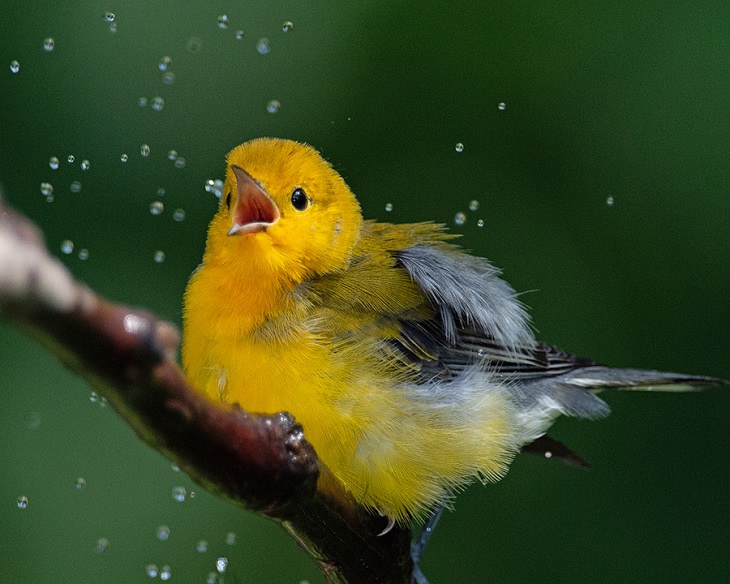 (nwf.org)
Photographers Note:
"We have a water mister with an overhanging branch in our backyard. In the hot summer months a wide variety of bird species take advantage of the water and shower. This male prothonotary seemed to especially enjoy it - he was there for about 15 minutes."
2. Runner-Up Winner
Cape Dwarf Chameleon Drinking Water from Backyard Garden Birdbath
By Dennis Quinn from Strand, Cape Town, South Africa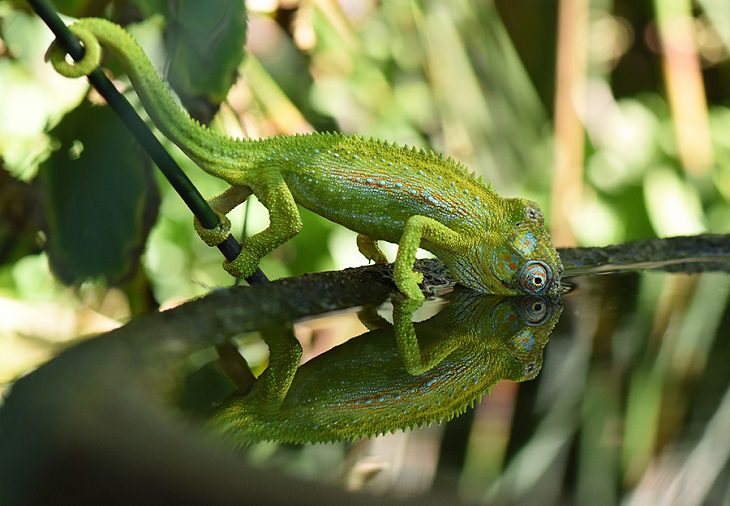 (nwf.org)
Photographers Note:
"This chameleon was photographed in my mother-in-law's beautiful garden full of native wildflowers, shrubs, and trees. Countless Cape Dwarf Chameleons of all age classes make this suburban neighborhood garden their home. Due to the excessive drought over the past few years in the Cape, these backyard residents have become very accustomed to drinking from the birdbath. You can see how my mother-in-law has strategically staged branches making the water easily accessible to the chameleons."
3. Young Habitat Photographers, Winner
Lady Beetle Choosing a Longer Path
By Raphaelle Thomet (age 15) from Newburg, Maryland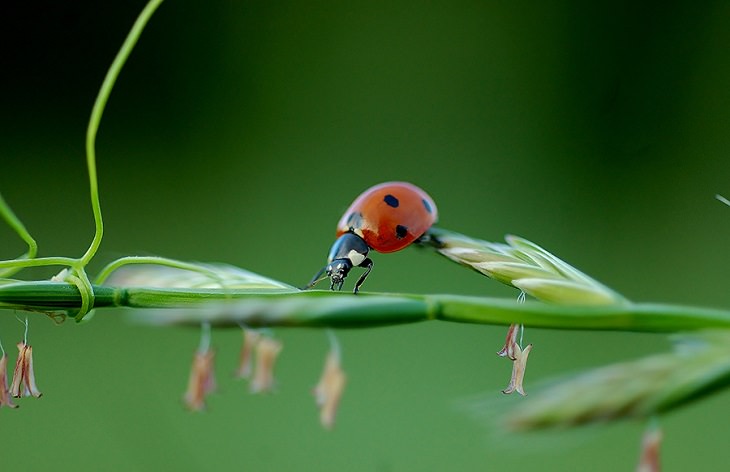 (nwf.org)
Photographers Note:
"I walked in some wheat growing on our farm when I noticed a bright red lady beetle climbing up a blade of grass. I quickly turned on my camera, which was around my neck, and focused on the fast-moving object. I only could capture one photo before the lady beetle reached the top of the grass and flew away."
4. Young Habitat Photographers, Runner-Up
Monarch Caterpillar Munching on Milkweed Leaf
By Raphaelle Thomet from Newburg, Maryland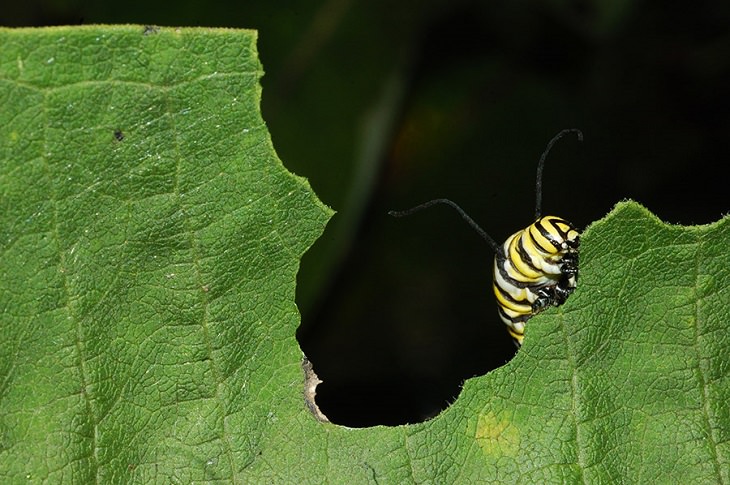 (nwf.org)
Photographers Note:
"It was a windy day, not at all ideal for macro photography. But I was in the mood, and that's what counts. I went outside with my camera and made my way to my garden, where many monarch caterpillars were munching away at milkweed leaves. I came across this one particularly large caterpillar that was peacefully eating. I took a few photos of it before moving on."
5. People In The Wildlife Garden, Winner
Child in Garden
By Sherry Schellenger Parker from Fairfax, Virginia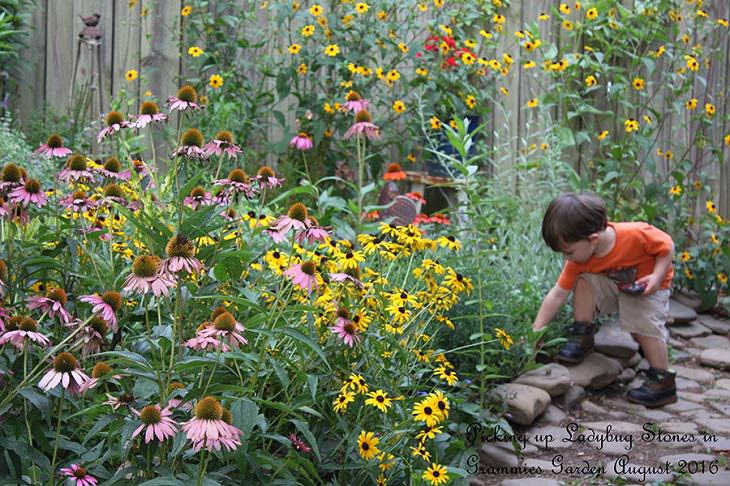 (nwf.org)
Photographers Note:
"Playing in Grammy's Garden"
6. People In The Wildlife Garden, Runner-Up
Howard Country Library System's Tween Sprouts Gardening Club
By Geoffrey Baker from Ellicott City, Maryland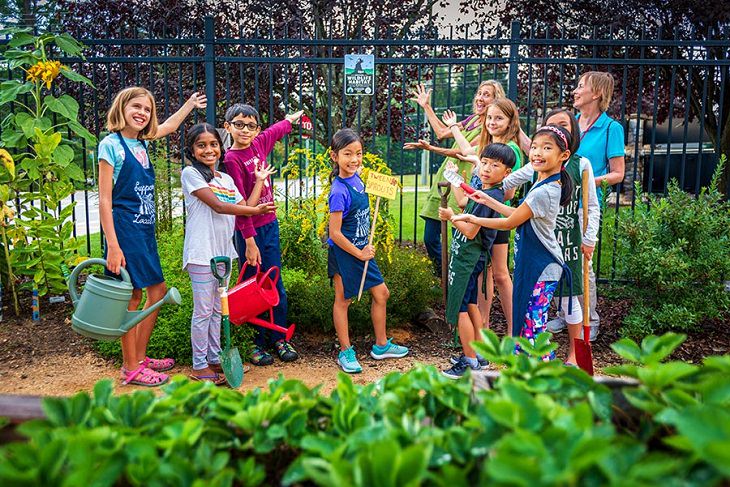 (nwf.org)
Photographers Note:
"The Enchanted Garden is a sustainable, community-based teaching garden for all ages located adjacent to HCLS Miller Branch and Historical Center. A quarter-acre parcel adjacent to the Children's area, the Enchanted Garden's primary focus is teaching garden. The demonstration gardening area features a variety of vegetables, herbs, and flowers planted in raised beds."
7. Certified Wildlife Habitat Landscapes, Winner
American Goldfinch, I Love You, I Love You Not
By Denise Maples from Virginia Beach, Virginia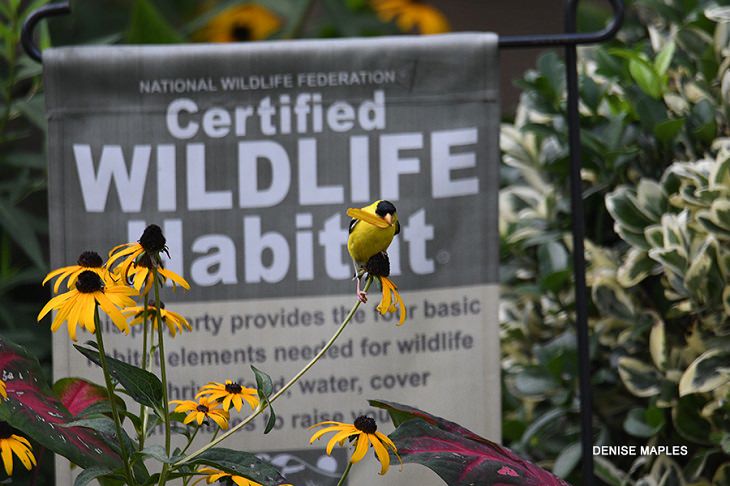 (nwf.org)
Photographers Note:
"This American Goldfinch was dining on the black-eye Susans in my garden. He started pulling the pedals off the flowers as if to say, "I love you, I love you not." I guess he was trying to get to more seed. I liked that in the background you can see my Certified Wildlife Habitat sign. This made the photo that much more special."
8. Certified Wildlife Habitat Landscapes, Runner-Up
Tree Frog in a Hole in a Fence Post
By Crystal Shoults from Linn, Missouri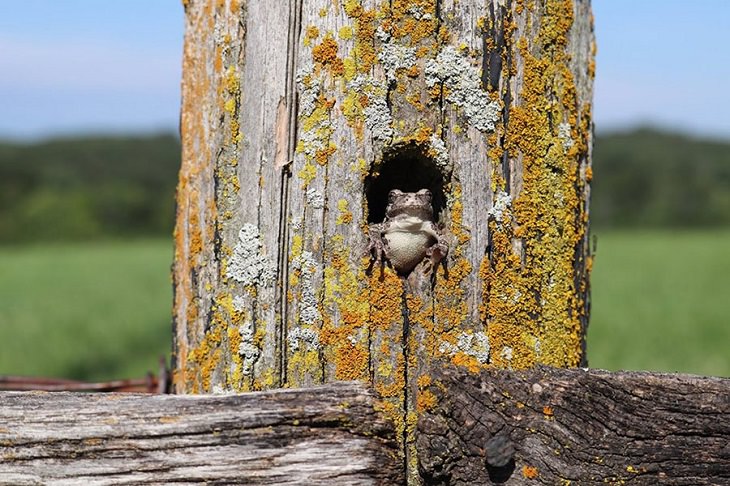 (nwf.org)
9. Wildlife Observed Where People Live, Work, Play, Learn And Worship, Winner
Chickadee Lands on Garden Tool
By Charles Bergman from Steilacoom, Washington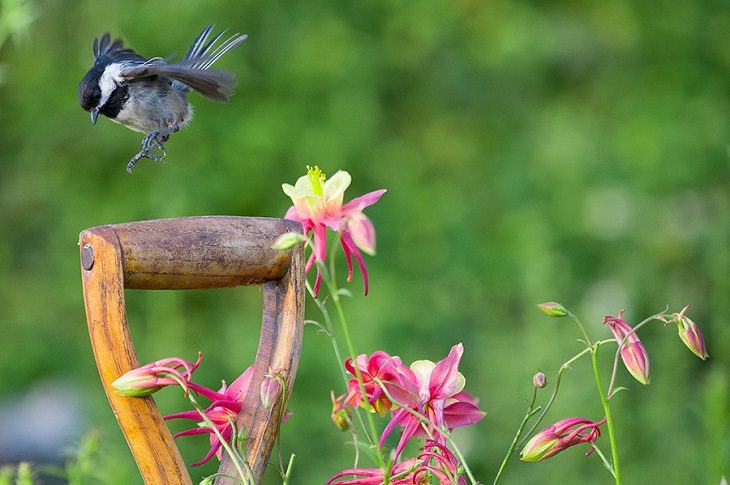 (nwf.org)
Photographers Note:
"Few things are more delightful in a summer garden than being visited by chickadees. A Black-capped chickadee descends to the handle of a garden fork. It will rest here for a moment. The handle provides a good staging spot for a visit to the sunflower seed feeder."
10. Wildlife Observed Where People Live, Work, Play, Learn And Worship, Runner-Up
Love Thy Neighbor - Blue Jay and Chipmunk
By Leigh Scott from Lowell Massachusetts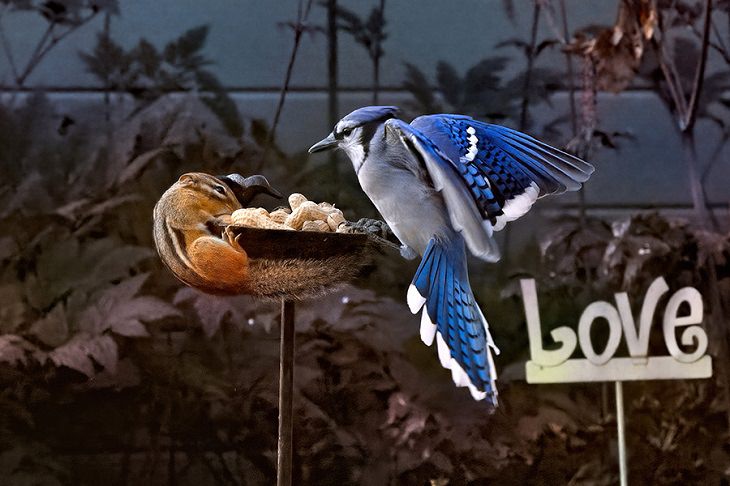 (nwf.org)
Photographers Note:
"This chipmunk and blue jay seemed to come to an understanding at the peanut feeder early one morning. the chipmunk is usually the boss of this feeder, but on this particular day, the blue jay decided to try and test out his superiority. It was a standoff for a few seconds before the Chipmunk finally gave up. Luckily, they took heed to the garden sign behind them, and no fur or feathers were ruffled in this altercation."
11. Close-Up Native Plants And Their Wildlife Visitors, Winner
Eastern Tailed-Blue
By Arthur Hass from Reston, Virginia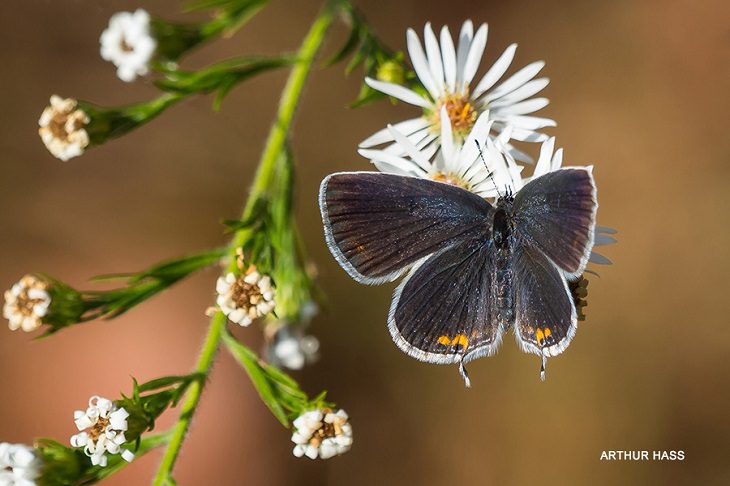 (nwf.org)
Photographers Note:
"I'm a local wildlife photo hobbyist. The photo of the was taken in a natural area adjacent to a local golf course fairway."
12. Close-Up Native Plants And Their Wildlife Visitors, Runner-Up
Great Horned Owlet Peeking from Behind a Tree
By Brent Barnes from Edmond, Oklahoma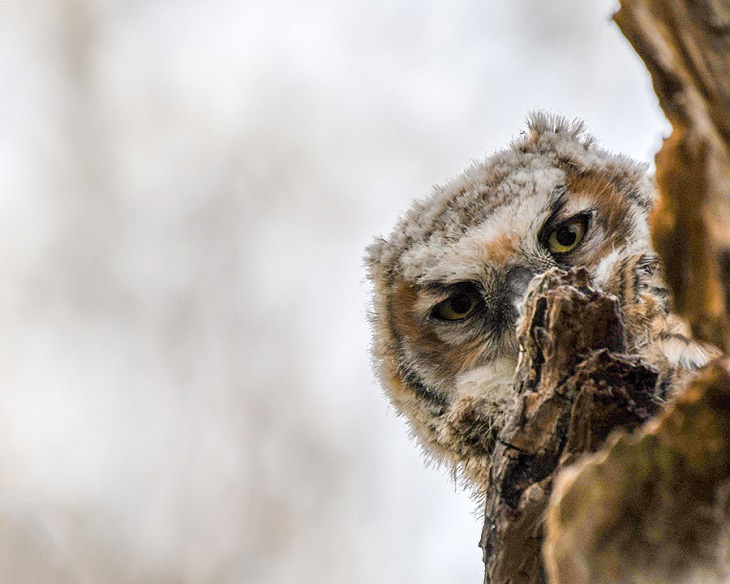 (nwf.org)
Photographers Note:
"We have had the pleasure of watching a pair of great horned owls nest and raise young owlets in our neighborhood for the past several years. I photographed this young owlet as it was peeking from behind a tree when it was about 8 - 10 weeks old."