Hinduism is one of the oldest and the third largest religion on the planet. Believers of the Hindu faith are spread out far and wide, on every continent and in every country. Hindu festivals like Dussehra and Diwali are celebrated by people all over with food, dance and even fireworks.
At the center of this faith are its temples - symbolic structures that house the beliefs and stories of Hinduism. Though temples stand as symbols of the faith they represent by their very design, they are also often nothing short of architectural masterpieces. Many Southeast Asian countries, such as Thailand and Bali, are home to some of the most beautiful temples in the world. Many of these temples have been around for centuries, and have become a part of the natural landscape in those areas.
Hinduism, being one of the most widespread religions, has temples all across the world, with the majority being situated in Asian countries and the Indian Subcontinent, but also numerous major cities in Canada, the UK and the United States. Take a look at these 12 breathtaking Hindu temples from every corner of the world, admire their beauty and get in touch with your spiritual self, no matter what it means to you.
1. Somnath Temple in Gujarat, India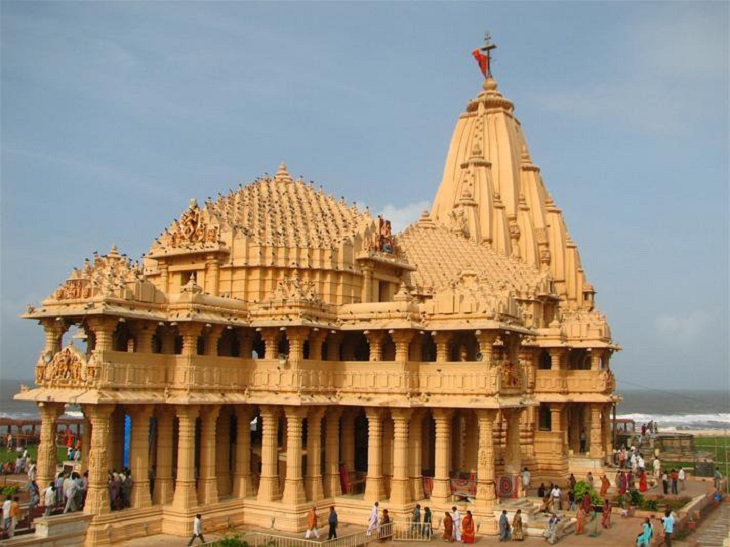 (By Anhilwara, Wikimedia Commons)
This temple is located near Veraval in Saurashtra and was the victim of numerous invasions in the past. The temple that is currently standing was reconstructed in 1951 and is called "the Shrine Eternal", after a book of the same name written by K.M Munshi, which detailed the illustrious history of the destruction and reconstruction of Somnath Temple.
2. The Rock-Cut Temples of Masrur in Himachal Pradesh, India
(By Akashdeep83, Wikimedia Commons)
In the Kangra Valley of the Beas River of this north Indian state is an 8th century complex of temples, carved from monolithic rocks. While this complex is quite large, experts believe that the original architects had far more ambitious plans for the complex and that parts of the temples' structures are incomplete, in addition to being damaged by time and natural calamities.

3. Lad Khan Shiva Temple in Karnataka, India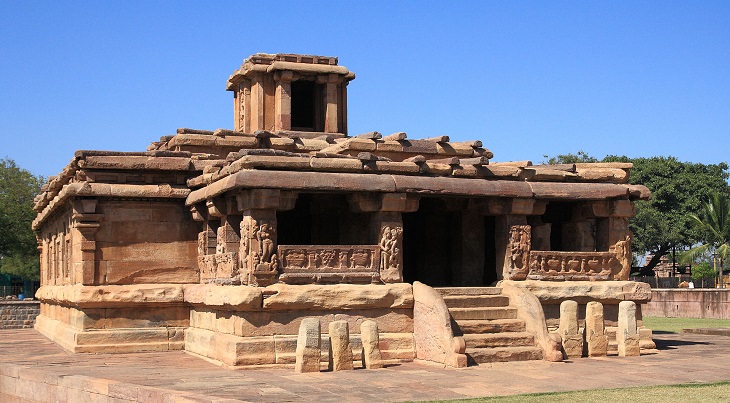 (By Meesanjay, Wikimedia Commons)
Near Malaprabha river of this state in South India lies the collection of temples, monuments and stone structures that are believed to have been built between the 5th and 8th centuries. They are referred to as the Aihole, Ayyavole, Aivalli or Aiholi temples and monuments. In this complex, Hindu, Buddhist and Jain temples all coexist.
4. Prambanan temple complex in Yogyakarta, Indonesia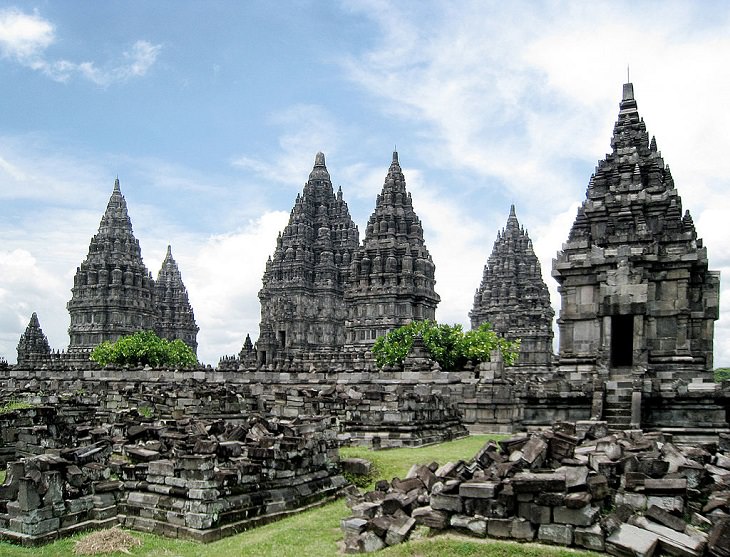 (By Gunawan Kartapranata, Wikimedia Commons)
This complex of temples was built during the 9th century in a very special region located between Central Java and Yogyakarta and is a UNESCO World Heritage Site. It is the second-largest Hindu temple in Southeast Asia and the largest in Indonesia. The temples were built in the typical Hindu temple style, and the central temple stands at 154 feet.
5. The Baku Ateshgah in Baku, Azerbaijan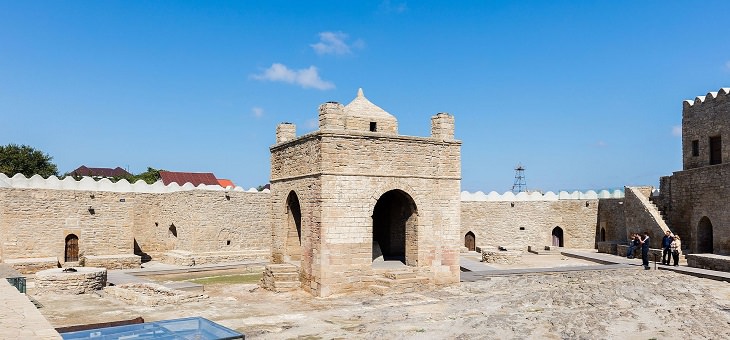 (By Diego Delso, Wikimedia Commons)
According to ancient Persian inscriptions found, this temple, also known as the "Fire Temple of Baku", is a place of worship built during the 17th and 18th centuries for Hindu's, Sikhs and Zoroastrians. In 2007, the President decreed the temple to be a state historical-architectural reserve. A little under a decade prior to that, the temple was nominated to be listed as a UNESCO World Heritage Site.
6. Kandariya Mahadeva Temple in Madhya Pradesh, India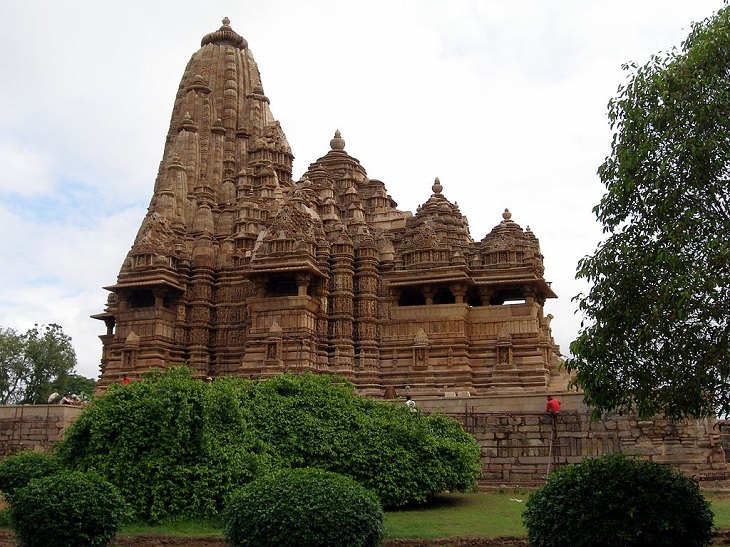 (By China Crisis, Wikimedia Commons)
This temples, in the Chhatarpur district of this state in Central India, is the largest and most ornately designed of all the temples of the complex in Khajuraho village. This stunning marvel of history was likely built in the 13th century and remains today one of the most well-preserved temples from India's medieval era. It is, naturally, listed as a UNESCO World Heritage Site.
7. Meenakshi Temple in Tamil Nadu, India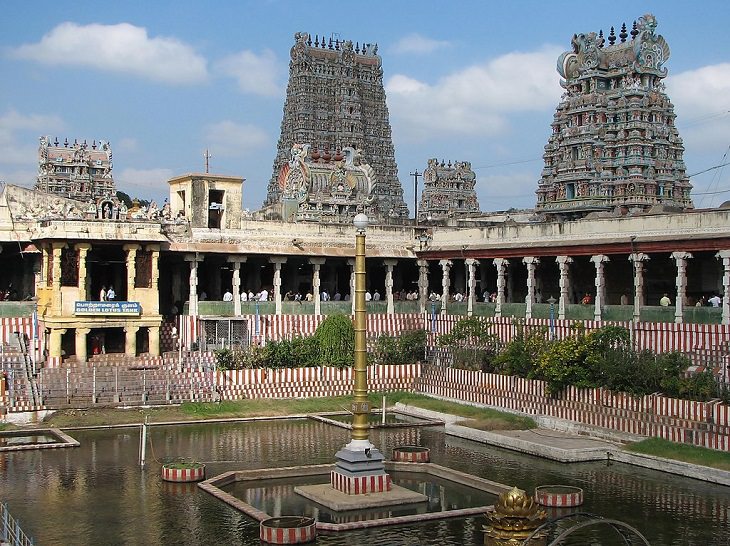 (By Bernard Gagnon, Wikimedia Commons)
Going down to the South Indian city of Madurai is the Meenakshi Temple, also known as the Meenakshi-Sundareshwara Temple and Meenakshi Amman, which was built in the 12th century in dedication to Parvati, who also went by the name Meenakshi. She was the goddess of love, fertility, marriage, and children, and was the wife of one of Lord Shiva's many forms.
8. The BAPS Shri Swaminarayan Mandir in Ontario, Canada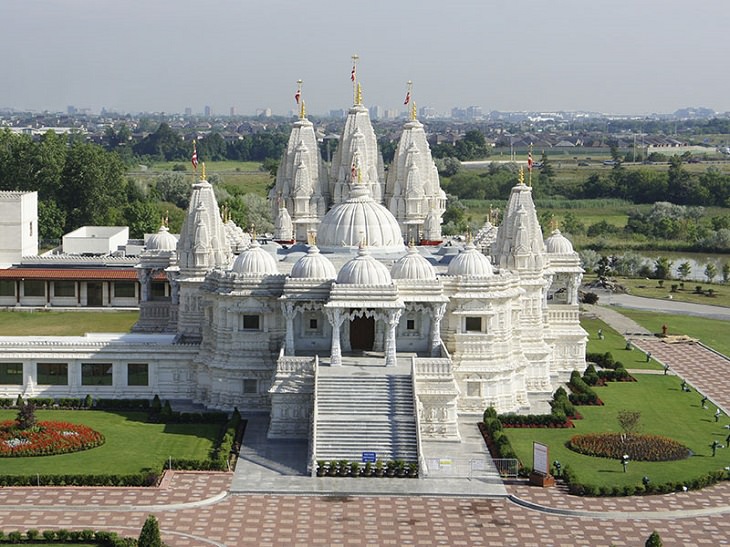 (By BAPS Swaminarayan Sanstha, Wikimedia Commons)
In the district of Etobicoke, found in Ontario's capital city, Toronto, lies a beautiful place of worship for those that follow the Hindu faith. This gorgeous structure has been crafted with care using 24,000 separate pieces of a combination of Indian Pink stone, Turkish limestone, and hand-carved Italian Carrara Marble. Constructed over the course of 18 months, following the guidelines specified in Ancient scripture, and spread over 18 acres, this mandir (temple) is the largest in Canada.
9. The BAPS Shri Swaminarayan Mandir in California, United States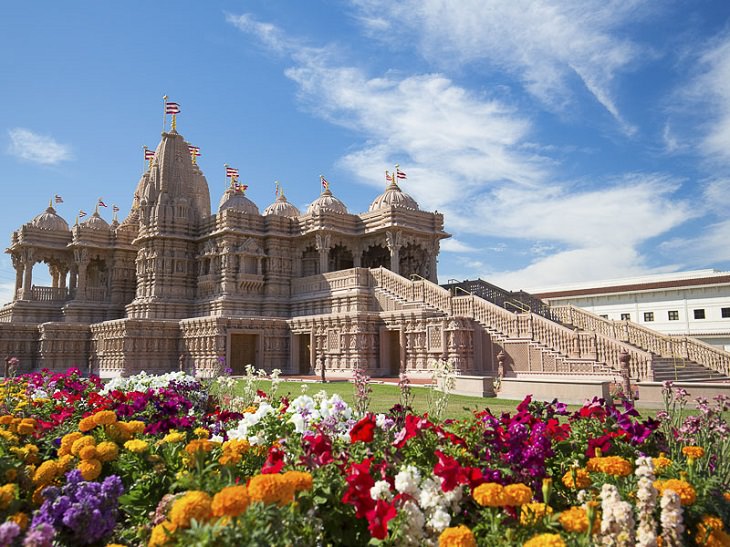 (By BAPS Swaminarayan Sanstha, Wikimedia Commons)
The name sounds familiar because much like the temple in Canada, this temple caters to a specific type of Hinduism known as the Swaminarayan branch. That being said, mandirs of this nature are still open to people of all faiths. This particular temple in Los Angeles is of especial significance because it is the first earthquake-proof temple in the world, and uses a solar power system for electricity generation.
10. The BAPS Shri Swaminarayan Mandir in London, United Kingdom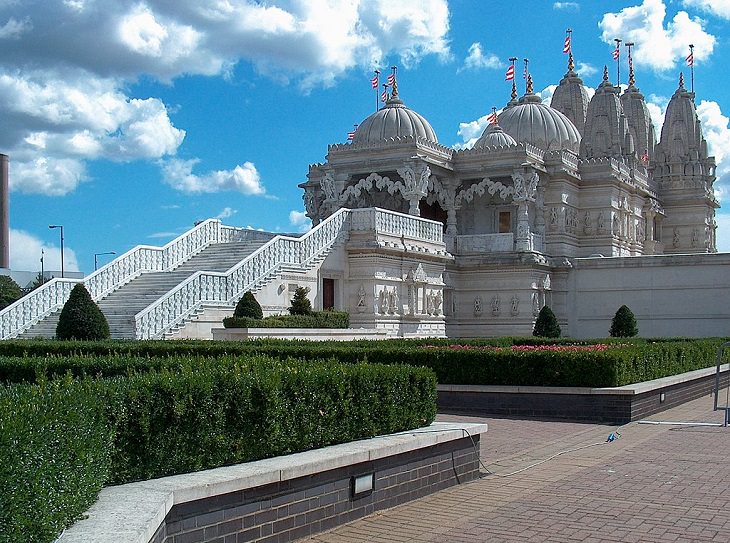 (By Nikkul, Wikimedia Commons)
This Hindu temple in Neasden, London, was built using traditional materials, making it the first traditional stone temple in Europe. It is also the first authentic temple built in the United Kingdom. Just like its sister temples in the United States and Canada, it is part of the Hindu Organization Bochasanwasi Shri Akshar Purushottam Swaminarayan Sanstha, better known as BAPS.
11. Koneswaram Temple in Tirukonamalai, Sri Lanka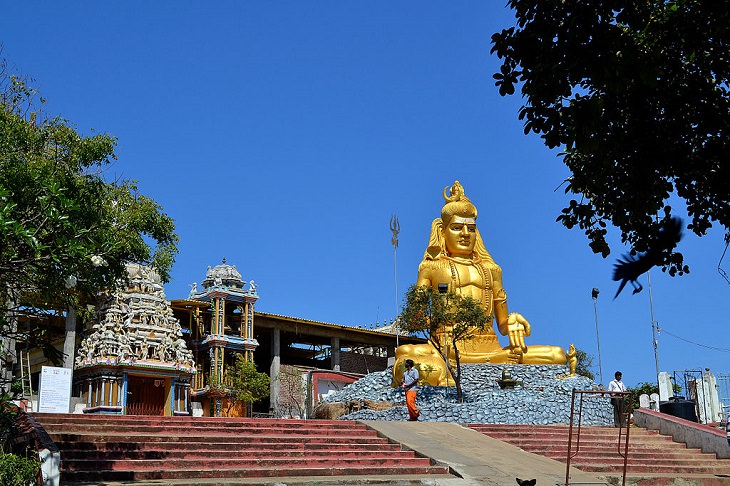 (By Shamli071, Wikimedia Commons)
The Koneswaram temple of Trincomalee (Tirukonomalai), also known as the Dakshina-Then Kailasam means the Temple of the Thousand Pillars. The original temple was built in 205 BC and after facing destruction, rebuilt in the 12th century and then improved on one more time in the 20th century. It is adorned with black granite megaliths and gold-plated towers called gopurams, a signature of traditional Hindu temples.
12. BAPS Shri Swaminarayan Mandir in Texas, United States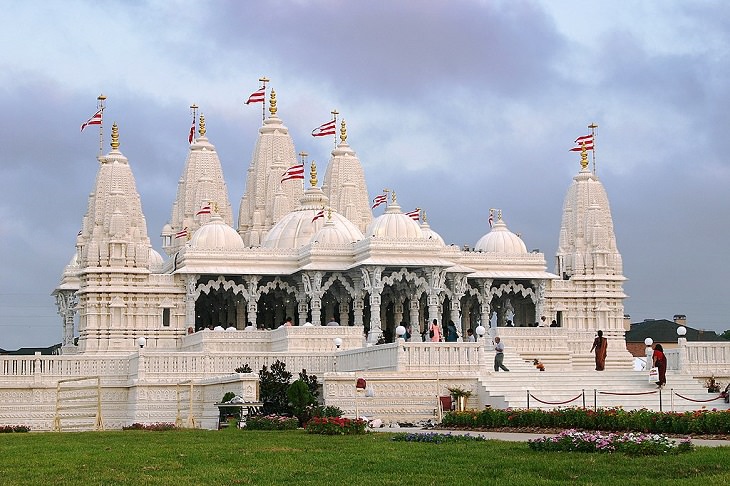 (By Bochasanwasi Shri Akshar Purushottam Swaminarayan Sanstha, Wikimedia Commons)
Another temple built by the BAPS organization, in Houston, Texas is home to a Hindu temple that cost $7 million to build, stretching 11,500 feet, with 25,000 surrounding decks and towers standing at nearly 75 feet. It was crafted with Turkish Limestone and Italian Marble, and construction began in 2002 when the 33,000 pieces of stone were shipped to Fort Bend Country. Construction was completed in 28 months.