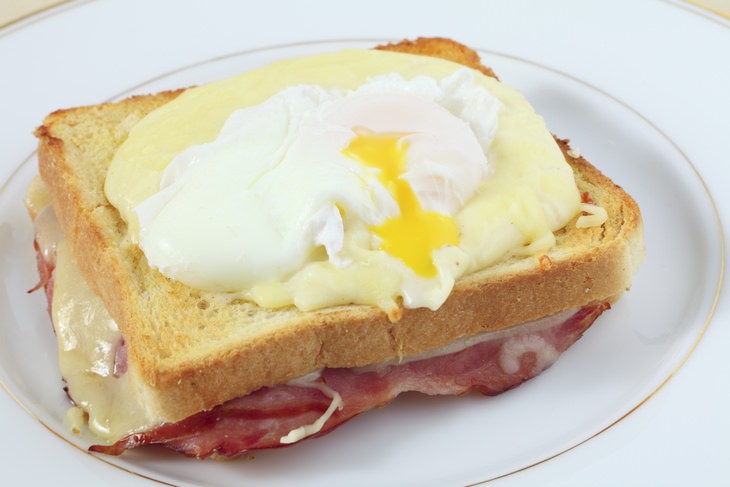 Originating in Paris cafés in the early 20th century, croque madame (and its "spouse", croque monsieur) was devised as an easy to prepare snack, but, as is the case with most French foods that have a fancy name, it has gained since quite a lot of prestige in culinary circles.
In essence, croque madame and croque monsieur are the same thing - a baked or fried ham sandwich served with grated cheese. The one major difference is that croquet madame is topped with an egg, either poached or prepared sunny side up which drips beautifully when the sandwich is cut.
Ingredients:
- 6 oz. salted butter
- 1½ tablespoons flour
- 1 cup milk
- 1 bay leaf
- ¼ cup parmesan or gruyere, grated (for the sauce)
- ½ teaspoon salt
- A pinch of nutmeg
- 8 slices sandwich bread
- 10 slices good quality ham
- 12 oz. grated gruyere
- 4 eggs
- Salt and pepper to taste
- Nonstick spray
Instructions:
Béchamel sauce
1. In a small saucepan, melt 1 oz. butter.
2. Add flour and stir constantly until a roux forms.
3. Add milk and bay leaf and stir until the mixture thickens, about 10 minutes.
4. Remove bay leaf and add salt, cheese (¼ cup) and nutmeg.
5. Transfer to a bowl to cool.
The Sandwich
1. Prepare the sandwiches by topping 4 slices of bread with 2-3 slices of ham each, add the remaining grated cheese to the béchamel sauce and add salt and pepper to the mixture to taste. Spread some of the béchamel and cheese sauce on the ham and close the sandwiches.
2. Add 2½ oz. butter to a hot iron skillet and let melt. Add 2 of the sandwiches and brown on both sides (2 minutes per side) and put on a baking sheet. Add the rest of the butter and repeat for the remaining sandwiches.
3. Top the sandwiches with the rest of the béchamel sauce and set an oven to broil. Wipe the skillet clean and spray with nonstick spray.
4. Crack the eggs into the skillet and prepare sunny side up. While the eggs are cooking, broil the sandwiches until golden brown. Season the eggs lightly and top each sandwich with an egg. The croque madame should be eaten fresh and hot.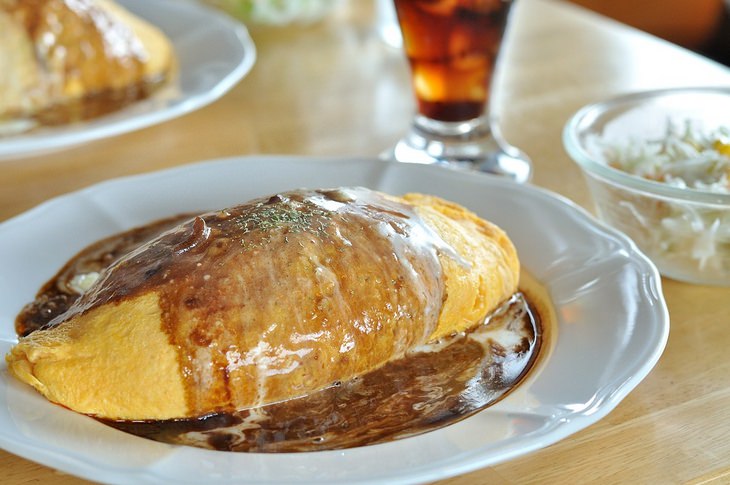 This name of this Japanese comfort food comes from English and means omelet and rice, but omurice (pronounced omuraisu) is so much more than omelet served with rice, as it comes with a hearty gravy and the egg itself is prepared in a unique and very exact way, so that when you cut it up, it almost pours over the rice.
Ingredients:
Japanese sweet and savory sauce
- 2 tablespoons Worcestershire sauce
- 1 tablespoon mirin
- 1 tablespoon soy sauce
- 1 tablespoon teriyaki sauce
- ¼ teaspoon garlic powder
- ⅓ cup ketchup
Omurice
- 1 oz. butter
- ½ small onion, diced
- 1 oz. ketchup
- 2 beaten eggs
- 2 cups pre-cooked white rice
- salt and pepper to taste
Instructions:
1. Mix all of the sauce ingredients in a pan and heat until the sauce reaches a boil, then stop. If too thick, add water.
2. Melt 1 tablespoon butter in a pan and add the onion. Fry until soft and lightly browned.
3. Add ketchup, salt, and pepper into the same pan, and then stir. Finally, add the rice and toss the contents together to evenly distribute the flavors. Plate the rice in an oval shape.
4. Melt 1 tablespoon butter in a pan and add eggs. Stir with chopsticks and shake the pan vigorously until the eggs are about half cooked.
5. Open up the edges of the omelet and wait a few seconds. Slide the omelet over the rice and top it up with the sauce.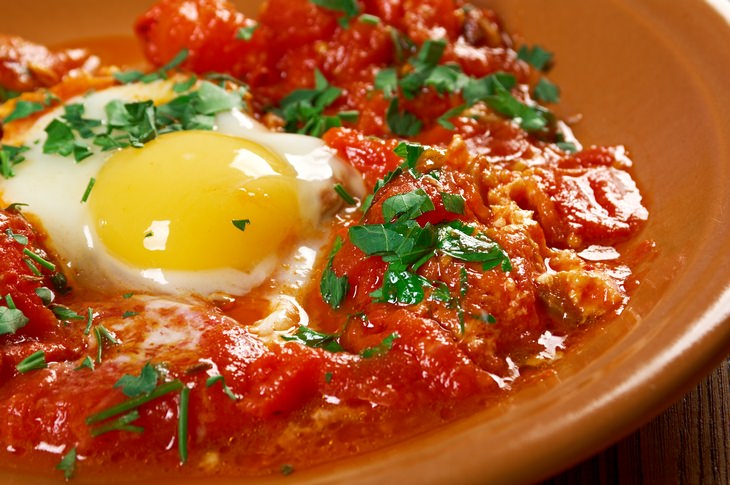 Originating in Tunisia, shakshouka is a tomato and egg-based stew that has become a staple of Israeli cuisine due to the large number of Tunisian Jews who have brought their local culinary traditions with them. While popular as a breakfast dish, it would not be out of place on a dinner table.
Ingredients:
- Several slices of fresh jalapeño pepper to taste
- ½ Onion, diced
- 2 cloves of garlic, finely sliced
- 2-3 tomatoes, diced
- 2-4 eggs
- 1 teaspoon cumin
- A dash of powdered cayenne pepper
- 1 teaspoon sweet paprika
- Salt, to taste
- Chopped parsley and/or scallions for garnish
- Extra virgin olive oil
Instructions:
1. Coat a pan with olive oil and heat. Add the onions and fry until the onions are soft. Add the garlic and jalapeño and continue to sauté.
2. Add the tomatoes into the same pan, as well as the salt and the seasoning, stir and cook over medium heat. Be careful with the cayenne, as it's potent. Cook until the sauce is reasonably reduced and the tomatoes are soft.
3. Crack the eggs and pour with whole yolks on top of the sauce and put a lid over the pan. Now comes the tricky part: some love their eggs hard, while others love them runny. Depending on your preference, cooking time will vary, as will the point when you add the eggs to begin with. A glass lid may benefit you most as you can observe the eggs to determine their degree of preparation.
4. Add garnish. Shakshouka is best eaten with some good bread you can dip into this delicious stew.