A simple seafood chowder is one of the most comforting things you can eat on a chilly winter day. Not only is it delicious, but it's also super easy to make, and doesn't take that long to prepare. So, if you have access to a great, fresh, seafood medley, you should definitely consider making a delicious seafood chowder.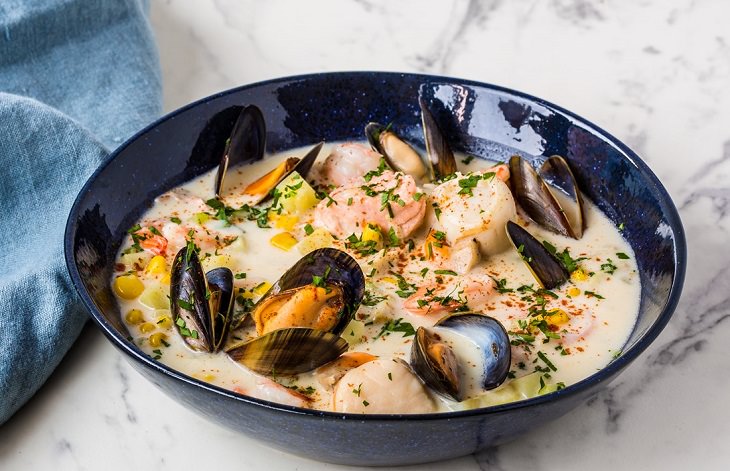 Seafood Chowder (Serves 4)
Roux
• 100g of flour
• 2 tablespoons butter
Chowder Base
• 1l fish stock
• 1 tablespoon butter
• 55g of celery, diced
• 55g onion, diced
• 115g potatoes, diced
• 2 tablespoons sweetcorn
• 230g haddock, diced into 2-inch cubes
• 8 scallops
• 230g salmon, diced into 1-inch cubes
• 12 king prawns, deveined
• 230g mussels, cleaned and beards removed
• 60ml Chardonnay, or good dry white wine
• 480ml of double cream
Directions
1. Start off by making the roux – this is the simple paste which you'll add to the chowder at a later stage to thicken it. Place a medium non-stick pan over medium-high heat and add the butter. Once it starts to melt, whisk in the flour. When the mixture thins and starts to bubble, reduce the heat to low and whisk slowly. Cook the roux until you smell a tasty aroma. Set aside.
2. Next, make the chowder base. In a large heavy-based pan, sauté the celery and onion in butter until translucent.
3. Stir in the diced potatoes and sauté for 2 minutes. Add the fish stock, bring to the boil, and cook for a further 5 minutes until the potatoes are cooked through.
4. Strain the stock through a fine strainer and keep the vegetables aside.
5. Place the stock back on a high heat and bring to the boil. Add a small quantity of the roux and whisk until it has incorporated into the stock. Keep adding the roux bit by bit while stirring continuously until you have achieved the right consistency of chowder (a single cream consistency).
6. Take off the heat, strain the chowder base, then add the cooked vegetables and sweetcorn. Set aside.
7. In a large heavy-based pan over a medium-high heat, add a splash of oil and all of the fish and seafood. Add the white wine and reduce to almost nothing. Then, add the chowder base and double cream and bring to a boil.
8. Reduce the heat to a simmer and cook until the mussel shells have opened. Taste and add salt, pepper, and a squeeze of lemon if needed.
9. Divide the chowder between bowls, garnish with chopped parsley and a dusting of paprika, and serve with oyster crackers.

Source: greatbritishchefs