Shrimp scampi is one of the fastest and easiest ways to get a tasty, impressive meal on the table. Just sauté some plump shrimp in a zesty white wine and butter sauce and toss it with parsley, garlic, chili flakes, and linguine pasta. Do this, and you will have an unforgettable dinner ready in less than 30 minutes.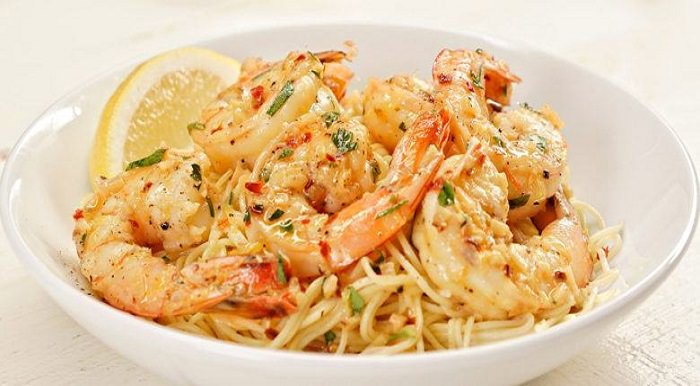 Shrimp Scampi (Serves 4)
Ingredients
• 4 tablespoons butter, divided
• 2 tablespoons olive oil
• 3-5 garlic cloves, minced
• ½ teaspoon red pepper flakes
• ½ cup dry white wine
• A pinch of salt
• A pinch of pepper
• 1 pound large shrimp, peeled, and deveined
• Zest and juice from 1 lemon
• ¼ cup chopped parsley leaves
• 8 ounces linguine pasta, cooked
• ¼ cup grated Parmesan cheese (optional)
Method
1. In a large pan over medium heat, melt half of the butter with the olive oil. Add the minced garlic and chili flakes, and cook until fragrant – about 1 minute. Add the wine, salt, and pepper and bring to a simmer. Allow the wine mixture to simmer for a few minutes, or until it has been reduced by about half.
2. Add the shrimp to the pan and cook, stirring often, until the shrimp are just cooked through (around 2-4 minutes, depending on the size of the shrimp).
3. Add the lemon zest, lemon juice, and the remaining 2 tablespoons of butter, and mix to combine. Add the chopped parsley.
4. Taste and add more salt, chili flakes, or lemon juice, if needed. Serve over a bed linguine pasta and garnish with some Parmesan cheese, if desired.
Source: tiphero