I'm a huge fan of nutty, chewy, fruit-filled energy bars and these little bars which you're about to make have enough energy to get you through an exhausting afternoon while keeping the hunger at bay. This is pretty amazing when you realize that they are made up of equal parts of just three ingredients - nuts, dried fruit and pitted dried dates.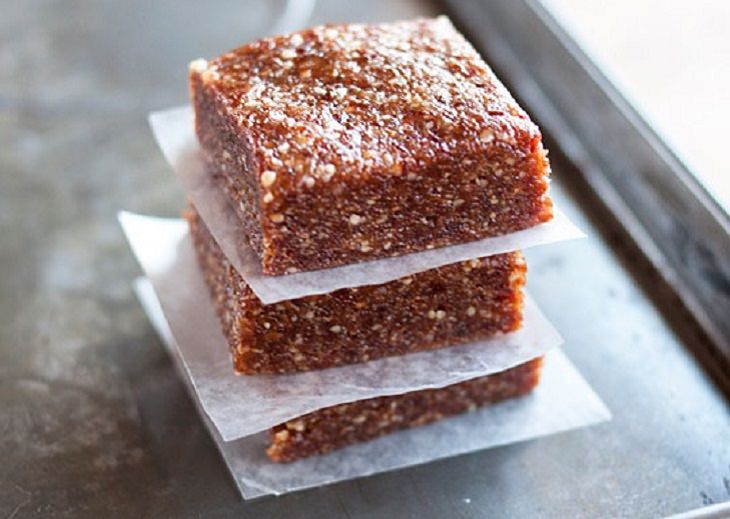 Our favorite dried fruit and nuts to use are cherries and almonds, but you can swap these out for whatever dried fruits or nuts just happen to take your fancy. Please keep the dates though as they help bind and sweeten the bars without the need for sugar.
If you like, you can also play around with adding some more ingredients to the mix: a couple of tablespoons of chia seeds, a handful of coconut, or even some chocolate chips. Keep the equal parts of the base ingredients (1 part dried fruit, 1 part nuts, and 1 part dates), and add any extras a bit at a time until you get the taste and texture that you're looking for.
As you're about to find out, making energy bars is so simple that you'll never need to buy them again.
How to Make 3-Ingredient Energy Bars at Home
Makes 8 large bars or 16 small square-shaped bars.
Ingredients
Equipment
Instructions
1. Roast the nuts (optional). Nuts can be used roasted or raw; roasting will add a nutty and toasty depth to the bars. If desired, roast the nuts at 350°F for around 10 minutes, until fragrant and golden. Let them cool before using.
2. Add the nuts, dried fruit and dates to the food processor and pulse a few times, just to break them up. Separate the dates if they start to clump together.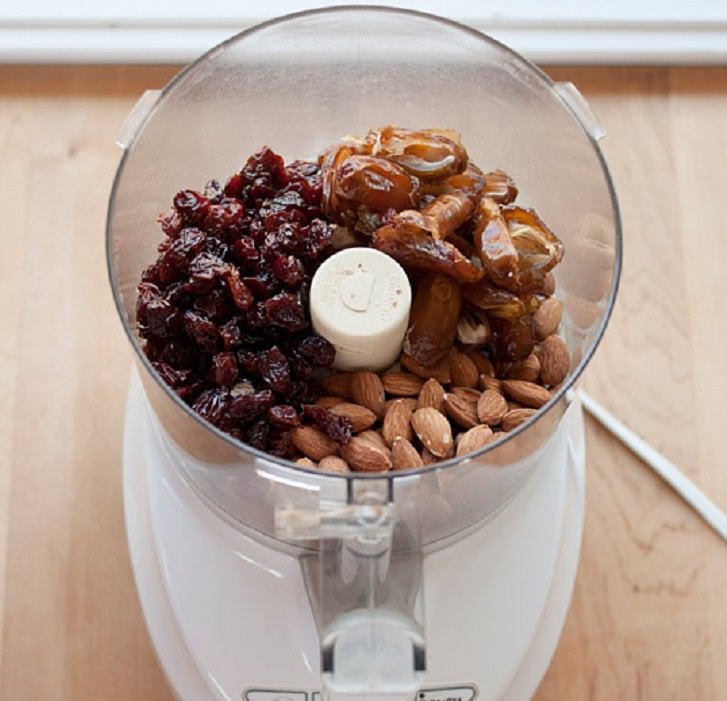 3. Process continuously for 30 seconds. At this point, all the ingredients should have been broken down into smaller pieces. Scrape the edges of the bowl to make sure nothing is sticking.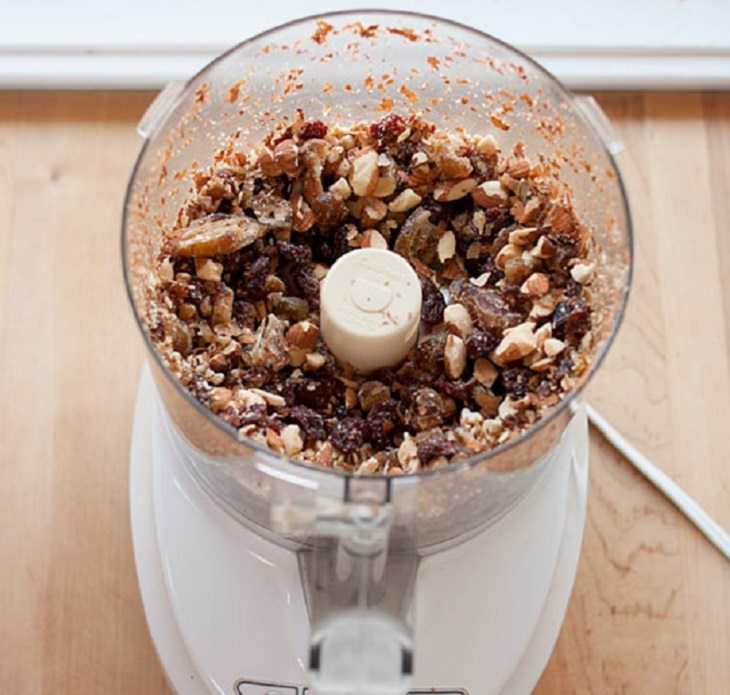 4. Continue processing for another minute or two, until the ingredients have clumped together into a ball.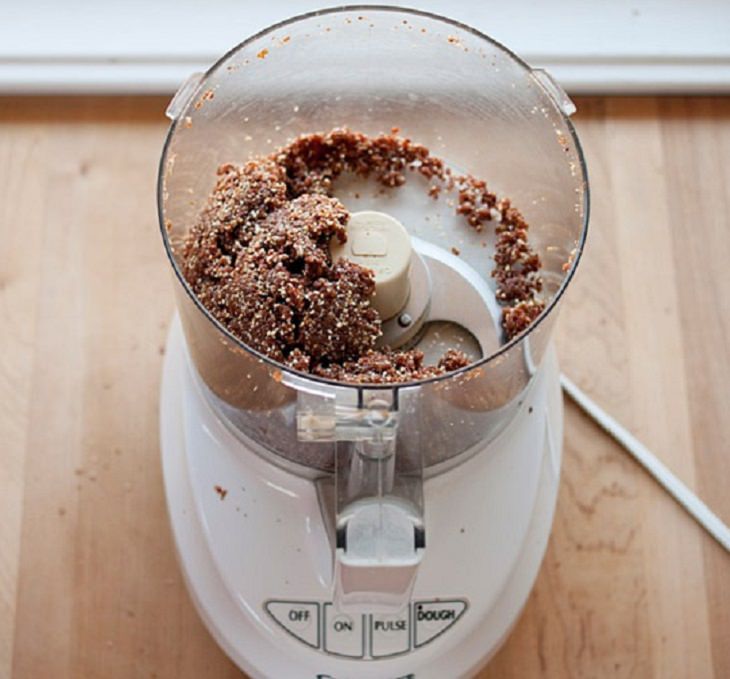 5. Place a piece of plastic wrap or wax paper on your work surface and dump the dough on top. Press the dough with your hands until a thick square, roughly 8" by 8" in size, has formed. Wrap and chill for an hour, or leave in the fridge overnight.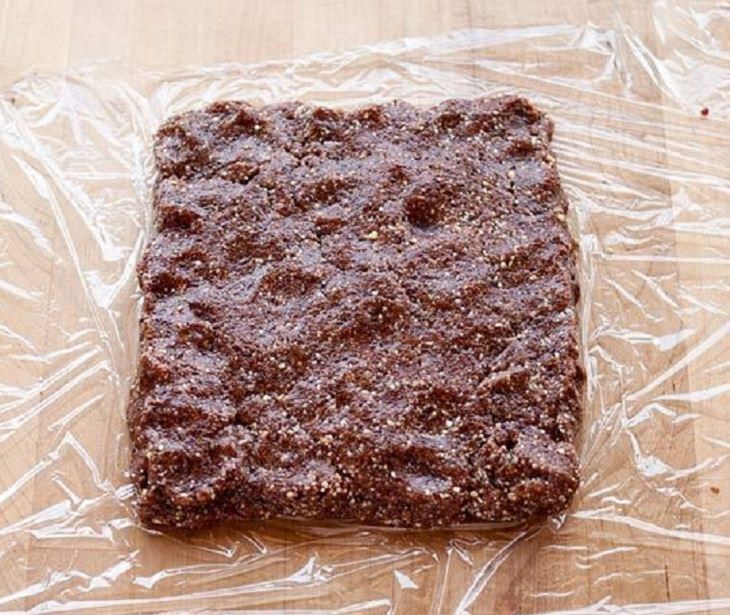 6. Divide into bars. Unwrap the chilled dough and place on a cutting board. Cut into 8 large bars or 16 small squares, as desired. Wrap each bar in wax paper or plastic wrap.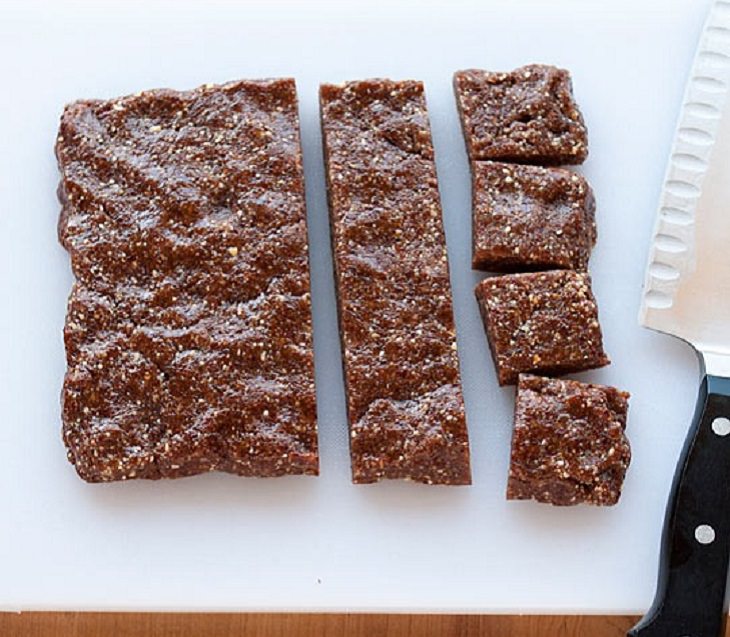 7. Store the bars. The bars can be stored in the fridge for several weeks or in the freezer for up to 3 months.
Additional Notes
Energy balls: If you like, the dough can also be shaped into small balls.

Try these combinations: Cherry-almond, apricot-almond, cranberry-pecan, apple-cinnamon, walnut.

Try these add-ins: Shredded coconut, chocolate chips, chia seeds, cacao nibs, cocoa powder, ground cinnamon, ground nutmeg, lemon zest, and lime zest.

Source: thekitchn
Photos: Emma Christensen