While preparing lasagna in one pan may not be the traditional Italian way to go about it, this mouthwatering recipe is one-pot comfort food at its best. The best part is that this recipe calls for limited kitchen equipment and no cleaning fuss at all. For the recipe to work, though, you need to use fresh lasagna sheets as opposed to the dried ones. Here's the recipe: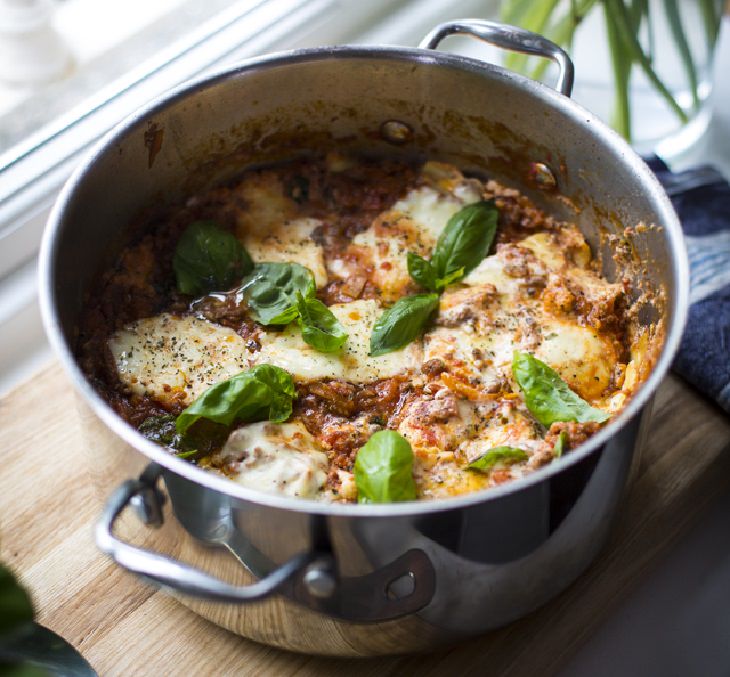 Ingredients (Serves 4)
• 100g chorizo sausage, chopped
• 1-2 tbsp. olive oil
• 500g beef mince
• 1 carrot, peeled and grated
• 1 onion, peeled and finely chopped
• 2 garlic cloves, minced
• 2 tbsp. tomato purée
• 2 x 400g tins chopped tomatoes
• 75ml red wine
• 2 tsp. dried oregano
• 250g pack fresh lasagna sheets
• 2 balls mozzarella, thinly sliced
• Sea salt and ground black pepper
• A good handful fresh basil leaves, roughly torn
For the cheese sauce:
• 2 x 250g tubs ricotta
• 50g cheddar cheese, finely grated
• 50g Parmesan cheese, finely grated
• 100ml milk
• Ground black pepper
Directions:
1. Heat a large pan or casserole dish over medium heat and fry the chorizo for 2 to 3 minutes until sizzling and golden. Drain on a plate lined with kitchen paper.
2. If required, add a little oil to the pan and fry the beef for 6 to 8 minutes until golden brown. Add the grated carrot, and let it soften for 2 minutes.
3. Transfer the contents of the pan to the plate with the chorizo then add a drop of oil and fry the onions for 6 minutes until tender. Stir in the garlic and cook for a further 2 minutes. Add the tomato puree, chopped tomatoes, red wine, and oregano. Allow to cook for 15 minutes until the mixture has slightly reduced and thickened. Season to taste.
4. Meanwhile, mix the ricotta, cheddar, parmesan, and milk in a medium sized bowl. Season to taste. If it's too thick, add some more milk to help it loosen.
5. When the sauce is cooked, remove two thirds of the mince from the pan, transferring it to a small bowl. Set aside.
6. Place a layer of lasagna sheets (tearing them to fit if needed) on top of the mince in the pan then add half the cheese mixture, spreading evenly, covering the lasagna sheets. Add a third of the mince, spread evenly, top with lasagna sheets, add remaining cheese. Then add the rest of the mince and finish off with sliced mozzarella and some basil leaves. Cover with a lid, lower the heat and cook for 20 minutes until the pasta has cooked and the cheese has melted.