We all like our homes to smell nice, but the sad truth is that many of us suffer from asthma and allergies, and the air fresheners we buy from the store to scent our homes can sometimes do us more harm than good. I've been experimenting with home-made, gelatin-based and toxin-free air fresheners lately, and not only have my symptoms diminished, but my home smells better than ever! Here are a few that you can have a go at making:
What You Need
• 1 oz. unsweetened, unflavored gelatin
• 2 cups cold water
• 1 tbsp. salt
• 20 to 30 drops of essential oils (depending on the scent, see below)
• Small saucepan
• Whisk
• Decorative heat-proof jars
• Chopsticks or skewers
​
Optional Stuff
• Food coloring to color your home-made air freshener in the hue of your choice
• A splash of vodka to keep mold at bay
Essential Oil Volumes
For Sweet Basil and Lemon:
• 20 drops Sweet Basil essential oil
• 8 drops Lemon essential oil
For Rosemary Orange:
• 25 drops Sweet Orange essential oil
• 5 drops Rosemary essential oil (use this sparingly as the scent is very strong)
For Fresh Pine Scent:
• 25 drops Fir Pine essential oil
• 3 drops Lemon essential oil
• 2 drops Sweet Orange essential oil
• 1 drop Bergamot essential oil

For Pure Lavender:
• 30 drops of Lavender essential oil
For Esssence of Provençe:
• 20 drops Lavender essential oil
• 5 drops Thyme essential oil
• 2 drops Lemon essential oil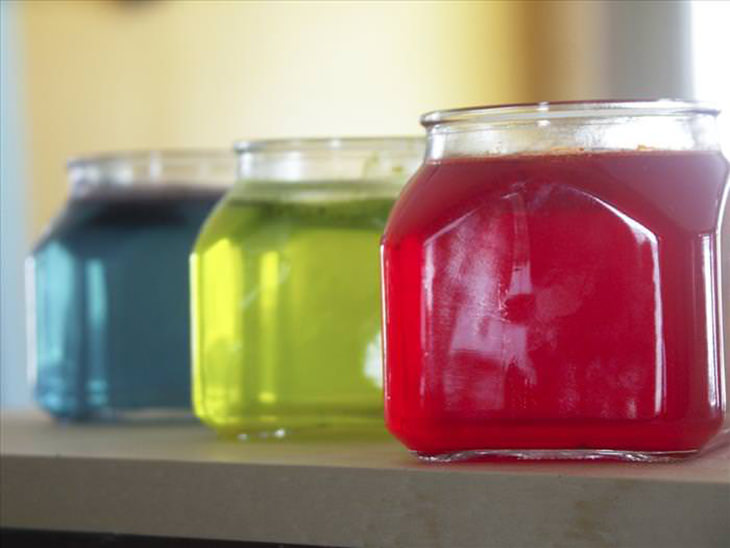 Preparation Instructions
- Pour a cup of water into the saucepan and bring to a boil. Next, sprinkle the gelatin over the water and whisk until it has completely dissolved.
- Add the salt, followed by the second cup of water. Whisk the mixture again and then set aside.
- Next, add the essential oils and food coloring (if using) to a decorative heat-proof jar.
- While the gelatin mixture is still hot, pour it into the jar and stir until the mixture is evenly colored. You can also add a splash of vodka into the mixture at this point to ensure your air freshener doesn't go moldy.
- Leave the jar uncovered and let the mixture cool on a heat-proof surface.
- Once the mixture reaches room temperature, place wherever you want in your home for a beautiful scent.
Which scent are you going to try making?
Content and Image Source: Tasty Kitchen