The holiday season is rapidly approaching, and it's getting mighty cold outside. Stay warm with these 12 delicious hot chocolate recipes. I highly recommend trying the alcohol-infused hot chocolate recipes, for a special grown-up treat. Enjoy the recipes below!
1) Milk Chocolate Peanut Butter Hot Chocolate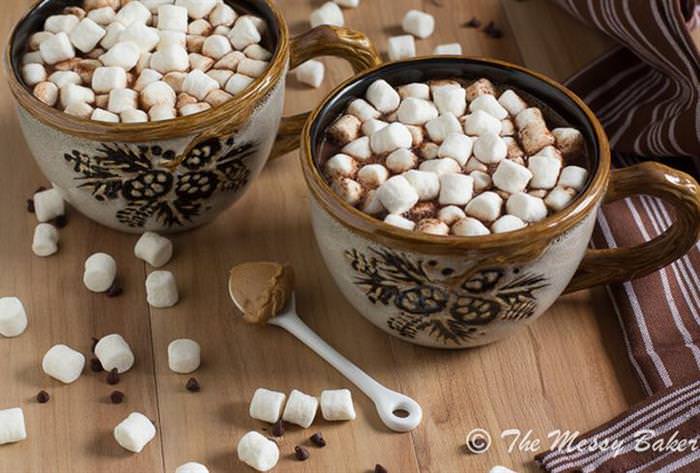 source
1 tablespoon creamy peanut butter
¼ cup milk chocolate chips
Allow the milk and cream to simmer in a small saucepan over a medium-low heat, without boiling.

As soon as the milk begins to steam, add in the chocolate, and stir until the chocolate melts.

Add the peanut butter and stir until just melted.

Pour into a large mug, and top it off with a few mini marshmallows. Enjoy the peanut-buttery goodness!
2) Gingerbread Hot Cocoa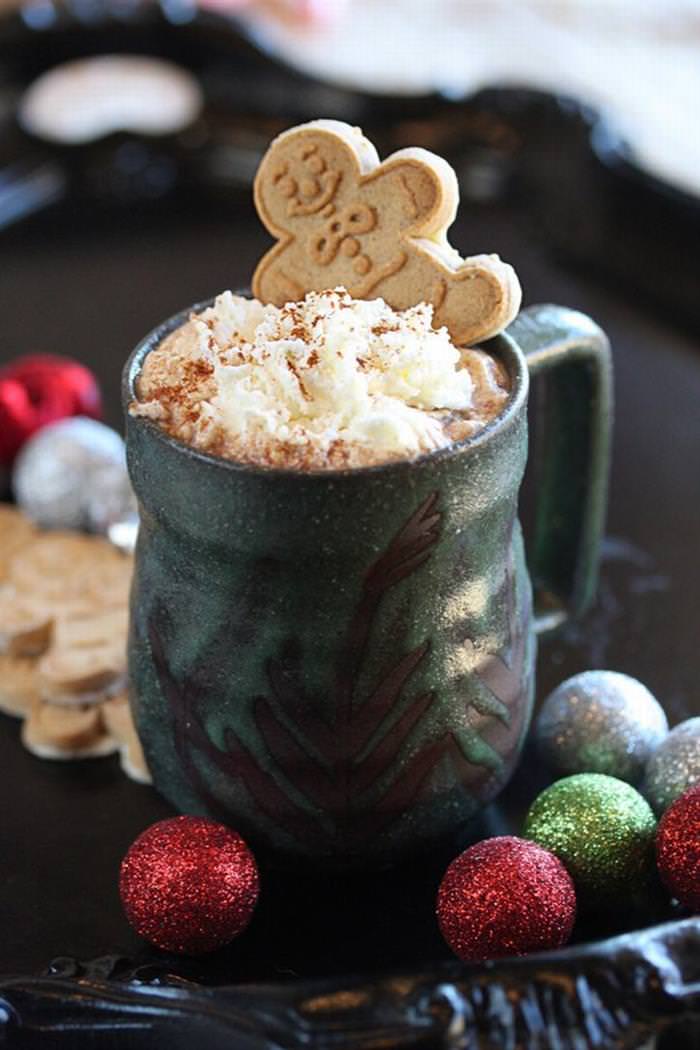 source
1 teaspoon vanilla extract
1½ teaspoons ground cinnamon
1½ teaspoons ground ginger
whipped cream for topping
Combine the brown sugar, molasses, cocoa powder, spices, vanilla, and salt in a medium saucepan over a low flame, while stirring in the milk.

Heat the mixture over a medium heat, until it's hot.

Top with whipped cream and a sprinkle of cinnamon.

This is a treat your kids are absolutely going to love!
3) White Fudge Oreo Hot Cocoa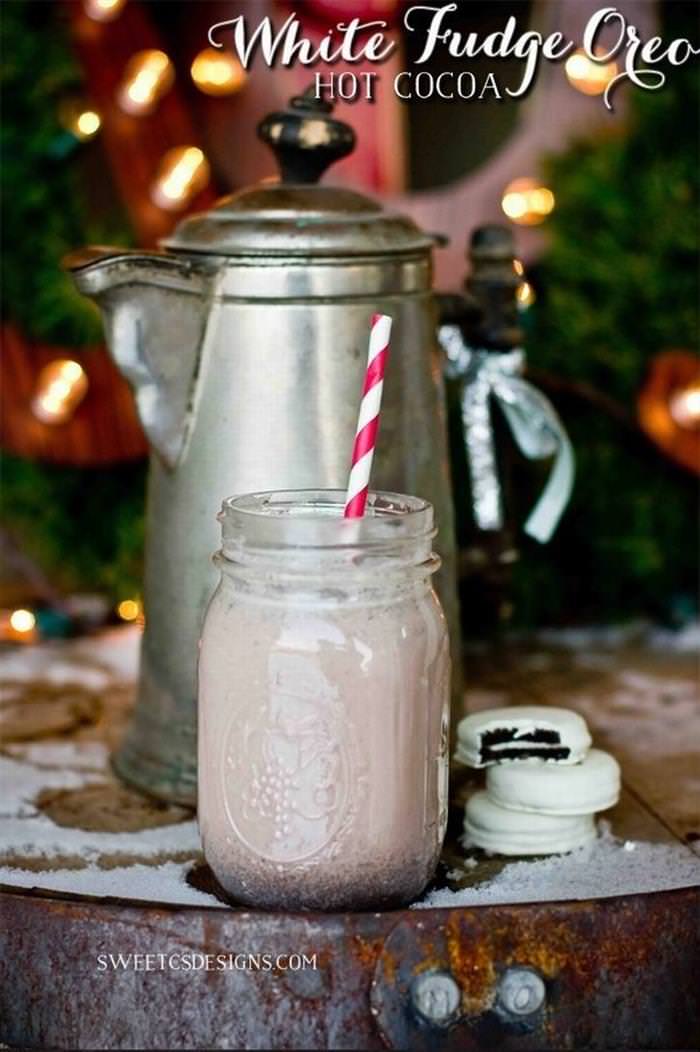 source
2 white fudge oreos, crushed
Add water into a pan, and a dash of chocolate chips. Stir frequently to avoid burning the chocolate.

When the chocolate is fully melted, slowly stir in the milk.

Crush the Oreos in a blender, before stirring into the pan with the chocolate and milk.

Serve warm with whipped cream or extra Oreos!
4) Aztec Hot Chocolate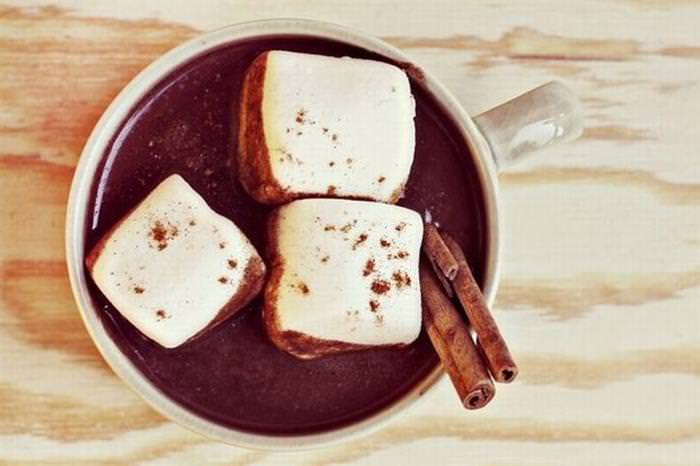 source
10 ounces chopped dark chocolate
A pinch or two of cayenne (optional)
Marshmallows/cinnamon sticks for garnish.
In a pot combine the milk and chocolate, while melting the chocolate over low/medium heat, and stirring constantly.

Once melted and the mixture is warmed, stir in the cinnamon and cayenne (optional). Enjoy the spicy little kick!
5) Pumpkin Spice Hot Chocolate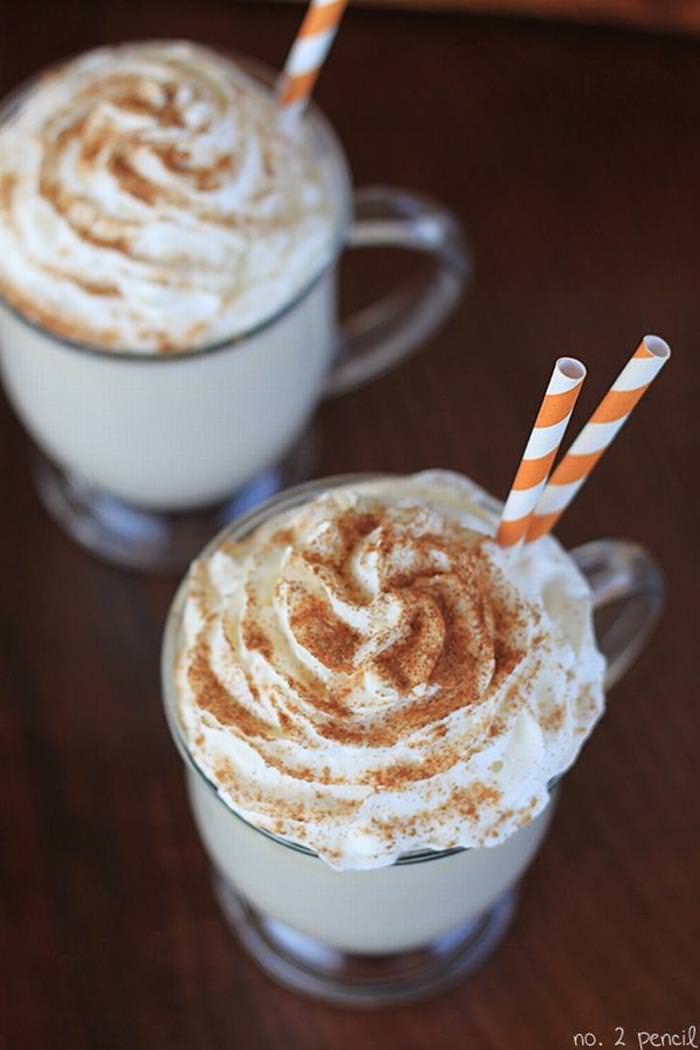 source
1 cup of good quality white chocolate chips, Ghirardelli recommended
1/2 teaspoon of pumpkin spice
1/2 teaspoon of pure vanilla extract
Top with whipped cream and additional pumpkin spice to sprinkle on top.
Heat the cream and milk in a pan over medium heat, stirring occasionally until hot but not boiling.

Pour heated cream and milk into a medium sized bowl, and add white chocolate chips. Stir mixture until chips are melted.

Add vanilla extract and pumpkin spice.

Top with whipped cream and a sprinkle of pumpkin spice.
6) 2-Ingredient Nutella Hot Chocolate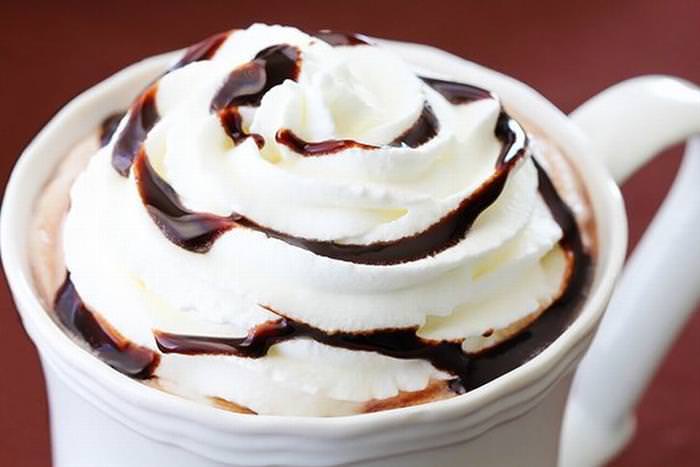 source
Your choice of toppings: whipped cream, marshmallows, chocolate syrup, chocolate shavings
In a small saucepan, heat milk over a medium-high heat until steaming (not boiling), while occasionally stirring.

Add in the Nutella, and whisk until dissolved.

Serve immediately, either plain or with the toppings of your choice. This has to be the easiest hot chocolate recipe ever!
7) Salted Caramel Hot Chocolate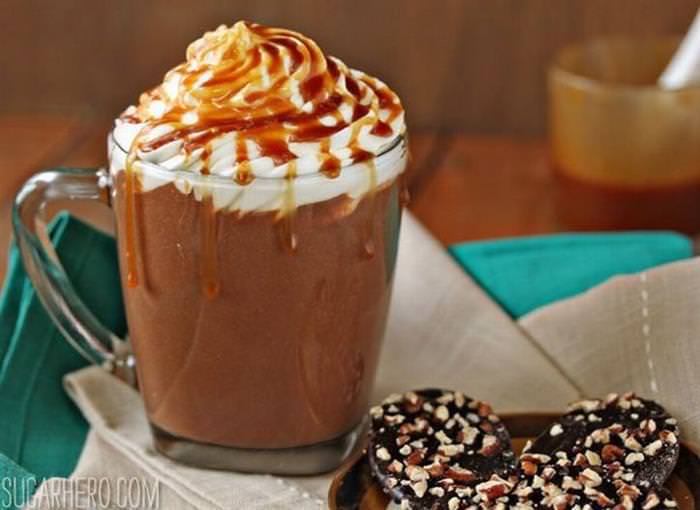 source
8 oz milk chocolate, finely chopped
4½ cups room temperature milk
2 oz dark chocolate, finely chopped
¼ teaspoon fresh lemon juice
Whipped cream and caramel sauce, to garnish (optional)
In a small bowl, rub the sugar and the lemon juice together, until the sugar is damp and fragrant.

Place the lemon juice mixture into a medium saucepan over medium heat. Allow it to preheat for several minutes until the pan is hot. Once the saucepan is hot, add the sugar. Begin stirring immediately and continuously. Because the pan was preheated, the sugar will start cooking very quickly. Soon after the sugar liquefies, it will start to take on color. Cook, while stirring constantly, until it turns a medium amber color.

Continue to stir while you stream in the milk. The caramel may seize and form small chunks of sugar, but continue to stir and heat the mixture.

Once the milk is at a simmer, remove the pan from the heat. Don't let the milk come to a boil! Add the chopped chocolates to the pan and whisk until the mixture is smooth, and the chocolate is melted. -Add a pinch of salt, and serve with whipped cream and caramel sauce. This recipe is a bit more challenging, but most definitely worth it!
8) Melted Hot Chocolate with Sea Salt Whipped Cream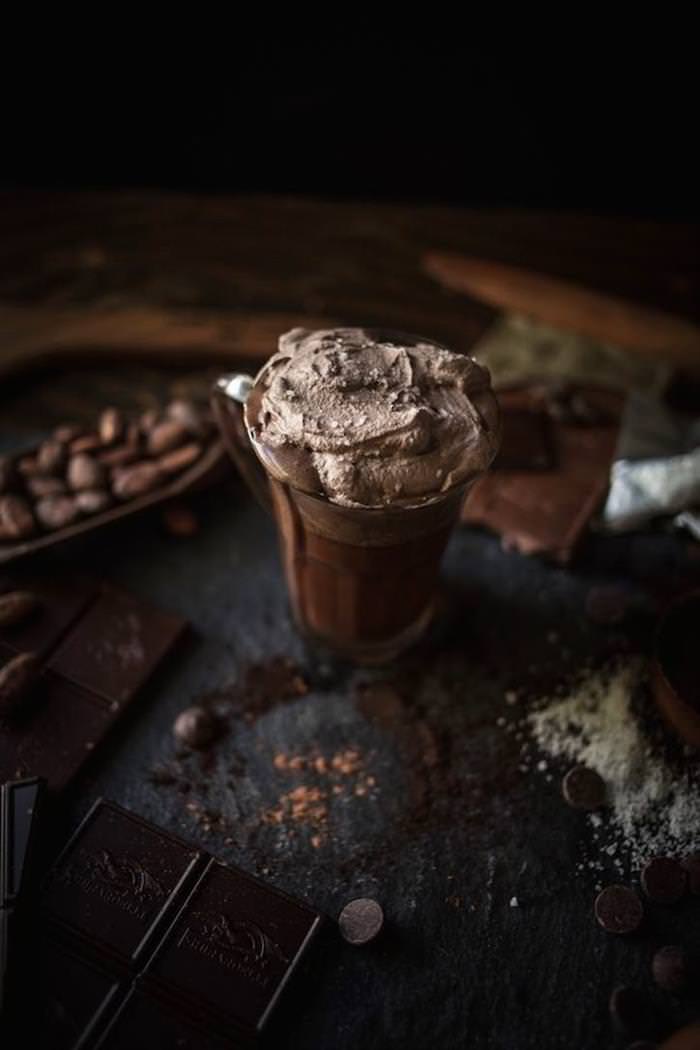 source
Ingredients:
Sea Salt Chocolate Whipped Cream
3 tablespoons cocoa powder
1 cup heavy whipping cream
3/4 teaspoon sea salt, plus extra for sprinkling
8 Squares (4 ounces) Dark 100% Cocoa Baker's Chocolate
2 Squares (1 ounce) Semi-Sweet Baker's Chocolate
3/4 Cup Whole Milk, at room temperature
2-4 teaspoons honey, depending on how sweet or bitter you like your chocolate
How To Prepare It:
Sea Salt Chocolate Whipped Cream
Beat the cream and sugar in an electric mixer fitted with the whisk attachment at medium high speed until the cream holds a very soft peak.

Gently whisk in the sea salt and cocoa powder until mixed. Cover and set aside.
Melt down the chocolate pieces in the top of a double boiler, stirring constantly.

Add the honey and milk, and continue stirring until it becomes very warm.

Evenly distribute the cocoa between two serving glasses, topped with the Sea Salt Chocolate Whipped Cream, and a pinch of sea salt for garnish. Serve immediately.
9) Cardamom Hot Chocolate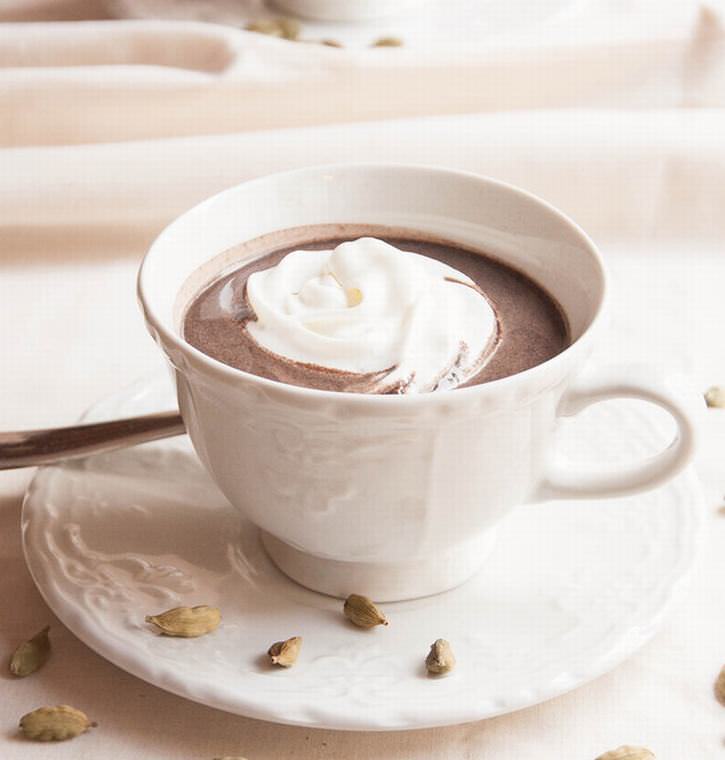 source
3 tablespoons cocoa powder
1 tablespoon powdered sugar
Whisk together the cocoa powder, sugar and the salt into a medium saucepan, and add ¼ cup of the milk and the crushed cardamom.

Add the cocoa mixture and cook on medium heat stirring until it all comes together

Add the remaining milk and cook to medium heat, without boiling!

Pour into a large bowl through a strainer, then pour into 2 cups, and enjoy the cardamom treat!
10) Orange Pisco Hot Chocolate (Alcohol)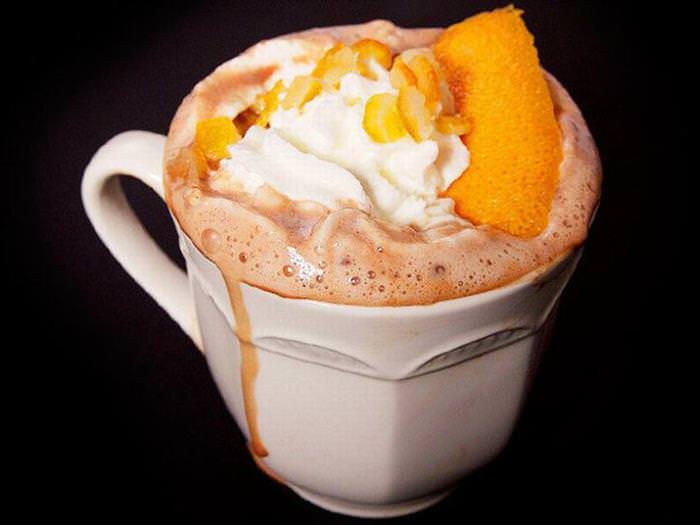 source
3 ounces Grand Marnier or Cointreau
4 ounces milk chocolate chips
4 (2-inch) segments orange zest
4 ounces bittersweet chocolate chips
Whipped cream and candied orange peel garnish
1 tablespoon granulated sugar
Stir cocoa with sugar and salt into a medium saucepan. Stir in milk, milk chocolate, and bittersweet chocolate.

Heat over medium heat until chocolate is melted, and mixture is hot. Gently whisk to completely homogenize the mixture.

Add Grand Marnier or Cointreau with pisco or rum. Divide into four serving cups. Rub the rim of each cup with orange zest.

Top with whipped cream, candied orange peel, and orange zest. Serve immediately. The tangy orange zest will give your taste buds an unexpected little treat!
11) Black Cherry Bourbon Hot Chocolate (Alcohol)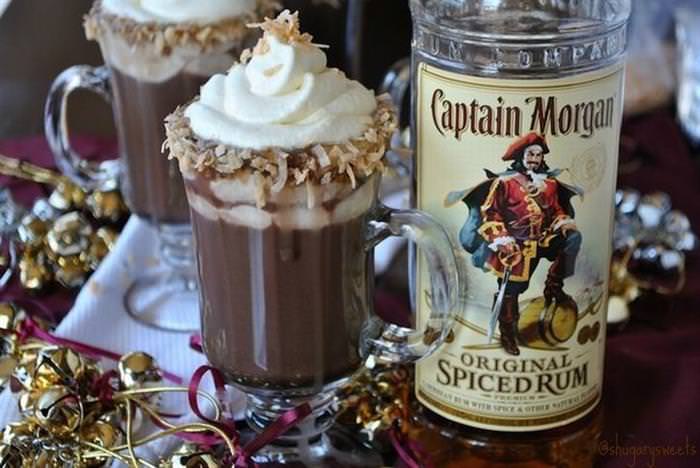 source
5 tablespoon of Ghirardelli Double Chocolate Hot Chocolate Mix (Or mix of your choice)
2 oz. Red Stag Black Cherry Bourbon by Jim Beam
Whipped Cream (I like homemade)
In a small saucepan, heat milk and hot chocolate mix over medium - high heat until it starts to steam, without boiling it, and stirring frequently.

Pour 1 oz. of black cherry bourbon into each cup.

Evenly divide hot chocolate between the two cups, and top with whipped cream and chocolate shavings. The Black Cherry Bourbon Hot Chocolate is the perfect beverage to share with a few friends.
12) The Hot Choc-Colada (Alcohol)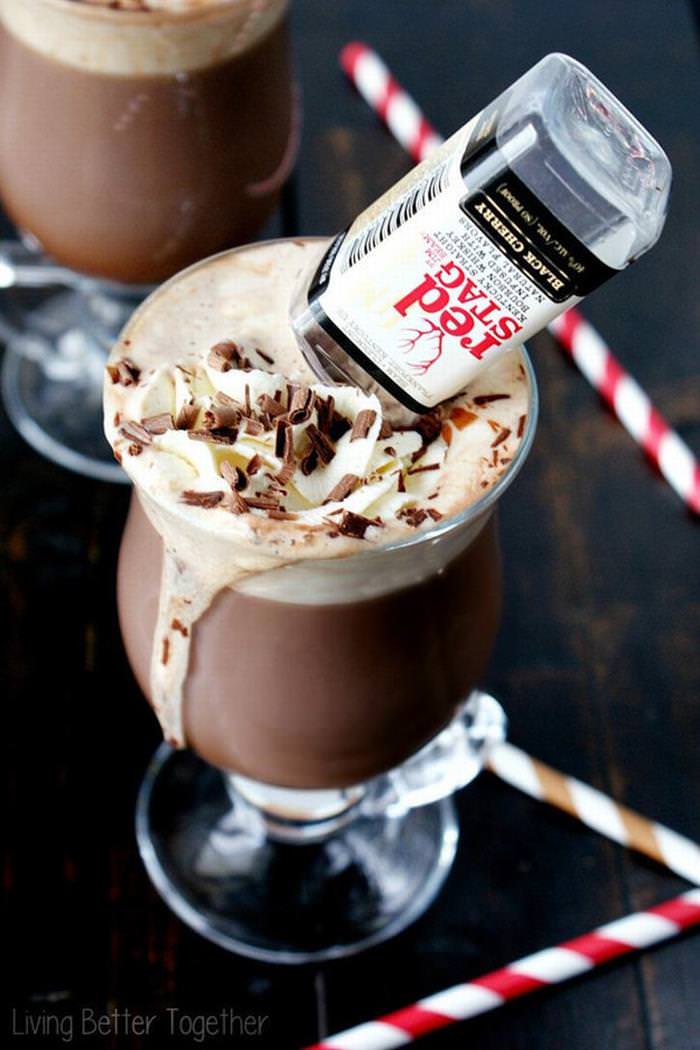 source
Ingredients:
1 can (13.5oz) coconut milk
1 can (14oz) sweetened condensed milk
1/2 cup dark chocolate unsweetened cocoa powder
3/4 cup Captain Morgan Spiced Rum
For the Spiked Whipped Cream:
3 Tablespoons of Captain Morgan Spiced Rum
3 Tablespoons of granulated sugar
How To Prepare It:
Preheat oven to 225 degrees.

Pour bag of sweetened coconut flakes onto large baking sheet, and bake for about 60-90 minutes. Make sure you turn the sheet every 15 minutes until brown and toasted.

Store in ziploc bag with all the air pressed out.
For the Spiked Whipped Cream:
Whip heavy cream in a cold mixing bowl on medium-high until soft peaks form.

Beat in sugar and rum until fully mixed together. Refrigerate until ready to serve.
In a large pot over medium heat, whisk together the coconut milk, condensed milk, cocoa powder, salt, and pineapple juice. Make sure you do not boil.

Reduce the heat to simmer, then add rum and water. Continue heating until desired temperature.
How to Serve It:
Place honey in small saucer, and toasted coconut into a small bowl.

Dip rims of glass into honey, letting the excess drip off. -Immediately press rim into toasted coconut, coating rim completely.

Pour hot chocolate into glass, about 1 inch from rim, depending on style of glassware. Pipe whipped cream onto each glass and sprinkle with excess toasted coconut. Serve hot and enjoy the flavor!
(H/T: buzzfeed.com)