If you love chocolate and peanut butter, this dessert recipe is for you. This easy-to-follow recipe takes very little time to prepare and no oven time is required, making it easy to whip up for surprise guests. This delightful recipe is also loads of fun for the kids or grandkids, who like creating delicious desserts. To make this recipe even easier, I recommend using a box of chocolate cookie crumbs instead of crushing up a box of Oreo cookies on your own.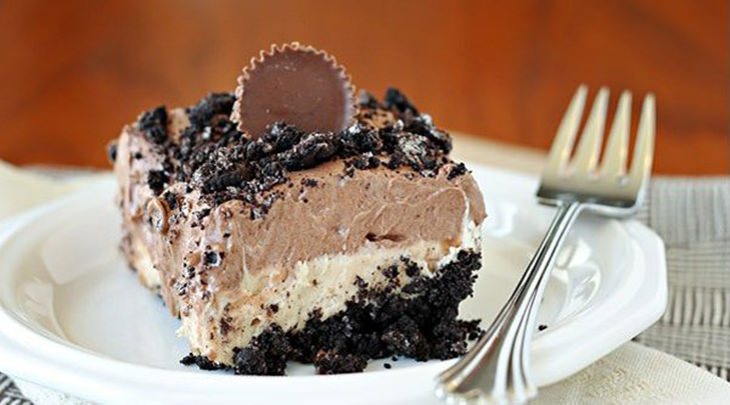 Ingredients
Note: This recipe serves 8
• 20 Oreo cookies (or a box of chocolate cookie crumbs)
• 2 tablespoons butter, softened
• 1 package (8 oz.) cream cheese, softened
• ½ cup peanut butter
• 1 cup confectioner's sugar
• Another ½ cup confectioner's sugar
• 1 carton (16 oz.) frozen whipped topping, thawed
• 20 miniature peanut butter cups, chopped
• 1 cup milk
• 1 package (3.9 oz.) instant chocolate pudding mix

Instructions
1. Crush 16 Oreo cookies, or other chocolate cookies, and mix with the softened butter. In a 9-inch square dish, press the batter, creating the crust and then set it aside.
2. Beat cream cheese, peanut butter and confectioner's sugar in a large bowl, until the mixture is smooth.
3. Fold half of the whipped topping into the mixture and spread it over the crust.
4. Sprinkle a layer of chopped peanut butter cups over the whipped topping.
5. In a separate large bowl beat the milk, pudding mix, and the ½ cup confectioner's sugar for 2 minutes with a hand mixer on a low speed. Let this mixture stand for 2 minutes until it is soft-set.
6. Fold in the remaining whipped topping and spread this over the peanut butter cup layer.
7. Crush the other 4 cookies and sprinkle them over the top of the pudding.
8. Cover the finished dessert and let it chill for 3 hours.
Source: letdishrecipes