How many times have you encountered this annoying notification on your smartphone? - "Storage space running out. This may slow down some apps and functions." Android phone users frequently face this issue on their phones, which leads to unnecessary panic and frustration. In haste, we end up going to our settings and deleting random stuff we feel we don't need anymore. To avoid this, the prudent thing to do would be to clean up your phone every now and then.
While Android devices are smart enough, performing a digital tune-up once in a while keeps your phone working for longer. For instance, cache files pile up over time and need to be cleared. And then, there is junk from ads and image thumbnails that also take up space without your knowledge. To get rid of these, take the assistance of these wonderful cleaning apps. These tools can boost a device's performance, enhance battery life, and get rid of junk files that are eating up your device's space.
Not all cleaning apps are helpful, though; many just waste storage space and spam you with ads. However, there are many free cleaning apps for Android phones and tablets too! You simply must install one of these apps and save precious space on your device.
1. Files by Google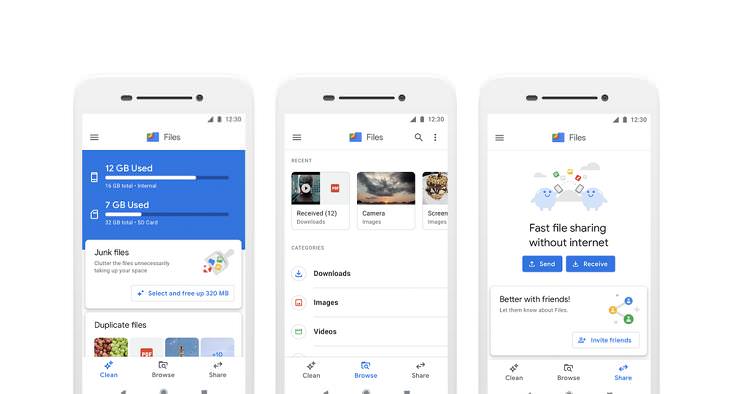 'Files by Google' is an easy-to-use cleaning tool without ads. The great thing about the app is that it's primarily a file manager that also works wonderfully well as a cleaner.
Open the app and switch to the Clean tab at the bottom to begin the cleaning function. Once it starts, the app will show you many areas that are wasting space on your phone: junk files, duplicates, backed-up photos, and unused apps. Click on each option, find which ones take up the most space, and select what you want to remove. Once you do so, the app will take care of the rest.
Files by Google is simple, uncomplicated, and has a friendly interface. Most importantly, this free app isn't overloaded with needless extras.
2. Norton Clean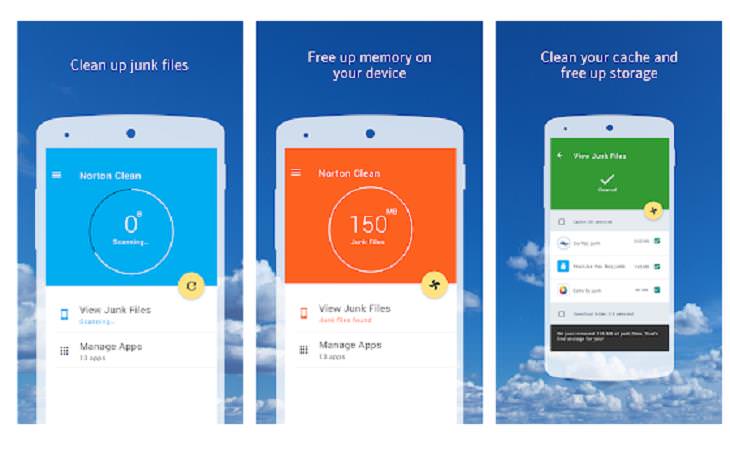 'Norton Clean' is a tried and tested cleaning app that will not disappoint. Norton is well-known in the security industry for its anti-virus tools, and the company's cleaning app is certainly top-notch as well. The app primarily looks for residual files left behind by deleted apps, cache files, and more. Additionally, it also offers recommendations for deleting apps you rarely use. What makes Norton Clean stand out further is that it has a clean, bright, and elegant-looking interface. It's also simple and can be operated with ease.
3. SD Maid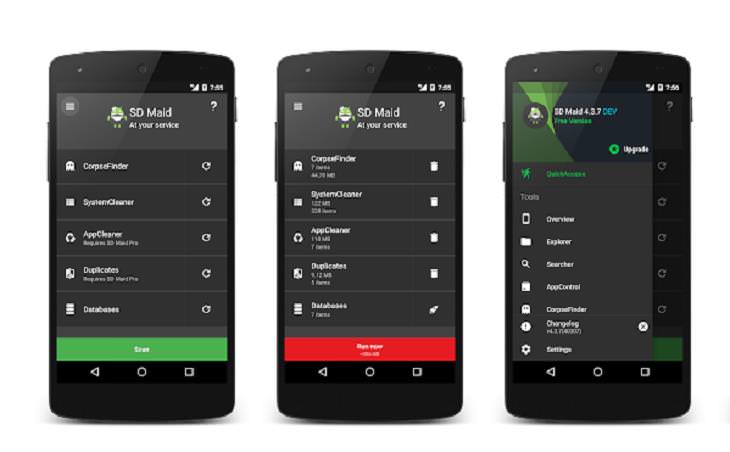 'SD Maid' is an underrated cleaning tool that has a full-fledged file explorer to browse your whole device and remove superfluous files from your system. Apart from taking care of cache, the application also gets rid of duplicate files, files left by previously installed apps while managing current apps, and more. Another handy little feature of SD Maid is that you get a detailed overview of your device's storage. This will help you find and delete big files and offers mass app removal if you're interested in a proper fine-tuning of your smartphone.
4. Droid Optimizer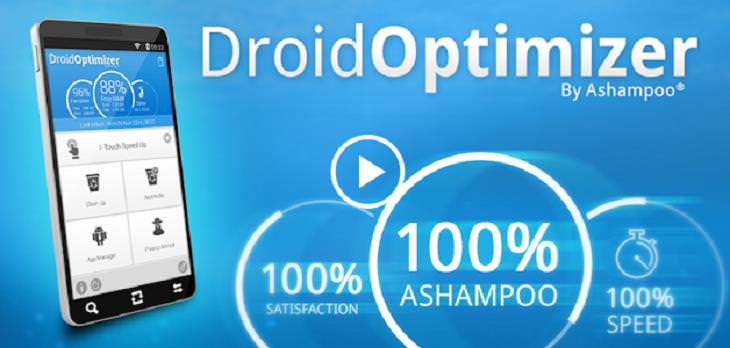 'Droid Optimizer' is easily one of the best-known Android cleaner tools and should be on your shortlist. The interface may look a little outdated today, but it's perfect for those looking for a straightforward and undemanding app that does what it's supposed to do.
To begin a phone cleanup, all you need is one tap. Your stats - free space and RAM - will be displayed prominently at the top of the screen to let you know where you are at. And to motivate you to keep your device neatly organized, Droid Optimizer even awards you points for your cleanup actions. If you don't want to do much of the work yourself, an auto clean-up function is also available.
For prolonged battery life, the app has an integrated Good Night scheduler which will automatically disable features like your Wi-Fi when your phone isn't active. Lastly, in case you want to free up space quickly, Droid Optimizer can also mass-delete apps.
Share these useful apps with your friends and family...