The world of the arts is often full of references and nods, weaving through different works of arts, sometimes from wildly different artistic media, serving to connect them in a way that can be critical to understanding a work of art. Cinema is no different, and every now and then, a director would incorporate a meaningful shot that is based on an existing work of art, typically a painting. Here are some prominent examples from the world of cinema.
1. Ophelia by John Everett Millais (1852)/ Melancholia by Lars von Trier (2011)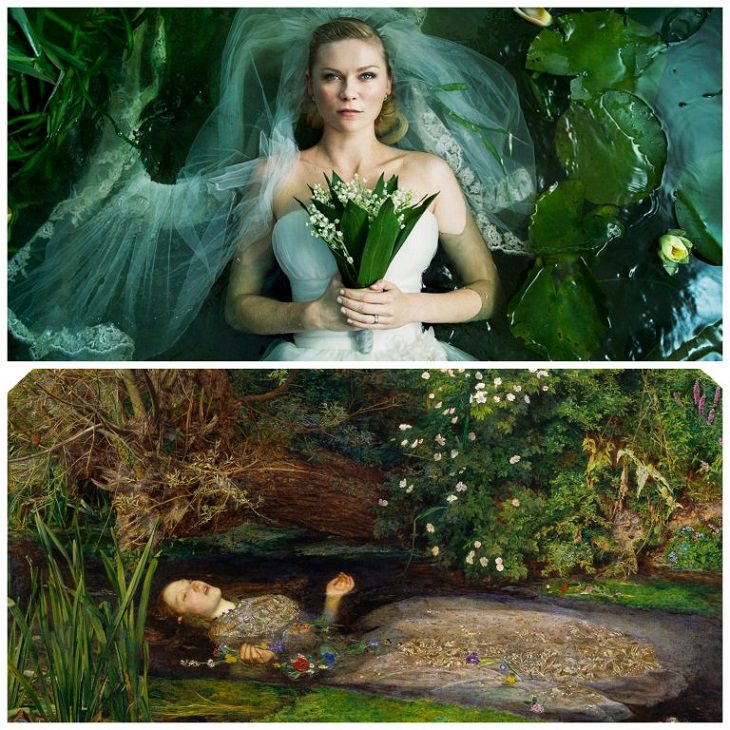 The controversial Lars von Trier is perhaps the epitome of highbrow (or snooty), reference-laden cinematography. As such, the similarity between Kirsten Dunst's depressed protagonist floating in the stream and Ophelia's suicide from Hamlet is by no means coincidental.
2. Nighthawks by Edward Hopper (1942)/ Pennies from Heaven by Herbert Ross (1981)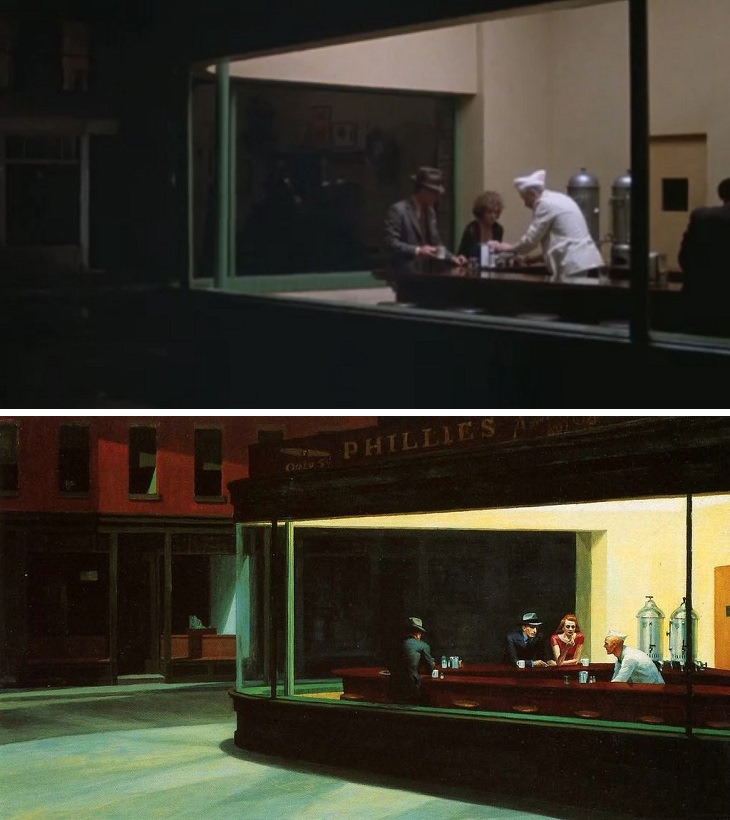 Pennies from Heaven was a bit of a mismatch. A musical that wasn't funny, starring wildly popular comedy actor Steve Martin in a drama role. And it doesn't help that all the painting references in the film (there are four) are of NYC, when the movie actually takes place in Chicago. These may explain why the film ended up flopping.
3. Wheatfield with Crows by Vincent van Gogh (1890)/ Dreams by Akira Kurosawa (1990)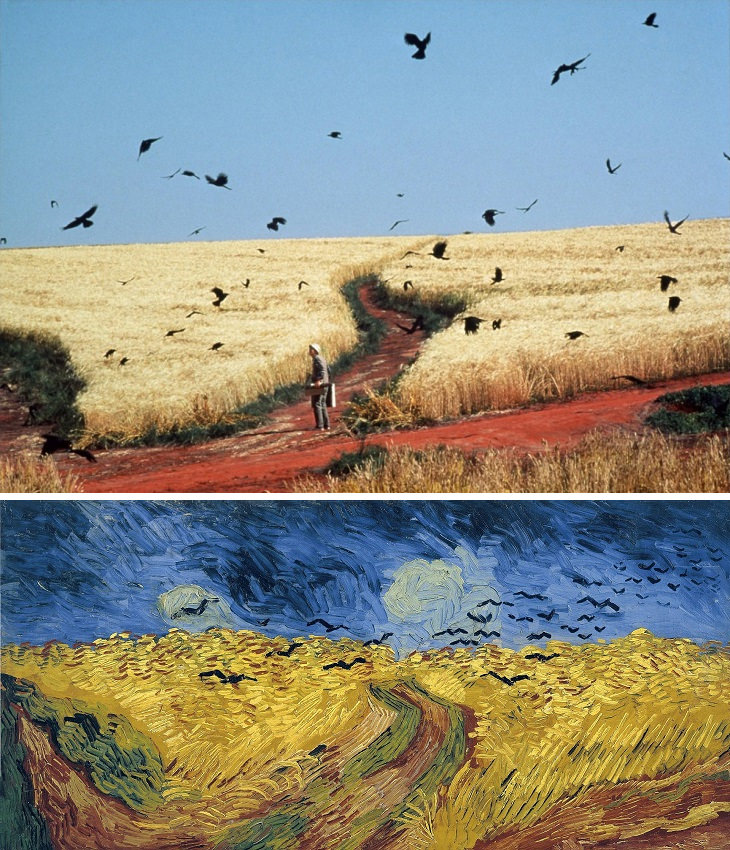 This isn't so much a nod, as a direct reference. In this sequence, a young Kurosawa as an art student visits a van Gogh retrospective and finds himself within the Dutch impressionist's paintings where he meets the painter (portrayed by Martin Scorcese) and converses with him about art. The final frame is one of the painting often stated to be van Gogh's last, with ominous crows symbolizing death.
4. Napoleon Bonaparte at St. Helena by Benjamin Haydon (1846?)/ The Duellists by Ridley Scott (1977)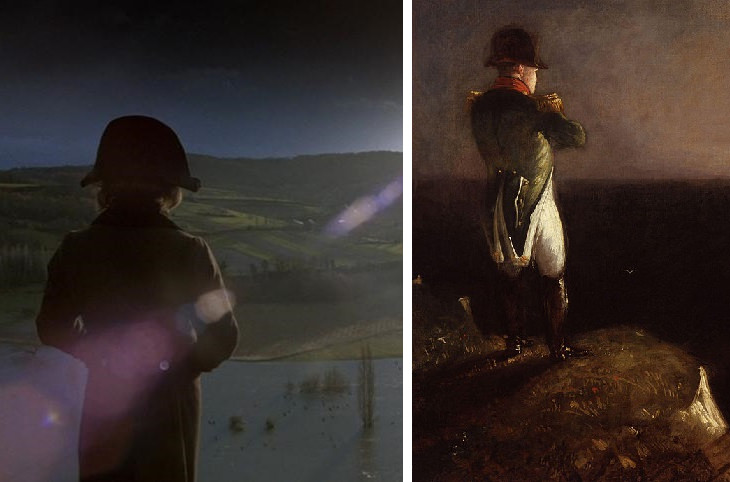 In many of his works, and particularly his earlier filmography, Ridley Scott displays a very conscious and deliberate choice of artistic nods and references, and his directorial debut is a peak example of this attitude, as the prideful character portrayed by Harvey Keitel is a staunch Napoleon loyalist whose fate appears to be inextricably tied to that of his emperor.
5. Pacific by Alex Colville (1967)/ Heat by Michael Mann (1995)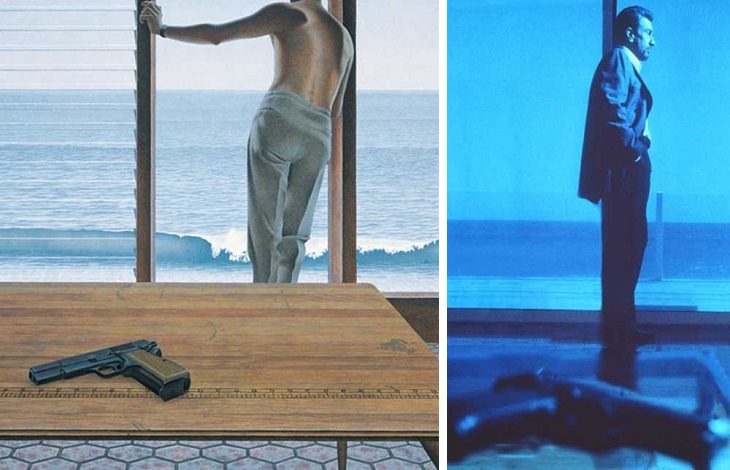 The charged painting of a lone male staring out to the ocean with a gun on a table in the forefront inspired this frame in Heat, a movie about two men, a detective and a robber who are so consumed by their violent, obsessive lifestyles, that there is no room in their lives for anything else. This painting, with its motifs of alienation and implicit violence, was the perfect choice to portray that overarching theme.
6. New York Movie by Edward Hopper (1939)/ Shirley: Visions of Reality by Gustav Deutsch (2013)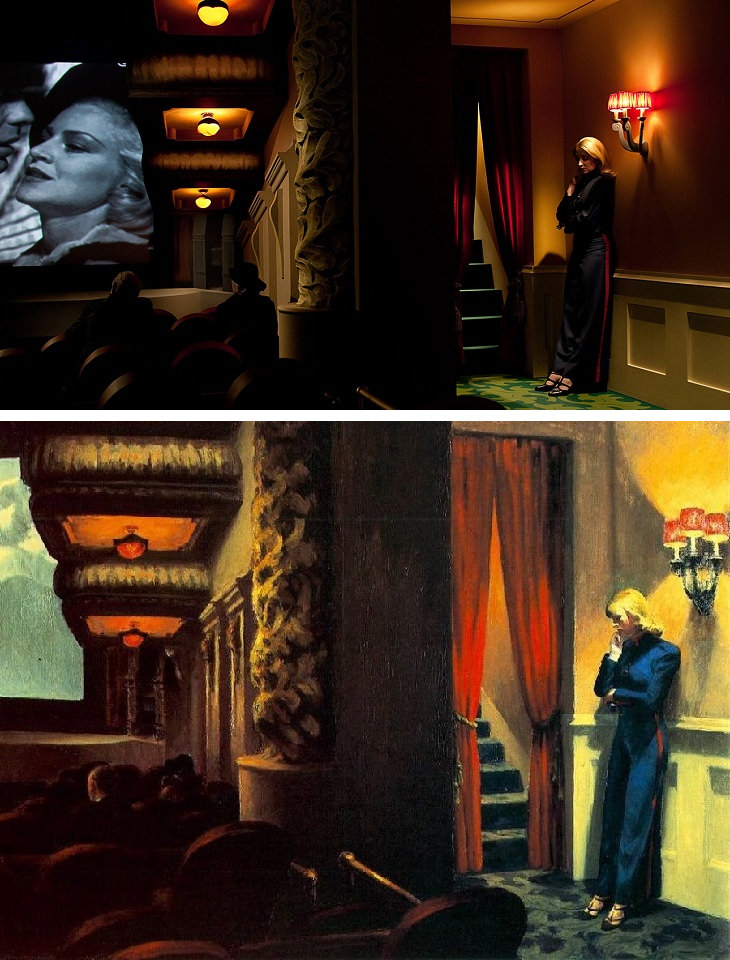 This particular scene isn't a one-off, as the entire film is a tribute to the works of Hopper through the years, and seeks to create a portrait of America between the 30s and the 60s through Hopper's art.
7. The Night Café by Vincent van Gogh (1888)/ Lust for Life by Vincente Minnelli (1956)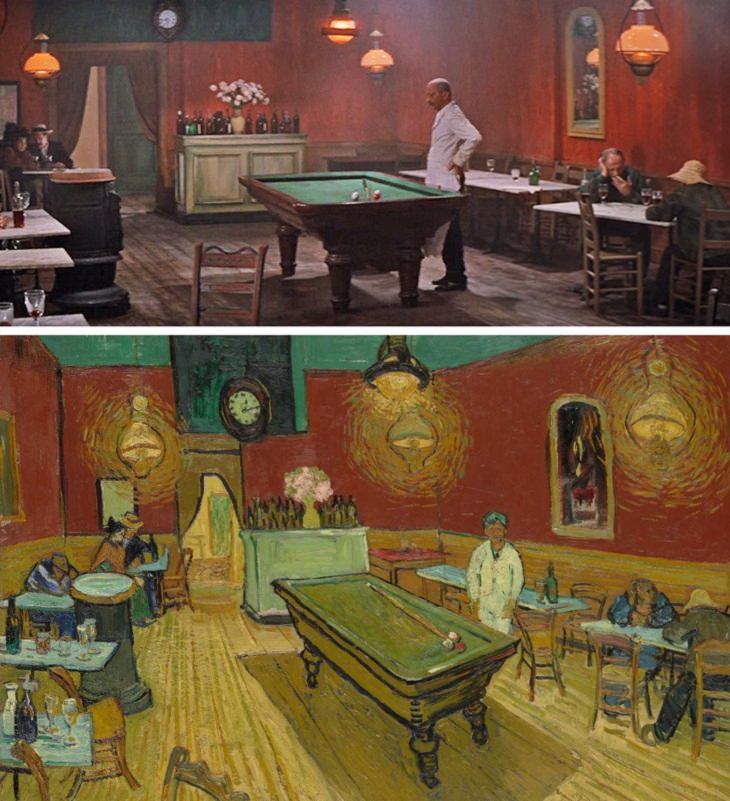 Something about van Gogh's obsessive-compulsive attitude towards art speaks powerfully to fellow artists to this day, as the beleaguered 19th-century painter was the subject of countless films, most recently At Eternity's Gate (2018) with Willem Dafoe playing van Gogh. Dafoe was not the first man to step into the tormented van Gogh's shoes, as Kirk Douglas played the artist in this 1956 movie, where he visits the café that inspired what van Gogh himself termed his "ugliest painting".