Today, we will take on you on a scenic trip across some of the most beautiful winter train rides in the world. Here, you can stretch out your legs and take a steaming mug of coffee while watching the world's most magical scenes unfold.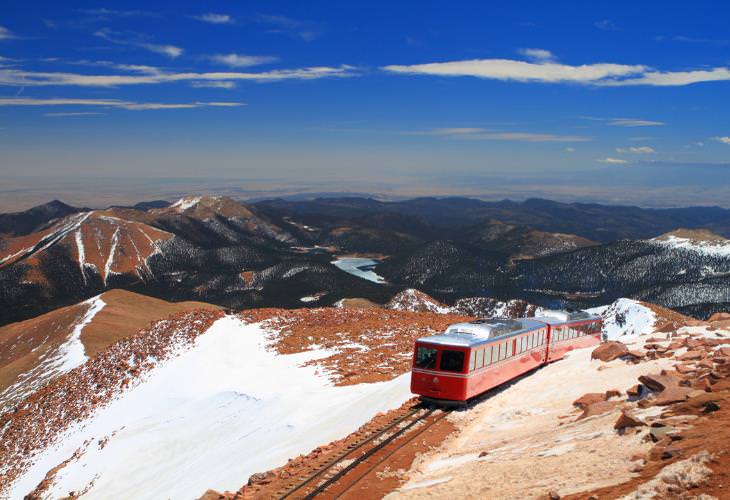 Pikes Peak, the highest summit of the southern Front Range of the Rocky Mountains, in North America, offers some of the most breathtaking scenery in the world. To truly enjoy the views from America's most famous mountain, you must take a ride in the Broadmoor Manitou and Pikes Peak Cog Railway - the longest and highest cog railway in the world. This one-of-a-kind attraction chugs to the 14,115 feet (4,302 m) summit in a 3.5-hour journey and in between treats you to some exhilarating mountain views and an abundance of fascinating landscape and wildlife. This train ride is perfect for the winter season when the landscapes are blanketed in snow and the alpine tundra looks even more gorgeous.
2. Alaska Railroad's Aurora Winter Train, Alaska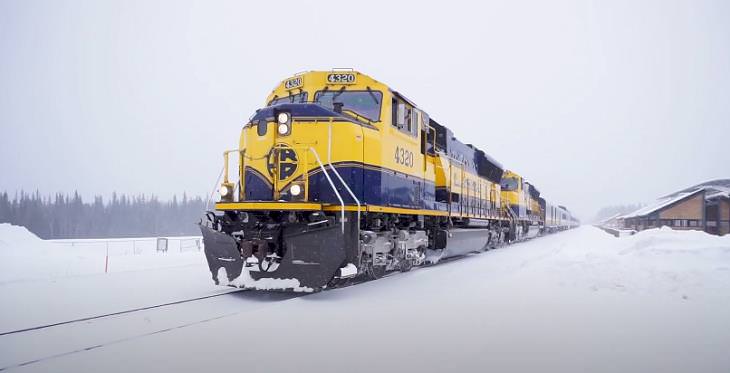 A trip on the Aurora Winter Train is a great way to appreciate the winter landscape of the Alaskan backcountry. After all, you can stay warm and cozy inside the train car and be rewarded with the enchanting views of Mount Denali, America's tallest peak. This 12-hour journey begins in Anchorage and ends in Fairbanks. You can also book a five-night trip by any travel agency where you will get to visit the town of Bettles, which is one of the best places in Alaska to see the northern lights. Even if you don't see the Northern Lights, the spectacular views of the Alaskan backcountry are enough to stay in your mind for a lifetime.
3. Tadami Line, Japan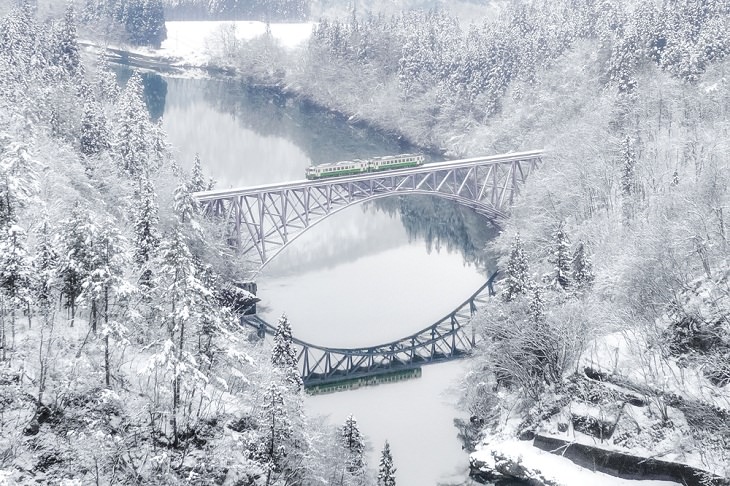 The Tadami Line is an 83-mile (133-km) trip from Fukushima to Niigata that almost feels like being inside a Japanese winter postcard. This train route has gained the reputation as one of the most romantic rides in the world and not without reason. Where else would you be able to witness Japanese villages blanketed in snow as you are snuggled comfortably inside a train? The rain also chugs across the high arching Tadami River Bridge that's set over deep forest valleys, allowing you to experience a unique dose of Asian engineering.
Being a passenger on the train during the winter months is your perfect opportunity to cherish rural Japan in its finest glory.
4. Glacier Express, Switzerland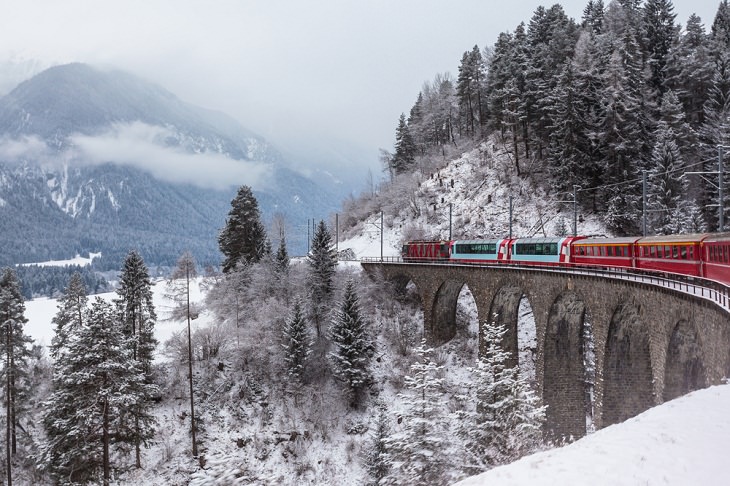 Who can say no to a train journey across the breathtaking Swiss Alps? Just hop on the Glacier Express and savor the unobstructed views of snow-capped peaks, glaciers, and frozen brooks of Switzerland like never before. Connecting two major mountain resorts of Zermatt and St. Moritz in the central Swiss Alps, the train ride takes almost eight hours but you will wish it lasted longer. Each turn on this trip brings you exquisite views of hamlets, high terrains, alpine meadows, and pristine mountain lakes from the train's panoramic windows.
The Glacier Express goes over a staggering 91 tunnels and 291 bridges and also passes through Rhine Gorge — aka the Grand Canyon of Switzerland — and the Solis and Landwasser viaducts. Winter train journeys don't get any better than this.
5. Cascade Canyon Winter Train, USA
Trip length: 5 hours and 15 minutes
This five-hour round trip winter train adventure from Downtown Durango to Cascade Canyon is one you will never forget. Spanning 26 miles (41 km) each way, the Cascade Canyon Winter Train travels through the historic town of Durango along the Animas River then takes you deep inside the San Juan National Forest before reaching its final destination. This trip also includes a 60-minute layover at Cascade Canyon for lunch by the fire or walks by the river before the return trip.
One of the highlights of this special journey is getting to see the untouched wilderness scenes deep in Cascade Canyon. The snow-covered pines and ice-capped cliffs towering around them only make things better. If you're lucky, you may also get to witness glistening waterfalls covered in ice on the magnificent peaks in the Rocky Mountains.
6. Trans-Siberian Winter Wonderland, Russia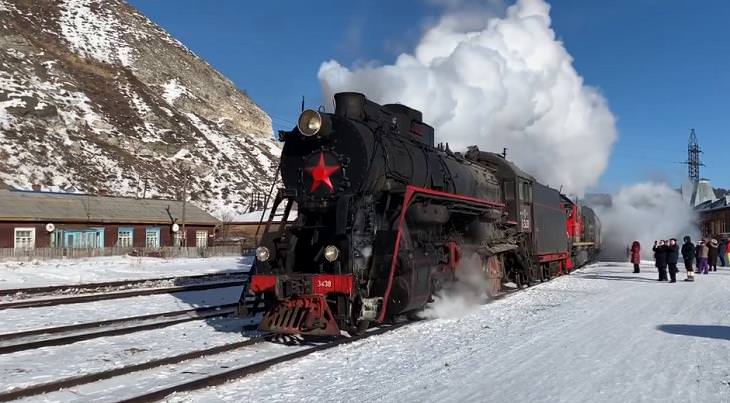 Trans-Siberian Railway isn't just any other rail journey; it's a voyage through a gleaming sea of winter white that stretches over 9,000 km (5,592 m) from Moscow to Vladivostok. This 15-day winter special trip across the frozen steppes of Russia takes you through two continents, eight time zones, and some iconic Russian winter wonderland scenery. Seeing Lake Baikal in its frozen, glacial state is a sight for the memory books. The train also makes a stop at Yekaterinburg, a beautiful city in west-central Russia, as well as Mongolia and Ulan Ude, the capital of the Buryat Republic.
Of course, a 15-day trip on a train during the winter season is a challenge. But getting to relish the most remote parts of Siberia from the window of the Trans-Siberian Winter Wonderland will keep you captivated and hypnotized. Also, you will be provided with complimentary hats, Russian traditional felt boots, and gloves to help keep you warm throughout the journey.
7. Arctic Circle Train, Sweden, and Norway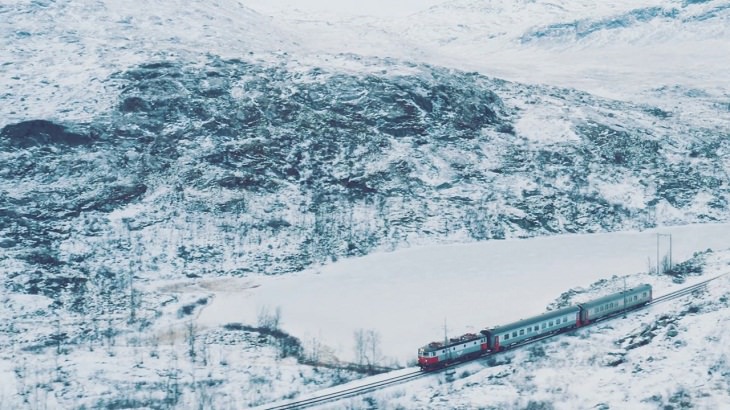 You will not get a better way to see the timeless winter landscape of Sweden and Norway than by being on board the Arctic Circle train. Known as Sweden's most scenic train route, this train journey covers 12 stops and the most notable of those include the Abisko National Park and the Riksgränsen mountain range. Adventure seekers can even explore the mountain range on snowmobiles or dog sleds. But if you're looking for a more leisurely experience, just take a seat beside a window and let the snowscapes do the rest.
Share this post with friends and family...