I'm no big hiker. I'll admit I'm not in the right shape, and I get bored if the trail is too long, but when it comes to waterfalls, lakes, rivers, or any other natural water resource, I'm a big fan. Something about the flow of the water is healing and calming, and I'm always in the search for more and more natural water reserves. This time we're taking a look at one of Thailand's most popular waterfalls - Erawan Falls.
The waterfall is part of the Erawan National Park in Thailand. It was founded in 1975 as Thailand's 12th National Park. It is part of the province of Kanchanaburi, a 3-hour drive from Bangkok. The park itself spans over 210 square miles, and it consists mainly of a jungle with paved trails and stairs. The entire jungle is protected by mountains that limit the entrance of the eastern monsoons.
Erawan waterfall has 7 tiers, which create 7 natural pools. Each is occupied by small and large fish alike, and you can swim in all of them year-round. You can climb up the waterfall along the trail; this will take you 30 minutes if you breeze through quickly.
Wildlife at the Park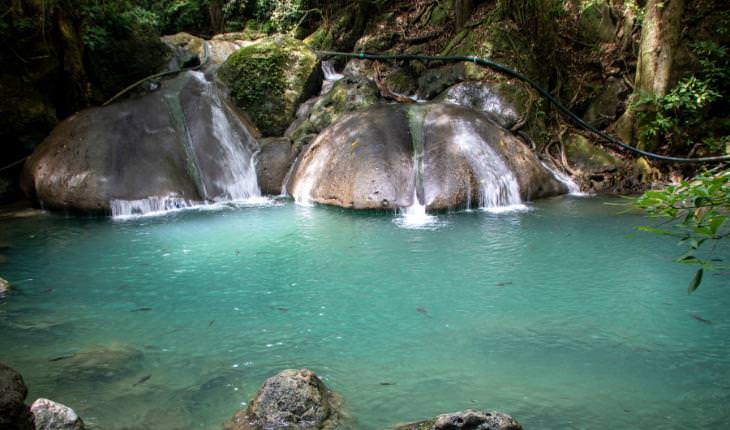 There is a variety of wildlife in the National Park. Through the trees, but mostly in the top tiers of the waterfall, you can see gibbon and macaque monkeys, wild boars, and birds like small eagles and colorful pheasants. Deeper into the forest some more exciting animals can be found, like deer, Asian elephants, and Indochinese serows. In or near the water you may encounter water monitor lizards; they are harmless and never attack, but it is advised not to go near them.
Services and guidelines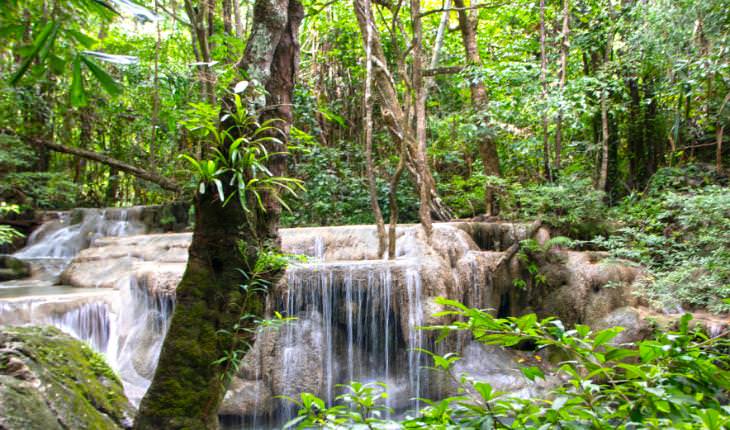 This being a National Park, there are some rules and guidelines to follow, but also various services to enjoy. Beyond the 2nd tier, food is strictly forbidden. You can buy bottled drinks for 20 baht and get a full refund when returning the bottle. You can also rent bicycles at the visitor center for 20 Baht a day, but you can only reach the first two lower tiers by bike. There is also a golf cart service for the elderly and disabled.
Entrance fees are 300 Baht for adults and 150 Baht for children up to 14. The park is open daily from 8 AM to 4:30 PM. Restaurants and cafés can be found in the parking lot at the entrance.
The rainy season in this area lasts from May to November and reaches a peak in September and October. Cooler weather starts from November to January. It is recommended to visit sometime during the rainy season because then the waterfall will be full of water and at its peak glory. But make sure you don't visit after a heavy storm, which can muddy the water.
Getting there and spending the day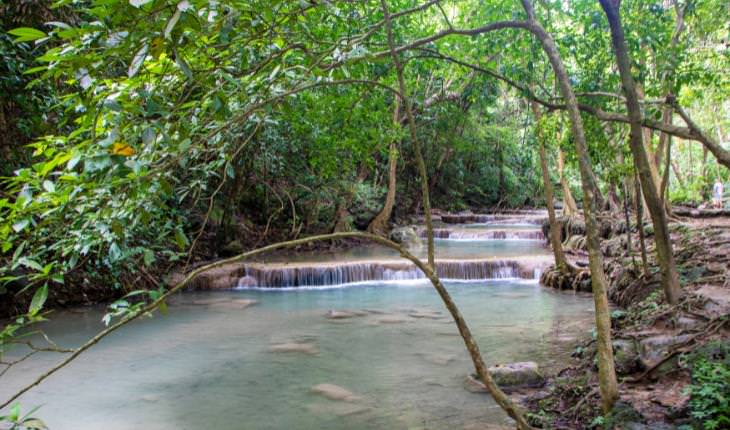 To get to the park, you can join an organized tour; these only go out from Kanchanaburi City. You can also rent a car or a taxi for the day. This is an excellent destination for a day trip from Bangkok, but if you're staying a little longer in the area, consider visiting other attractions, such as the Huai Mae Khamin Falls, 27 miles north/east of Erawan Falls, or the Phra That Cave. The Huai Mae Khamin Falls tend to be much less crowded than Erawan Falls, which can get overcrowded during weekends.
The Phra That Cave is just 7 miles from the Erawan. The cave is large, deep, and long. There is a paved trail inside accessible from a ranger station. While getting there, if following a car navigator system like Google Maps, you may be routed through the wrong temple entrance. Pass the temple entrance from the main road for a few hundred meters until you see a sign that says "Phra That Cave, 1 km."
The cave opens from 8 AM until 4 PM, and it is free if you hold the Erawan National Park ticket.