Making tea seems pretty easy. All you need to do is just heat up some water, add some tea leaves or a teabag, and you're all set. But apparently, there is a right way and a wrong way to prepare tea. Using a microwave to heat tea, for example, is a big no-no. And we aren't saying this because we look down on the process.
So what's the big deal? Tea requires hot water, and microwaves make things hot. There shouldn't be a problem, right? Actually, there are many reasons why microwaving tea isn't a smart thing to do.
Science Says That the Microwave Isn't the Way to Go For Making Tea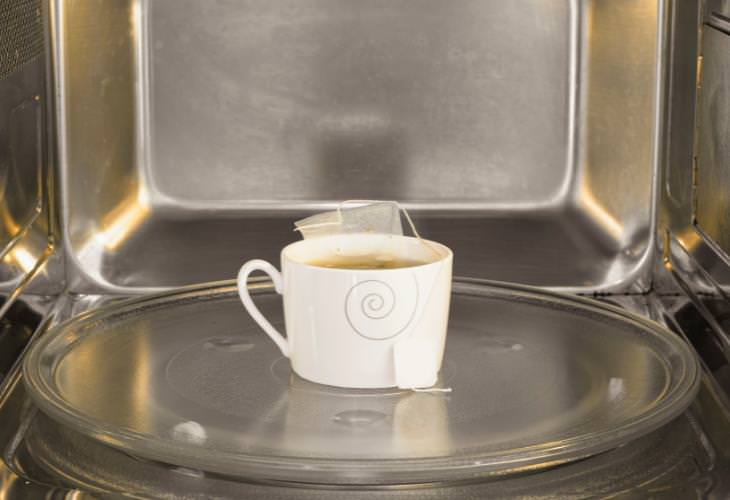 In a 2020 study published in the American Institute of Physics' peer-reviewed online journal AIP Advances, researchers explained that you are unlikely to get the best results by making tea in a microwave. Conducted by researchers at the University of Electronic Science & Technology of China, the study said that, when water is warmed in a kettle on a stove, a process called convection happens. This means that the water at the bottom of the container warms up, becomes less dense, and then moves up. This allows the remaining cooler water to move down toward the heating element and be heated up. The result is an even, uniform temperature throughout the container.
However, microwaves don't heat from the bottom up. If you toss your cup of tea into a microwave for 90 seconds (like the researchers did), the device's electric field starts heating up from all angles. While the water at the top of the cup starts boiling, the bottom may stay cool.
"Because the entire glass itself is also warming up, the convection process does not occur, and the liquid at the top of the container ends up being much hotter than the liquid at the bottom," reads the study.
Therefore, you are likely to end up with a cup of tea that's hotter at the top than the bottom, and the drink will be unpleasantly cool by the time you reach the bottom.
Also, remember that different teas require different water temperatures and steeping times. For example, water for white and green teas should be steeped between 170 and 185°F (76 and 85°C). Oolong tea should be brewed between 180 and 190°F (82 and 87.7°C). Black and herbal teas, meanwhile, should be hotter and brewed between 208 and 212°F (97.7 and 100°C).
A good cup of tea is all about achieving a uniform temperature throughout your mug. That level of accuracy won't be possible in a microwave since water doesn't heat evenly there, and boiling is hard to control. Think of the leftovers you have heated in the microwave. Don't they have hot and cool spots?
Moreover, to get rid of the cool spots in microwaved water, you will have to overheat it. Adding tea leaves to overheated water can destroy their aromatic compounds and create bitter flavor notes.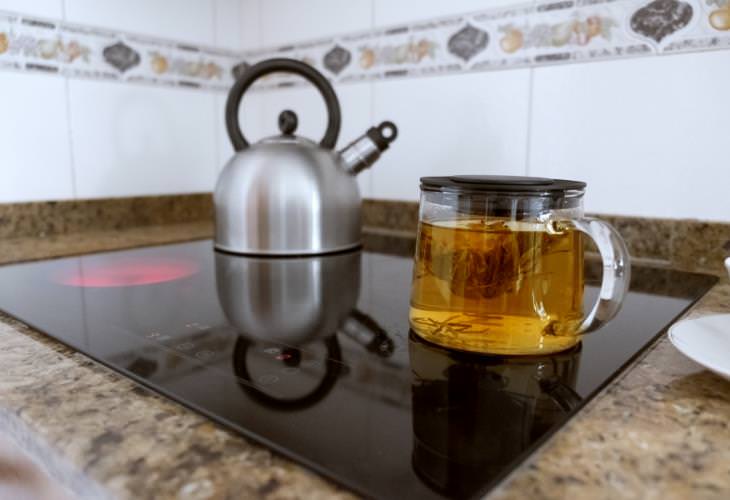 This won't be an issue with tea kettles. A conventional kettle has a metallic body, which prevents it from getting too hot. Electric kettles, meanwhile, are designed to turn off automatically once the water reaches its boiling point.
So while a microwave is indeed a great kitchen appliance, it's not the best option for brewing a cup of tea. Remember, tea should be relaxing, not rushed. Those extra few moments you will take to make a perfect cup of tea will stimulate your senses and help you relax. So, stick to the good old kettle for your tea needs, please!
Share this article with other tea lovers!