You can buy a chicken burrito at a pretty low price, but it will never be as fresh and as tasty as the one you make at home. This chicken burrito recipe uses affordable ingredients like rice, canned beans, and chicken, but the results are possibly the best burrito you've ever had. This burrito consists of homemade aioli sauce and 4 delicious fillings - braised chicken, herbed rice, a bacon-and-bean filling, and fajita-style vegetables - all wrapped in a neat package.
Prep Time
1 hour and 30 minutes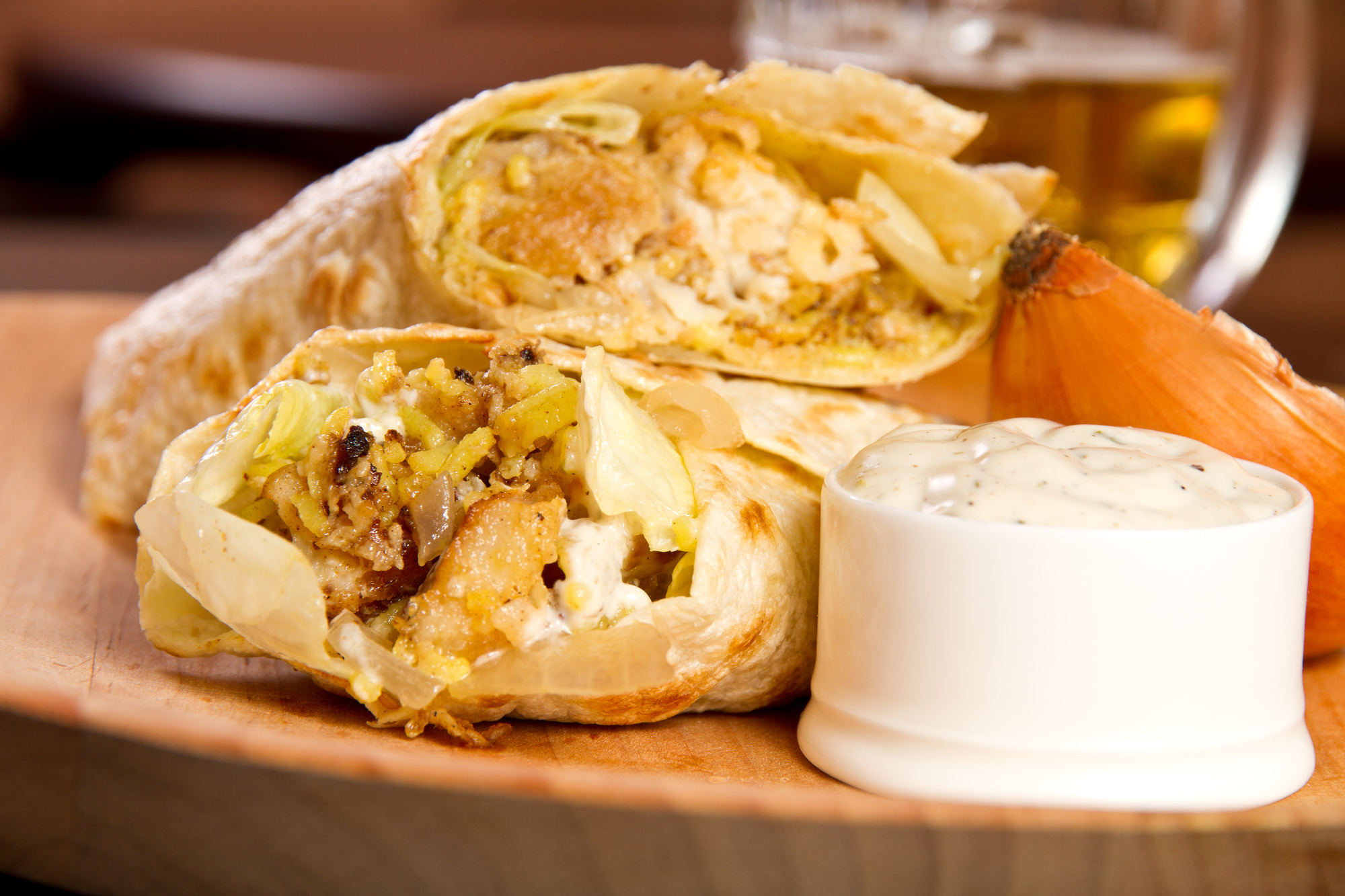 Ingredients for Chicken Burrito:
Ingredients for aioli sauce:
Method of preparing the Chicken Burrito:
Mix sauce ingredients and set aside. Preheat the oven to 400°F (200°C). Line a baking sheet.

CHICKEN FILLING: In a large bowl, combine the chicken thighs, cumin, paprika, 2 tbsp salt, 1 tsp black pepper, garlic powder, and onion powder. Toss to coat.

Heat the vegetable oil on medium-high heat and fry the chicken until brown, about 2-3 minutes on each side. Transfer to the oven for a 10-15 minute bake. Cut into strips and set aside.

RICE FILLING: wash and strain the rice twice. Cook it in salted water. Stir in 2 tbsp of unsalted butter, chopped cilantro, and the juice of 1 lime. Cover and set aside.

BEANS FILLING: heat the remaining 2 tbsp butter in a saucepan on medium and cook 1 onion and 2 sliced jalapeños until soft. Add the beans, hot sauce, salt, and pepper. Cook until the beans are warmed, stirring continuously. Fry the bacon in another pan and once crisp, add it to the beans. Set aside.

VEGGIES FAJITA FILLING: cook the bell pepper, remaining 2 jalapeños, and remaining 1 onion in the same pan you cooked the bacon. Season with salt. Cook until the vegetables begin to brown and barely soften. Remove from heat and mix in the minced garlic.

It's finally time to assemble. Set out all the fillings. On a work surface, place the warmed tortilla and place a layer of each filling in the middle of the tortilla. Drizzle with aioli.

Hold the sides of the tortilla and fold them inwards. Then grab the side that's closest to you and start rolling over the filling and the folded sides until fully wrapped.

Place the tortilla seam side down and toast on a frying pan or a panini press. Repeat the same process with the remaining tortillas. Enjoy warm, dipping the tortilla in aioli or guacamole.
Chef's Tip:
Optional: add a sprinkle of shredded cheddar in addition to all the fillings. The melted cheese is a very satisfying touch on any burrito.
Source: Joshuaweissman.com