This recipe is delicious, easy to make, and takes very little time. You can whip it up anywhere because you don't need a mixer and the baking time is conveniently half an hour, perfect for unexpected company or a surprise for a family breakfast. This recipe makes a rich yellow cake and is topped with a nutty streusel. The result is a tasty coffee treat and an impressive baking feat to share.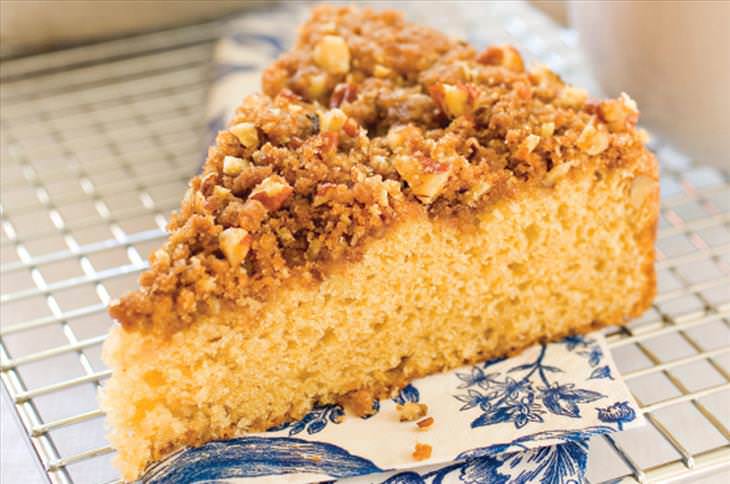 Method of preparing the topping:
Use your fingers to press the brown sugar, granulated sugar, flour, butter, and cinnamon together.

Mix together until the mixture looks like wet sand and then pour in the pecan nuts.
Method of preparing the cake:
Place the oven rack in the middle oven slot. Preheat the oven to 350˚F (180˚C).

Grease two 9-inch cake pans with butter or oil. In a large bowl, whisk together flour, baking powder, baking soda, cinnamon, and salt.

In a second bowl, whisk together the sour cream, brown sugar, granulated sugar, eggs, and melted butter until smooth. Fold the egg mixture into the flour mixture gently, until the batter is smooth.

Pour the batter into the two greased pans and smooth the top. Sprinkle the topping over the batter.

Tap the pans gently on the counter to settle the batter. Bake the cakes for 25 to 30 minutes, rotating the pans at the half-time mark.

The cakes are ready when the tops are golden. Insert a toothpick to see if crumbs come out. Let the cake cool for half an hour and serve at room temperature.