Watercolor painting is a distinctive medium and is considered one of the most attainable forms of art. After all, so many of us have grown up making watercolor paintings during our school drawing classes. While it may be accessible and visually delightful, this art form is certainly not easy to master.
Known for its innate delicacy and subtlety, watercolor painting has a rich history. The roots of watercolor painting can be found in Paleolithic Europe but it gained prominence in the Middle Ages. One of the earliest examples of watercolors as a fine art was seen in the majestic Sistine Chapel painting. The ceiling of this famous chapel in Vatican City was painted by the eminent artist Michelangelo between 1508 and 1512 and is still viewed as his best work.
Throughout history, there have been some amazing watercolor artists whose works brought the medium into mainstream. While watercolor painting was initially used primarily as painting on wet plaster, the works of influential artists helped transform the platform into an art that could depict powerful, stunning images when applied to paper. To completely understand the allure of watercolor painting today, we must look back at some of the most popular watercolor artists throughout history. Their works continue to inspire budding artists even today.
1. John Singer Sargent (1856 – 1925)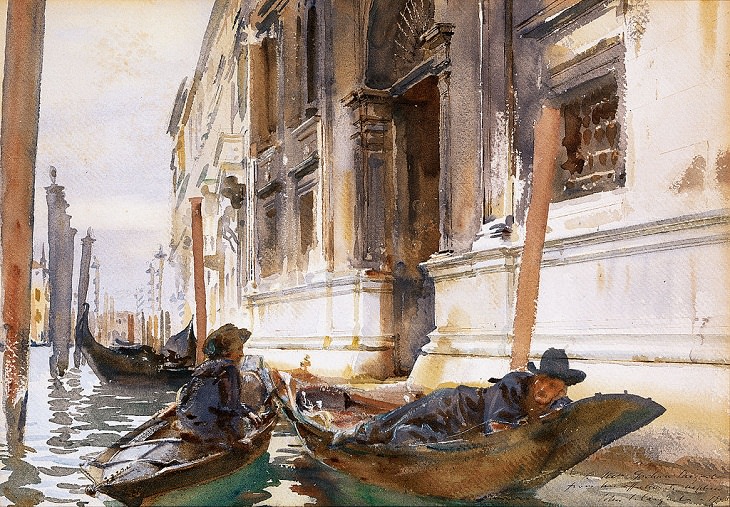 "Gondoliers' Siesta," 1904. (Image Source - Wikimedia Commons)
While he was celebrated for his distinctive portraitures, John Singer Sargent's watercolor works portrayed a different shade of the talented artist. His oil portraits were meticulously made and featured dark and grand backgrounds along with muted colors. However, his watercolor paintings were much more relaxed and Sargent used loose and vivid strokes in them. A lot of his watercolor paintings were of the landscapes he had visited and looked aesthetically pleasing with their simple and playful washes of color. Images of ships and the shore were a regular feature of his paintings done in lively, light, or dark colors, in sharp contrast to his oil portraits that were firmly rendered. In general, Sargent's watercolor works can be recognized for their large color shapes with dark, yet simple accents. They also revealed the artist's incredible control and accuracy.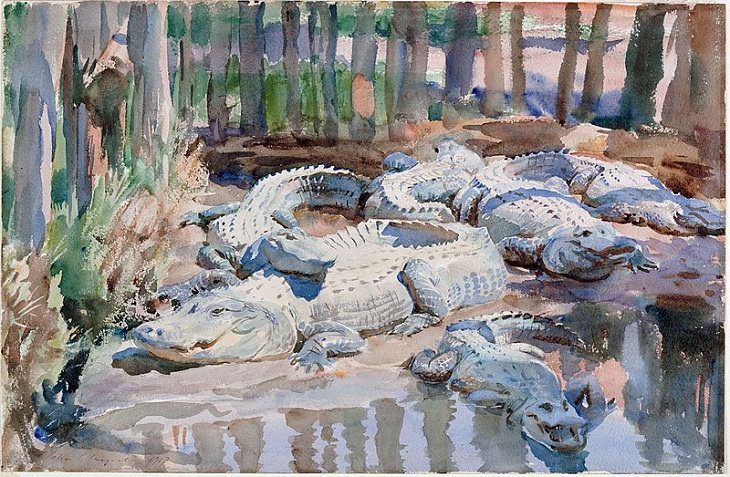 "Muddy Alligators," 1917.​ (Image Source - Wikimedia Commons​)
2. Winslow Homer (1836 – 1910)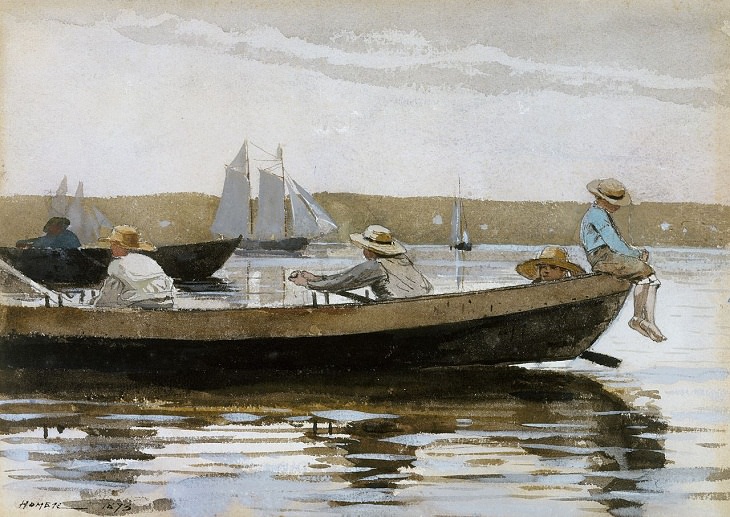 "Boys in a Dory," 1873. (Image Source - Wikimedia Commons​)
"You will see, in the future, I will live by my watercolors." This is what Winslow Homer said to one of his dealers once. No one had foreshadowed back then that his words would come true. In his prime, Homer was widely regarded as America's greatest maritime painter. However, the self-taught artist went on to become a master of the watercolor medium as well.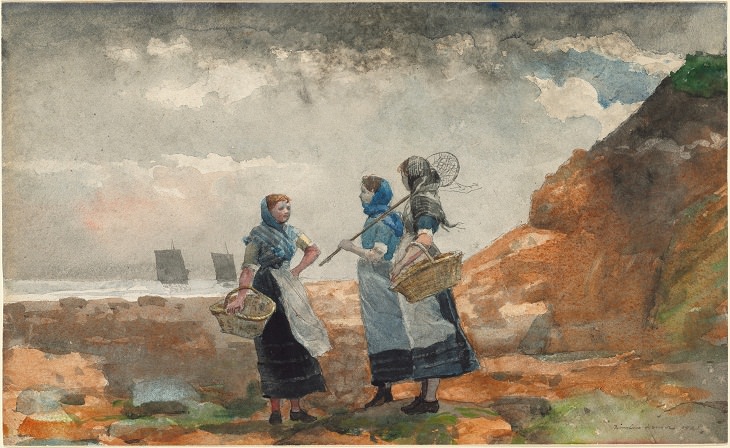 "Three Fisher Girls," 1881. (Image Source - Wikimedia Commons)
Homer began a series of watercolors in 1881 that was based on his experiences of staying in the seaside fishing village of Cullercoats, England, for two years. He preferred to focus on the old ways in most of his watercolor paintings where he would depict scenes from the daily lives of common folk fluidly. Homer specialized in painting idyllic, quiet scenes of kids and women going about their everyday tasks. There was a sober and noble simplicity in Homer's watercolors that made them stand out and established him as one of the finest artists of the medium.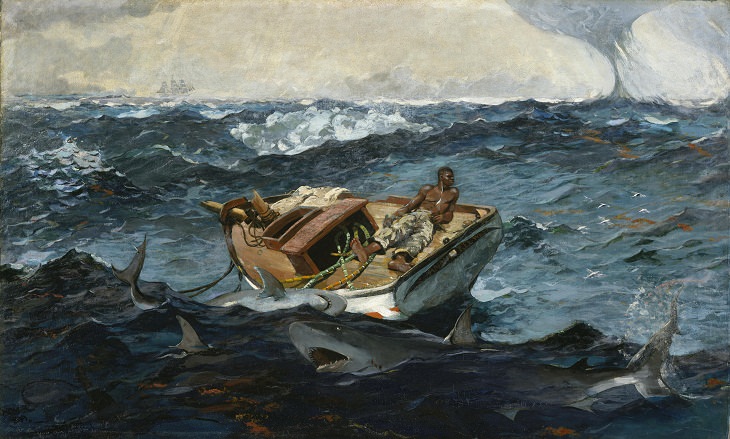 "The Gulf Stream," 1899. (Image Source - Wikimedia Commons)
3. John James Audubon (1785 – 1851)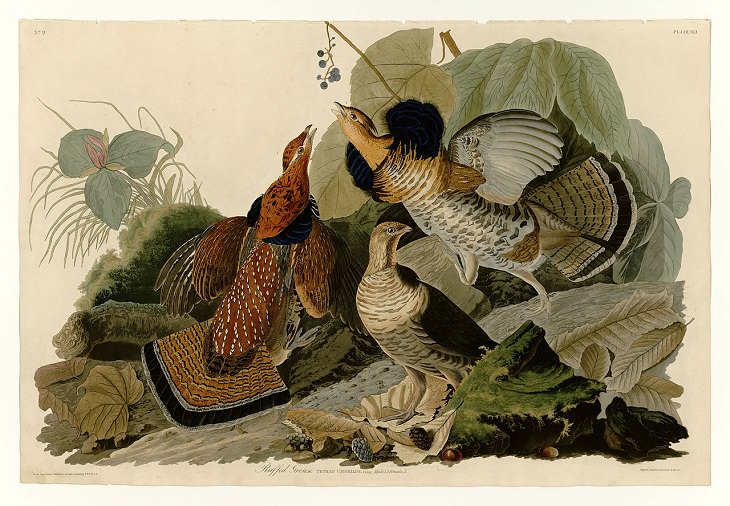 Depiction of a Ruffed Grouse in the book The Birds of America by John James Audubon. (Image Source - Wikimedia Commons)
John James Audubon is best known for 'The Birds of America' that is still celebrated as one of the best ornithological books ever produced. The pioneering book featured a series of 435 gorgeous, life-sized, hand-colored watercolor paintings of America's prime avifauna. While he wasn't a trained naturalist, Audubon's love of birds drove him towards perfecting his art. In many ways, his ground-breaking book kick-started the practice of naturalistic representations in watercolor forms. The Birds of America is still considered "a landmark in nineteenth-century natural history".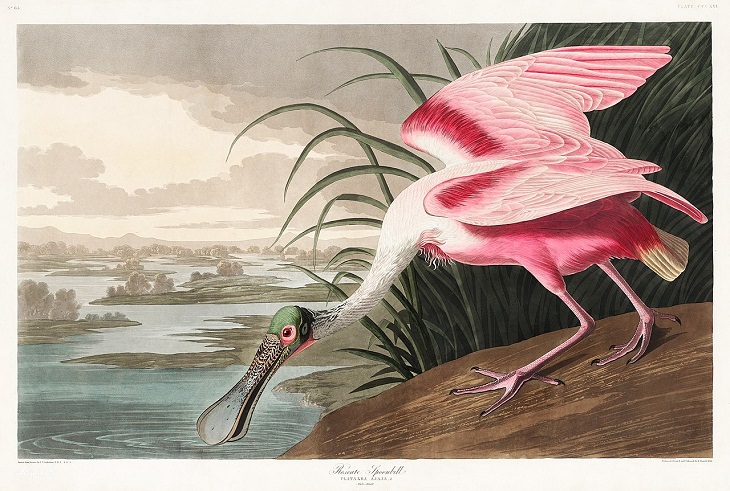 Roseate Spoonbill from Birds of America (1827). (Image Source - Wikimedia Commons)
The hallmarks of Audubon's paintings were the intricate details of the subjects. Interestingly, he would use a system of wires and pins to set up each specimen in a life-like posture and then go on to paint them on paper. In an exhibition of his works in 2014 at the New-York Historical Society, the blurb read: "the watercolors possess a startling immediacy and a freshness that underline his genius in linking natural history and art, as well as a respect for the environment."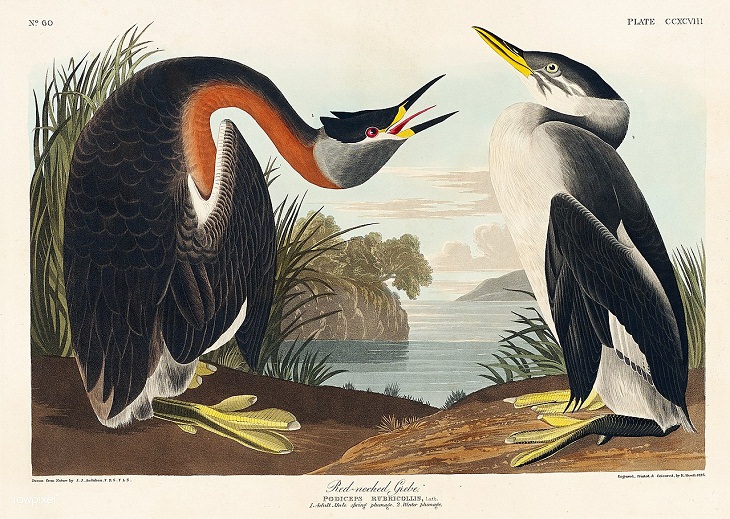 Red-necked Grebe from Birds of America (1827). (Image Source - Wikimedia Commons)
4. Thomas Moran (1837 – 1926)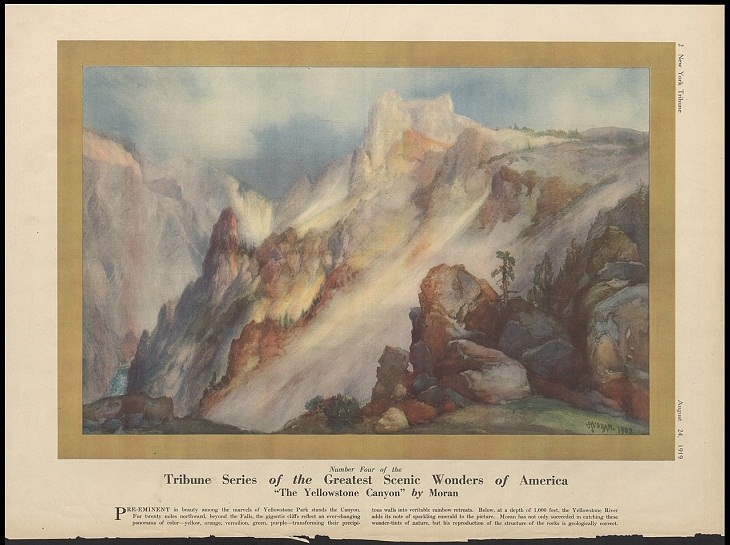 "The Yellowstone Canyon," 1902. (Image Source - Wikimedia Commons)
Thomas Moran was renowned for his brilliant landscape watercolors. His ethereal paintings of the Yellowstone National Park, in particular, inspired a lot of appreciation. In fact, it was his brilliant renderings of the geysers, waterfalls, and hot springs from the region in the 1870s that convinced the U.S. Congress to formally create the country's first national park and name it Yellowstone in 1892.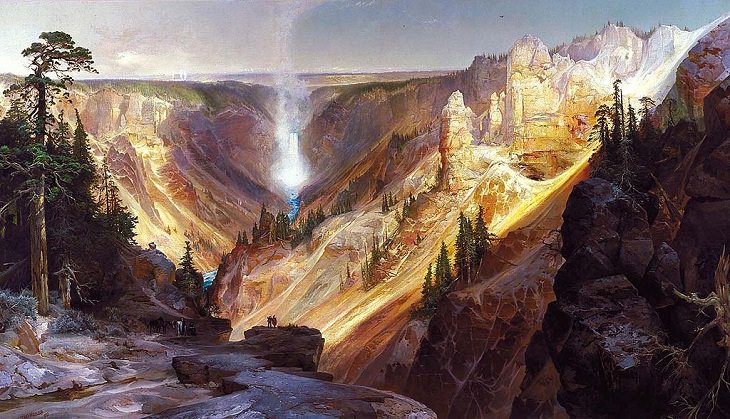 "The Grand Canyon of the Yellowstone," 1872. (Image Source - Wikimedia Commons)
Moran had a great interest in wilderness studies, which he translated to watercolors in his studio. His primary motive was to convey the inexpressible light and breathtaking beauty of the various landscapes in the country. Some of Moran's other distinguished watercolor works include vivid panoramas of the Grand Canyon and the Yosemite National Park. These paintings became so popular that the 19th-century imagery of the American landscape is now synonymous with Thomas Moran's works.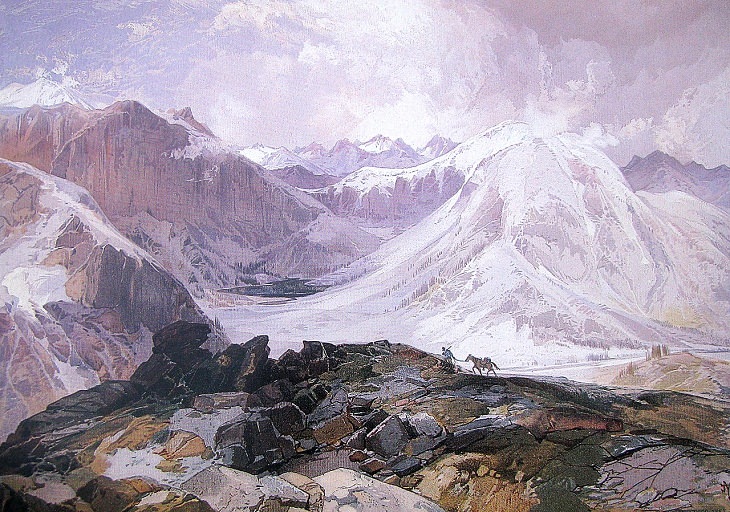 "Mosquito Trail," 1874. (Image Source - Wikimedia Commons)
5. Reginald Marsh (1898 – 1954)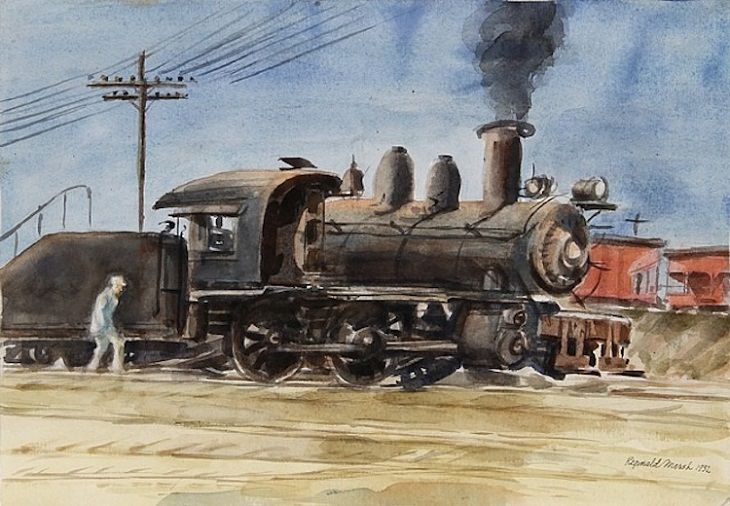 "Locomotive," 1932. (Image Source - My Modern Met)
Reginald Marsh was best known for his paintings of the daily life of New York City in the 1930s and 40s. Locomotives, boats, burlesque shows, Coney Island, the Bowery, movie houses, and jobless men were regularly featured in his works. Coney Island, in particular, was his favorite refuge and Marsh would spend hours there, keenly observing the everyday life on streets, beaches, and public transportation and filling his sketchbook with sketches of people in different postures.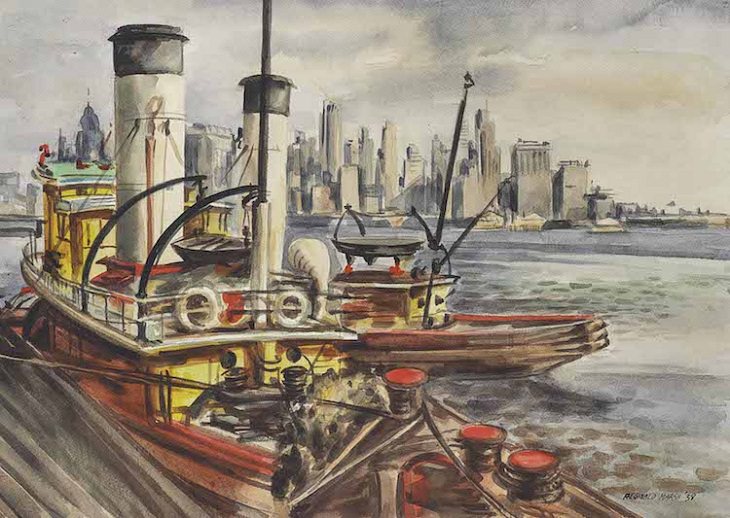 "Tug Boats, New York," 1938. (Image Source - My Modern Met)
Marsh worked as an illustrator for The Daily News in New York during the 1920s and this is where he realized that he could transform the subjects of his drawings into art. "Watercolor I took up and took to it well, with no introduction," he was once quoted as saying.
Marsh's paintings had a unique and fully realized style. While he also painted in egg tempera, oils, and ink, it was his watercolor works that found the most acclaim.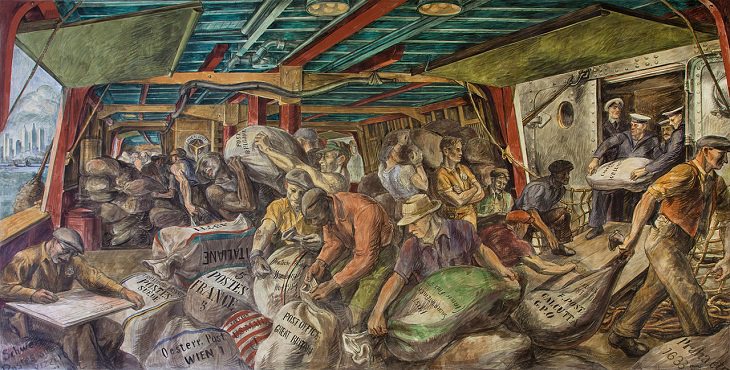 "Unloading the Mail," 1936. (Image Source - Wikimedia Commons)
6. J.M.W. Turner (1775 – 1851)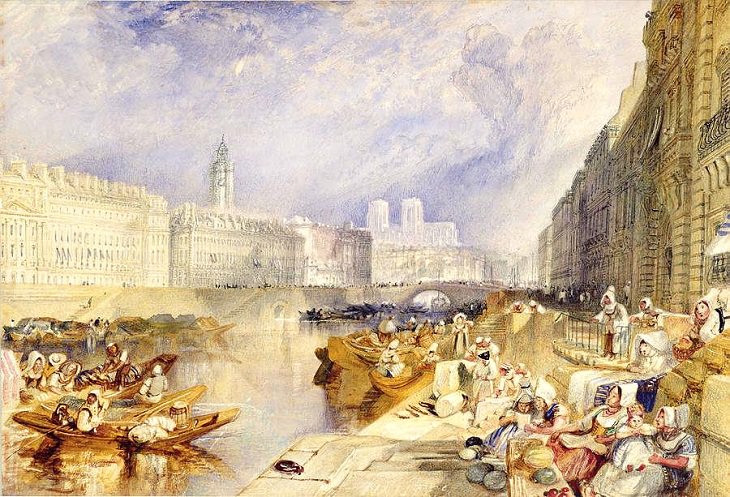 "Nantes from the Ile Feydeau," 1829-1830. (Image Source - Wikimedia Commons)
In his heydays, Joseph Mallord William Turner was regarded as one of the most prominent British artists. In the six decades of his illustrious career, Turner greatly influenced the public view on landscape and watercolor painting through his works. He was one of the first during his time to broaden the contribution of light, color, and color key in painting. With loose brushstrokes and vibrant colors, Turner shocked his contemporaries by presenting an art style that wasn't common in those days. Some of his best works included magnificent representations of storms and atmospheric, narrative landscapes. He was attracted to landscapes, particularly where land meets the water. The beautiful effects caused by light and weather there inspired his paintings significantly.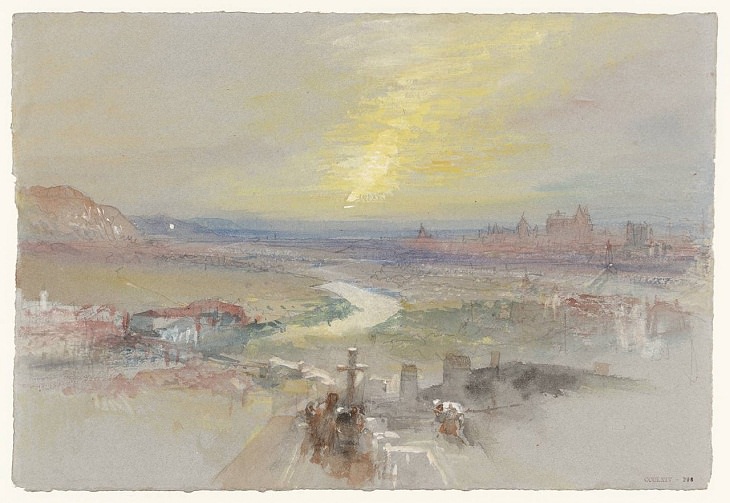 "Great Yarmouth Harbour, Norfolk," 1840. (Image Source - Wikimedia Commons)
Sublime representations of Venice, too, feature heavily in Turner's works. But more than accurate portrayals of the Venetian scene, the artist attempted to capture the spirit of the place. He once said, "My business is to paint what I see, not what I know is there."'
Turner also liked to display literature, mythology, and history through his works. He grew so proficient in his art that at the peak of his career he was hailed as a gifted topographical watercolorist.
7. William Blake (1757 – 1827)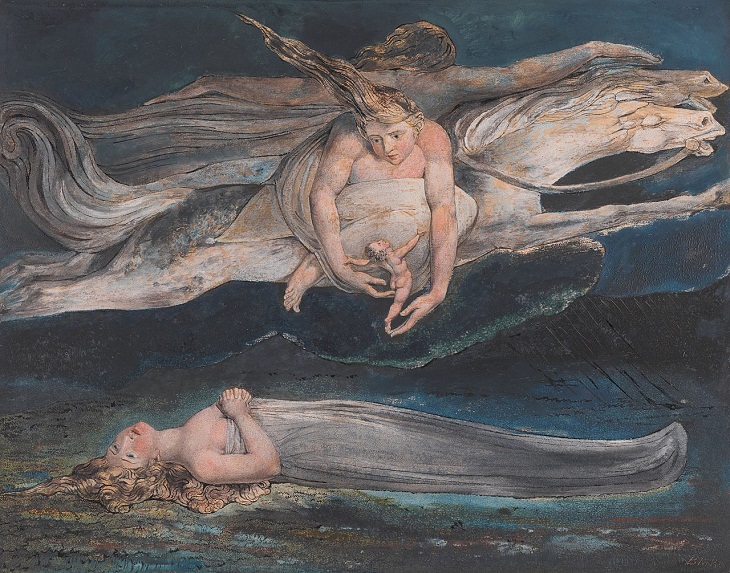 "Pity," 1795. (Image Source - Wikimedia Commons)
He is better known as one of the greatest poets in the English language. However, William Blake was also a visionary artist who often published his own books with his hand-colored illustrations. In his 20s, he studied with an engraver for seven years and learned the art of engraved texts quite well. But he was soon drawn to watercolor painting and mastered a technique that was named as "fresco". It was basically monotype printing where Blake would first paint on a flat surface and then apply it to paper. He would then complete each one of them separately on ink which would make each image distinguishable.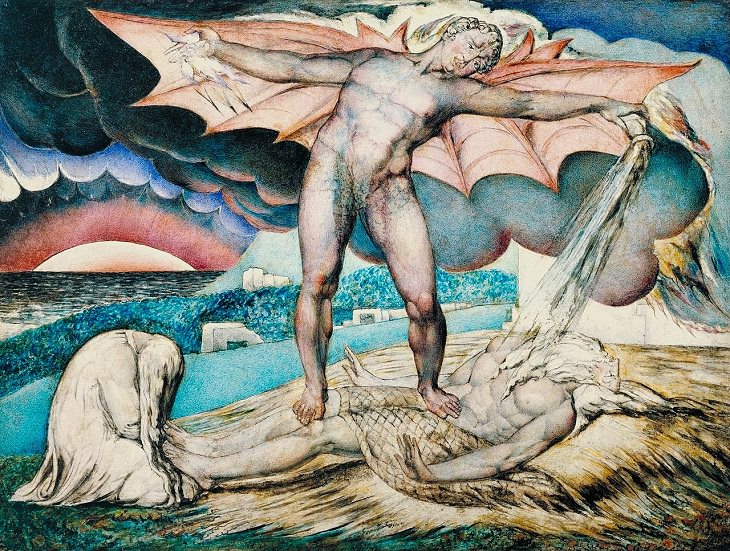 "Satan Smiting Job with Sore Boils," 1826. (Image Source - Wikimedia Commons)
A deeply religious man, Blake was inspired by religious and mythical stories and those themes were often clear in the themes of his paintings. In fact, a lot of his watercolor works were based on Dante Alighieri's 'Divine Comedy'. Aspects of Michelangelo and the Mannerist art are also distinct in Blake's works.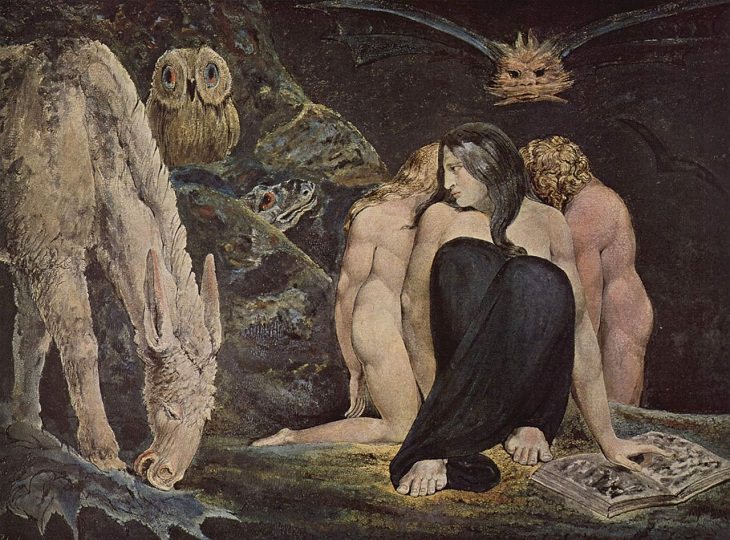 "The Night of Enitharmon's Joy," 1795. (Image Source - Wikimedia Commons)